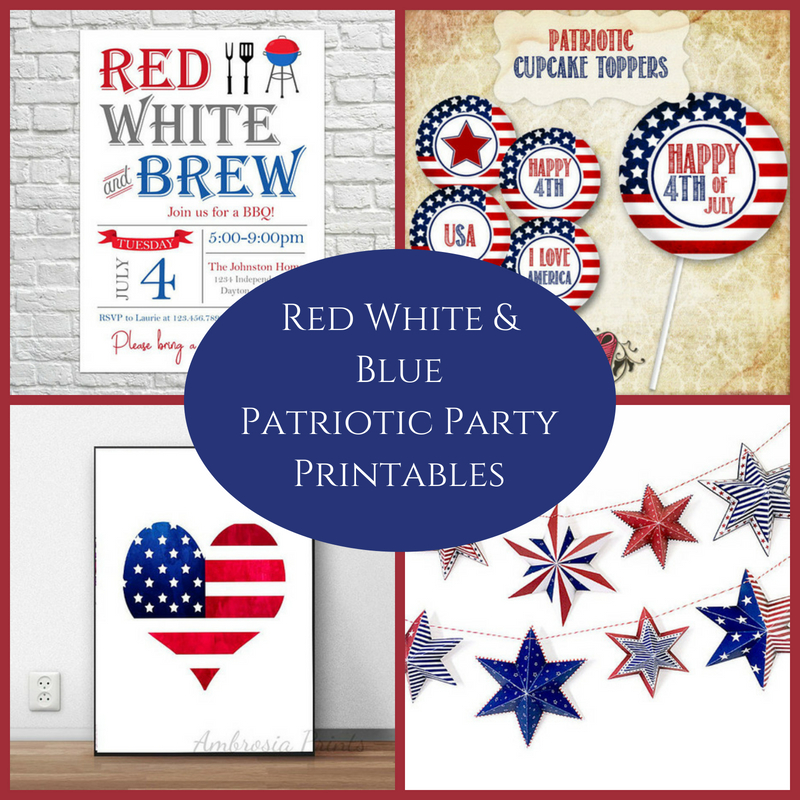 July 4th or Independence Day is a fun holiday for all Americans throughout the country. Since it is during the summertime, many people gather with friends and family around a campfire, at the beach or have a barbecue. To make this holiday even more special, you can supplement it with easy DIY party decorations, invitations and games that you can print at home for your guests. To make it easier for you to find the best ones, we have collected a selection of July 4th red, white and blue patriotic party printables for you to use at home. Browse our selections and see which ones will work for your event.
4th of July/Independence Day Invitation
If you are the host of the party, you will definitely need some invitations. These colorful invitations will act as reminders for your guests, and can be easily printed out on your own printer at the office or at home. You can edit the details to personalize them for your own party or multiple parties. Just click the link below to find out how to order and edit.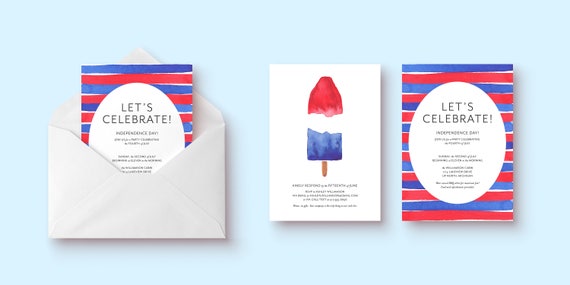 4th of July/Independence Day Invitation

American Theme Invitation and Decorations
This printable includes the invitation and the decorations in one package. You get a banner, subway art, cupcake toppers that you can print and personalize as well as the invitation. You can use all of them or just the ones that you want from this package. To learn how to order this package, click the link below.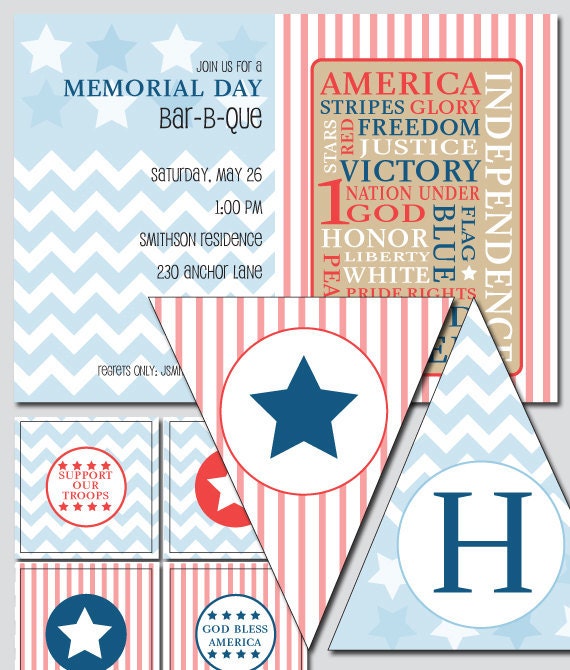 American Theme Invitation and Decoration

Speech Bubbles Star Spangled Digital Clip Art
These speech bubbles are so much fun for decorating a locker at school or adding to your July 4th party decorations. Kids and teens will love playing with these and sticking them around the house or giving them to friends. These are really happy and look like they are from texting or reading a comic book.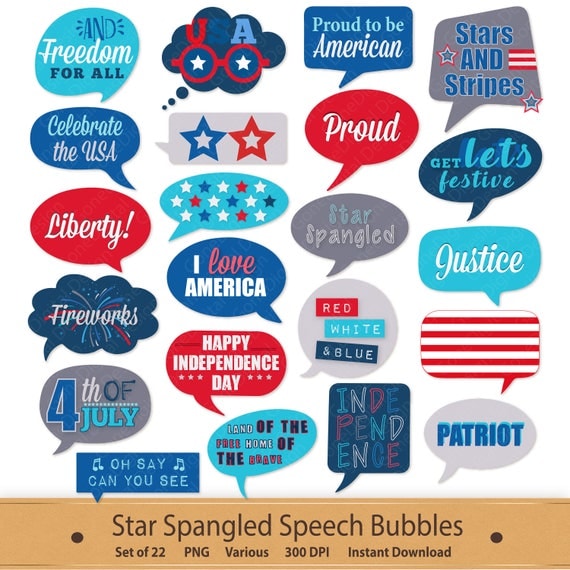 Speech Bubbles Star Spangled Digital Clip Art

4th of July Printable Party Star Banner SVG
This link is for the Star Banner SVG that you can use with a cutting tool such as a Cricut machine. However, this Etsy shop also has the other printables in the image such as the pinwheels and water bottle labels. This banner is great because of the star-shaped cutouts, and you can print it out for your machine to cut. Click below for more information.
Vintage Style 4th of July Printable Party – Instant Download
This package include the entire party for you. You can download and print out everything you need for a vintage-style July 4th party. Just add guests and food. The style is eye-catching and fun, and your guests will love the signage, banner and labels. Included in this set are:
1 sheet of 2″ circle or square party logos / labels
1 sheet of 2.5″ square party logos / labels
1 sheet of folding or flat blank party labels – editable by you
1 sheet large blank party labels 5″ x 7″ – editable by you
1 sheet of party favor hang tags
1 sheet of extra long drink wraps
5 patterned pages
9″ high pennant banner
BONUS – matching cupcake wrappers now included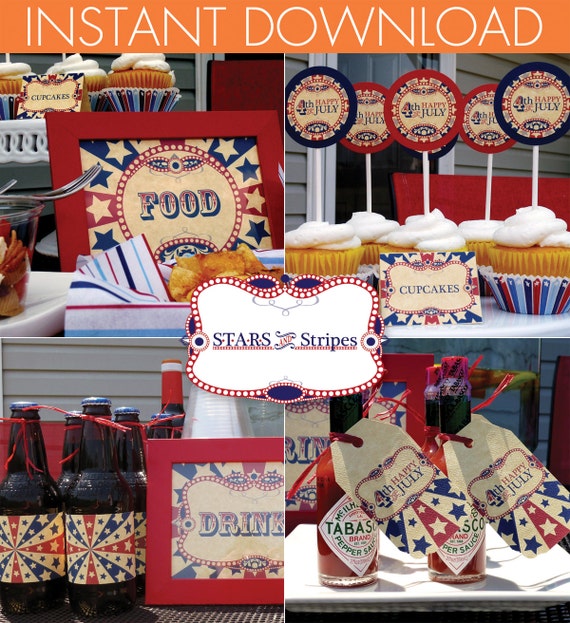 4th of July Printable Party – Instant Download

Patriotic Cupcake Toppers
Making cupcakes for your own party or to take to you child's camp? These cupcake toppers are adorable and so patriotic that your friends and family will love them. Even if you are just inviting a few friends over, you can print these out before you serve dessert. Easy peasy.
4th of July Independence Day Kids Activity Printable Placemat
If your party includes a bunch of kids that will be running around, these placemats are perfect for getting them to hold still. You can print these out on regular paper before the party and hand them out to the kids or parents when it's time to eat. If you don't want to use them as placemats, you can just give them to kids as an activity. Remember that you will need pencils and crayons or markers for coloring.
4th of July Independence Day Kids Activity Printable Placemat Instant Download

Stars and Stripes 4th of July Printable Party Pack
Here is another all-in-one July 4th Printable Party Pack which comes with everything you see below including
2″ circles
3″ circles
6″ circles
Bunting (Happy 4th of July)
Coloring page
Cupcake Wrappers
Favor Box/Bag
Flags for straws/picks
Party Hats
Invitations A6 & 5″ x 7″
Paper
Placement Cards
Pin the spark game
Large Sign A2
Thank you card A6 & 5″ x 7″
This is a great kit, but cannot be personalized unless you have Photoshop or similar software. You can pick and choose the items you want to use and print as many as you need for your gathering.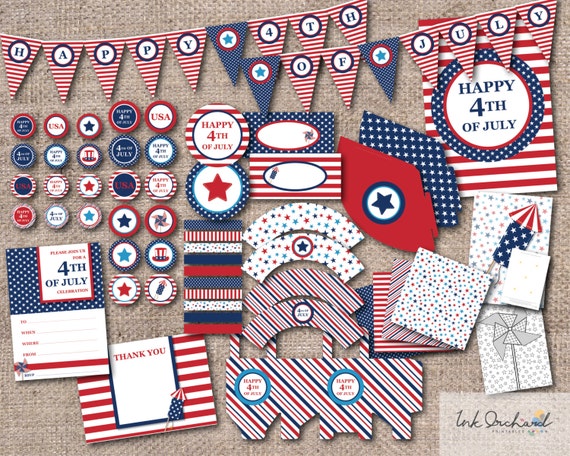 4th of July Printable Party Pack

4th of July Printable Bingo Game
This is an adorable holiday Bingo game appropriate for young children. All the squares are images except the "free" space. Comes with everything you need to play the game that you can print out at home. Great add-on activity for a party with kids on July 4th.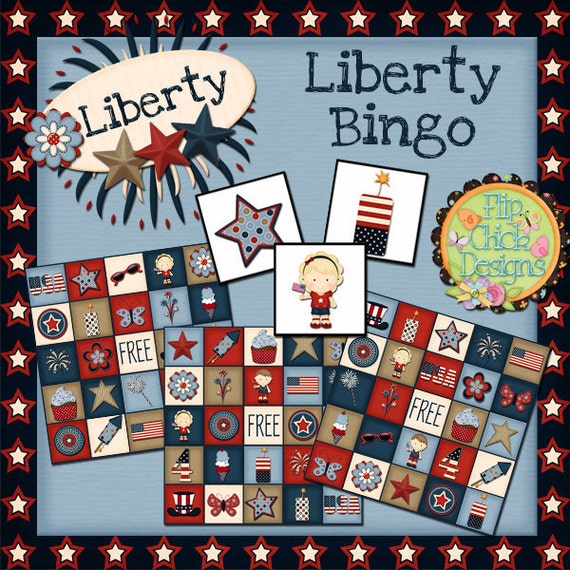 4th of July Printable Bingo Game

3.8-Inch & 4-Inch Print-It-Yourself Patriotic Owls
So incredibly cute, this printable features Patriotic Owls that can be used for craft projects such as pendants, earrings or coasters to name a few. This store has an abundant list of great printables for similar projects in all types of designs. These were so cute we had to include them on your list. You can even make these at your party if you have a group of kids or crafty adults.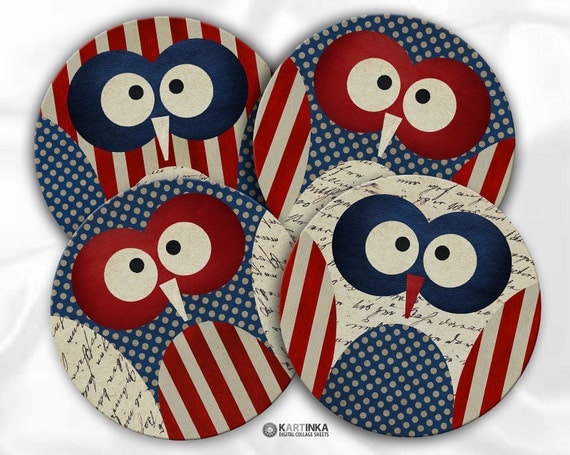 3.8 inch & 4 inch Print it yourself Patriotic Owls

4th of July Party Set
Here is another great 4th of July Printable Set for your patriotic party. This set includes all that you see below such as:
Cupcake Circles – 6 Designs
4 Inch Party Circles – 3 Designs
Drink Wraps – 4 Designs
Favor Tags
Food Tents
Banner – "Happy July 4th" and Stars
Just print out the files and use them as needed for your July 4th event. This set has more of a country feel to it. This seller also has other matching items that you can buy separately.
4th of July Printable, USA Flag Print
A stunning print that you can use as a wall hanging or table display. Frame it to hang or stand up and use it for a party favor or decoration. The file includes different sized prints up to a 16″ x 20″ size. You can print just one or all of the sizes to be used for your Independence Day party.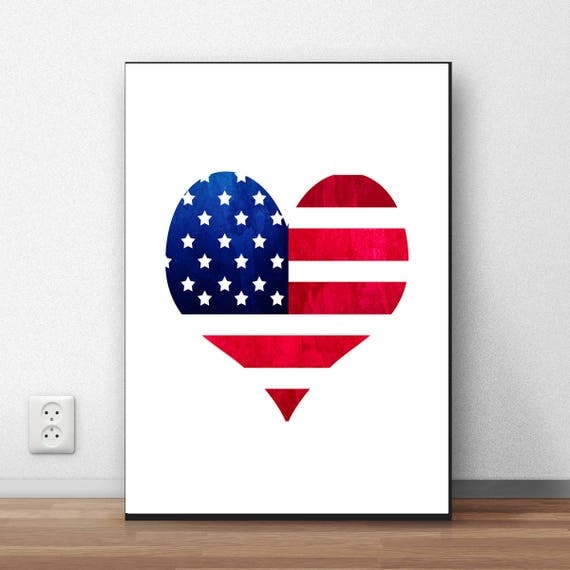 4th of July Printable, USA Flag Print

Happy 4th of July Treat Bag Toppers
This treat toppers are great for school or camp treats or to hand out at the end of your party when everyone is going home. Everyone loves to walk out of a party with a little something to remember it by. Print these out then attach to the top of your treat bags. If bags are large enough, you can also place them inside.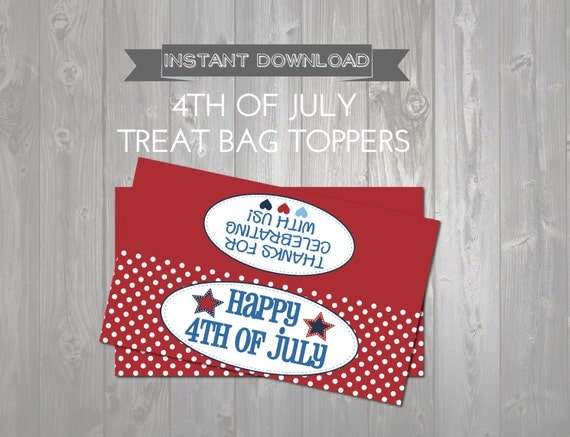 Happy 4th of July Treat Bag Toppers

Printable 4th of July Party Decoration
This printable is a DIY red, white and blue star banner to make at home. Once you print out the files, go to the YouTube video listed on the product page to follow the folding instructions. Easy, peasy, and you have a 3D colorful star spangled banner for July 4th. This seller has other related patriotic party decorations that you can use for table displays, cupcake toppers and popcorn holders.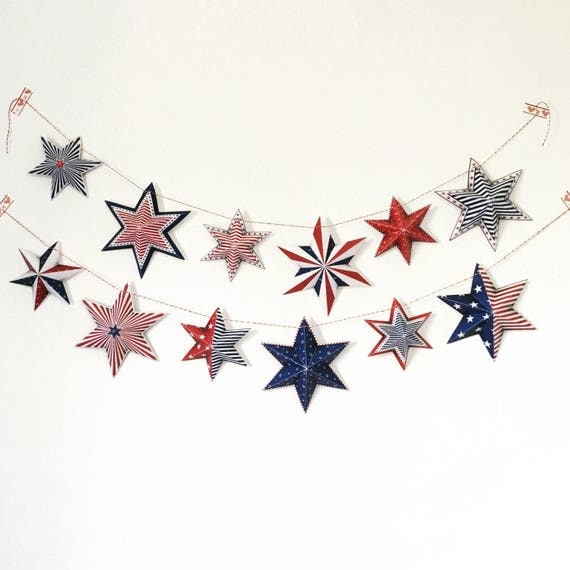 Printable 4th of july party decoration

Red White and Brew Invitation 4th of July
This colorful invitations is terrific for a July 4th BBQ at your home or another location. Provide your party details at the time of order for customization then print them out at home to hand out or mail out to friends and family. You can also use this invite for a corporate barbeque event with some simple changes.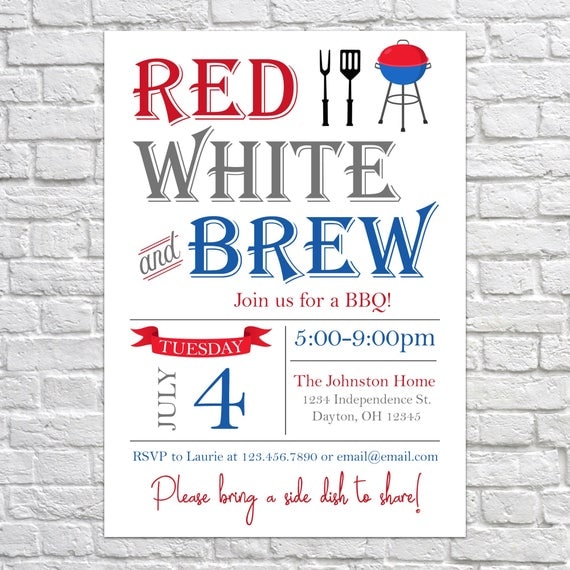 Red White and Brew Invitation 4th of July

Editable Printable July 4th Tags
These simple tags can be used for giveaways, cupcake toppers or labels at your party. If you're not having a party this year, you can also use these tags for July 4th gifts to co-workers, family or friends.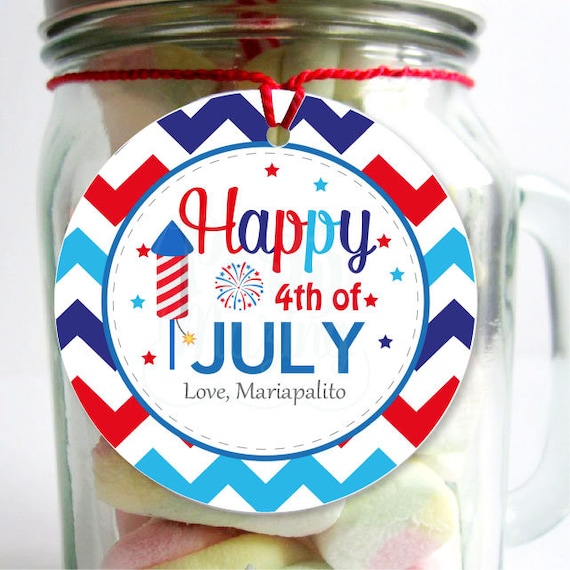 Editable Printable July 4th Tags

DIY Independence Day Bookmark
For kids or adults who love to color, these July 4th Bookmarks are a great activity. They come in black and white, ready to be colored. You provide crayons or markers and your party activity can get started. You can use these as one station for a larger event combined with some of the other activities listed on this page. If you like this project, this seller has lots of other coloring projects for you to work on.
Independence Day Memorial Day Printable Party Pack
This pack includes everything you need for a truly exceptional party. Instead of buying your printables piecemeal just get this one pack. Included in this kit are:
2″ Logos: 4 designs
2 1/2″ Background circles to go behind the 2″ circles in making cupcake toppers
2 1/2″ Logos
5″ Centerpiece flags
8″ Patriotic treat cones for popcorn or other snacks
Cupcake wraps
Straw/toothpick flags
20 Food label tent cards with the following wordings: (BBQ Pork, BBQ Beef, BBQ Chicken, Corn on the Cob, Cupcakes, Cookies, Brownies, Patriotic Treats, Hot Dogs, Hamburgers, Condiments, Salad, Potato Salad, Macaroni and Cheese, Lemonade, Drinks, Water, Pie, Cake, Chips)
Blank tent cards for placecards or write-in buffet items
5.5″ x 8.5″ Fill-in invitation
Drink wraps
Napkin wraps
Banner
Large pennant pieces
Hershey kiss circles
6 Pages of star cutouts
Coordinating papers
Once you have all of these printables, all you need is to provide the food!
Fireworks Clipart
This printable is fun for adding to other decorations or printing on sticker paper. You can put these on windows and doors or add them to a banner or signage. The background is transparent, not black as shown.
4th of July Printable – God Bless America Sign
This chalkboard printable is for a "God Bless America" sign from the words of the song. You can frame it to hang on your wall or to stand on a buffet table during a July 4th picnic. This print is 8″ x 10″ when printed out.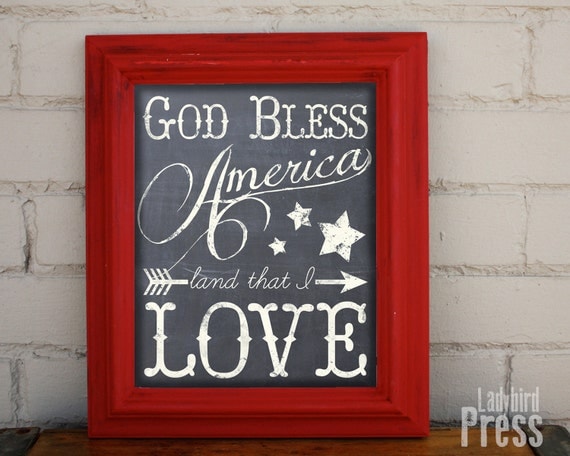 4th of July Printable – American Flag

Fourth of July Subway Art
For a different style of wall art, you can buy this cool July 4th Subway Art to print out and frame. Subway art is very popular right now, and this one is using a vintage-style font in patriotic colors. You can print this for an 8″ x 10″ or 16″ x 20 " frame size. What a great way to greet visitors to your Independence Day party this year.
Pin It for Later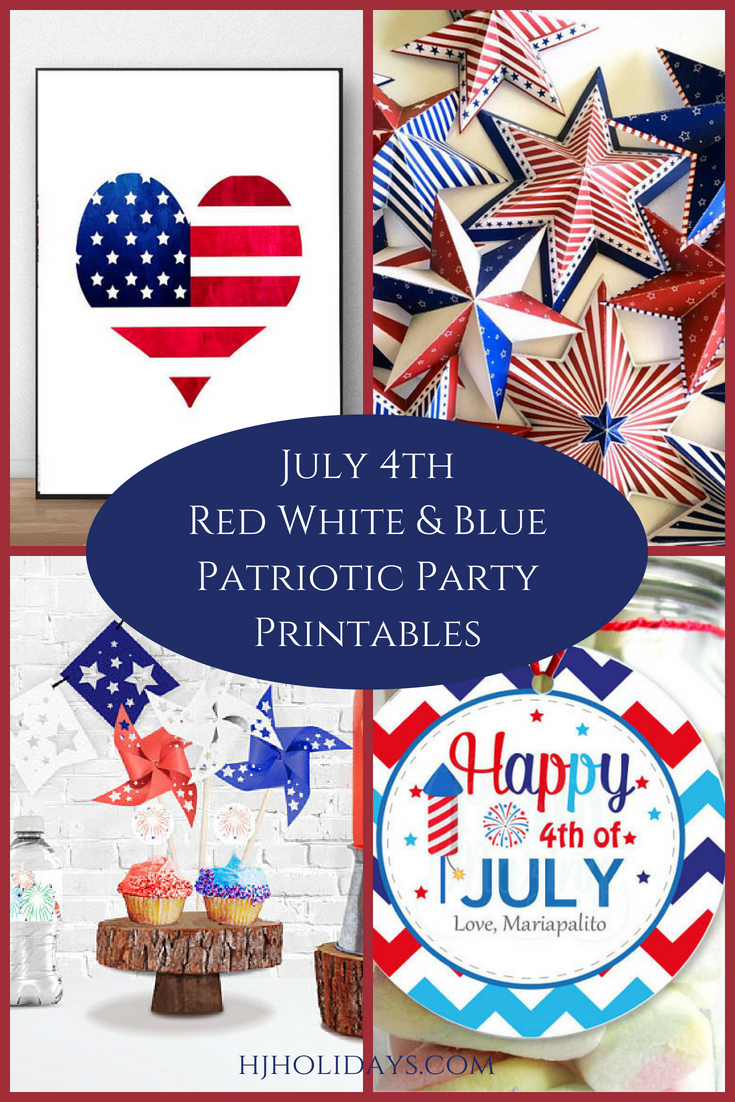 (Visited 298 times, 1 visits today)