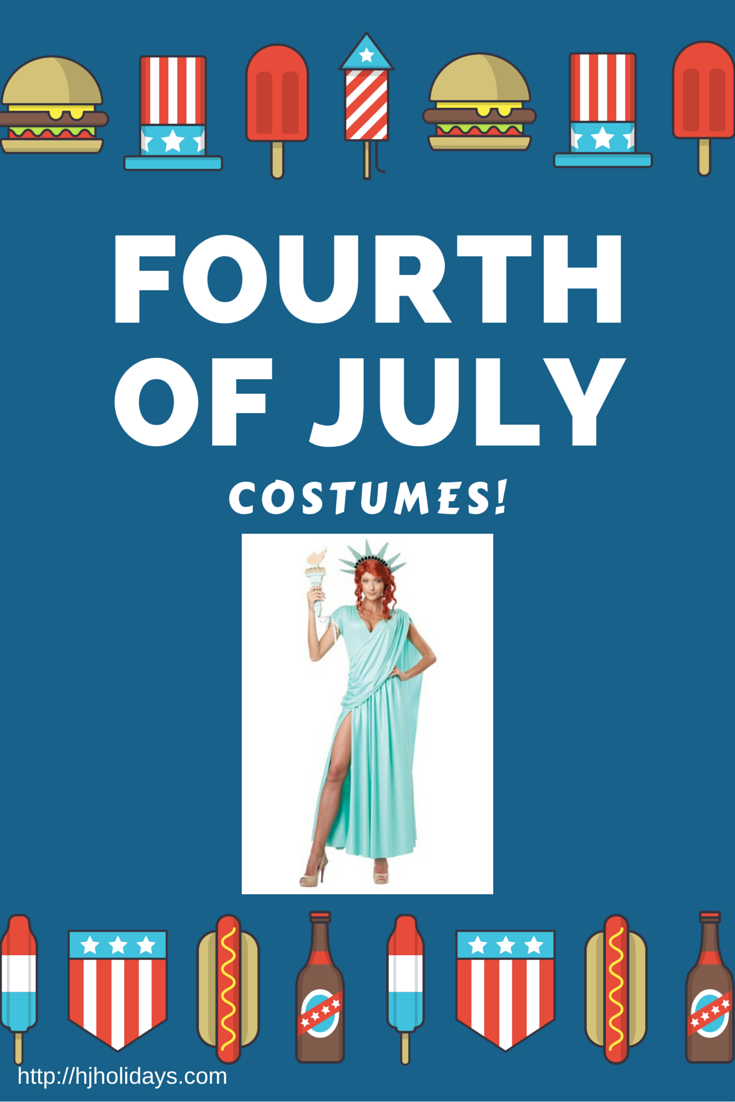 Celebrate July 4th in patriotic costume to honor Independence Day! Not only could you wear the traditional red, white, and blue colors, why not take it up a notch and dress as Uncle Sam, the Statue of Liberty, or maybe a bald eagle that represents freedom? Patriotic costumes are not only a fun way to show your American pride while really getting into the spirit of the celebration, they also make great attire for participating in or attending July 4th parades and other festivities. Here we look at patriotic costumes for both children and adults.
Uncle Sam Costume
This is an adult Uncle Sam costume, perfect for the Fourth of July. Costume includes jacket, pants, bow tie, and red, white, and blue top hat. Comes in sizes small, medium, standard, extra large, and is also available in an adult plus size. Made from 100% polyester interlock knit and felt fabrics. Jacket is a blue cutaway tailcoat style with decorative buttons and red and white striped lapels. Pants have an elastic waistband and are red and white striped. Felt top hat has an inner circumference of 23 and 1/2 inches and is red and white stripe with a blue band featuring white stars. Bow tie has an elastic neckband. Perfect for getting your Yankee Doodle Dandy look on for July 4th!
Child Statue of Liberty Costume
Why not dress as Lovely Lady Liberty to show your patriotic spirit? This is a lovely mint green dress with attached sash, and a foam crown headpiece with the seven spikes sticking out of it. Dress is made from 100% polyester fabric. Pair with a torch and a book to hold for an authentic Statue of Liberty look, perfect for July 4th costumed fun or Halloween. Comes in sizes small (4 to 6), medium (8 to 10), and large (12 to 14).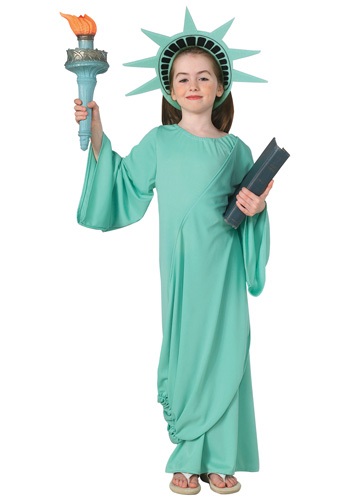 Child Statue of Liberty Costume

Toddler Bald Eagle Costume
This adorable bald eagle costume can have your little one portraying the United States national bird. Costume includes 100% polyester bodysuit, hood, and foot covers. Available in sizes large (2T to 4T), extra large (4 to 6), with medium size (18 months to 24 months) expected to arrive September 18, 2015. Bodysuit is made from a plush brown faux fur with Velcro closures in back. Each side of the bodysuit has wing flaps. Orange, plush foot covers have Velcro straps at ankles, and plush white headpiece has stuffed beak and a Velcro chin strap.
Women's Lady Liberty Costume
For the adult woman who would like to celebrate the Fourth of July as Lady Liberty, this is the perfect costume. Includes dress, headpiece, and torch for a complete look. Available in sizes small, medium, large, and extra large. Mint green dress is sleeveless with a high thigh slit on the right side and is made from 100% polyester interlock knit fabric that glistens with glitter. The sash of the dress is attached at right hip and left shoulder, draping at the back. Foam crown headpiece has elastic band at back, and 15 inch torch is also made from foam. This costume is also offered in a plus size option.
Girl's Colonial Costume
Getting by in Colonial times was much tougher than it is today, but those settlers did what they had to do to make new lives for themselves. If you have a daughter who just can't get enough American history, this Colonial Lady Costume is her chance to step into the role of a pioneer girl! Your daughter will look ready to take on all of an 18th century day's challenges in this modest and fun looking dress, complete with an attached ruffled apron that matches the collar and elastic cap. The included flag replica adds to the costume's American Revolution-era style, if she wants to dress up as Betsy Ross, Martha Washington, or one of the many other women that helped form the United States. It's also a great look for reenacting daily life from that time period, in a play, pageant, or a festival. Included flag has 13 stars in a circle and 13 stripes to represent 13 original colonies.
Boy's Uncle Sam Costume
When it comes to things that represent patriotism you can look straight to the good ol' American flag for the BEST example there is, but you probably shouldn't WEAR the flag. Flags should always be treated with respect, and they have all kinds of rules on how to handle them. Did you know you shouldn't even let a flag touch the ground? It's true! So, as a runner-up for most patriotic thing in the United States that IS okay to wear, look no further than this Boy's Uncle Sam Costume.
Look at those red striped pants! Check out the star-spangled lapels on that jacket! That stars and stripes top hat belongs in a museum! It's such a fun costume that is just perfect for the Fourth of July parade. Or you he could just wear it while hanging out on any day of the year. No matter what day it is, America remains amazing, so we think this costume is appropriate just about anywhere at any time, even Halloween.
Women's American Flag Dress
When you wear this Women's Flag Dress to a 4th of July cookout, holiday parade, or even a Halloween party, everyone will be able to see, plain and simple, where your loyalties lie. And we bet more than a few partygoers will pledge more than their allegiance to you, my dear–like their eternal love and undying devotion–because this dress isn't just patriotic, it's downright sexy! The burgers and dogs won't be the only things sizzlin' this July! You'll feel like you're being followed by your own fireworks display as you strut around in this dress! This dress features 100% polyester tricot fabric, pullover sheath style, right side is sleeveless, left side has long sleeve with a striped flag panel sewn between left sleeve and side seam.
Men's Opposuits Stars And Stripes Suit
This is a great patriotic outfit to wear for July 4th celebrations. Comes with three pieces including jacket, tie, and pants. Comes in sizes 38, 40, 42, 44, 46, and 48. Garments are made from 100% polyester fabric and can be dry cleaned only. Jacket features two buttons at center front, has a full satin lining, and is blue with white stars all over. Jacket also has two pockets. Solid color red pants have a zipper fly and button at top. Self-tie necktie is red and white striped. Pair suit with a solid colored white, red, or blue shirt for a great patriotic look.
Velvet Uncle Sam Top Hat
If you want to show your patriotic pride but don't want to go with a full costume, this Uncle Sam top hat is a great accessory. Hat is standard size with a 23-inch circumference. Made from 100% polyester, hat is adjustable with an elastic Velcro band. Features vertical red and white broad stripes on main body of hat as well as the brim, and blue band across hat features white stars.
More Patriotic July 4th Costumes from Amazon
If Amazon is your preferred source for costumes, you can find a lot of patriotic examples there. All of these are in stock right now for easy ordering.
Delicious Sequin Front Pull Over Dress Oh Beautiful!
Adult Statue Of Liberty
Men's Stars and Stripes Vest
Flag USA Dress
Betsy Ross, Red/White/Blue
Uncle Sam Costume
Ben Franklin Complete Costume
Women's Patriotic Sequin Sparkle Costume
Women's Miss Independence
Founding Father Patriotic Adult Costume
Aunt Samantha Costume
Betsy Ross Costume
Colonial George Washington Wig
Liberty Torch Costume Accessory
Deluxe Admiral Costume
Patriotic Stove Pipe Hat
Colonial Lady/Betsy Ross
Deluxe Adult Uncle Sam
Uncle Sam Costume Kit
Historical Colonial Man Wig
Forum Novelties Patriotic Party Uncle Sam Costume, Child Large
Abraham Lincoln Costume
Miss Liberty Costume
Plastic Patriotic Skimmer Hats
Formal Marine Child's Costume
Uncle Sam Pet Costume
Men's Flag Tunic- USA
USA FLAG Lightweight Fleece Shorts
Rubie's Deluxe Betsy Ross Costume – Medium (8-10)
Miss Liberty Latex Mask
Long Patriotic Wig
Deluxe Colonial General Costume
This project is part of the Pinterest Party Patriotic Blog Hop. Pinterest Party is a Facebook group for Pinners who love to collaborate and share! The rest of the posts from this hop are listed below. Follow along as each post is published! Here's the schedule:
July 1 Celebrate July 4th In Patriotic Costume by Paula Atwell (that's me!)
July 2 Make it: Patriotic Flag Craft by Kristen Carrasco
July 3 Decorate With Red White And Blue by Bev Owens
(Visited 1,114 times, 1 visits today)