Make a perfect pair with your pooch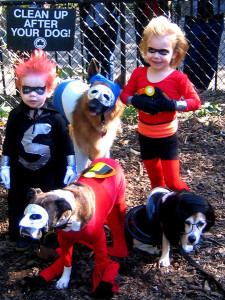 Look down at your feet. Do you have a furry creature there keeping your toes warm? You just found the perfect date for a Halloween party!
Don't believe me? My dogs would do anything to make me happy, including donning the most ridiculous outfits and patiently sitting there while I take pictures. And given the fact that my husband has done costumes with me a whole whopping once, if I want to be in a couple's costume contest, it's going to have to be with my best girl rather than my best man.
Fortunately I'm not alone. About 40 percent of Americans plan to dress up for Halloween this year and about 12 percent will dress up their pets as well. It only makes sense that you might want to make it a paired costume set with you and your pet. Not matching necessarily, but definitely a set.
I've picked 20 of the most popular dog costume themes out there with ideas for human costumes to go with them. If you have more than one dog, you could go with a group costume idea, and I've noted those as well where I had an idea.
Most of these costumes work for just about combination of male/female owner and dog. (Although, your male dog won't mind being in pink tulle and a stunning number of people can't seem to notice the difference in dog sexes anyway. So adjust as needed for your situation.)
I've also focused on costumes you can just purchase out there rather than things you have to make yourself. I'm sure you can come up with far more cool ideas that won't require a trip to the store at all. Most of these costumes come in size small through XL, although XL is only likely to fit a dog up to around 50 pounds. (That's the size I would need for my girl boxer, who's a bit of a runt at 55 pounds.)
Incredibles Photo Credit: istolethetv on Flickr.com, used under CC2.0 license.
Dog Costumes – Yea or Nay?
Will your dog even wear one?
My dog can manage just about any kind of costume for a minute or two. But stuff that goes on her head would never stay long! So I tend to look for costumes that aren't much different than wearing her sweater or collar. Anything else and we would be littering the neighborhood with costume pieces!
Owner and Dog Costumes: Super Heroes
Be a crime-fighting duo with your mutt!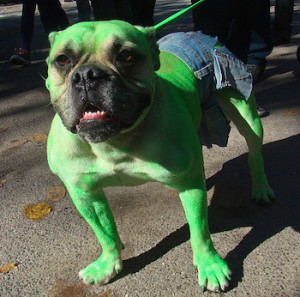 It's Halloween. So, of course, one of the first costume ideas that come to mind is the wide range of super heroes out there. The list is just longer than most of us can keep up with, but we're looking for good pairs here that you can do with your dog.
Batman is one of the easiest to find for a dog and could easily be paired with Robin, The Joker or Catwoman. Or go with another DC Comics choice in Superman, which you could pair with Wonder Woman or Supergirl or even bad guy Lex Luthor. The Justice League is another way to go if you have a group of dogs to dress up with.
Surprisingly, this is the first year I've found a Marvel Comics character other than Spider-Man. Who doesn't pair well with anyone other than the bad guys. Well, unless you can pull off Mary Jane, I suppose. Just a couple, but at least your dog could be one member of your group of Avengers.
Hulk Photo Credit: istolethetv on Flickr.com, used under CC2.0 license.

Spider-Man

Iron Man

Captain America
Pairs with: Marvel villians, Avengers

Batman Dog Costume
Classic version in blue and gray

Batman Dog Costume
More updated version in black and gray

Dark Knight
Armored look from more recent movies
Pairs with: Robin, Batgirl, Joker, any other Batman villian

Pet Robin Halloween Costume
I wanna know how they get that mask to stay on!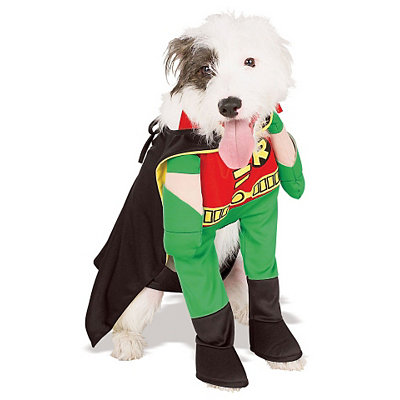 Robin Dog Costume
A little more detail on this one, as it shows the belt and the arms go all the way down to become boots.
Pairs with: Batman

Superman Dog Costume

Superman Deluxe Dog Costume
Includes feet and hands!
Pairs with: Batman, Wonder Woman, Supergirl, Lex Luthor

Wonder Woman Deluxe Dog Costume
Pairs with: Superman, Major Trevor
Movie & TV Characters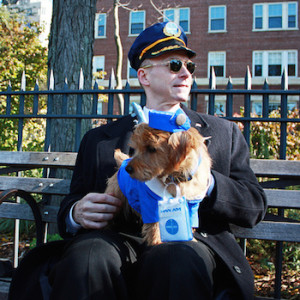 Movie and TV characters are another popular costume idea for dogs and humans alike. And it's probably the more difficult category to whittle down to great sets! There are just so many options available for humans here that our real limiting factor here is just what's available for dogs.
My all-time favorites have to be the ones from the Star Wars saga. You can come up with your own pairings out of all the choices there, since you can get dog costumes in Yoda, Darth Vader and Princess Leia. I especially like the idea of doing Yoda and Luke Skywalker or doing two versions of Princess Leia. And there are several new options out there this year like R2D2 and a wampa.
The Wizard of Oz also offers a great collection of pairing options since you can get just about any of the characters for humans and dogs. One set you can't get that I think would be hilarious would be the Wicked Witch and a flying monkey. I can't find a scarecrow anymore, but there is a Glinda now. (And a wicked witch! Finally!) There are also a couple of different designs depending on the store you visit. (I've included my favorites only.)
Both Star Wars and Oz also make for great group costumes, of course.
Going a little more girly, consider Tinkerbell and Peter Pan as a pair. (Toss in some wild boys or even Wendy and her brothers for a group idea.) Go with a different Disney couple with Alice and the Queen of Hearts. (Again, add the Cheshire Cat, White Rabbit and Mad Hatter for a group shot.)
Or how about TV dogs and their owners? I found three that came as dog costumes – Astro, Scooby and Dino – and you can easily find costumes for George Jetson, Shaggy and Fred Flintstone to go with them. Of course, I think it would be hilarious if you could do it backwards and dress your dog as the human and yourself as the dog!
Pan Am Photo Credit: istolethetv on Flickr.com, used under CC2.0 license.

Yoda Costume

Darth Vader Costume

Princess Leia Costume
Pairs with: Luke Skywalker, Princess Leia, Hans Solo

Wizard of Oz Dorothy Dog Costume

Tin Man Dog Costume

Cowardly Lion Dog Costume

Glinda The Good Witch Pet Costume

Wicked Witch Of The West
Pairs with: Dorothy, Tin Man, Cowardly Lion, Scarecrow, Wicked Witch

Alice In Wonderland Dog Costume
Pairs with: Queen of Hearts, White Rabbit, Mad Hatter, Cheshire Cat

Despicable Me Minions Costume
Pairs with: Other Minions, Purple Minions, Gru, Margo, Edith, and Agnes

The Flintstones Dino Dog Costume
Pairs with: Fred Flintstone, Pebbles

Astro Dog Costume
Pairs with: George Jetson, Elroy Jetson
Owner and Dog Food Costumes Pairs
Some foods just go together!
The whole hot dog thing has been rather done to death, don't you think? Still, those little dachshunds look hilarious in those outfits! You can do a twist on it with your dog in a mustard costume and you in the hot dog one. Or do a mustard ketchup pair.
I ran into a chef costume for a dog, which could go well with any kind of food outfit for you. Well, except for pizza, maybe. Try a lobster, perhaps?
But back to funny, a bacon and eggs meal grouping would be great. (On a side note, you could do chicken and eggs, although they'd be in a non-eating form.) I can't seem to find a bacon costume anymore, though.

Hot Diggity Dog
Pairs with: Mustard, Ketchup, Hamburger, Soda
Pairs with: Ketchup, Hot Dog, Hamburger
Traditional Halloween Costume Pairs
So, let's move back to more traditional pairings for Halloween costumes that you and your dog can wear. We have the good guy-bad guy group with a prisoner and cop, cowboy and Indian (I know, which one's the bad guy?), devil and angel.
Then let's look at seriously boy-girl sets like football player and cheerleader (or football player and football, perfect if you have a toy dog actually the size of a football.) How about a knight and princess, 50s couple or a flapper and mobster.
You also could go with another classic – the caveman. Only instead of being caveman and cavewoman, how about caveman and mammoth?

Devil Dog Costume

Devil Dog Costume

Angel Pet Costume

Angel Dog Costume
Pairs with: Angel, Devil

Prisoner Dog Pet Costume
Reads "bad dog" on the hat

Zelda Wisdom
Prisoner Dog Costume

Police Dog Costume
Complete with handcuffs!
Pairs with: Prisoner, Sheriff, Police Officer, Judge

Pretty Princess Dog Costume

Zack & Zoey Knight Dog Costume

Sir Barks-A-Lot
Knight Costume for Dogs
Pairs with: Prince, Knight, Pea

50's Pink Doggies Dog Costume
Pairs with: Greaser, 50's

Animal Planet Woolly Mammoth Dog Costume
Pairs with: Caveman, Cavewoman, Sabertooth
Getting Original
Get a little original as you start looking at options for a dog costume. Just a few ideas I had come to mind as I was browsing through included any number of insect costumes for your dog – bee, butterfly, ladybug, dragonfly – teamed up with a flower costume for you. Do a twist on a traditional costume by dressing your dog as a ghost and yourself as a Ghostbuster.
One of my favorites actually came from looking at pictures of contests and I saw a dog shark with his surfer owners. Who had a surfboard with a bite taken out of it, of course. Perfect prop for that costume, although it would probably be funnier if the bite was the size of the dog's. Especially if it's a smaller dog.
Another funny pairing would be a monkey and banana, which could be done with either partner in the couple as the monkey or the other. You could also go with a pair like Uncle Sam and the Statue of Liberty.

Bumble Bee Dog Costume

Anit Accessories
Honey Bee Dog Costume

Zelda Wisdom
Bumblebee Dog Costume
Pairs with: Flowers, Honey, Bees (great group!)

Animal Planet Hammerhead Shark Pet Costume
Pairs with: Surfer, Water, Fish

Chiquita Banana Pet Costume
Pairs with: Monkey, Gorilla

Pop Sensation Dog Costume
Pairs with: Photographer, Backup Dancer, DJ

Uncle Sam Dog Costume
Pairs with: Flag, Statue of Liberty