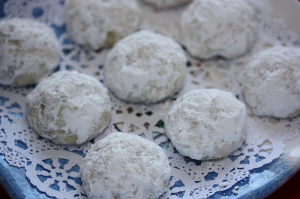 If you want to make some cookies for Christmas, Ukrainian snowball cookies are a great choice! These are fun to make, especially if you are working with children. They are also quick and easy.
This recipe for snowball cookies was given to me by my mother-in-law who was a terrific cook! She used to make these cookies with her children. Their family celebrated Ukrainian Christmas on January 6. They always had plenty of food to celebrate the holidays, as well as cookies to share with guests who frequently dropped by. These snowball cookies were always a sought after treat.
These snowballs were definately a favorite Christmas cookie at my mother-in-law's house! Try them and you will agree!
Ingredients
1/2 cup of powdered sugar
1/4 teaspoon of salt
1 cup of softened butter or margarine
1 teaspoon of vanilla extract
2 1/4 cups of sifted flour
1/2 cup chopped nuts
some extra powdered sugar for the coating
Instructions
1. Preheat your oven to 400 degrees fahrenheit.
2. Cream together thoroughly in a large bowl the powdered sugar, salt and the butter or margarine.
3. Add the vanilla and blend into the butter and sugar mixture.
4. Stir the sifted flour gradually into the creamed ingredients.
5. Work the nuts into the cookie dough.
6. Put the dough in the refrigerator for a few hours or a day, until chilled through.
7. Form the cookie dough into balls about one inch in diameter, and place them on an ungreased cookie sheet about 2 inches apart.
8. Bake the cookies at 400 degrees fahrenheit for ten to twelve minutes. They should just be set, not turning brown.
9. Roll the baked cookies in the extra powdered sugar. Put them on a plate to serve.
Tips for Your Snowball Cookies
You may choose to use tinted sugar to decorate the snowball cookies. To make pastel snowballs, put two cups of powdered sugar into a blender. Drop several drops of food coloring into the blender with the powdered sugar. Blend briefly.
Watch the cookies carefully and take them out of the oven before they turn brown.
Three Children with a Very Large Snowball
Buy This at Allposters.com
A Snowball Cookie Mix – For Those Who Prefer a Mix to Baking From Scratch
If you don't have time to make everything from scratch, try this Snowball Cookie mix from Betty Crocker. This can be hard to find in the grocery store, but you can purchase it here. Better order now, so you will be ready for the holidays!
 Betty Crocker Snow Ball Cookie Mix, 28.2 OunceCheck Price
Snowman Magic Bakery Treats – Readymade Snowball Cookies
Prefer to order your snowball cookies already made? Look no further! Marge's Bakery will make them for you with fresh, organic and all-natural ingredients. Just like Grandma made! Delicious!
 Amaretto Snowball Cookies (4 boxes)Check Price
How to Make Snowball Cookies
It's so easy to make snowball cookies! You can have them done in less than hour!
Watch how easy it is!
(Visited 12,692 times, 9 visits today)