Mug sets for the perfect pair at Valentine's Day
Share a moment every morning over a set of mugs that show just what a great pair you are.
These romantic mug sets come in a set of two, just right for a romantic gift for a couple on Valentine's Day or an anniversary. (The gift for a ninth anniversary is pottery so that's a great time for it!)
Many of these sets are personalized, so you can add your names, a significant date or other details related to your love. I adore the sets from Personalization Mall like the heart ones pictured here. The handles are shaped like hearts and the mugs nestle together. Very nice!
Mug Sets for the Married Couple
Great ideas for anniversary and wedding gifts as well!
These are all Mr. & Mrs. sets, well except for the bride and groom ones. So best for wedding and anniversary gift ideas, or your first Valentine's as a married couple.
Just as a side note, most of the come already set as Mr. and Mrs. and you only get to add the last name and the date or other piece of info. I found just one set where you got to pick the title as well, so that might be the option for you if you're looking for a gift for a same-sex wedding.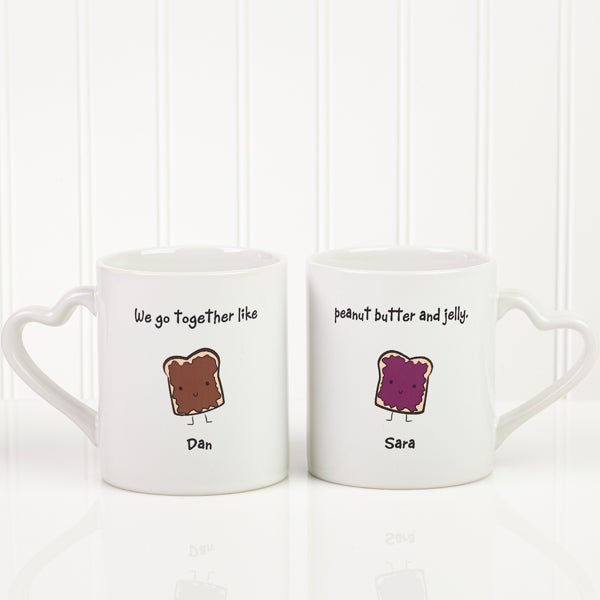 We Go Together Like… Personalized Mug Set
$22.95 at PersonalizationMall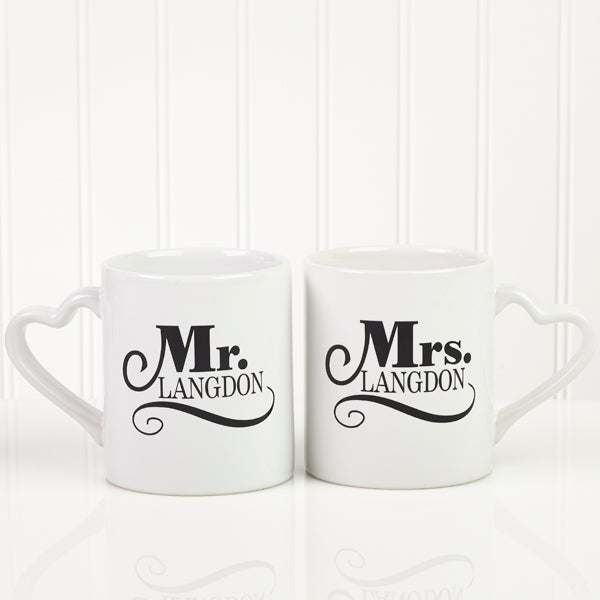 The Happy Couple Personalized Mugs
$22.95 at PersonalizationMall
Comes with your option of a title, then include the couple's last name.
Makes a great gift for bridal showers, Weddings and much more!

Personalized Initial Mug (Set of 2)
Crafted of ceramic stoneware with heart-shaped handles and a curve to mold them together.
Says the personalization can be Mr. or Mrs., but not sure if that means both can be one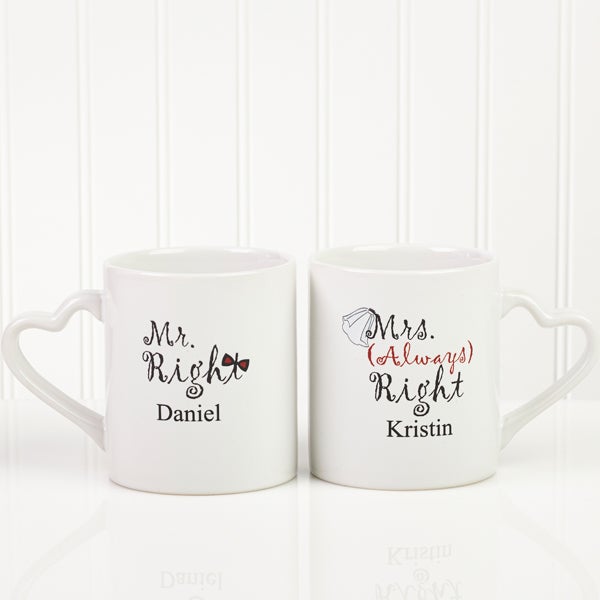 Mr. and Mrs. Right Personalized Lover's Mug Set
$22.95 at PersonalizationMall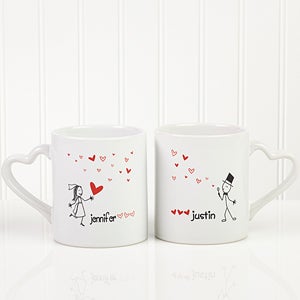 Blown Away By Love Personalized Mug Set
$22.95 at Personalization Mall
Cute stick figure bride and groom blowing heartfelt kisses to one another across each mug.
Romantic Mug Sets
If you're just looking to share the love and not celebrate marriage necessarily, you're good to go here. Hearts, his and hers and just general love messages here. The ones you can put names on are good options for any couple since it doesn't have to be mixed sex names generally.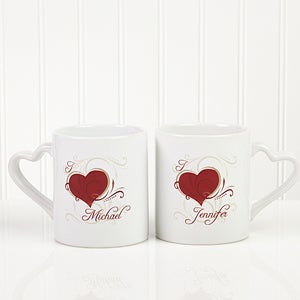 Heart to Heart Personalized Mug Set
$22.95 at Personalization Mall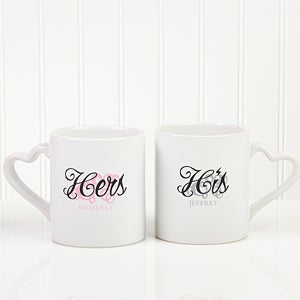 His & Hers Personalized Mug Set
$22.95 at Personalization Mall

Personalized Heart Mugs (Set of 2)

Our Name is Mud Love You Mug Set Mug
We Go Together Romantic Mug Set
This set has to be my favorite and not just because of the whimsical design. We go together like …? Awesome. With eight different pairings to choose from, there's bound to be one that fits your taste. Picture of all the possible designs below.

Lines of Love Mug Set-I Love You

BOLDLOFT® "Catch My Love" His and Hers Coffee Mugs
Coffee Mug Sets for Couples
 Mr. And Mrs. Coffee or Tea Mug Set
 "Don't Go Bacon My Heart" His and Hers Mug Set
(Visited 736 times, 1 visits today)