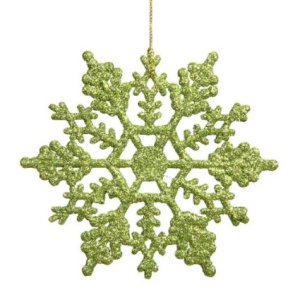 Having a green Christmas can be quite literal if you choose lime green Christmas ornaments and decorations. Here we explore the world of lime green Christmas trees, ornaments and decorations that just might inspire you and get your creative juices flowing.
From here you can take your pick from a wide selection of artificial trees – some already with lights – ornaments and decorations in wild shades of lime. Mix, match and contrast to create just the effect you want. And with lime green fairy lights, you can leave them up and have Christmas all year round. I hope you enjoy browsing the selection I have collected together for you to make your online shopping experience as easy and as much fun as possible. Deck the halls with – lime green!
Featured: Club Pack of 24 Green Kiwi Glitter Snowflake Christmas Ornaments 4″
Lime Green Ornaments
Shatterproof Lime Green Christmas Ball Ornaments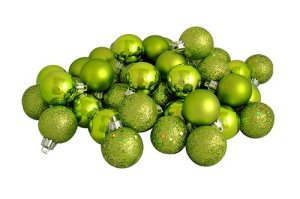 Vickerman 4-Finish Ornament Set, Includes 60 Per Box, 2.4-Inch, Lime
Pretty glass baubles to hang on the tree – or anywhere you like really – Using all the one tone can create a stunning and classy effect particularly if you set it against a white or snow covered tree.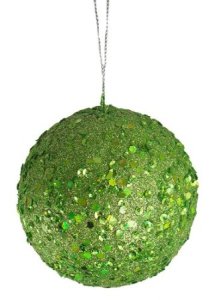 Club Pack of 24 Lime Holographic Glitter Drenched Christmas Ball Ornaments 3″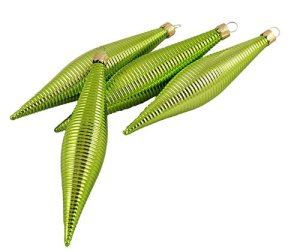 4ct Lime Green Textured Finial Shatterproof Christmas Ornaments 5.5″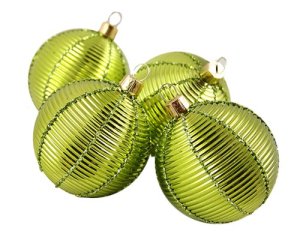 4ct Shiny Lime Green Ribbed Shatterproof Christmas Ball Ornaments 2.5″ (60mm)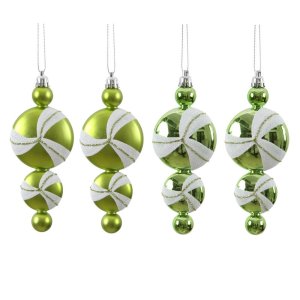 Set of 16 Lime Green and White Candy Dangle Christmas Ornaments 6″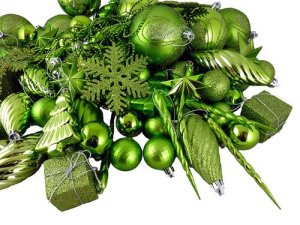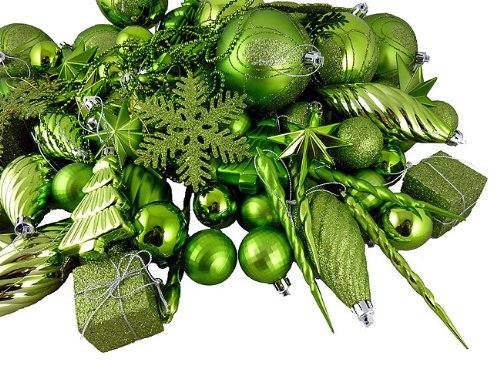 Vickerman 125-Piece Ornament Set, Lime Green
Lime Green Christmas Lighting
Frosted Lime Green Christmas Lights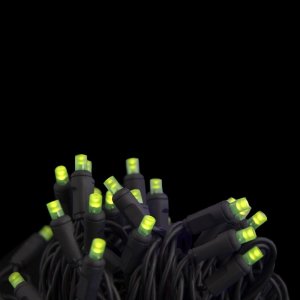 Christmas Lights – 5MM Lime Frost LED Halloween Lights
Lights are essential in any Christmas display – this set has 50 lime green, energy saving LED bulbs that you can string indoors or out. The whole string is around 25 feet long – so plenty to go around.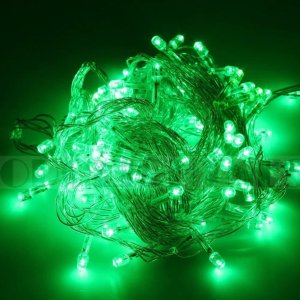 100 LED Christmas Party Fairy Light String Green LED Christmas Lights
Pre-Lit Trees & Garlands
Pre-Lighted Lime Green Artificial Christmas Tree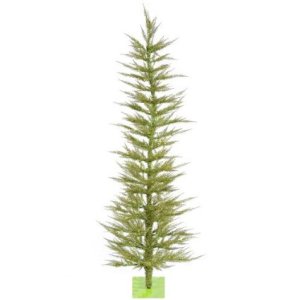 6′ Pre-Lit Whimsical Lime Green Artificial Tinsel Christmas Tree – Clear Lights
Decorating is easy with this pre-lit artificial Christmas tree – it already has all the twinkling lights it needs.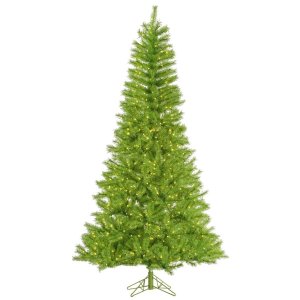 4.5′ Pre-Lit Fresh Lime Green Tinsel Artificial Christmas Tree – Lime Green Mini Lights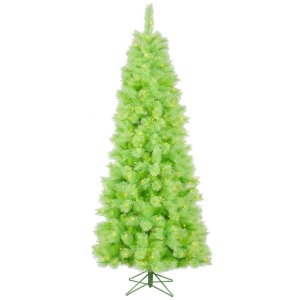 Vickerman 26690 – 7.5′ x 40″ Lime Cashmere 400 Green DuraLit Miniature Lights Christmas Tree (A121376)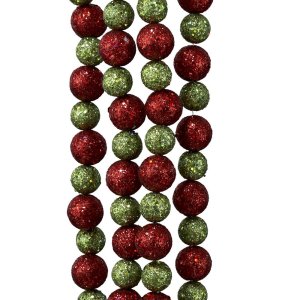 Kurt Adler 6′ Red And Lime Green Glitter Ball Christmas Garland
Other Lime Green Christmas Holiday Decorations
Beaded Christmas Garland in Bright Lime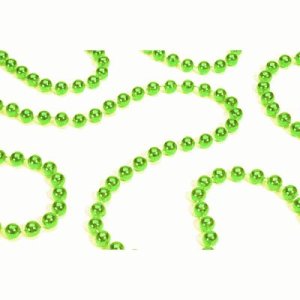 Shiny Lime Green Beaded Christmas Garland 9′ x 8mm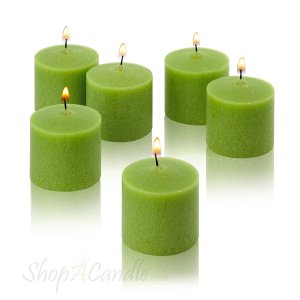 10 Hour Lime Green Unscented Votive Candles Set of 12
Decorating with Lime Green
Lime green is a fun and cheerful color that makes a delightful addition to home decor. The color adds definition to any room and really draws people in. Lime green and other neon shades are currently a very popular decorating trend and there are many great, inexpensive decorating ideas you can use to add a splash of lime green accent to any room.
More Lime Green Christmas Decorations
 Holiday Time Mini Ornament Set,shatterproof Shiny Bulbs with Glitter,20x (Lime Green)
 Lime Green Polka Dot Plastic Tablecloth 108″ x 54″
 Elegant Hanging Holiday Tinsel Garland 3-inches Thick x 12-feet – Lime Green Boa
 10″ Lime Green Springy Star With Warm White Led Lights – Christmas Tree Top Star / Christmas Decoration
 Shiny Metallic Lime Green Beaded Christmas Garland 15′ x 6.25mm
 Lime Green Sequin Table Runner – 13″ x 60″ – Wedding / Party Decoration
 Plastic Hanging Swirl Decorations, 26″, Lime Green, 8 Count
 Kel-Toy RDJB138-50 Sparkle Faux Burlap Ribbon, 1.5-Inch by 10-Yard, Lime Green
 Morex Ribbon 98509/10-027 Princess Glitter Metallic and Nylon Ribbon, 1-1/2-Inch by 10-Yard, Lime
 Queens of Christmas WL-TOPPER-12-LG Finial Topper Ornament with Olive Glitter, 12″, Lime Green
 Vickerman Unlit Tinsel Artificial Wreath, 24″, Lime/Green
 Vickerman Shiny Lime Green UV Resistant Commercial Shatterproof Christmas Ball Ornament, 4″
 6″ Christmas Brites Festive Red and Lime Green Christmas Onion Ornament
 5″ Lime Green Sequin and Glitter Bow Christmas Ornament
 Vickerman 75″ Lime Green Tinsel Artificial Christmas Tree with 700 Lime lights
Living Areas
To incorporate lime green into spaces such as living rooms, family rooms, and dens, the obvious choice is to paint one or more walls in the color. If an entire lime green room is a little too much for your taste, consider doing only one small accent wall. If you'd rather stick with more subtle ways to use the color, consider a lime green area rug, or perhaps some nice throw pillows for the couch or loveseat. A colorful painting that includes the color could be added, or include it in the use of accessories such as a nice vase for the coffee table or end table. Small decorative lamps, picture frames, or other items can be placed throughout the room to add a lively splash of lime green.
Bedrooms
Decorating with lime green in the bedroom is easy and fun. Again, paint works nicely on either one wall or all of them. Or, purchase a lime green bedding set that uses the color in the bedspread, linens, and dust ruffle. Add decorative accent pillows in the same color if desired. Curtains are also a great way to bring the color into any room.
Bathrooms
Bathrooms can incorporate this lovely color on walls, or by the use of lime green washcloths and bath towels. You may also be able to find accessories such as soap dispensers, soap dishes, or toothbrush holders in the color. There is also the option of painting the walls or else hanging a piece of art that uses the color.
Kitchens and Dining Rooms
You can incorporate lime green into the kitchen by painting, or adding accent rugs or curtains to the room. Perhaps invest in some lime green canisters or dish towels to place around the room. Lime green seat covers can be placed on chairs, as well as using lime green placemats on the tables. Perhaps a nice table runner or centerpiece that uses the color would work nicely too.
(Visited 3,305 times, 1 visits today)