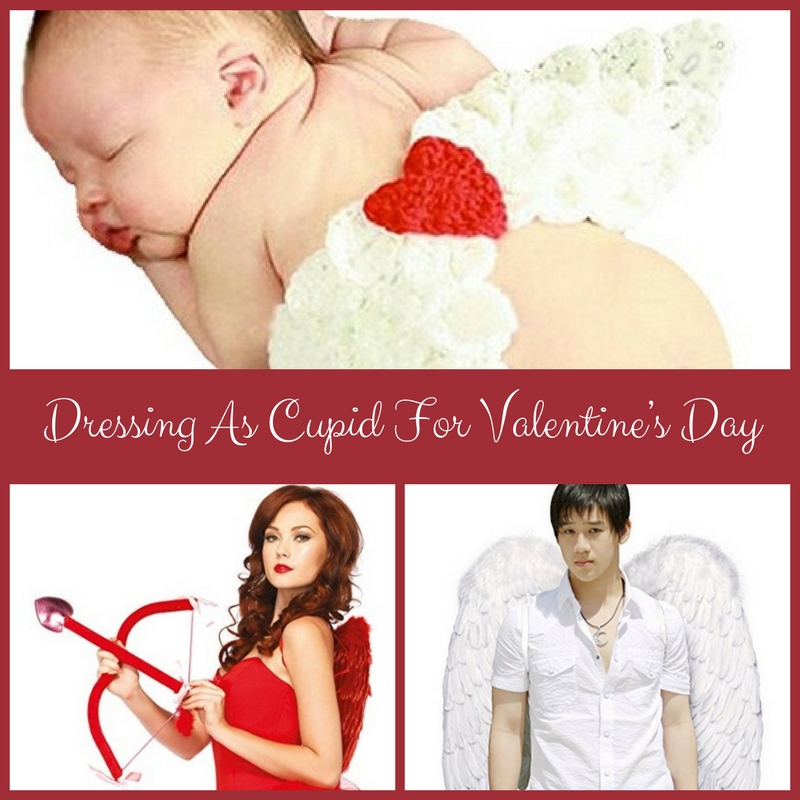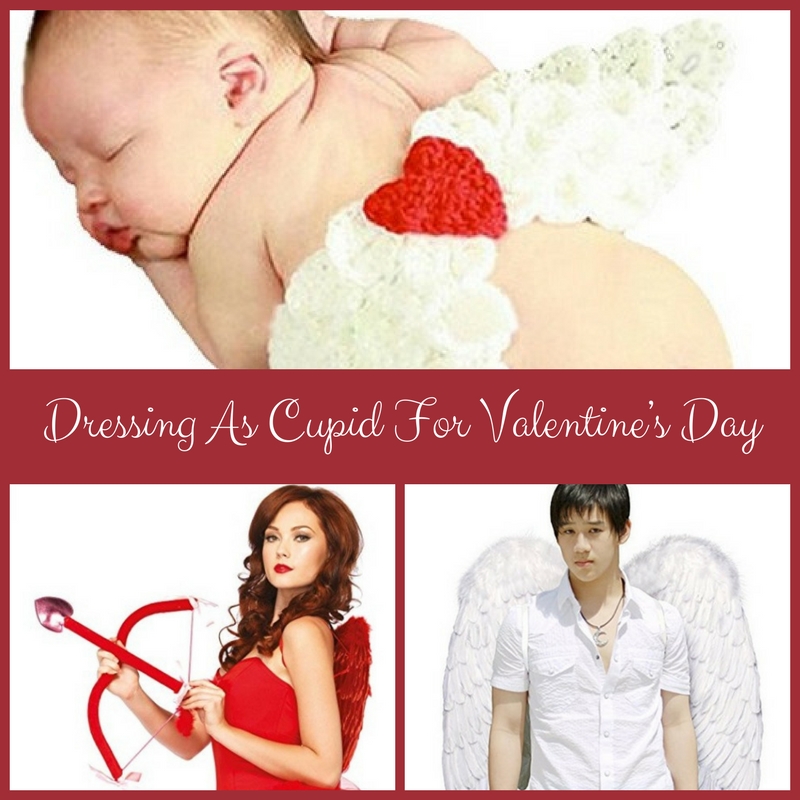 Valentine's Day brings thoughts of candy, hearts, flowers, and of course, Cupid. Cupid is the god of desire, erotic love, affection, and attraction in Greek mythology. Cupid is known for carrying around his bow and arrow, and if struck by Cupid's arrow, the person shot becomes overwhelmed by desire. This Valentine's Day, if you want to add a little spice to your relationship, consider dressing as Cupid for your significant other. A Cupid costume is also a great idea for a Valentine's Day themed party. Here are some helpful suggestions for putting together the perfect Cupid costume that is sure to guarantee that love will be in the air this February 14th.
Cupid Costumes for Kids
Most of the costumes for kids that can be used for playing Cupid are actually angel costumes. You can dye them to change the color or just not use the halo and save the costume for use later as an angel (at Christmas or Easter). Here is a selection for infants, toddlers and young children although you can also find some for teens. For boys, a white pair of pants and shirt with a pair of wings shown further down the page would work nicely for a Cupid costume.
InCharacter Baby Girl's Angel Costume, White, 2T
Toddler Little Angel Costume

Toddler / Child Angel Costume

Angel Fairy Costume

Lilac Angel Toddler Costume

Angel Toddler Girls Costume

You can also look below at just adding wings to a red or white outfit for a child Cupid.
Cupid Costume for Men
There aren't many Cupid costumes for men to wear for Valentine's Day. Instead, it is better to piece together a male Cupid costume from an angel costume or wings and then add the bow and arrow and sandals. The wings below are a great choice to start a male Cupid costume.
Archangel White Costume Feather Wings and Halo
Archangel Costume Feather Wings & Halo Unisex
These are classic Archangel style wings made from actual bleached feathers, handmade from natural duck, goose, and marabou feathers. Wings measure around 32 inches high, with wingspan of 31 inches. The wings are unisex and suitable for both genders. Wings have elastic shoulder straps and fit most teens and adults. Comes with matching halo that wouldn't be needed for a Cupid costume, but would look great when wings were worn as angel wings.
Men's Roman Sandal Costume Accessory
These "sandals" are made mostly for completing a costume to make it look authentic and not really intended for walking much distance. Made from 100% Polyurethane, they have a thin brown bottom, with brown straps that criss-cross and tie around the leg below the knee. Perfect accent for a Cupid Costume!
Cupid Bow And Arrow Set
What is Cupid without the trusty bow and arrow? Bow is made from red plastic and is 19 inches long. Arrow features a red plastic heart shaped "tip", and end of arrow has red and white feathers. Makes the perfect accessory for any Cupid costume, intended for ages eight years old and up. You're sure to hit your mark this Valentine's day with this great accessory.
Cupid Bow And Feathers
For a more feminine Cupid costume, try these colorful red feather wings with matching bow and arrow set. Plush bow is 24 inches long, with plush arrow measuring 18 inches.
Cupid Costumes for Women
Women have more options when it comes to Cupid costumes. Most of the ready-made costumes are meant to be sexy for Valentine's Day. However, you can buy a pre-made costume or buy the elements you need to make your own. Having wings to add to your own clothing is also fun. Then you can use the wings for other occasions such as a costume party or Halloween.
Cupid Sexy Costume
For the lady who wants to play the part of Cupid for her Valentine, this cute little number is sure to be a hit. Costume comes in women's sizes small/medium and medium/large. Satin dress is a vibrant pink color on the bodice, with pastel pink mesh ruffles on skirt and around the bodice, with polyester panties with mesh ruffles. Costume includes a traditional bow and arrow made of plastic. Wings are made of mesh and are a light pink color.
 Sexy Cupid Costume
 Sexy Cupid Costume

Sexy Cupid Costume
This is a one size fits most Cupid costume, perfect for Valentine's day. This Cupid comes in bright red and is ready to roll. This costume is certainly going to get the attention of your Valentine and set the scene for an evening of romance.
Fabric For Making Cupid's Diaper
When many people think of Cupid, they think of the impish toddler version with the wings, diaper, and bow and arrow. If you're a guy who wants to attempt this look that your Valentine would find adorable, all you really need is some quality cotton fabric. Crafty Cuts offers 2 yard pieces of white cotton fabric that should be large enough for even a bigger person. To make the "diaper", simply fold fabric into a triangular shape that is large enough to fit you. Pin each side with a large safety pin to secure it. Diaper could be worn over the usual undergarments if going out in public for a costumed occasion. Combine with a pair of feather wings and bow and arrow to complete the Cupid look. These baby diaper safety pins for adults will work perfectly to secure the fabric in place. Safety pins are three inches long, with colored plastic head with safety catch. The safety pins are made from stainless steel and are sold by the pair. Your Valentine will be sure to appreciate your efforts.
 Baby Diaper Safety Pin for Adults
 Crafty Cuts 2-Yards Cotton Fabric, White Solid
Playboy Cupid Costume
This costume comes with a dress in white, pink sash, thigh highs with pink lip prints, pink wings, and bow and arrow set. Available in women's sizes extra small, small, and medium, costume is made from 95% polyester and 5% spandex. Dress is cut to reveal the stomach area and top part of dress resembles a white, spaghetti strap style camisole. Thigh high stockings have cute lacy trim. Wearing this outfit for your guy will knock his socks off this Valentine's day.
Cupid or Angel Wings for All Ages
It is easy to add wings to any costume to create a Cupid or angel look. Wings in both red and white come in an array of sizes from newborn infant (for photo props) to adult size. Here is a sampling of what is available on Amazon.
Baby Cupid Pack
Adult Angel Wing, 22 by 22-Inch
Child Feather Angel Wings
Women's Adult Angel Feather Wings
Adult Angel Wing in White
Angel Feather Wings
Red Cupid Double Layer Wing
Fairy Wings Unisex Baby Angel
White Feather Angel Wings
Pin It for Later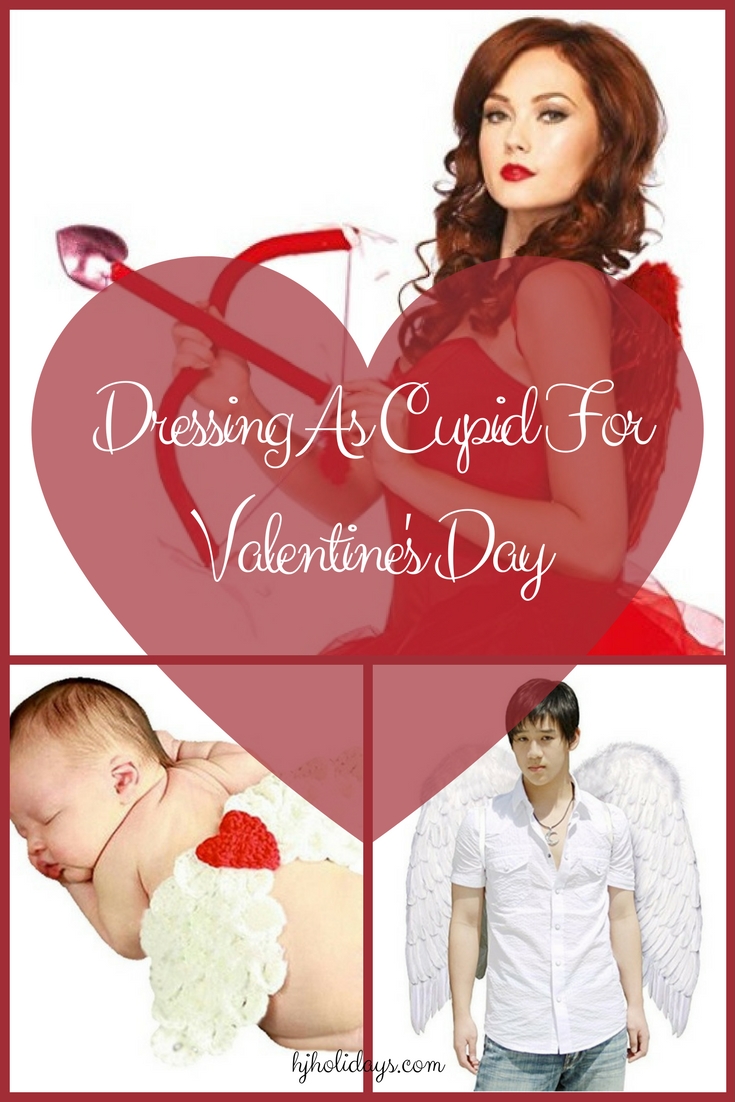 (Visited 2,758 times, 1 visits today)