Thanksgiving is a special time of the year for gathering with friends and family while taking the time to remember and reflect upon everything that we have to be thankful for. It is also a fun opportunity for children to dress up as a Pilgrim or turkey to take part in a school or daycare celebration, or perhaps to participate in a play about the holiday. Children may also like to dress up for the big family meal and pretend that they are taking part in the very first Thanksgiving. Here are some cute ideas for Thanksgiving costumes for children.
Pilgrim Boy Costume
When it comes to Thanksgiving costumes for kids, the first thing that usually comes to mind is dressing as a Pilgrim. This classic Pilgrim boy costume is made from 100% polyester interlock knit fabric. Black shirt features white collar and white cuffs and fastens with Velcro at the back of the neck. Pants fall just below the knees and are black with elastic at the waist. Belt is made from black faux leather and features a plastic slide buckle in gold. Hat is made of black foam with a faux leather band and plastic gold buckle. Comes in sizes small (6 to 8), medium (8 to 10), and large (10 to 12).
Pilgrim Girl Costume
This Pilgrim girl costume is made from 100% polyester interlock knit fabric and fastens at the back of the neck with Velcro. Dress is black, with white on the collar and sleeve cuffs, with a white apron. Apron is attached and features eyelet hem edging. White Pilgrim hat ties under the chin and has elastic edging. Available in sizes small (6 to 8), medium (8 to 10), and large (10 to 12). Use one of these authentic looking Thanksgiving costumes for kids to re-enact that first Thanksgiving long ago. Perfect for dressing up for school functions that involve portraying Pilgrims and Native American Indians.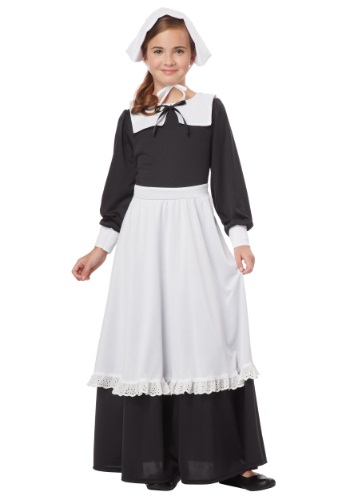 Pilgrim Girl Costume

Pilgrim Girl Costume

Child Indian Brave Costume
This children's Indian brave costume is perfect for re-enacting the first Thanksgiving. If you have several children attending the holiday meal and get together, perhaps have half of them dress and Native American Indians and the other half dress as Pilgrims. This is a great way for kids to have fun while at the same time learning about the origin of the holiday. Costume is made of 100% polyester fabric, with fringe trimming on tunic bottom and shoulders. Pants feature elastic waist and ankles. Boot covers fit with elastic bands. Chest plate is beaded and fastens with Velcro. Head dress features beaded accents and has elastic backing that fastens with Velcro. Available in sizes 4, 6, 8, 10, and 12.
Kids Turkey Costume
For the child who enjoys being the center of attention at family functions, have him dress as the guest of honor, the turkey! This fun costume is perfect for Halloween and can also be used to get into the spirit of things on Thanksgiving. Tan polyester jumpsuit fastens with Velcro. Red wings are attached to bottom of sleeves and back piece of feathers measures 25.5 inches by 25 inches. Plush turkey head can be attached to headpiece with Velcro fasteners. Costume includes yellow foam show covers. Comes in sizes small (4 to 6), medium (8 to 10) and large (12 to 14).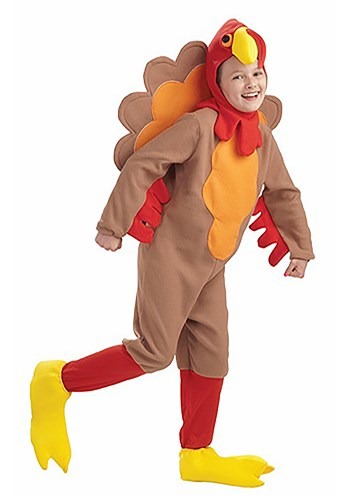 Kids Turkey Costume

Kids Turkey Costume

Infant Gobble Gobble Turkey Costume
For the tiniest turkey in town, this adorable costume will brings smiles to everyone on Thanksgiving day. Available in sizes 18 months and 24 months, this costume is made from 100% polyester microfleece, flannel, and felt. Other costume accents made from 100% polyurethane foam. Brown jumpsuit with white chest area fastens with Velcro at center back and has snap closures to make changing baby's diaper a breeze. Hood has an appliqued turkey face on it and fastens under the chin with Velcro. Tail feathers can be attached to jumpsuit with Velcro. Costume is not only super cute, but comfortable for baby to wear.
Infant Gobble Gobble Turkey Costume

Infant Gobble Gobble Turkey Costume

Native American Princess Costume
This Native American girl is one of the perfect Thanksgiving costumes for kids who wish to participate in a school function, play , or even a home re-enactment of the first Thanksgiving. Available in sizes child small, child medium, and child large. Costume includes headband, dress, and belt. Light tan dress with dark brown and light blue printed accents.
Native American Princess Costume

More Kids Thanksgiving Costumes
Toddler Turkey Costume

Newborn Little Turkey Costume

Infant / ToddlerTurkey Hat

Kids Indian Moccasins

Felt Pilgrim Hat

Indian Boy Toddler Costume

Girls Native American Princess Costume

Toddler Give Thanks Indian Costume

Boy Native American Costume

Boys Pilgrim Costume

Pilgrim Boy Costume
Child Ear of Corn Costume

Indian Girl Native American Costume

Girls Pilgrim Costume

Toddler Indian Costume

Indian Girl Toddler Costume

Colonial Girl Costume

Baby's Lil' Gobbler Turkey Costume
Native American Costume
American Indian Girl Child Costume
Pilgrim Girl Costume
Indian Princess Girl's Costume
Thanksgiving Day Roasted Turkey Hat
Turkey Headband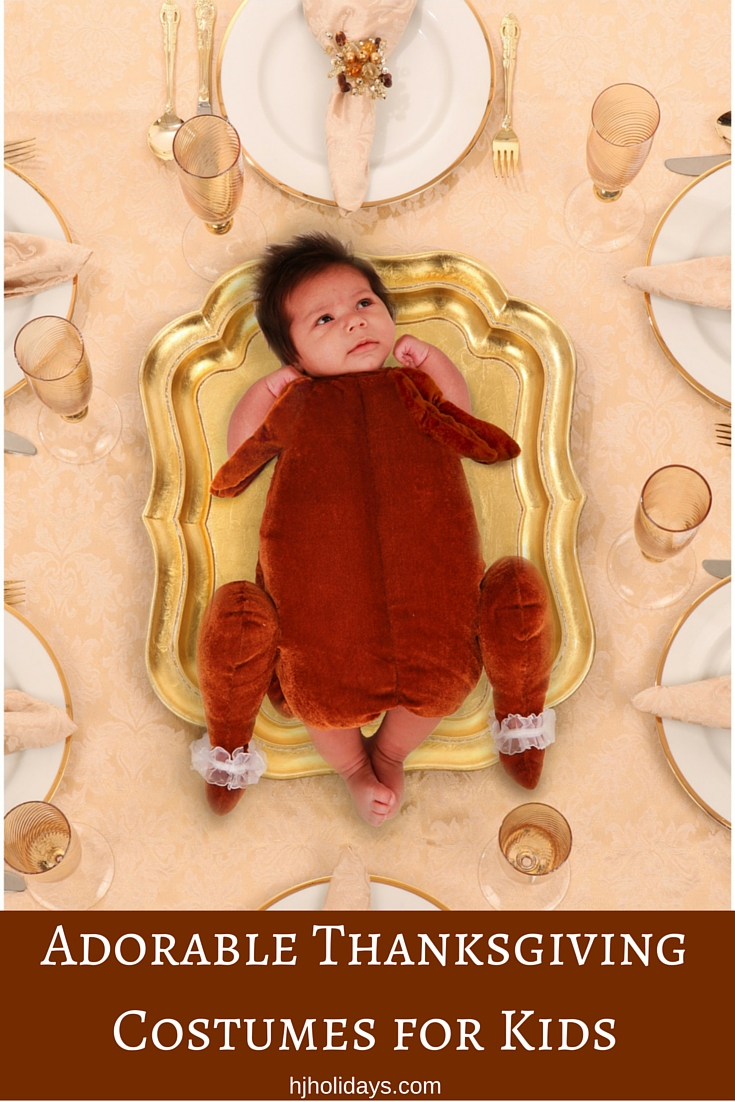 (Visited 978 times, 1 visits today)