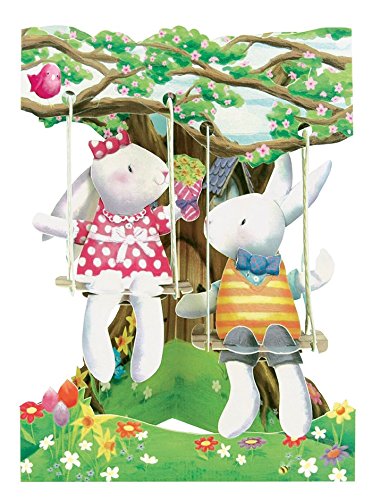 Celebrate Easter with friends and family with these greeting cards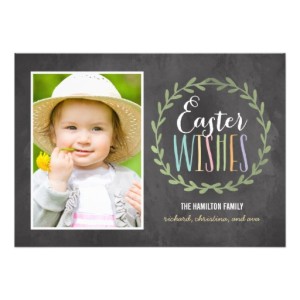 Because I live so far away from family, I tend to send out a lot of Easter cards every year so I am always on the lookout for new greeting cards. I've picked out some of my favorite ones that you can buy on Amazon and from the print-on-demand company Zazzle. The joy of those cards is that I can customize them to which ever person I want to send each card to.
It's nice to be able to send different cards so I usually buy a selection and include religious ones for some folk and more Spring related ones for others. Whichever you prefer, there are plenty of Easter cards to choose from here. And if you don't immediately see the ones you want, just click on any of the links to take you into Amazon or Zazzle to browse some more.
Image: Sweet Wishes Easter Photo Cards
Featured Easter greeting cards
There are so many styles of Easter cards. This page is a selection of some of the best styles available from Amazon and Zazzle. Click through for more choices and pricing.
 Easter Greeting Card Assortment Pack – 12 Cards/13 Envelopes
 Easter Card "Happy Easter" Hope Easter Finds You with a Smile on Your Face
 Easter Pop-Up Card – Garden Chicks
 3dRose 8 x 8 x 0.25 Inches Happy Easter Religious Greeting Greeting Cards, Set of 12 (gc_100616_2)
Religious Easter Cards
Religious Easter Cards on Zazzle
Zazzle has a huge selection of pre-made cards or you can make your own. It is easy to use a template to personalize any card.
 Religious Easter T shirts and Gifts
 Vintage Religious Easter Cross Greeting Card
 Christ the Shepherd with Lamb Vintage Easter
 The Crucifixion of Jesus Christ
Easter Religious Greeting Cards
10 Different Deluxe Cards with Envelopes
This would be my choice of religious Easter cards. These are beautifully designed and look really stylish and I love the idea they were made by monks.
There are 10 cards complete with envelopes for mailing.
 Easter Religious Greeting Cards 10 Different Deluxe Cards with Envelopes Free Cross Bookmark
 Dooni Designs Easter Designs – Happy Easter Ornate Easter Egg With Religious Cross and Pattern – 6 Greeting Cards with envelopes (gc_106872_1)
 3dRose 8 x 8 x 0.25 Inches Christ and The Blessed Believers Greeting Card, Set of 12 (gc_42957_2)
Polish Language Easter Cards
These cards are especially imported from Poland to celebrate Easter. Just what you need for your Polish friends.
 Easter Cards – Religious Theme, Mixed Set of 5
Assorted Easter Cards
If you send a few cards then a pack of assorted cards makes good sense
These assorted cards give you a wide selection that will fit the personalities of all your friends and relatives. They come with envelopes in a box ready to send.
24 Greeting Card Assortment By Punch Studio
Avanti Spring Greeting Card Assortment, Puppy Dog Tails, 6 Count
Assortment of Easter Cards – 12 Blank Easter Cards – Boxed Set
Paper Magic All Occasion Handmade Greeting Card Assortment in Keepsake Organizer Box, 25 Cards (2333225)
Assorted Easter Greeting Cards 30 Pack
I usually send out around 25 to 30 cards at Easter so this pack is ideal. I just wish they would include one or two extra envelopes because I always mess up at least one. There are 5 different designs and each card is delightfully embossed. They measure 5 inches x 7.75 inches. Just what you need to for your friends and family.
 Assorted Easter Greeting Cards 30 Pack
Pop-Up Easter Cards
Easter Greeting Card – Easter Spring Bouquet Pop-Up
Such a cute and bright card that anyone would love to receive for Easter. It looks just like a real bouquet of flowers.
 Easter Greeting Card – Easter Spring Bouquet Pop-Up
Cute Pop-Ups Celebrate Easter and Spring
Kids love to receive pop-up cards and these have adorable characters on them. Surprise your grandchildren with these cute cards.
 3D Greeting Card – HATCHING CHICK – Easter
 3D Greeting Card – CHICK & EGGS – Easter
 Easter Pop-Up Card – Garden Chicks
 Cherry Blossoms with Rabbit Pop Up Decorative Greeting Card
Santoro Interactive 3-D Swing Greeting Card, Bunnies On Swings
Swing cards come assembled and open out to form incredible 3-dimensional shapes. Each card is made up of a multiplicity of moving parts that allow the objects in the center to swing back and forth. Designed to be displayed and treasured, a swing card from Santoro will proudly be showcased for a long time after other cards have been taken down and forgotten. They are essentially beautiful paper sculptures making them the perfect paper collectible.
 Santoro Interactive 3-D Swing Greeting Card, Bunnies On Swings (SSC116)
Best Easter Cards From Zazzle
Cute Easter chicks
What would Easter be without the tiny chicks with their fuzzy yellow feathers. These are only a few of the available cards from Zazzle. Click through for more choices.
 Fluffy chick easter greetings card
 Happy Easter Yellow Baby Chick in Grass
 Easter Chicks
 Easter Chick with Bluebird! Retro Easter Card
 Easter Card Fuzzy Chick
 Personalized Easter Card With Fun Ducks, Quacking
Easter Egg Greeting Cards
Whether you like funny, serious, photography or original art, you can find it on Zazzle and personalize it for your recipient. Click through for varieties and pricing.
 Beautiful East Eggs Design!
 Nice Tattoo Easter Eggs
 Easter Eggs greeting card
 Easter Tees and Easter Gifts
 Basket of Ukrainian Easter Eggs
 Colorful Easter Eggs
Best Easter Bunny Cards
And we can't leave out the Easter Bunny. So many funny, lovely cards that you can make for your friends and relatives. Order one or order in bulk for a discount.
 Easter Bunny Head Spin
 Happy Easter Card
 Vintage Easter Bunny Artist Card
 Easter Bunny Card
 Easter Holiday Greeting
 Easter Bunnies and Egg Vintage Postcard
(Visited 298 times, 1 visits today)