The Addition of a Sequin Bolero Can Turn an Outfit from Boring to Wow!
As a fashion consultant I am often asked about versatile accessories, of these boleros, shrugs and wraps are right up there in must-haves. With that in mind, here is a great selection of chic boleros jackets and shrugs in gold, silver and sequined styles. I have included a variety of styles and a range of prices to suit every budget.
The amazing thing about gold, silver, sequined and beaded bolero jackets and shrugs is that there will be one for every outfit or occasion. Wherever you are going – clubbing or to a party, attending a wedding or prom there will be one to suit you on this page. Be warned though … it might prove difficult to choose only one.
&
Famous royals and celebrities are often seen in boleros and shrugs – Including Kate Middleton and Kim Kardashian
You'll find royalty and celebrities wearing these versatile accessories – from Princess Diana who made them famous in the 1980-90s to her daughter-in-law Kate Middleton, from Kim Kardashian to Penelope Cruz – women all over the world have adopted the style for both casual and formal wear.
Silver 3/4 Sleeve Satin Bolero

Mesh Sequin Long Sleeve Bolero Multiple Colors

Sheer Gold Organza Evening Wrap
Let's start with gold – there is little easier to use as a cover up when you arrive at an event than a wrap. Gold of course will blend well with many outfits and will dress up a costume with no problem. The rich color just adds an extra bit of elegance.
There was a time when you just slung a wrap over your shoulders and arms and you were done and to be honest that can look good. Just look at the four I have featured here, they are draped very simply and are quite effective.
That said, if you use some imagination, surf through some fashion magazines or website and you can come up with lots of innovative styles for extra special punch. I've included some helpful video tutorials on this page to give you some ideas.
Sheer Gold Organza Evening Wrap

Calvin Klein Women's Lurex Shrug

Black Butterfly Satin Bolero Jacket

Plus Size Sexy Gold Ruffled Collar Cropped Bolero
You don't have to sacrifice style when you have a fuller figure as you can see from this gorgeous bolero. One thing we tend to worry about when we are plus size is bat-wings at the top of our arms, wearing a small top with little sleeves like this just breaks up the line, covers up a problem area and gives us more confidence.
This gold shrug is made from satin polyester and adds a real glamorous touch whether you are dressing formally or casually. The ruffled collar and smocking around the edges make for a comfortable and very flattering fit. Available in plus sizes.
Satin Short Sleeve Shrug Bolero

Do you know the difference between boleros and shrugs? – They are not exactly the same
You might think they are one and the same thing but designers tend to differentiate between them…
I think of a bolero as a fitted, styled short or cropped jacket. Yes, you get them in short, 3/4 and full length styles and I tend to think of them as being made from fabric rather than wool. A lot of them are embellished with frills and ruffles, embroidery, sequins – all sort of things. I suppose they are mostly for dressing up, for formal and semi-formal occasion but not necessarily. Check out some of the celebrity magazines – there you can see how the rich and famous mix and match – a satin or silk bolero can top off a formal ball gown or a pair of jeans. All you need is the confidence and imagination to try different looks.
A shrug on the other hand is most commonly made of some sort of knit fabric. They were originally the province of dancers, made to pop on to keep their arms and shoulders muscles warm. I suppose you could think of a shrug as a cropped cardigan. More often than not they fit under the bust but they aren't necessarily as fitted as boleros. Like boleros you can get them with short, three quarter or full length sleeves and everything in between. They are great for creating layers, for bundling up without creating uncomfortable bulk.
Kim Kardashian Wearing a Black Shrug
&
Full-figured woman like socialite Kim Kardashian like shrugs and wraps because they drape nicely over their figures. Kim often wears shrugs over sleeveless tank tops or strapless evening dresses.
In this picture she is wearing a black shrug over a white top highlighting her figure. Shrugs can add sex appeal to an outfit if they are form-fitting, but they can also make a sexy strapless dress more formal for a church or evening event. Then you can take it off later to get more comfortable or for dancing.
On a cool evening, a shrug or wrap can add the warmth needed to walk from your building to your car, then can be put aside for the actual event.
Featured Silver Satin Evening Wraps
Sheer Silver Crystal Organza Evening Wrap

Sheer Silver Fishnet & Lurex Fringed Evening Wrap

Silver Short Sleeve Satin Style Bolero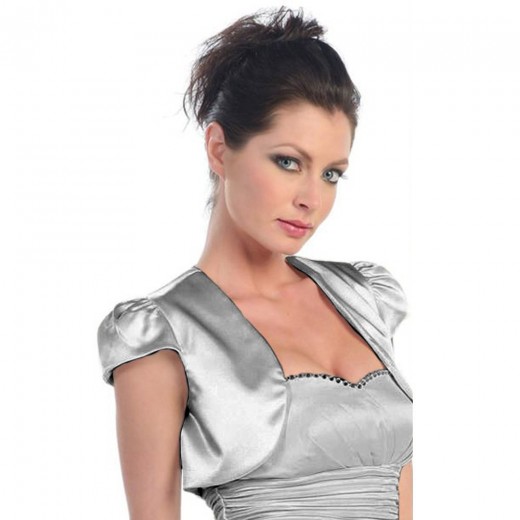 Ruffle Stretch Shrug Bolero
I wanted to show you how versatile boleros can be. If you need one for a wedding or prom for example, either of them would be ideal. Yet, just look at how fab a ruffled one can look with casual clothes too.
Short Sleeve Dressy Satin Bolero

Metallic Sequin Shrugs in different sleeve lengths – Metallic Black All Over Sequin Short Sleeve Shrug
This sparkling cropped one is perfect for creating just the right impression no matter what the occasion.
Metallic Black All Over Sequin Short Sleeve Shrug

This one comes with full length sleeves.
Collarless Long Sleeve Sequin Jacket
&
Here you have a cool combination of leather and sequins.
Long Sleeve Sequin Leather Blazer
&
Floral Filigree Metallic Shawl with Fringe
Metallics have been fashionable for ever! This beautiful glamorous shawl is multifunctional..you can style it as a wrap,scarf or even a beach cover up. It features tiny sequin details picking out the elegant floral filigree design. Perfect for holidays to make the most of your capsule wardrobe or for every day style, this will be used over and over again.
Lavender Floral Filigree Metallic Shawl

Cropped Red Sequin Sweater Shrug
This crop sequin shrug will make you feel like a million dollars. It is made of ramie and cotton. The crocheted shrug has long sleeves and a V neck that closes with a hidden hook and eye. Wear it closed or open for two completely different looks. It measures 14.5 inches long. This is a great touch of class for an evening out.
Sequin Long Sleeve Cropped Cardigan

Plus Size Sexy Black Sequin Bolero
The joy of this shrug is you can use it to jazz up the simplest outfit. The sleeves are 3/4 length and the edges are trimmed with sparkling sequins. Available in plus sizes.
Plus Size Sequin Trim 3/4 Sleeve Cropped Bolero
&
Ideas for how to wear shawls, shrugs and boleros
How to wear a shawl
Draped Poncho Style Shawl
Transparent looks good over any color
For a different look – what about this transparent poncho? Isn't it delightful? I can just see this topping a formal gown or even a wedding dress. Most churches need brides to cover their shoulders while in church and this gorgeous one will do that perfectly and won't detract from the dress itself.
Sheer Black & Gold Fringed Evening Wrap

These transparent wraps are fantastic for covering your arms and shoulders on an evening out. Summer or winter, take a wrap with you to dress up your outfit and stay warm.
Updated 11/2016
(Visited 9,292 times, 1 visits today)