Creating a One-of-a-Kind Found Object Necklace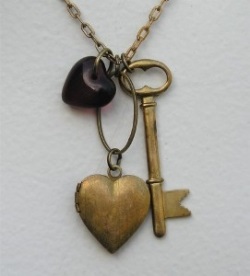 What is one-of-a-kind found object necklace?
Found object jewelry is a relatively new trend in art jewelry. Essentially found object jewelry is taking items that the artist finds and putting them together to create something new. With fashion trends becoming more eco-chic, found object jewelry artists are finding new markets for their work because they are recycling or repurposing items in creating their jewelry.
However, you do not have to be an established artist to create your own found object jewelry for your Valentine, whether she is your mother, sister, girlfriend or wife. (Or all of them.) You can make a found object necklace yourself with some simple ingredients that you can find locally. You might even have some of them in your own home.
Because found objects are typically one of a kind (OOAK), each piece of jewelry will be unique, even if you make the jewelry from the same basic pattern. That is one of the things that makes found object jewelry so fascinating.
Another reason found object jewelry is so interesting is because of the history of the objects, and the eclectic nature of the jewelry.
Collecting the Found Objects
Let's assume that we are making just one necklace for this tutorial. If you need to make more than one necklace, you can just repeat the pattern for each necklace made. I recommend making a necklace because necklaces are the easiest jewelry to make, and size is not usually an issue.
Your first decision is which found objects you want to put on your necklace. You do not have to go out and actually find the objects in your neighborhood. You can find them by buying them on Ebay. For under $10, you can create a necklace that would sell for $30 and up in a retail store.
Ebay or Etsy are the best places to look for found objects. You can find some really cool items to add to your necklace. Some possibilities are vintage lockets, vintage heart charms, lampwork beads, Swarovski crystals, antique keys, and just about anything that you think your recipient would like. Choose 3 to 5 elements to be part of your necklace.
Found Object Jewelry
These books are good resources for making found object jewelry.
Jewelry from Found Objects
Semiprecious Salvage: Creating Found Art Jewelry
Unexpected Findings: 50 Clever Jewelry Designs Featuring Everyday Components
Wild Jewelry: A Complete Guide to Making Statement Jewelry from Objects Found in Nature
Choosing the Necklace Chain
For this project, you need a cord or a chain to be the base of the necklace. I recommend that you use one of the following:
Leather cord (with or without a clasp or hook)
Ribbon (with or without a clasp or hook)
Rubber cord (with a clasp or hook)
Brass chain with a clasp
Pewter chain with a clasp
Silver chain with a clasp
Of the above list the silver chain is the most expensive, and the brass chain would look the trendiest.
The chain should be 18 inches long which is the standard length for necklaces that fit most people. If your recipient is very young or very petite then use a 16 inch length.
Vintage Brass Chains
You can buy vintage-style chains on Amazon like these brass chains below. Some chains are a specific length and some need to be cut to the desired length.
 Antique Brass Chain _#21 25-foot spool
 Antiqued Brass Plated Steel Textured Cable
 Antique Brass Chain _#67: 7mm Semi-Textured Double Cable
 Antique Brass Plated Chain #14: Small 2×4.5mm 3-and-1 Cable Chain
Tools You Will Need to Assemble the Necklace
In order to assemble the parts of your necklace, you will need a few tools. You can make this necklace without special jewelry making tools and just use small tools that most hardware stores carry or you can borrow from your father or the person you know who has a full toolbox. (Everyone knows someone like this.)
You will need:
Assembling Your Necklace
Once you have collected all your supplies and tools, you can assemble the necklace.
Set aside the chain you have chosen.
Check each found object that you are putting on the necklace. Is there a place on the object that the chain will fit through? This can be a loop, a hole, or an attached loop. If your object does not have a space big enough for the chain, you will have to make a small circle of wire to hang the object on.
To make the wire circle jump ring, cut a piece of wire (any type will do including telephone wire, as long as it is strong enough to hold the object) about 1 inch long. Grab one end of the wire with the needle nose pliers and curl it around the round nose pliers until you have a full circle. Cut the two ends of the wire so that they are flat and will go together. To make the jump ring smaller wrap it around the tip of the round nose pliers. To make it bigger wrap it around the base of the round nose pliers. If the wire you cut is too long, you can cut off the excess after you make the jump ring. Now you can hang the found object from the finished jump ring.
Next, hang all the objects on the 18″ chain. You may want to hang them all together from the chain itself, or you may hang some of the objects from each other, then put them on the chain.
Attach the clasp, and you are done.
I always like to check how my jewelry feels before I give it to someone else, and you can do this too, by trying the necklace on. Don't worry, men, no one will see you doing it. The necklace should feel comfortable on your neck and not catch on anything. If you see that one of the objects seems to catch on your clothes, you can take a needle file and lightly file the sharp edge off. No one will ever see that you have done this, but it will make the necklace much more wearable.
Found Objects for Your Necklace
Vintage Chain
Find vintage chains for your found object necklace.
Vintage Keys
Authentic skeleton keys to use in your design.
Vintage Heart Charms
Heart charms add a nice touch.
Vintage Lockets
Lockets always are beautiful for romantic jewelry
If You Just Can't Make It Yourself
For those of you who do not have the time, or just cannot make the found object necklace yourself, you can also buy some really cool found object jewelry on Ebay and Etsy that will stand out from any other gifts.
(Visited 515 times, 1 visits today)