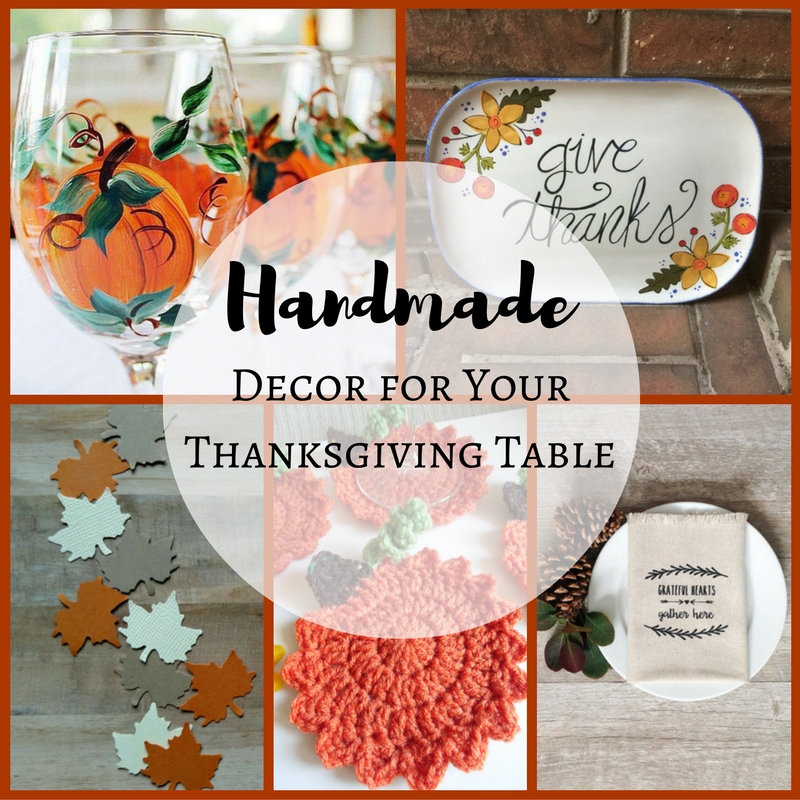 Yesterday, I posted an entire list of printable invitations, accessories, children's activities and decorations for Thanksgiving that you could download and personalize for your family's celebration. This page features additional ideas to make Thanksgiving special for you and your guests. Adding handmade decor for your Thanksgiving table offers a unique touch whether you are hosting the festivities or you are a guest at someone else's home. Each of these items are perfect for a hostess gift, thank you, wedding or engagement gift. While they are perfect for Thanksgiving, most of these handmade gifts are multi-purpose gifts that work for almost any special occasion.
Hand-Stamped Serving Spoon
I love the idea of this hand-stamped serving spoon for the Thanksgiving table. It is beautiful and functional at the same time. You can buy it alone or find sets of various serving pieces. These types of pieces are made to order, so if you want to buy one for a gift or your own table, order a few weeks before the holiday. Click the link for more options.
Thanksgiving Lazy Susan
If you have a large table, a Lazy Susan is the perfect tool to assist in passing the food from one side to the other. This one is made from wood just for Thanksgiving. There is also a version made for Christmas.
Fall Table Centerpiece
Need a Thanksgiving centerpiece in a rustic style? Here is one that is adorable, and you don't have to make this homespun centerpiece yourself. Instead, you can order it to arrive in your home before Thanksgiving ready to go. There are several color options also. You can also buy the jars and flowers without the box if you have your own.
Autumn Leaf Confetti
These maple leaf confetti pieces are a very affordable way to spruce (pun meant!) up your table. Just sprinkle them on top of your table before adding dishes and silverware for an autumn Thanksgiving display. Choose from several color schemes to decorate your table.
They are also nice to add to mantel decor or a still life that is decorating a nook or side table.
Thanksgiving Wine Glasses
These lovely hand-painted wine glasses are hard to resist, and the pumpkin theme is perfect for the holiday that features pumpkin pie among other pumpkin goodies. They come in a set of four, and if you don't like the pumpkin design, click through the store for more options. These glasses make a wonderful hostess gift for Thanksgiving. Not recommended for dishwasher.
Thanksgiving Favor Candle
These small candles are designed to be favors for guests to take with them. You have a range of scents to choose from and you can have them personalized for your event. These are soy candles which burn with minimal smoke and completely burn through the wax. They are eco-friendly and vegetarian. You do need to order in advance for prompt delivery.
Rustic Chevron Table Runner
This lovely table runner is perfect for the rustic Thanksgiving table or serving table. Many of the other items on this page will match the colors and style of this table runner. Hand-painted on natural burlap, this runner can be sprayed with Scotchgard or similar fabric protector to keep it clean from year to year. If you do spray it with Scotchguard, make sure to spray both sides.
Thanksgiving Napkins Grateful Wreath Design
These Thanksgiving napkins continue the theme of gratitude and gathering together. They are a bit nicer than paper napkins and you can use them repeatedly from year to year. Whether your Thanksgiving gathering is large or small, you can order just enough to have for each person.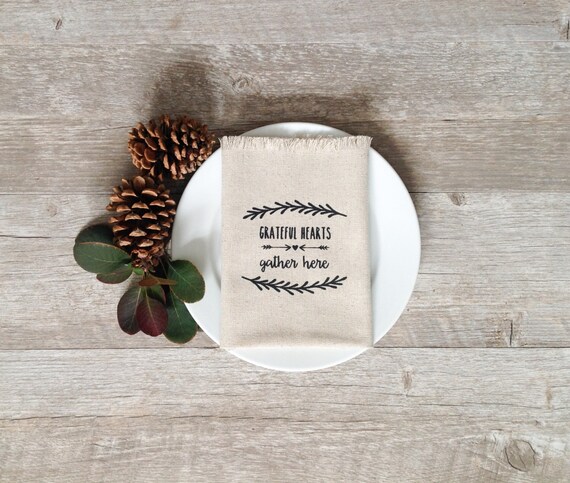 Thanksgiving Napkins Grateful Wreath

Succulent Fall Centerpiece
This living centerpiece is a terrific way to bring nature to your Thanksgiving table. When not in use as a centerpiece, you can put this planter near a window to cheer you up throughout the fall and winter.
Give Thanks Thanksgiving Platter
The turkey and stuffing need to go somewhere, so why not on a lovely vintage-style platter that says "Give Thanks." Safe for the dishwasher, this platter can be further personalized with your family name.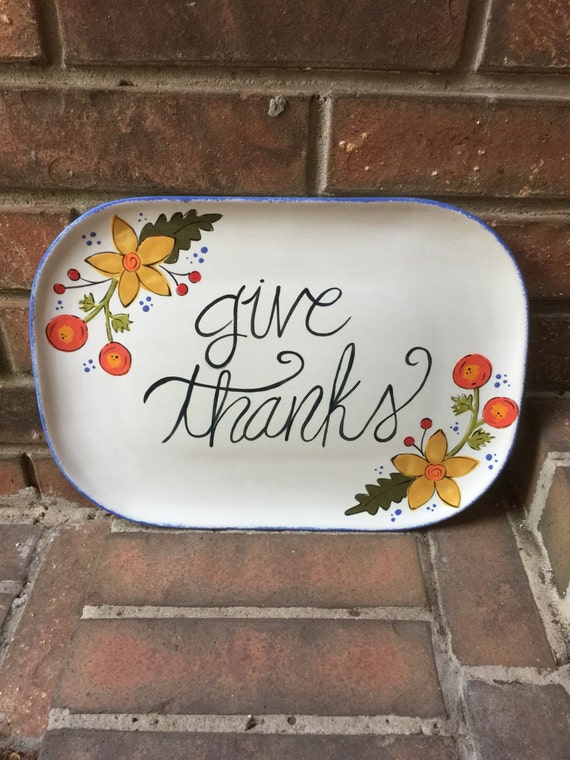 Give Thanks Thanksgiving Platter

Thanksgiving Soap Favors
These adorable soaps are terrific to give as favors to guests and family at your Thanksgiving table. You can also use them as favors in guest rooms for anyone staying overnight. The colors will help brighten your fall decor.
Pumpkin Coasters
For a more permanent place to put your cups, soup bowl or under condiment bowls, these crocheted pumpkin coasters are just so quaint. Simply adorable, and this artist also makes pumpkin beanies for babies to wear this time of year. If you don't like pumpkins, then take a look at the maple leaf coasters.
Give Thanks Wood Sign
This sign can welcome your guests into your home, or if the weather is inclement, then just put it up on your mantel or wall. It is a perfect match with the cloth napkins shown above and continues the rustic style with the Thanksgiving theme. I love the color of the wood and font shown here, but you have several options in size, color and font style. You need to go to the order page to read through how to order. Remember anything made to order takes a bit more time. Order early to get your sign in time for Thanksgiving.
&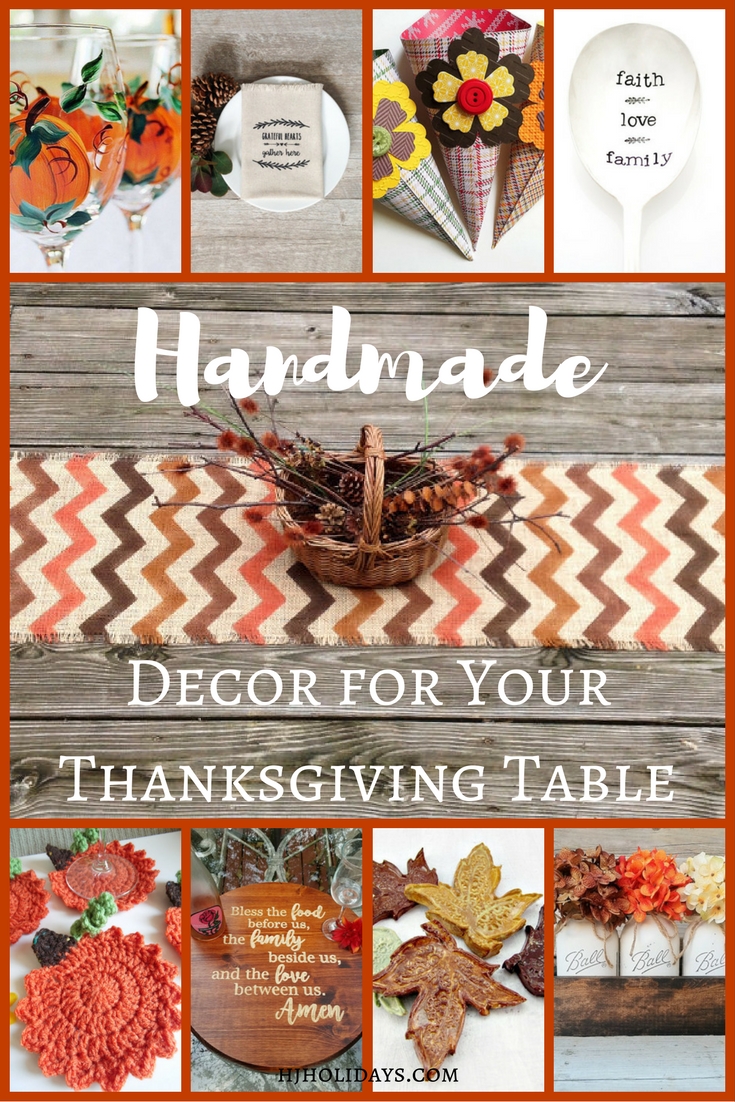 (Visited 700 times, 1 visits today)