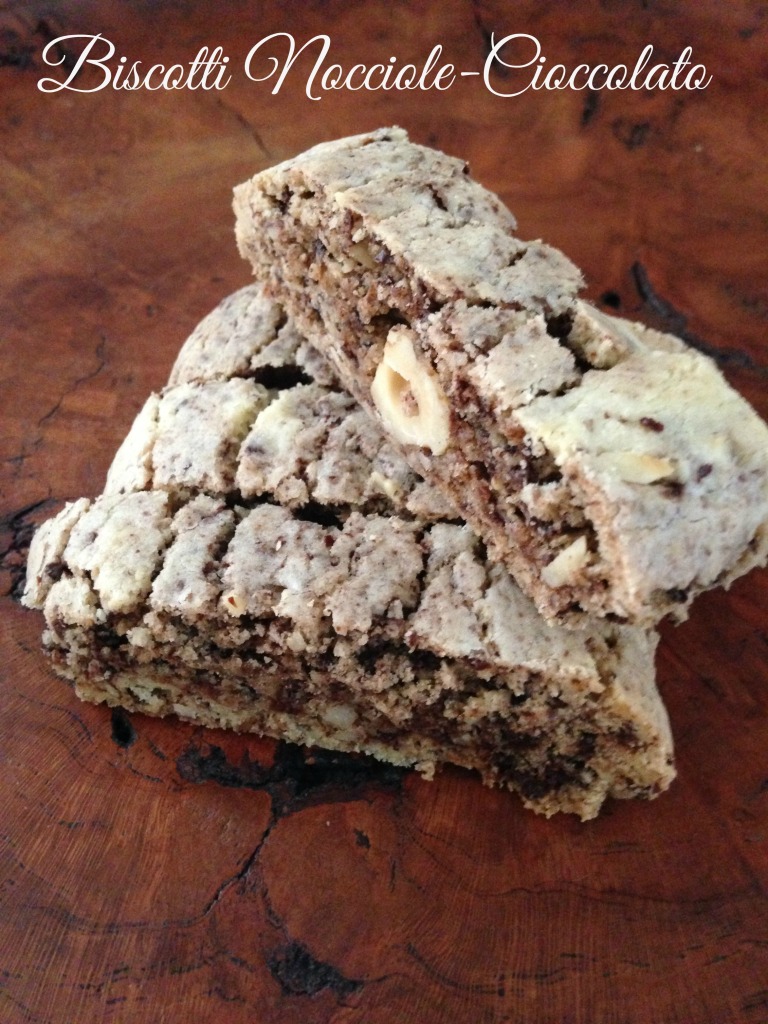 Biscotti are my favorite cookies to make and they are perfect for the holiday season, because they can be stored in a sealed container for up to one month, and in the freezer for three months. Of course, they do not last that long in my house. This particular recipe, Biscotti Nocciole-Cioccolato (Chocolate-Hazelnut Biscotti) is my family's favorite. It combines the flavors of hazelnut and chocolate, and the dough is easy to work with.
Biscotti are designed to be dunked into coffee, but this recipe can be eaten without dunking. The dough is crisp but not hard, and the flavors are rich. The recipe works best if you do not substitute for any of the ingredients. However, the Frangelico is expensive, so you can use hazelnut extract instead.
I prefer to use raw nuts and toast them myself. I think the flavor is richer and fresher. Place nuts in a shallow pan and bake in a preheated 350 degree oven for 9 minutes or until golden brown. Let cool.

With a towel, rub the nuts while warm to remove the papery skins. Let cool.

In a food processor, grind the nuts until finely chopped. Set aside.

Add chocolate to the food processor, process until finely ground. Set aside.

In a large mixing bowl, cream butter and sugar until light and fluffy.

Beat in eggs and liqueur.

Combine flour, baking powder and salt and slowly add to the egg mixture while mixing. Mix until fully blended.

Fold in nuts and chocolate.

Divide dough into two halves.

On a tray lined with parchment paper, pat out each half into a long log. For bigger biscotti, make the log short and squat. For smaller biscotti, make it long and thin. Leave at least 2 inches between logs on the tray.

Bake in a preheated oven at 325 degrees for 25 minutes until lightly browned.

Transfer from the baking sheet to a cooling rack and let cool for 15 minutes.

Place on a cutting board and with a very sharp knife, slice diagonally into 1/2 inch slices.

Place the individual slices upright on the baking pan, put back in the oven to bake about 10 minutes to dry slightly. Let cool on a rack, then store in a tightly sealed container.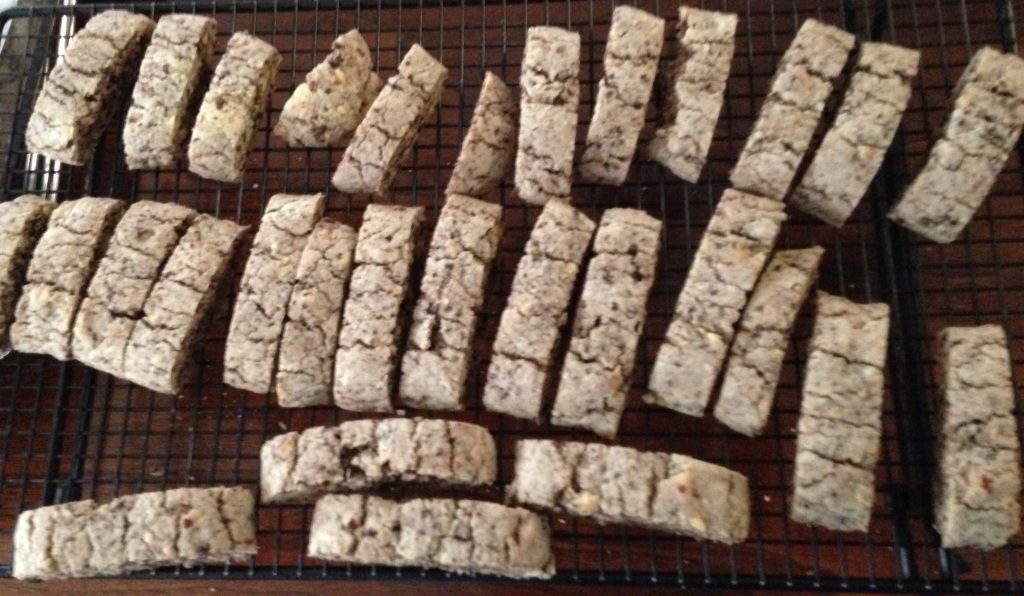 This recipe is loved by all ages, and is great for shipping and giving as a gift for the holidays. I typically bake a double recipe at a time as the biscotti do not last very long. My family snarfs them up pretty quickly. These cookies are a good choice for a cookie swap, because they hold up well.
This recipe is adapted from Biscotti
. If you are looking for an excellent biscotti cookbook, this is a good choice.
Follow Paula Atwell: Lake Erie Artists's board Recipes: Biscotti only☼ on Pinterest.

(Visited 1,122 times, 1 visits today)