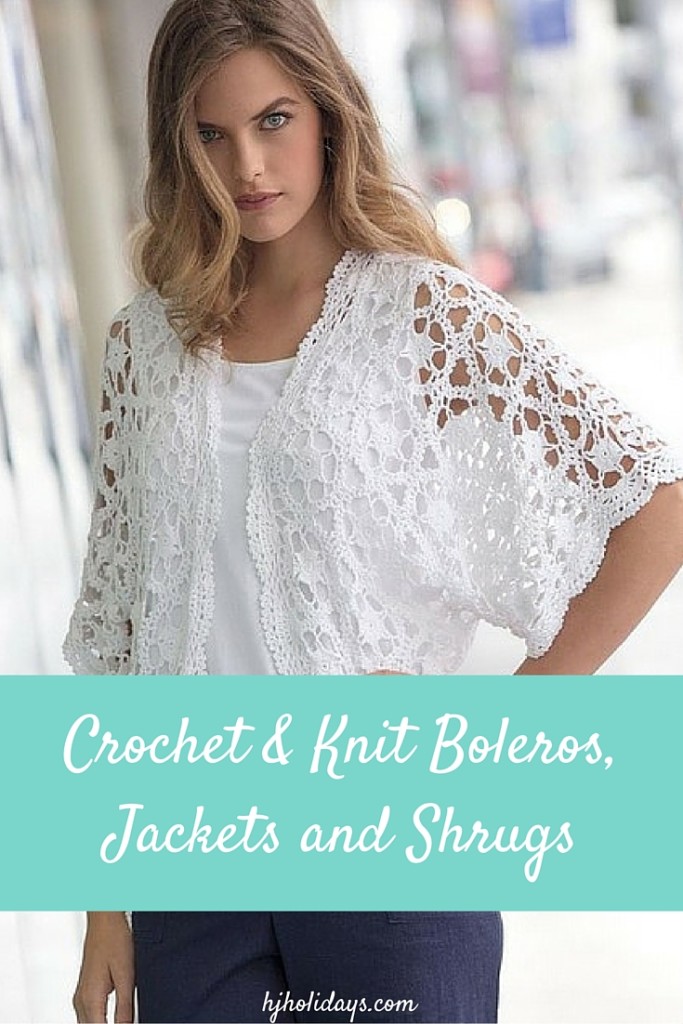 Crochet and knit boleros are a nice addition to a dressy outfit for a bit of added warmth or just to add detail and interest. Since they are airy, you can wear them all year round.
Where to buy great knit and crochet boleros, jackets and shrugs
Are you shopping for shrugs and boleros? Here you will find a wonderful selection of gorgeous knitted and crocheted boleros and shrugs I've chosen to showcase. I have a number in my wardrobe and, honestly, they are so useful and not just to keep me warm.
A shrug is a short open fronted cardigan, bolero or jacket, originally with long sleeves but now, anything goes. They were initially designed to keep the upper body and arms warm and covered, traditionally for dancers and over evening gowns but you all know how well they are now are broadly accepted in general fashion for girls and women. I wanted to show you just how versatile a shrug could be when it comes to blending your wardrobe. I've picked out a selection, ones for evening and day wear, and show you how to use them to ring the changes.
Shrugs and boleros are useful for those concerned about the appearance of their upper arms so that strappy elegant dresses can be worn without too much exposure. They will enhance many outfits adding a pop of color and individual style. They are one of the most useful fashion items to have in your wardrobe allowing you to easily change the look of your outfit by simply choosing a different shrug. Use them for casual, party and formal occasions. Once you have introduced a few into your wardrobe, you will wonder how you ever managed without them!
Natural Beige Crocheted Mini Cropped Outer Shrug – create a layered look using outer shrugs
Natural Beige Crocheted Cropped Vest

The 'layered' look continues to be really popular this year and shrugs like this are invaluable in helping you do just that.
You have a lot of options with something like this. For example, I have one very similar to this and I wear it over a summer dress, over a polo neck top and over a tee-shirt with short sleeves and it looks fab with all of them. The thing about this style is the slanting hemline is very flattering, unlike straight across hemline that can cut you in half and accentuate rather than disguise any troublesome bits you would rather not draw attention to. 😉
Best Crochet Boleros and Shrugs
Acrylon Crochet Asymmetrical Cape
When it comes to fashion, I like to pick out things that are just a little bit unusual and that gets people looking – and thinking up their own ideas. This shrug is stylish and elegant and, with an asymmetrical shape, it is unique enough to make a great fashion statement no matter the occasion. Remember too that asymmetric shapes are VERY flattering for any body type and you have a winner. I love the way it drapes over the back too. It comes in a delicious range of beautiful colors for just about any match.
Asymmetrical 100% Cashmere Poncho – Multiple Colors

Long Sleeve Boleros
There is absolutely no shortage of choices in styles, shapes and colors when it comes to shrugs. I like the crocheted look because it resembles lace – and you all know how much I adore lace! I picked out these four to give you some ideas on how you can pick out just a few and end up with quite a variety to ring the changes in your wardrobe.
Lace Bolero White

Long Sleeve Floral Lace Bolero

Women's Shrug Bolero

Crochet Long Sleeve Bolero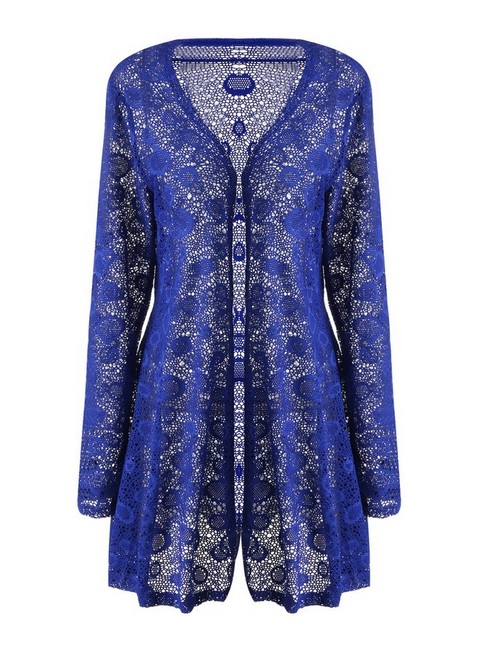 This bolero comes in several gorgeous colors.
Meaneor Women's Plus Size Long Sleeve Floral Lace Crochet Bolero

Jessica London Women's Plus Size Cardigan in Crochet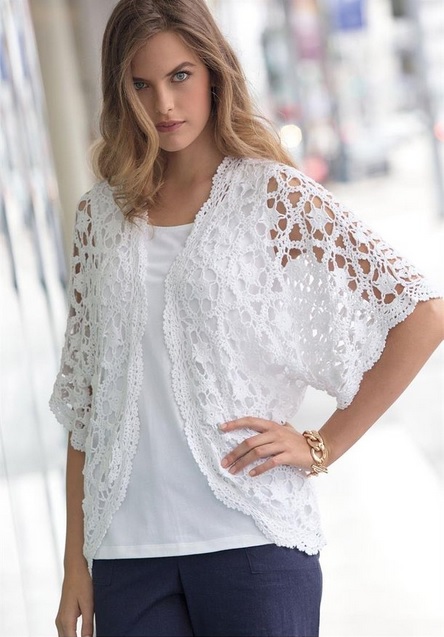 The loose dolman sleeves are perfect for covering up heavy upper arms. It drapes well and can be used casually or over a dress for an evening out.
I think this is perfect for summer for ladies of a certain proportion – it is the perfect cover-up to disguise problem areas and delicate enough to look elegant rather than bulky. When you have a fuller figure the temptation is to hide under baggy clothes which really draws attention to you rather than takes it away. Something like this is much better at making the most of your curves and flattering your body type.
Women's Plus Size Crochet Cardigan

I wanted to include this unique shrug which is more of a fashion statement than anything to actually keep you warm. It is striking though and will add style when worn over any dress or top. It looks great from the front and back.
How to crochet flower-pattern bolero with motifs tutorial
Best Knit Bolero and Shrugs
Fitted Sleeve Women's Knit Sweater Jacket
This unusual shrug features flattering 3/4 sleeves and comes in many colors for you to spice up any outfit! Lightweight knit bolero jacket.
They call this the dancer fit which means it really just covers the shoulders, arms and upper back – it doesn't cover you in front. Rather it is intended to sit almost under your arms so some people might find that they are constantly trying to tug it forward – won't work I'm afraid. If you want something with more coverage on the front you need a different style.
Soft Knit 3/4 Sleeve Cropped Bolero
Warm soft hand flattering shrug with long sleeves. Wear over t-shirt or shirt to take you through the cooler days and evenings. Available in sexy Black or pretty Heather Gray, it's made from machine washable viscose and nylon in sizes small, medium, large and extra large.
Drape Knit Shrug by KD dance New York
Popular knit shrugs
These are just a few of the different styles you can find in shrugs.
Taking them from the top:
The dancer style shrugs is stretch and comfortable and will roll up into a ball and fit into your purse. Do check the listing for this as regard sizing and see what the designers recommend.
The draped shrug looks sensational from the back. Like all dancer-style shrugs it fits close under the arms and will stretch as you move.
The red shrugs comes from Blue Banana and received consistently great reviews. It fits snugly and stretches with you as you move – an essential must have that comes in different colors.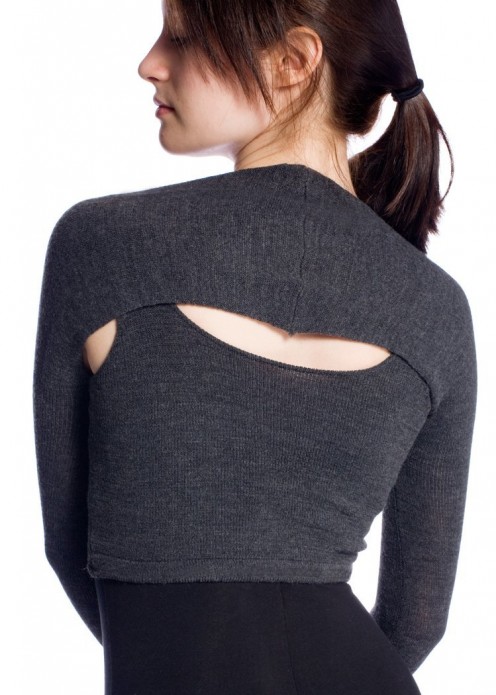 Stretch Knit Ballet Shrug, Multiple Colors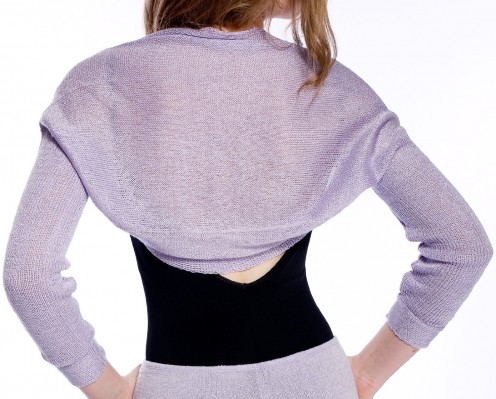 A lovely draped line for the back.
Blue Banana – Long Sleeve Shrug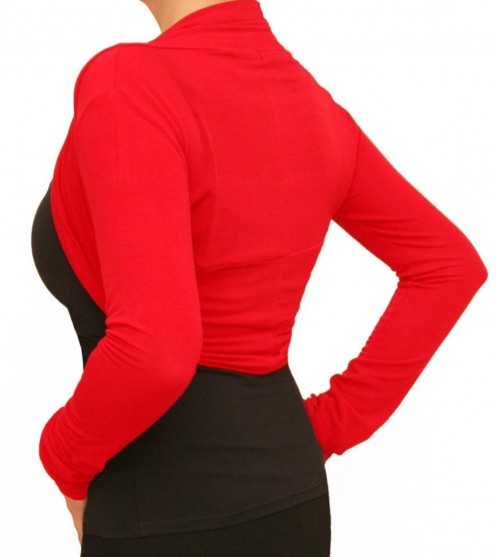 If quality and good service are something you value, look no further than Blue Banana – everyone who buys from them is full of praise and never has a bad thing to say about their clothes or their service. Granted it ships from the UK so it might take just that little while longer (about 7 days) but believe me, it is worth the wait.
This luxurious shawl neck shrug feature long sleeves with deep ribbed cuffs.
Made from machine washable Acrylic and Polyester it has both stretch and style!
This one is available in red, black or gray.
Blue Banana – Long Sleeve Shrug
Black Thin Knit Long Sleeve Sweater Shrug
You don't have to be a dancer to enjoy this knit shrug. It is thin enough to be comfortable in any weather and provides perfect cover for your shoulders and arms.
It fits snugly under the arms, not over the chest, which might take some getting used to if you are not a dancer.
This will look great with a cami or corset top or dress and is just enough to warm you upper back when you need it without covering up the bodice of your outfit.
Luxury Divas Thin Knit Long Sleeve Shrug
How to knit a shrug or bolero
Free knit and crochet patterns for boleros and shrugs – DIY fashion accessories
No page on crochet or knit shrugs and boleros is complete without giving all you craft people something too. If you are handy with knitting needles or a crochet hook, the possibilities are endless. You can make up one of these in a day or so depending on your skill and add a range of styles in different yarns to your wardrobe for little expense. Then of course you will also have something completely unique. I've gathered together a selection of FREE patterns for boleros and shrugs – whether you knit with needles or loom or crochet – there are lots to choose from here.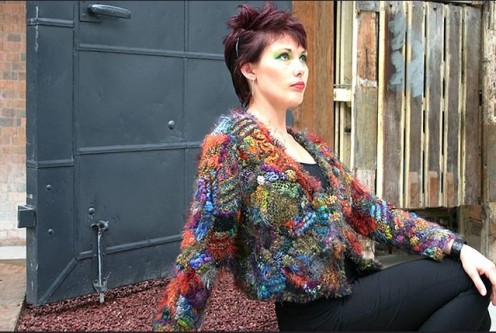 Image: Flickr, CC 2.0, Prudence
(Visited 3,853 times, 1 visits today)