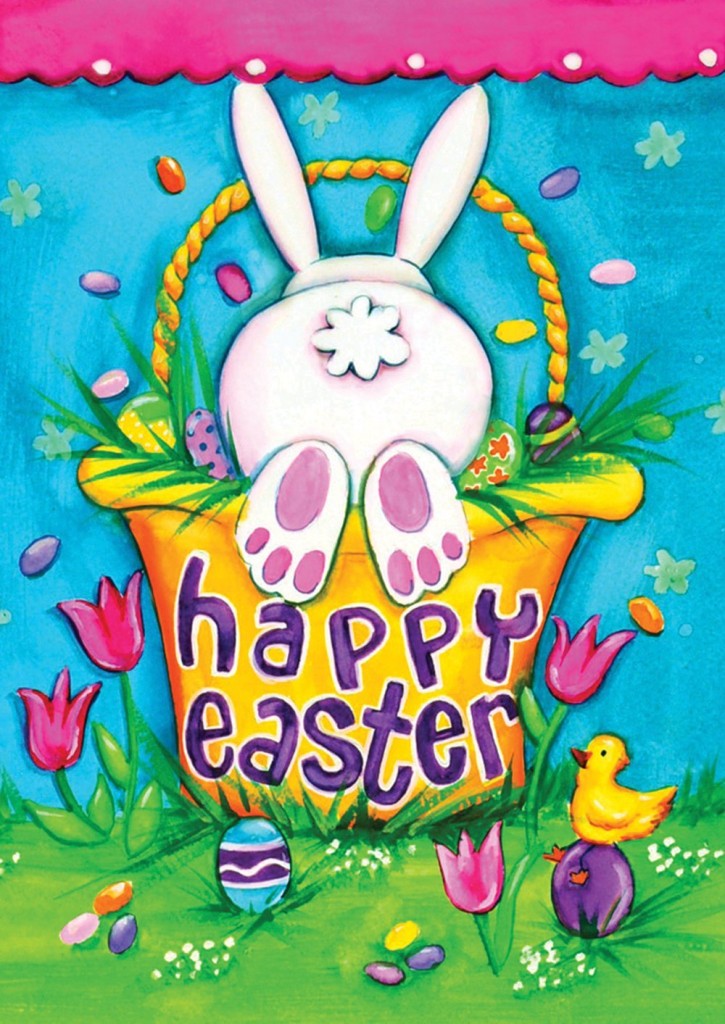 Add color and interest to your yard decorations this Easter
Every year I like to hold an Easter egg hunt for the kids so I am always on the lookout for ideas in Easter yard decorations.
Decorating your yard can be as easy as using stakes to display colorful flags or blowing up an inflatable figure. You can stick to one theme or mix and match. You can go for a religious slant or lean more towards a celebration of Spring. It all depends on your reasons for decorating and your own personal choices.
On this page I've tried to give a broad spectrum of ideas to give you some inspiration.
Featured above: Toland Home Garden 112610 Bunny Tail Decorative Garden Flag, 12.5 by 18-Inch
Just a teaser to get you into the mood for Easter
&
4 Foot Happy Easter Bunny Airblown Inflatable
Inflatable Easter Eggs – Pack of 12
4 Foot Easter Inflatable Chick and Egg
&
Light-Up Easter Yard Decorations
Light up your yard for Easter
I've picked out some fun inflatable yard decorations that light up – these are fun either lined along your path or scattered over the lawn. Most stand about 4 feet high but check the listings for full details. Easy to blow up – easy to deflate and store flat for when you need them next.
Easter Egg Pathway Markers
These Easter eggs are made of plastic so they are fine to be left outside. Each set has 18 eggs on stakes that you can use to line a path or scatter over your lawn.
They are kinda small – at 6.5 inches so the image is a bit misleading.
&
Easter Egg Pathway Markers – FLAT Easter Yard Decorations
&
4′ Airblown Inflatable Easter Bunny with Eggs Lighted Yard Art Decoration
Here's a light up decoration for the yard that will look great this Easter – it stands a generous 4 foot high and when Easter is over, just deflate to store for next year.
Use one or match it up with some of his other friends.
&
4 Foot Party Inflatable Bunny w / Color Eggs – Yard Decoration
&
Blow-up Yard Decorations that Light UP
You can create a complete theme with light-up Bunny Rabbits.
&
4 ft. Long Bunny Pushing Wheelbarrow with Eggs Decoration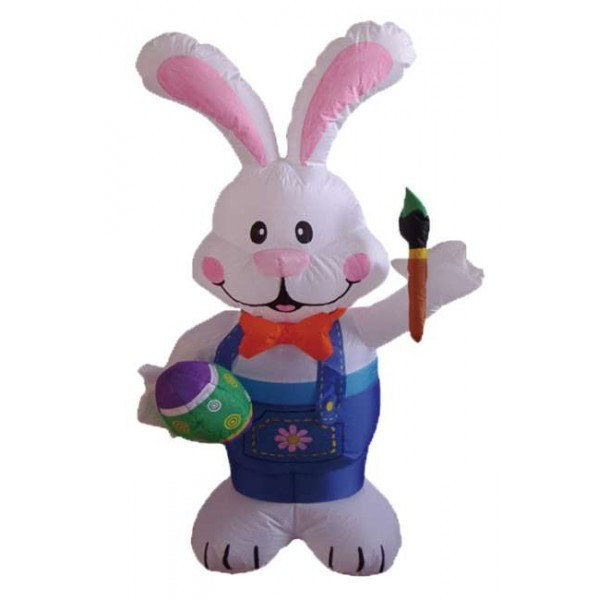 Easter Inflatable Rabbit Holding Color Pen Decoration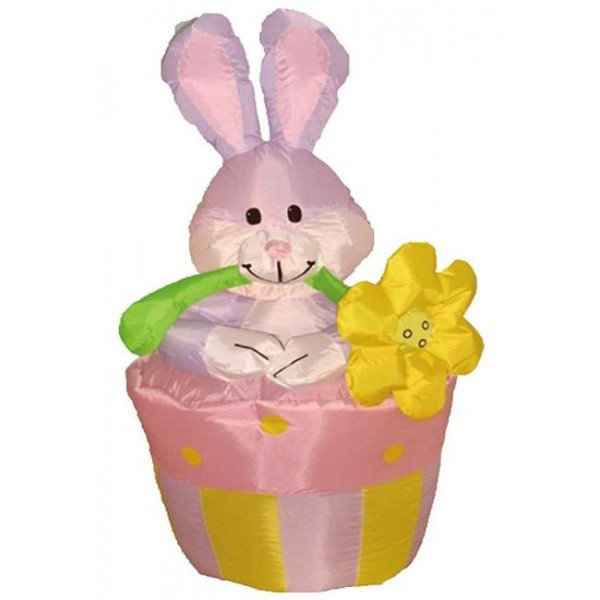 Easter Inflatable Rabbit on Flowerpot Decoration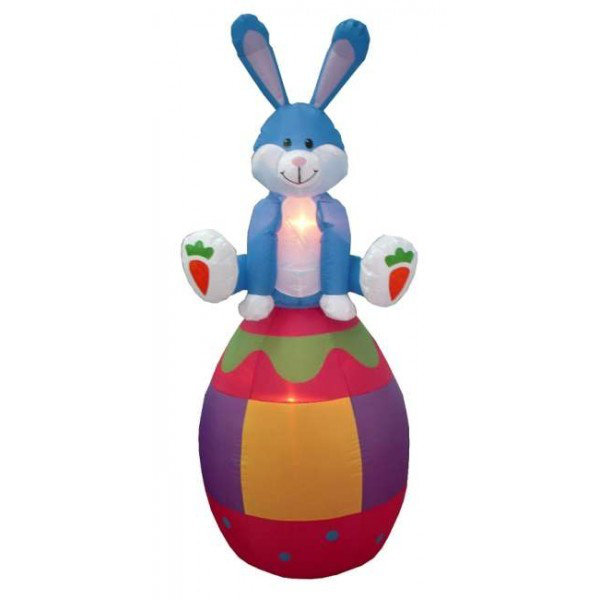 Easter Inflatable Rabbit Sitting on an Egg Decoration

&
Best Easter Yard Signs
Great yard signs for Easter egg hunts and parties
If you have kids you may well be holding an Easter egg hunt. These signs are great for welcoming folk in. Set them up right in the front to show your guests the way and they are inexpensive enough that you can have more leading up the garden path. I particularly like these three and isn't it great to be able to write the time and place on one?
Yard Signs for Easter Egg Hunts
&
Bunny and Chick Yard Sign
Plastic Easter Egg Hunt Yard Sign
Easter Egg Inflatable Yard Sign
&
Happy Easter Standing Letters Yard Art Sign
You can have this standing 2-piece Easter sign up in no time – they have stakes to keep them in place and measure 64 inches wide and 15 inches tall.
What a nice welcome for your friends.
&
Outdoor Nativity Store Happy Easter Yard Sign
&
Fun yard signs for Easter decorations
&
Outdoor Nativity Store Traveling Rabbits Easter Yard Sign Set
Outdoor Nativity Store Rooster Eggs Easter Yard Sign Set
Outdoor Nativity Store Cascading Carrots Easter Yard Sign Set
Bunny Lawn Signs Asst. (5 count)
&
Joyous Easter Egg Floral Pattern Yard Sign
This really is a joyful sign to display in your garden. It is a generous 30 inches wide by 24 inches high.
&
Outdoor Nativity Store Joyous Easter Yard Sign
&
Religious Easter Yard signs to Celebrate Easter
For anyone who want to display their joy in the Resurrection and the hope that brings to the world, these signs are perfect. Personally I would use only one, too many might look tacky.
&
 Outdoor Nativity Store He Is Risen Easter Yard Cross
 Teak Isle Tall Easter Yard Cross for Lawn or Garden
 Easter Yard Decorations
 Outdoor Nativity Easter Yard Sign Set
 Christian Yard Sign
&
Magnetic yard signs
This range of yard signs can be attached to stakes or over existing wall plagues.
&
Basket for the Bunny Yard Sign
Hippity Hop Easter Yard Design
Bunny and Chick Yard Sign
He is Risen Yard Sign
Easter Garden Yard Sign
Rejoice Easter Yard Sign
&
More Yard Decorating Ideas
Giant Plastic Easter Eggs for the Garden
&
&
Male and Female Bunny Welcome Signs
You need to buy the male and female bunny stand-up decorations separately. But what a cute couple… They are made of metal and have an easel type stand in the back. Each stands 20 inches high.
&
Easter Bunny Welcome Greeter Outdoor Decorations Female
&
Decorative Plastic Easter Egg Garden Picks
&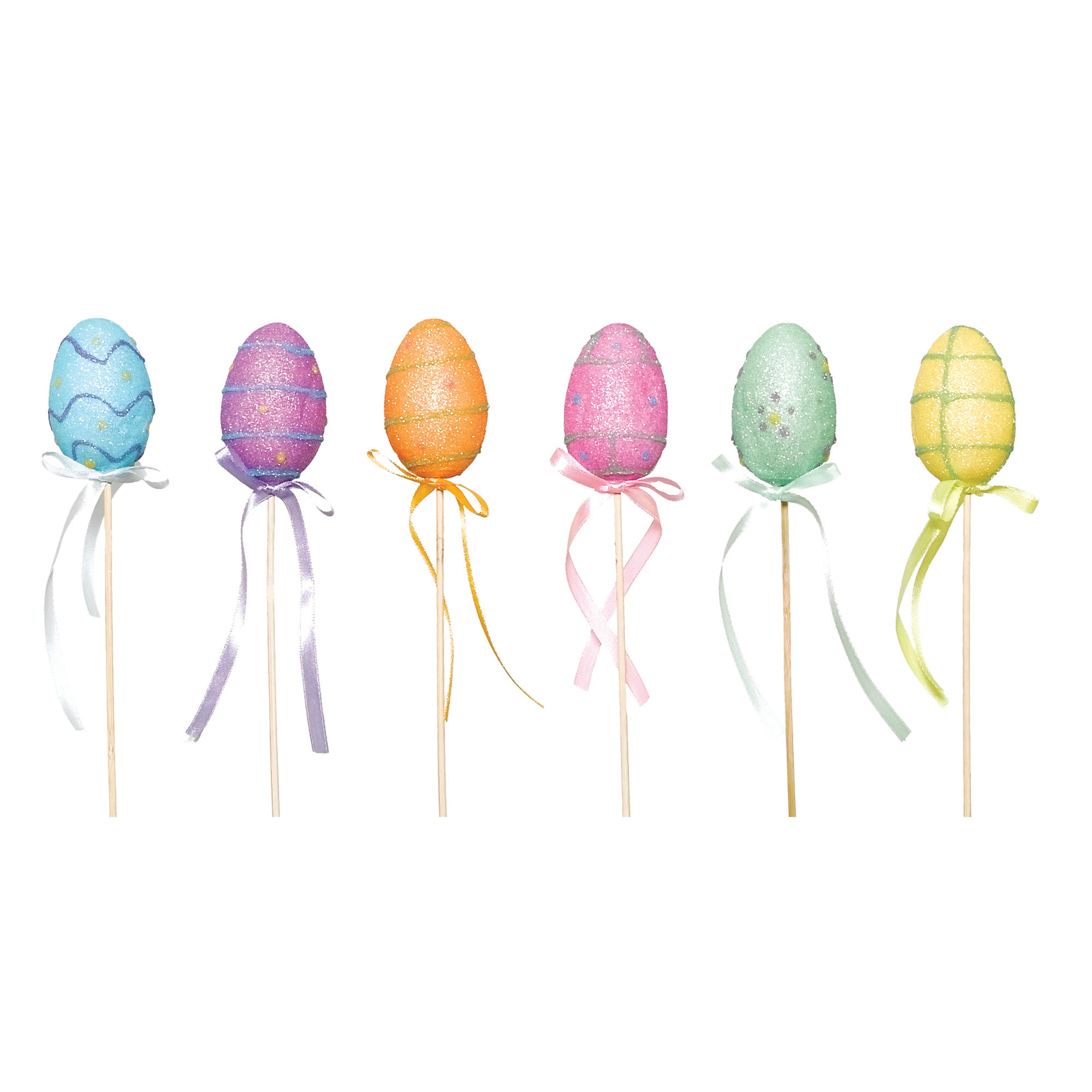 Decorated Easter Egg Picks (Set of 6)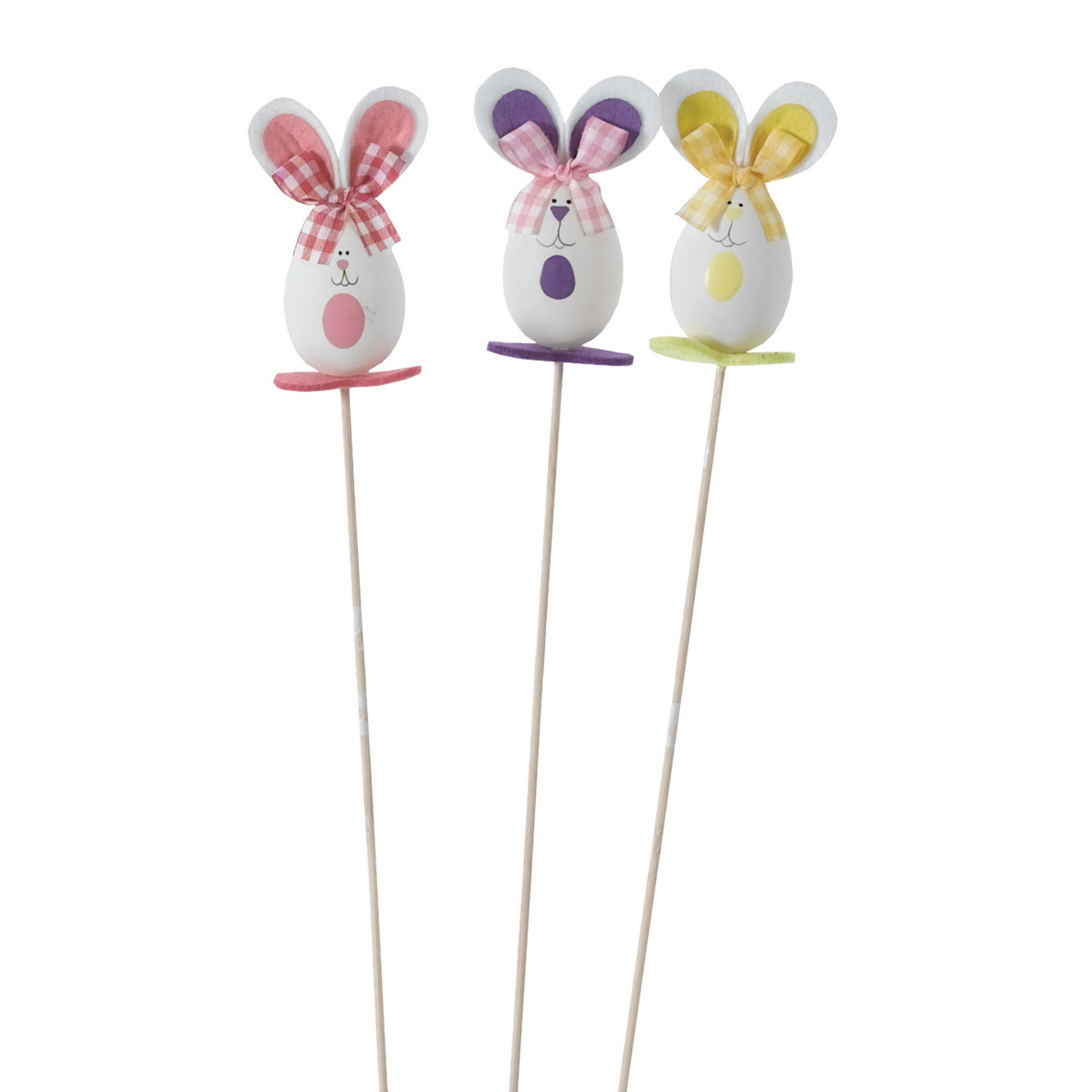 Oddity Inc. Whimsical Easter Bunny Picks (Set of 3)

&
Hanging Decorations for the yard
&
In the Breeze Bunny Swingerz Outdoor Hanging Decor
In the Breeze Watering Can Bunny Swingerz Outdoor Hanging Decor
&
Easter Yard Decorations – Hanging Easter Eggs
Hang these from trees and bushes to create a great effect.
These eggs are made flat plastic so they are great for outdoors.
Don't be deceived – these are flat not 3 dimensional but they still look great and at this price you can't go wrong.
&
Easter Yard Decorations – Hanging Easter Eggs
&
Best Easter Flags
Use garden flags for simple Easter decorations
You can have your yard decorated in minutes if you use garden flags. There is a huge range to choose from so if you don't immediately see the one you like, then click any of the links to go browse for more. If you don't already have a flag-stake you will need to buy one, but with so many seasonal variations, it is a great investment.
&
Easter Bunnies Garden Flag
Hippity Hop Easter Garden Flag
Easter Garden Flag
Busy Bunny Garden Flag
&
Easter Tree Garden Flag
If you haven't created an Easter egg tree, you can at least have one on this colorful garden flag.
The design is printed on both sides for all round viewing.
Flag Trends had an enviable reputation in producing fabric flags that are durable and resistant to mildew and fade. A quick hand wash in cold water, dry and it will be as good as new.
&
Carson Easter Tree Garden Flag 45383
&
Assorted Religious Easter Garden Flags
&
Easter Sunrise Garden Flag
He Is Risen Easter Garden Flag
He Has Risen Believe Easter Flag
Easter Garden Flag
He Has Risen Garden Flag
He is Risen Easter Lily
&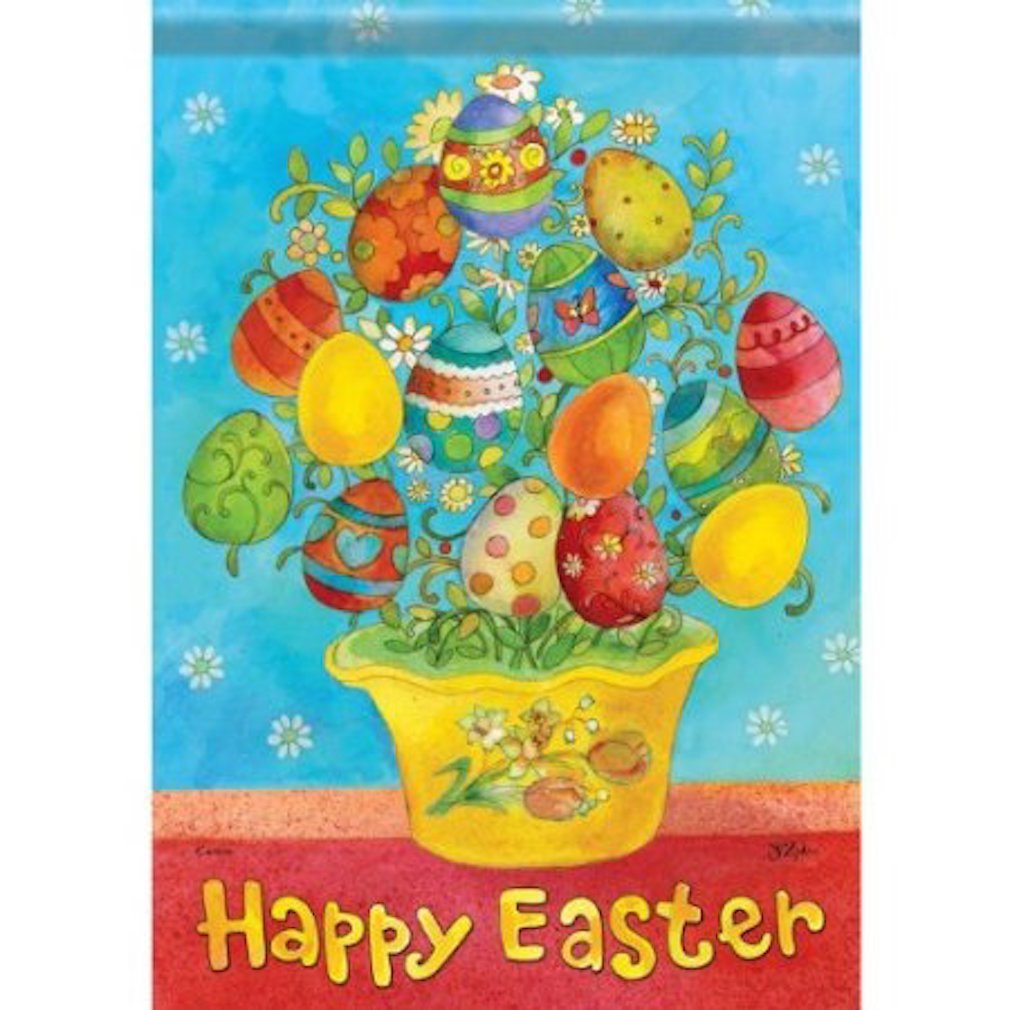 (Visited 2,007 times, 1 visits today)