In the natural world, the mama bear is known for being the fierce protector of her cubs. This has led to many people referring to going into "Mama Bear" mode when a mother feels the need to protect or defend her child(ren). This concept has been taken to a fun, new level that is cute for new parents and babies. Etsy sellers feature adorable Papa Bear, Mama Bear and Baby Bear T-Shirts and Other Gifts for New Parents that reinforce that protective nature that new parents feel toward their baby. These gift ideas have a bear family theme for individualized gifts or for matching gifts for the whole family.
Family Matching Set
Deck the whole family out with this cute theme! This seller offers cute "bear family" options for mama, papa, baby, brother, and sister. Choose from body suits for baby and tees for the rest of the family in various styles, colors, and price ranges. Choose your selections from the drop down menus. Tees feature black or white lettering (depending on shirt or bodysuit color) and all feature an arrow theme in the design. Cute idea for families with a new addition.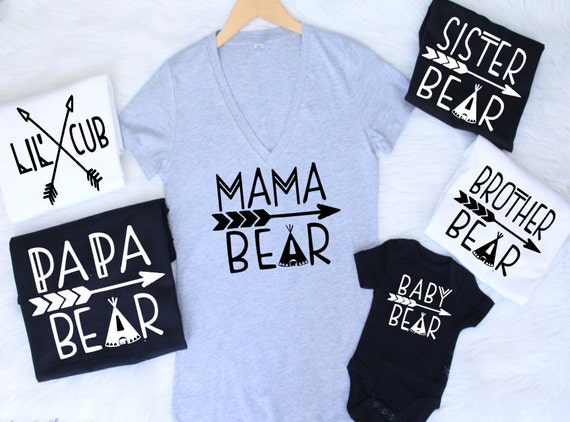 ALL SIZES Customizable Colors mama bear baby bear lil cub papa bea

Papa Bear Baby Bear Matching T-Shirts
This tee shirt and onesie are made with a cotton and polyester blend. Choose from various sizes. Both are a slate gray color and have white lettering. Dad's shirt says "Papa Bear" and baby's says "Baby Bear." Both have a standing bear serving as the letter "E" in bear and have an arrow between the two words. Makes a great idea for a new dad for father's day, or even as a way to announce the pregnancy to him.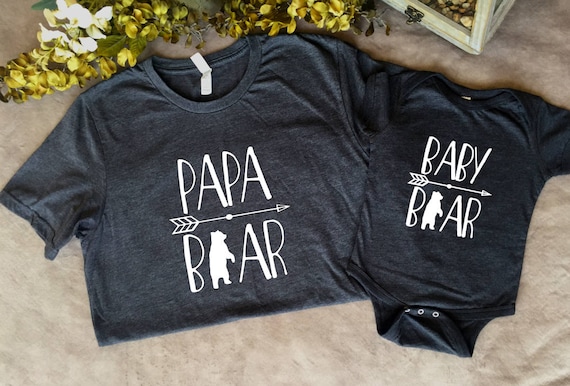 Papa Bear Baby Bear matching t shirts

Plaid Papa Bear Shirt, Gifts for Dad
Choose from sizes men's small through 3X. Shirt is a light gray color and features a design of a bear in black-and-red-checkered print. The inside lettering on the bear reads "Papa Bear," with a small paw print. Makes a great gift for dad for Father's Day, birthday, Christmas, family photos and more. Shirt is made from 100% combed ringspun cotton jersey.
Family T-Shirt Set
Have the whole family wear matching shirts! Perfect for a new little family, these 100% cotton shirts and onesie are black and have white lettering that reads "Papa Bear," "Mama Bear" and "Baby Bear." Design features an arrow above and below the lettering, with a bear in between the words. The letter "A" in bear is a teepee. Super cute gift idea for the expectant family.
Bear Tribe Family Shirts
These "bear family" shirts comes in options for Papa, Mama, Brother, Sister, Baby, and Cub. All designs feature an image of a bear with the family member title within it. Choose from a variety of colors for both the tee shirt and the bear image. Color charts are shown to select from. Glitter colors for the bear logo are also available. Family shirts make a great idea for family photos.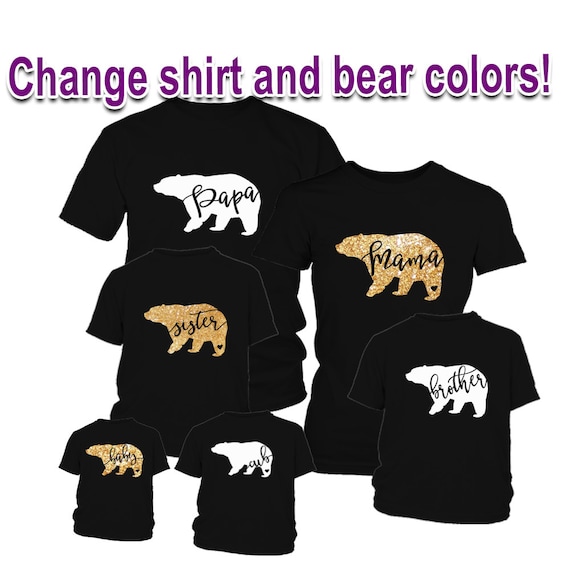 Mama Bear Papa Bear Bear Tribe Family Shirts

Matching T-Shirts
These shirts are made from a cotton and polyester blend. Papa bear shirt and baby bear onesie are both a darker gray color, with the mama bear shirt being a lighter gray. All have white lettering with an arrow between the two words and a standing bear image for the letter "E" in bear. Makes the perfect Mother's Day or Father's Day gift, or gift for a new baby.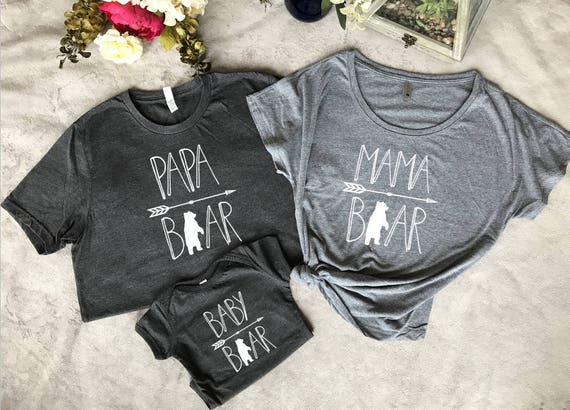 Papa Bear Mama Bear Baby Bear matching t shirts

Mama Bear/ Momma Bear Shirt/ Floral Shirt
This shirts features a classic V-neck and short sleeves and is made from a soft poly-cotton marbled fabric in a light gray with black accents. The bear logo in the center is black with a floral design and the word "Mama" within it. Makes a great maternity shirt as well as one to wear after baby arrives.
Papa Bear Embroidered Washed Cap
Made from 100% cotton, this is a one size fits most hat with an adjustable buckle closure. Available in your choice of fourteen colors, including black, red, royal blue, and more. Features an embroidered black bear with the word "papa" within it. Makes a great hat for a new daddy and the perfect Father's Day gift.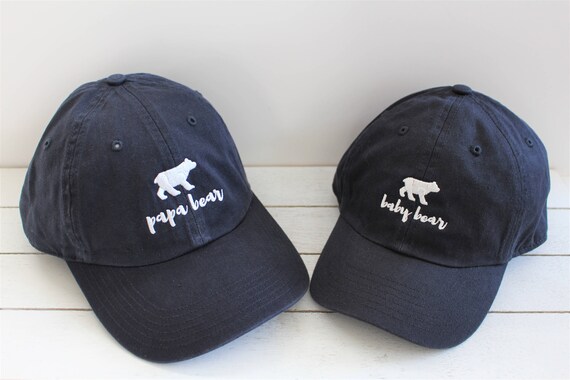 PAPA BEAR | Embroidered Baseball Cap

Papa Bear Mug, New Dad Gift
Choose from an 10 ounce or 15 ounce size. This is a white ceramic mug with design of a brown bear printed on both sides. Above the bear it reads "Papa Bear" in black lettering. Design won't chip, fade, or peel and is dishwasher (top rack) and microwave safe. Makes an ideal gift for a new dad.
Papa Bear with Cub Ceramic Mug
This is a white ceramic mug that comes in an 11 ounce and 15 ounce size. Design features a brown "papa bear" and cub (either sitting next to papa or on his back) personalized with the child's name. Can fit up to three cubs with names, however design for three will have one with dad and the image on one side with the two other cubs trailing around the mug. Choose option with or without flowers and grass at the bottom. Perfect idea for Father's Day or dad's birthday.
Mug Set of Two Papa and Mama Bear
This is a set of two ceramic coffee mugs in white, dishwasher and microwave safe. Available in 11 or 15 ounce sizes. One features a Papa Bear image with the words inside the bear, and the other features the bear image with Mama Bear printed inside, along with some flowers at her feet. Ideal gift for new parents or parents to be.
Gift for New Parents Mom and Dad Mugs
White ceramic mug sets are available in two sizes, 11 or 15 ounces, and are dishwasher and microwave safe. Design features a brown Mama Bear with flowers on her head, and the Papa Bear mug has a brown bear minus flowers. Design is printed on both sides.
Papa Bear Insulated Tumbler, Laser Engraved Travel Mug
This travel tumbler is available in seven different colors. Made of stainless steel, it holds 20 ounces and has a double-wall vacuum insulation and a clear lid. Narrow bottom fits most cup holders. Cute design features a bear with Papa Bear lettering within it, with Est. (year of child's birth) under the bear. Makes a great gift for dad.
Papa Bear Enamel Camping Mug
Mug holds 12 ounces and is made from iron and enamelware. NOT for microwave use. White mug has a black rim and a design of a black bear standing among the pine trees. Sports the title Papa Bear. Perfect gift that any dad, new or established, will love.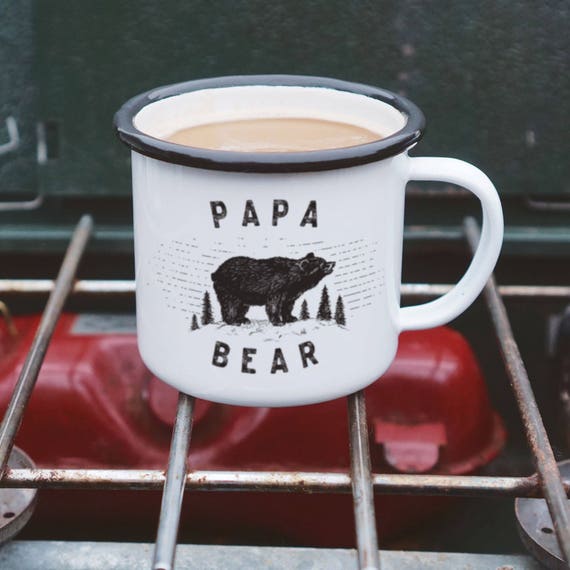 Papa Bear Mug – Dad Mug – Enamel Camping Mug for Fathers

Papa Bear Beer Stein
This is a 16 ounce frosted glass beer stein that features a brown Papa Bear logo with the year fatherhood was established underneath. Design is printed and pressed and is dishwasher safe. Super cute gift idea.
Papa Bear and Mama Bear Christmas Ornaments
These ornaments are bear shaped with either Papa Bear or Mama Bear cut and engraved in them. Made from natural wood. Ornaments measure approximately 4 inches long and 2.25 inches tall. Each comes tied with red and white twine for hanging.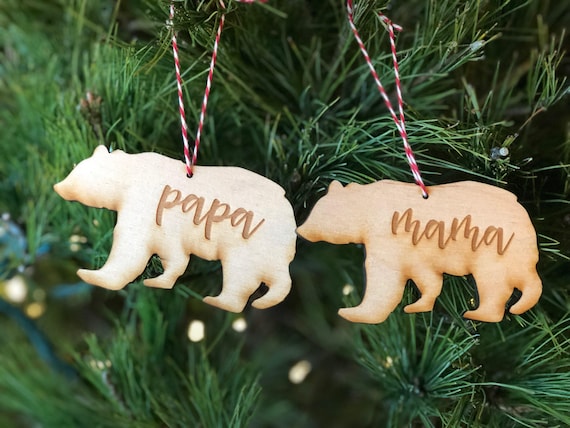 Papa Bear and Mama Bear Ornaments

Papa Bear Keyring// Dad Keychain
This is a silver-plated keyring with silver plated charm of a papa and baby bear together that read "Papa Bear" and one paw print charm. Choose to add additional charms if desired. Makes a great Father's Day or birthday gift for dad.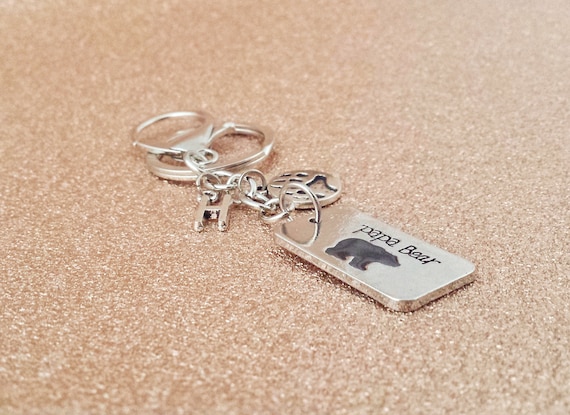 Papa Bear Keychain// Fathers Day Gift

Papa Bear Rustic Leather Keychain
This keychain is made from rustic leather in the shape of a bear and has the words Papa Bear etched into it. Has a copper keyring clasp. Makes a great gift for the dad in your life.
Pin It for Later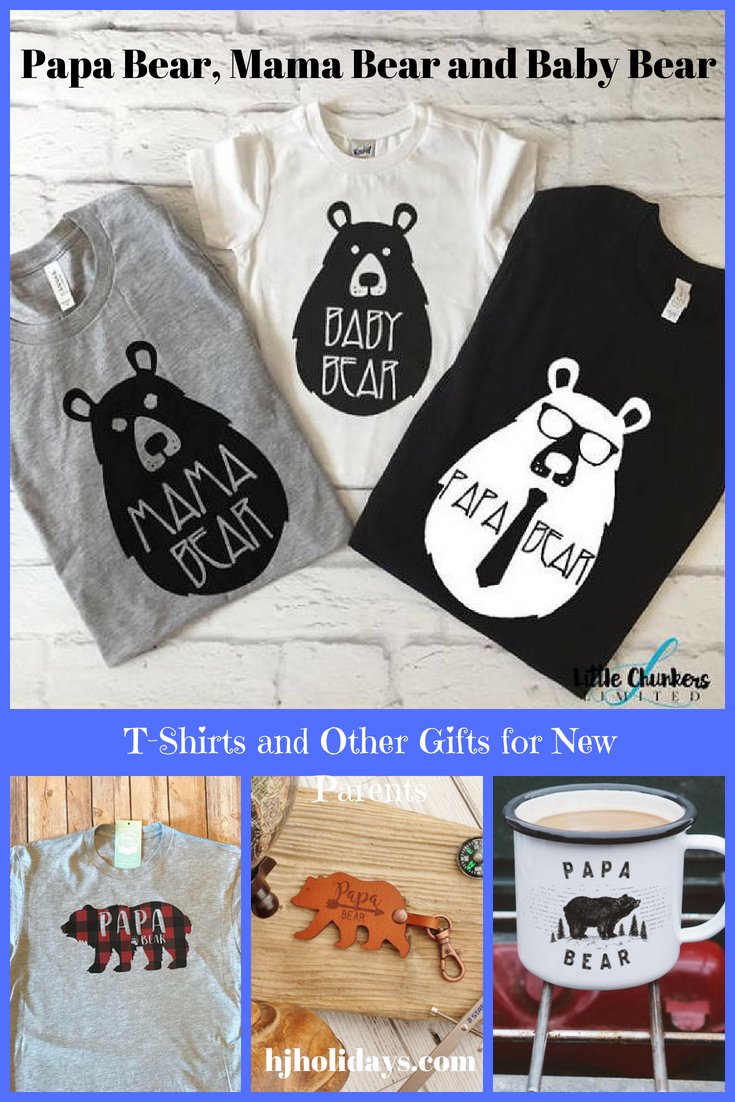 (Visited 478 times, 1 visits today)