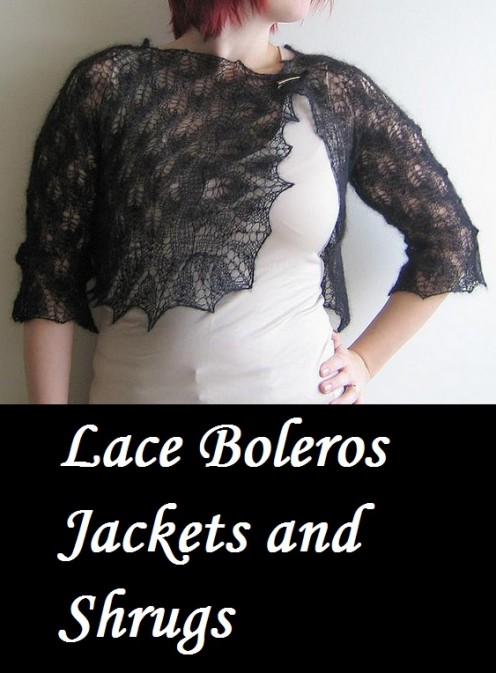 If there is one thing that is guaranteed to make me feel more feminine it is wearing lace. This page showcases a selection of beautiful lace shrugs and cropped jackets that I have found and want to share with you. The delicate patterns in lace are well suited for both casual and formal wear so whether you are looking for a bridal wrap, a cover-up shrug for parties or clubs or just want to spruce up a casual top and jeans, these will be perfect. I've included something for everyone from stunning white to sexy black numbers and lots in between. The joy of boleros is that they flatter any body type so get browsing and see which one you would like to add to your wardrobe.
MoonTree Sheer Lace Ruffle Bolero
eVogue Floral Stretch Lace Crop Jacket
Given a free choice, this is probably one of my favorite crop jackets. It goes really well with just about any outfit: it dresses up a plain top or covers an evening gown equally well. Black tends to either stand out or blend in with any color that you wear which makes it a versatile choice to have in your wardrobe.
Long Sleeve Lace Cropped Bolero
The floral pattern here gives a real vintage look that is hard to beat. Get yourself a glamorous Goth look for not much money.
Ladies Long Sleeve Lace Tie Up
This is a super little tie shrug available in an array of colors depending on what is in stock. It is perfect for accenting any outfit, and looks equally good matched with tops or dresses.
Lace Tie Up Long Sleeve Cardigan
Plus Size Floral in Black – Great with pants or skirts
This cute shrug will brighten your day – or night! The lace pattern adds a touch of style and femininity whether you going to the supermarket or a nightclub. This is a very flattering style with wide shoulders, perfect for women with a fuller figure.
Plus Size Floral Lace Bolero Shrug
Previous buyers recommend you buy one size up as it tends to run on the small side especially around the arms – but then many designer type clothes do.
This would be perfect as a cover up over a dress or top and will cover heavy upper arms to make you less self-conscious.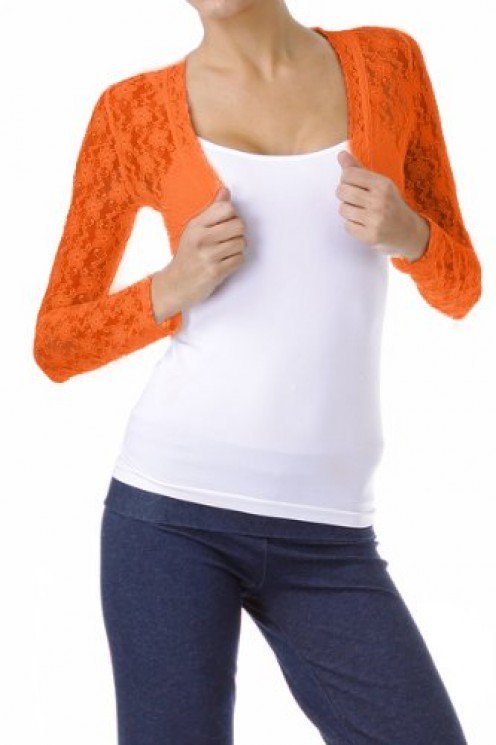 Sheer Crop Jacket
Perfect for Summer, spring and fall
Sheer jackets are sexy and fun to wear, and they add style without adding too much warmth. This makes them great for summer, spring, and fall. Dressy or casual – take your pick and set you own style.
Prefectly Fitted Long Sleeve Floral Shrug Crop Jackets
Shrugs are great for formal or casual wear
3/4 Sleeve Sheer Floral Lace Crop Jacket

Shrugs are great for formal or casual wear. Lace is especially versatile looking good on wedding dresses or over a top and jeans and anything in between.
They are very flattering for any type of figure. The width of the shoulders and cropped style makes waists look smaller.
Great for covering up – it is very flattering by covering and therefore reshaping the appearance of flabby upper arms.
Extend the season of your summer wear – a shrug look great over a summer dress or top and keeps shoulders and back warm without overheating.
Ideal for weddings where you want to cover bare shoulders for church.
Or just to cover-up – strapless dresses and tops and on trend but not everyone is comfortable with so much exposure. Lacy boleros and shrugs provide just enough cover to give you confidence without totally distracting from your outfit.
They are wonderful for creating a layered look with is right on trend this year.
Stylish Lace Button Shrug with Ruched Top
Sheer Stretch Floral Victorian Cropped Shirred Sleeve Cocktail Jacket
This Victorian lace shrug has a wide band neckline. With a high stretch within the fabric it suits every body type, covering over the tops of arms, creating a fashion accent or adding a pop of color. Use it for casual or party wear, this is very versatile style that will suit every age group.

Lace Shrug Long Sleeve Sheer Stretch Cropped Bolero

I was hoping the image would pick up one of the other gorgeous colors instead of white. Not that I have anything against white, it always comes in handy, but I just wanted to show off the others. You can take your pick from gray and black as well as the white – so something to suit every eventuality.
Lace Bolero Jacket With Short Sleeve
Lace Bolero Jacket With Short Sleeve
Smocked Lace Women's Hemmed Wrap Ruffled
Sheer Floral Lace Ruffled Bolero
This is a sweet little shrug in attractive lace design that will instantly glam-up anything you wear whether it is a tank top or a party dress.
The high ruffled collar and smocked edging is extremely flattering and definitely a very feminine style that will make you feel good about yourself.
Look stunning in scarlet, eye-catching in purple, sultry in grey or just a knock-out in white or black. At these prices you can afford to buy more than one.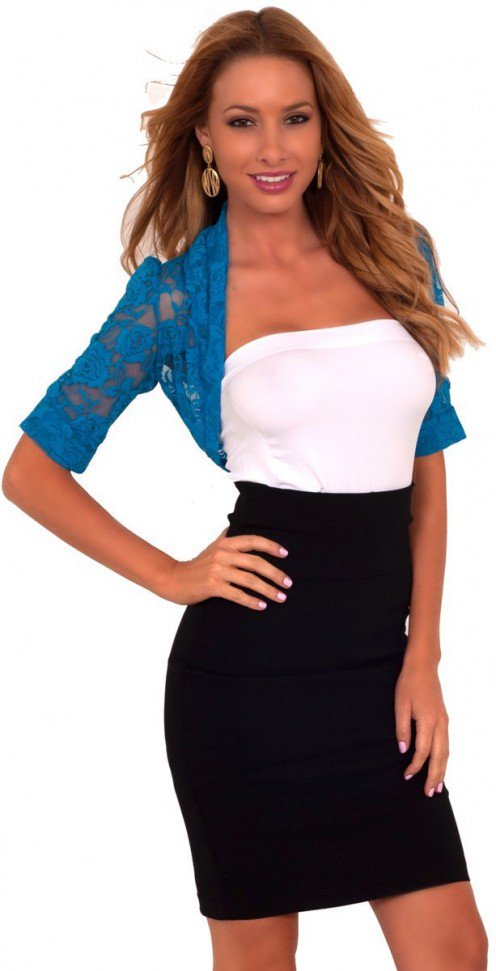 White Floral Lace Cropped Open Cardigan Bow Detail
Here are some more lovely choices for a summer crop jacket over a dress or pants.

White Floral Lace Crochet Short Sleeve Crop Cardigan

Another stunning design that you will feel great in. With lovely intricate lace inside and out. This jacket is perfect for a wedding cover up.
Ivory White Long Sleeve Lace Dressy Jacket
Ivory White Long Sleeve Dressy Lace Bolero

Now this is a classy number!
The ivory lace provides a very elegant cover up for formal occasions. It is especially suitable for weddings and will sit perfectly. The scalloped edge on each sleeve and edge gives it a very delicate appeal.
Made of fine Polyester lace, this is a beautiful bolero that is a delight to wear.
Remember to check the sizing chart as you order it. It is available from small to XXX-large.
Lace Boleros Come in a Range of Colors Too!
Don't limit yourself to black and white boleros whether for wedding or casual wear. You can find lace boleros in a range of colors as seen below. It is fun to browse through the offerings and most of these jackets are quite affordable. Plus you can wear them with several outfits. These jackets look great with casual and dressy wear all year round.
 Red Violet Bolero
 Long Sleeve Sheer Lace Shrug
 Wedding Lace Bolero
 Loose Cardigan Bolero
 Green Sparkly Sequin Lace Shrug
 Long Sleeve Floral Lace Shrug
 Lace Tie Up Long Sleeve Cardigan
 Lace Bolero One Size
 Floral Sequin Lace Bolero
How Do You Know if You Have the Right Size?
Sizing boleros is easier than you think. Check the information on each one for measurements, then measure yourself or a bolero that you already own. This information will help you decide what size you need.
How to Crochet a White Bolero
How to Knit a Lace Bolero
(Visited 470 times, 1 visits today)