Oh Chrismukkah, Oh Chrismukkah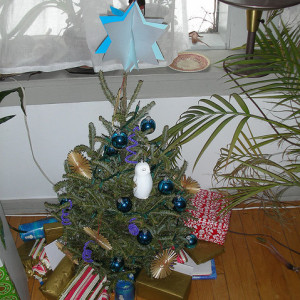 For families with a Christian and Jewish mix, December can be a confusing, chaotic and costly time. (Two major gift-giving holidays at once!) Enter the solution – a multi-cultural celebration of Chrismukkah!
From decorating the tree with Hanukkah items to stretching Christmas out to eight days, there are many ways families have brought the two holidays (and their family traditions) together over the years. Learn a little more about this holiday, how people celebrate it and create your own Chrismukkah tradition!
Explaining Where Chrismukkah Comes From
It probably didn't actually originate with The O.C., but it's certainly where most of mainstream America first heard about it. The show clip below will get you started toward understanding this hybrid holiday if you've never felt the need to celebrate Chrismukkah before.
Everything You Need to Know about Chrismukkah
If you didn't learn it from the video, that is!
If you have a newly blended family (religiously, that is), you might be starting out for the first time to figure this out. Or maybe you've been at this for a while and are looking for some fresh ideas to celebrate Chrismukkah.
Back when this first started to be a thing – well, a thing more than families celebrating knew about – there was a cute and funny book that came out to help with this hybrid holiday.
Chrismukkah: Everything You Need to Know to Celebrate the Hybrid Holiday includes help with appropriate songs and decorations, rafts like making a Santa yamaka and – my favorite – a matzo bread house. (Frankly, probably sturdier building material than gingerbread anyway.)
This one is more of a humor book than a real how-to, but still a helpful place to grab some ideas. Several years old and the author's website has disappeared, so don't expect to get an update here.
Yule plotz!
---
As a side note, there is another book out there – Chrismukkah: The Official Guide to the World's Most-Beloved Holiday – that is very tongue in cheek and meant to be humorous and somewhat satire. However, I'm in agreement with a few of the reviewers that it does start to become quite disrespectful when it starts sharing recipes for ham latkes and a few other things. (Don't get me wrong – ham latkes, yum! But I'm not Jewish.) Not really helpful if you're taking it seriously to blend this for your family.
Christmukkah Books for Kids
One of the big challenges here is helping kids understand what's up. Even young children don't like to feel too different from everyone around them, so helping them process and come to love it is top of the list for many blended families.
I've found three books for children that approach this from different angles. (There are a few others, but out of print and hard to find.) Great place to start if you're trying to help a child work their way around this concept.

My Two Holidays: A Hanukkah and Christmas Story
Written by a psychologist to help kids deal with the feeling different bit.
Based on the story description, I'd say she got it in one.
Daddy Christmas and Hanukkah Mama
This one is more about how cool the mixing of traditions can be.
Potentially a good source for ideas for developing your own celebration, especially if you want to get the kids involved in making suggestions.
A cute idea here as Blitzen makes friends with a Jewish man preparing for Hanukkah.
Possibly a good one for a child who has a friend who celebrates differently and needs to understand that different is OK.
Decorating for Chrismukkah
9.75″ Silver Splendor Hanukkah Star Christmas Tree Topper – Unlit
OK – so there are the obvious solutions here – sticking with silver and blue Christmas decorations, skipping them altogether, throwing everything up all at once. (Not great solutions, OK? But solutions.)
But if you really want to get into the spirit, merged ideas abound for you to use, such as Christmas-themed menorahs or Hanukkah decorations for the tree like the sterling silver Star of David shown here to go on top. (BTW, found a cheaper plastic version as well.)
The absolutely easiest way to do this is definitely with some Chanukah ornaments. I found all kinds and types and styles out there. Many of them have to do with taking traditional Jewish and Chanukah symbols and turning them into ornaments – dreidels being popular, along with the Star of David like in the picture here. There weren't quite as many as I expected, but if you get enough on the tree, you'll be on your way.
And definitely check out the items from Holly Jolly Jews. (Yes. That's what it's called.) They have things like blue stockings that say "Oy Joy" and the like, as well as these candy cane and Star of David earrings that I just dare you to wear. I dare you.
Everything is about blending Jewish traditions and Christmas, so there's a plate for Santa's cookies (or latkes) and things like the Santa menorah in the picture here. (Which I would wonder about as far as tacky, except that I have seen bunny rabbit and soccer menorahs in the past, so I think we're OK here.
And new to me this year – and I'm not sure what I really think about it – is the menorah tree. Yes, a menorah tree. So you can put your traditional ornaments on a really big menorah rather than hanging menorah ornaments on your traditional tree.
That said, they do sell this as an alternative to a Hanukkah bush, but for our purposes – definitely replaces the Christmas tree. It comes without all the greenery and lights, so you're on your own to adapt it for Chrismukkah, but it seems a good concept to me. Much slimmer than a tree and the ornaments are out of reach of the cats. A win all the way around.
Chrismukkah Cards
As a rule, I haven't found a lot of these I like much. Tacky designs, disrespectful approaches. But if you aren't planning to go the custom route to create your own blended card, these are some nice options.

chrismukkah cards by wittysayings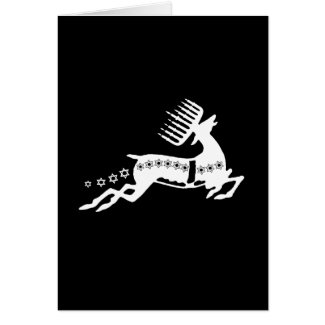 Chrismukkah Reindeer white Card by Shirtuosity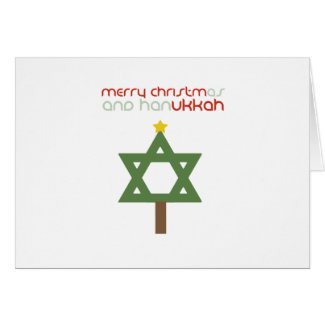 CHRISTMUKKAH TREE GREETING CARD by humortees
(Visited 1,768 times, 1 visits today)