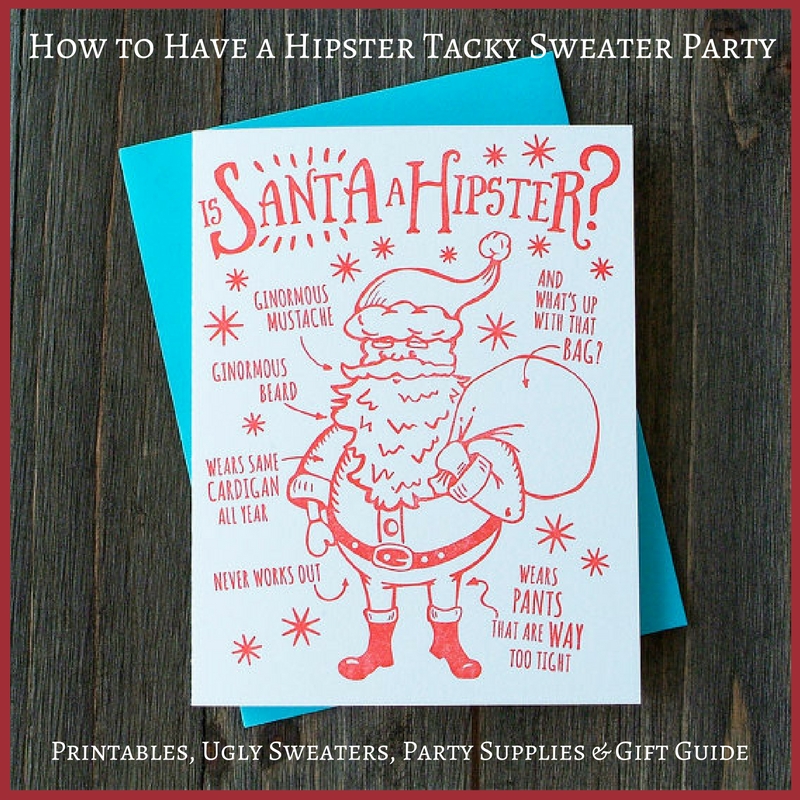 An Ugly Christmas Sweater Party has become one of the fun traditions of the holiday season. They are fun to plan and don't take a lot of work because they are casual and silly. They are also a great way to lower the stress around the Christmas season. But the best way to throw a Tacky Sweater Party is to choose a theme for everyone to enjoy. Since hipster style is funny and popular, it is a great choice for a party theme. You can have guests wear Hipster Tacky Sweaters and decorate your home in Hipster Christmas style. To that end, we have scoured the internet to help you find some great ideas including Hipster Tacky Sweater Party Printables, Hipster Christmas Sweaters and lots of party supplies. There is also a cool Hipster Holiday Gift Guide for friends and family.
Suggested Hipster Ugly Christmas Sweaters
Here is a fun cross-section of hipster-style ugly Christmas sweaters, sweatshirts and t-shirts that you can wear to your party, give as gifts and collect for each day of the holiday season. They are hilarious with a variety of fun hipster themes. If you don't like any of these tacky sweaters shown here, just click through to Amazon for a lot more. You can find ugly Christmas sweaters in just about any theme you can think of.
 Men's Hipster Costume T-shirt
 Kids Hipster Mustache T-Shirt
 Ugly Christmas Sweater Santa Skull Sweater
 Christmas Cat Sweatshirt Hipster
 Ugly Christmas Sweater Jesus Birthday Boy Pullover
 Women's Santa on Fleek Ugly Christmas Sweater
 Christmas Shark Ugly Sweater T-Shirt
 Ugly Christmas Cat Print Hipster Pullover
 Men's Llama Ugly Christmas Sweater T-shirt
 Vintage Christmas Pattern Long Sleeves Pullover
 Ugly Christmas Sweater Invisible Man Santa Pullover
 Ugly Christmas Sweater Men's Elf Dick In A Box
 Ugly Christmas Sweater Men's Xmas Cheer Beer Pong Pullover
 Parakeet Will Smith Ugly Christmas Sweater
 Hipster Reindeer Holiday Sweater
 Ugly Christmas Sweater Men's Mustache Christmas Tree Pullover
 Ugly Christmas Sweatshirt, Original Hipster
 Snowflake Sweater Long Sleeve Hoodie
 Ugly Christmas Sweater Octopus
 Ugly Christmas Sweater Men's Sexy Santa Pullover
 Cthulhu Lovecraft Dimensions Ugly Christmas T-Shirt
 Zombie Ugly Christmas Sweater T-Shirt
 Ugly Christmas Sweater Men's Freeze Pullover
 Dog Ugly Christmas Sweatshirt
 Christmas Snowflake Hoodie
 Ugly Christmas Sweater Men's Drunk Santa Noel Pullover
 White Satanic Pentagram Ugly Christmas Sweater
 Ugly Christmas Sweater Cardigan
 Ugly Christmas Sweater Vest T-Shirt
&
Hipster Ugly Sweater Party Printable Invitations
These incredible hipster ugly sweater party invitations are printable. That means you can go to the page, order the invitation and download it to your own computer to print them out. You can also email them to your friends. Any of these invites can be personalized for your party with your own time, date and location. The hipster deer on these is darling and your guests will love him. More printables further down this page.
 Eat Drink And Be Ugly Invite

 Eat Drink And Be Tacky Invite

 'Tis The Season To Be Ugly Invite

 'Tis The Season To Be Tacky Invite

&
Ballots and Awards
Every ugly Christmas sweater party needs to have ballots and awards for the tackiest sweaters there. These match the invitations above and you can print out as many as you need for your party guests.
 PRINTABLE Awards For A Geek Or Nerd Holiday Party

 PRINTABLE Voting Ballots And Party Sign

&
Signs
You can also add these delightful hipster Christmas party signs for extra decorations. Use them to guide guests to the food buffet, bar set up or where to hang up their coats. If you need any customization, you can send a message to the graphic designer on the product page.
 Eat Drink Be Ugly Party Sign

 Eat Drink Be Tacky Party Sign

&
Party Decorations and Supplies
For more hipster-themed party supplies such as photo booth props, favors, prizes, confetti and paper plates and napkins, here is a selection from Amazon. They have quite an array of cute and cheap party supplies that you can use to add to your hipster theme. The hipster rubber ducks are a great touch.
 24pc Party Photo Booth Props
 76pcs Colorful Photo Booth Props
 3″ Party Pack Emoji Stress Balls
 Vintage Fun Party Supply Silicone Wine Glass Markers
 Hipster Themed Mustache Party Supplies
 Mustache Man Party Dessert Plates
 3pk Mustache Party Favors
 58pcs Colorful Photo Booth Props
 LIME GREEN 10 Tissue Pom Pom
 Mustache Confetti
 Photo Booth Props 60 piece
 80's Style Neon Party Sunglasses
 Paper Mustache Dangling Swirls Set
 Awesome Pirate Hats
 Sylvania Globe Lights String of 25 Indoor Outdoor G40 Bulbs for Party
 8 Paper Dessert Plates
 Tissue Paper Puffs PURPLE
 Party Animals Hats
 Hipster Rubber Duckies
 Hawaiian Ruffled Simulated Flower Leis
&
Hipster Handmade Gift Guide
If your ugly Christmas sweater party is where you exchange gifts with your friends and family, you can continue the hipster theme. All of these hipster-themed gifts below are from Etsy, handmade by individual artists. Handmade gifts show the care you have given in selecting something special for your loved ones. There are gifts in this guide for men, women and children at very affordable prices. These hipster gifts are unique, gifts that can't be found in just any store.
 Christmas soap gift for men

 Hipster Baby Hat

 Mountain Necklace

 Take Notes, Hipster Notepad

 Hipster Santa holiday card

 Giraffe with scarves nursery art

 Oversized Hipster Sweaters

 Hipster Cat Print

 Ew People t-shirt tee

 Hipster Sweaters

 Grey Hipster Beanie

 Hipster Glasses Earrings

 Birthday Shirts For Boys

 mens canvas backpack

 Craft Beer Typography Beer Cap Shadow Box

&
Tags
If you need gift tags, or tags for food offerings at your party or any other miscellaneous party needs, these tags can be printed at home and placed wherever you need to add a note or label. They can also be used to attach to favor bags as a "Thank You" when your guests are ready to leave or for participating in the tacky hipster sweater contest. They look great and will save you a lot of time when preparing for your party guests.
 Hipster Tacky Sweater Christmas Party Gift Tags Or Thank You Tags

 Hipster Ugly Sweater Christmas Party Gift Tags Or Thank You Tags

 Hipster Ugly Sweater Christmas Party Thank You Tags

 Hipster Tacky Sweater Christmas Party Thank You Tags

&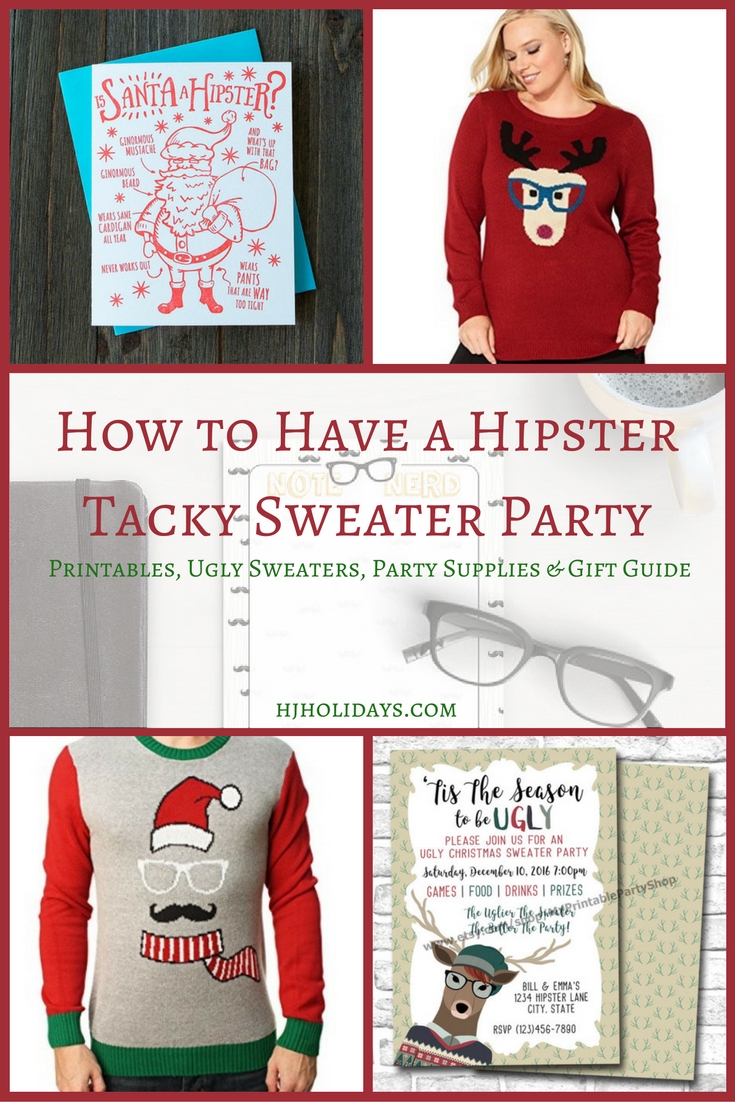 (Visited 288 times, 1 visits today)