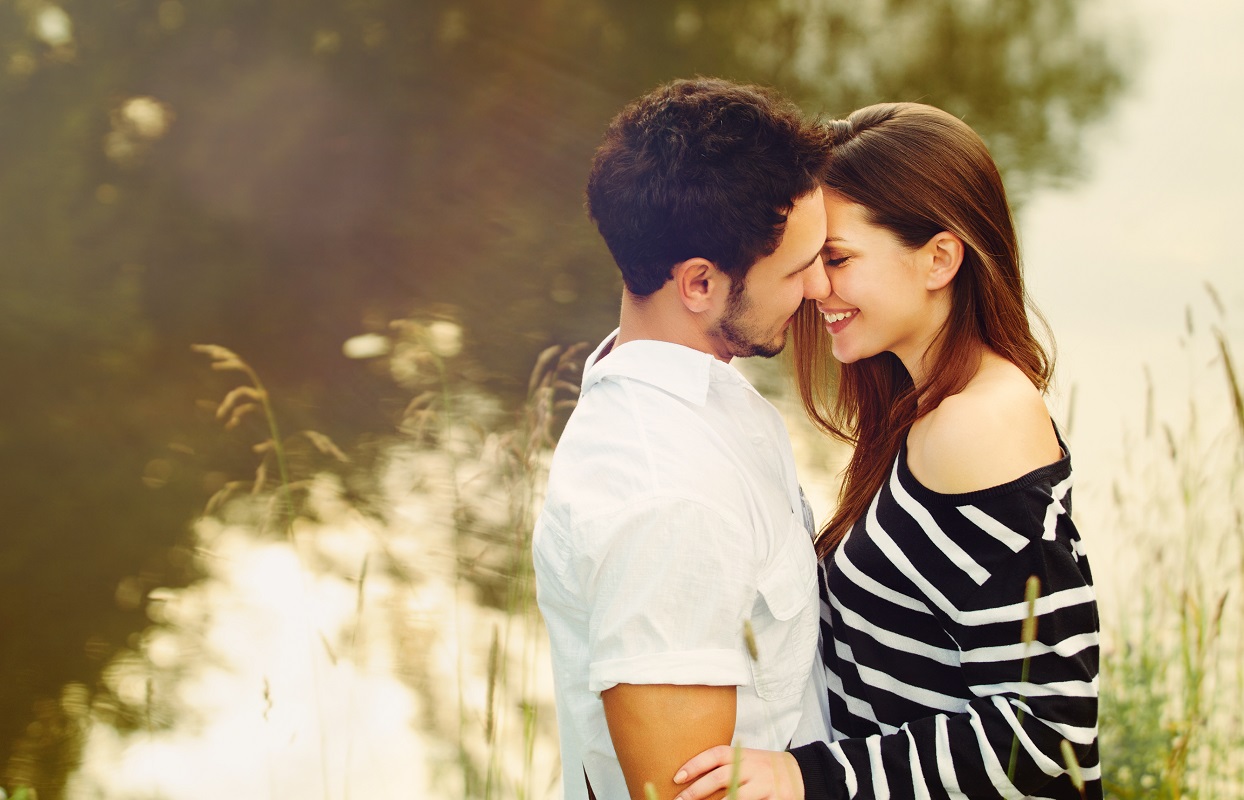 Being married and staying married requires some work on the part of both spouses. When hectic schedules, bills, children, and other responsibilities become a part of everyday life, sometimes couples can lose sight of what brought them together in the first place. This is why it is so important to set aside time to share with just you and your spouse. Having regular date nights can help keep the spark in your relationship and give the two of you some time away from the stresses and struggles of dealing with everyday life. Date nights give you something to look forward to and provide you with some special alone time away from the kids and other distractions. Here are some great date night ideas from the Dating Divas that will help keep your love alive and help you maintain a healthy and loving relationship with your partner.
365 Text Messages
Who doesn't love receiving a fun and flirty text from their significant other? This printable pack of 365 text messages will help you through every day of the year. Bundle features bright colors and modern graphics. Buyers will also receive helpful texting hints explaining the Do's and Don't's of romantic texting, four bonus ways to use technology to bring the spark to your romantic relationship, and 365 love text examples. Includes both sweet and spicy texts which you can use "as is" or use for inspiration to create your own personal messages. These texts will help you connect with your spouse throughout the day and provide a nice pick me up and a way to let your spouse know that you're thinking about them. Perfect way to get the other spouse really thinking about and anticipating date night.
52 Weekly Date Night Ideas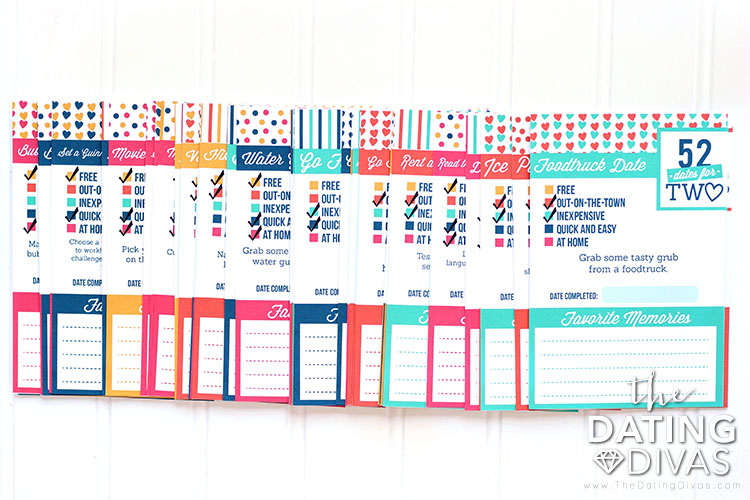 This printable download includes fun and exciting date night ideas, one for each week of the year. 52 Dates For Two includes printable cards with great ideas for date night which you can check off as you complete them. It also includes space to jot down fun memories from your date. Include a photo from your date night to include with the card to create a personal and unique album for both of you to treasure for years to come. Printable pack includes steps and tips for putting your date night album together, gift tags and instruction card, 52 weekly date night cards, blank cards and photo cards to add your own fun date ideas, and 16 bonus date cards with even more ideas to choose from. You can also use this kit to create an album to give to your spouse as a gift. Great way to keep the romance alive and well.
Love Letter of the Month Club Kit
Keeping with the theme of great date night ideas, enroll your sweetheart in the love letter of the month club. Kit includes great printables with tips and ideas for writing fun, memorable, and romantic love letters every month of the year to help keep the spark in the relationship. Print out the pretty love notes and cards and follow the handy guide to help you break down all of the necessary components of writing a great love letter. Includes twelve conversation starters, one for each month of the year, to give you some great inspiration for coming up with ideas of what to write. The exclusive stationery set includes letter templates, love quote greeting cards, and envelopes to print. Include embellishments needed to create a lovely keepsake box using a cardboard cereal box or manila envelope.
Mini Mom and Dad Dates for Kids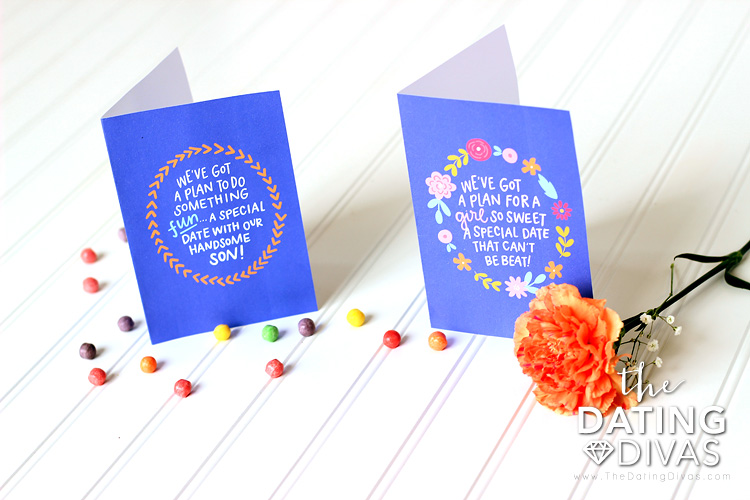 Every once in a while it's nice to plan a date night with your kids. This is a great way to help strengthen the bond between a mother or father and their child. Set aside a special date night activity for each child with either mom or dad to share some special quality time. Kit includes adorable invitations, one for boys and one for girls, two mini survey questionnaires, date night planning tools, and five planned for you mini dates. This is a great way to give each child that special one on one time with each parent. While nurturing your relationship as a couple through date nights, mini date nights with the kids help nurture each individual relationship within the family.
Year of Dates Binder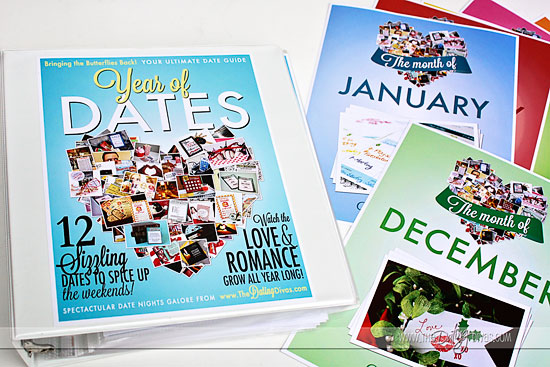 A great gift that lasts the entire year! Find a different date for each month, already planned and prepared for you. Simply find the day and time that works for you. Binder set includes front cover, back cover, spine, and page dividers for each month. Includes a list of creative ideas for date nights to choose from. Customize your date nights with these great printables and fill a 2 inch binder to create a unique and special date night keepsake.
Around the World Date Night Ideas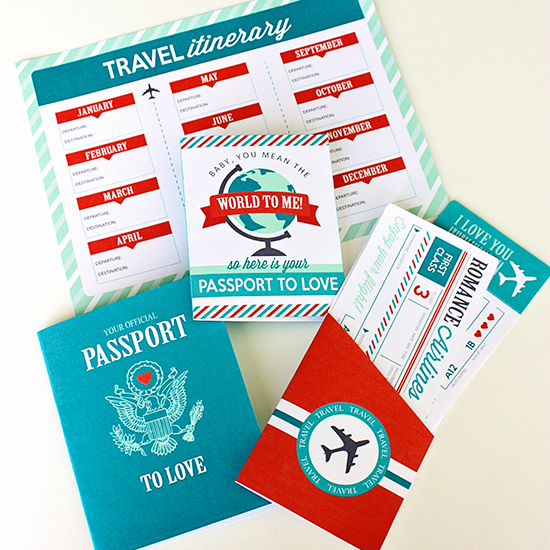 Keep the spark in your relationship with these fun international themed date nights. Experience the fun and excitement of international travel without actually having to leave the country. This is a mega pack of printables that includes twelve international themed date nights, a love passport, travel tickets, card, and itinerary. Enough great dates to cover the entire year. Each country featured includes an invitation for the date, two recipe cards, a date night activity, and a sexy idea for the bedroom. Makes the perfect anniversary gift.
Year of Sports Date Ideas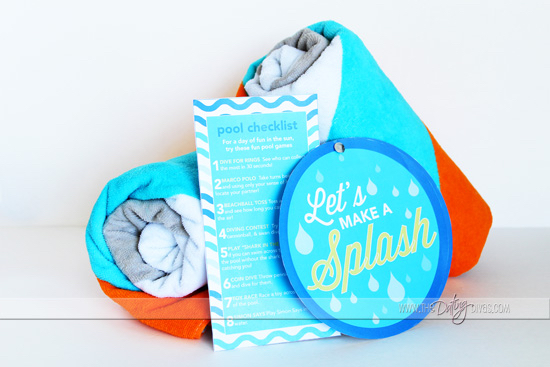 These dates are ones that your man will love that will help you both strengthen your body and mind while at the same time strengthening your relationship. The Sporty Dates Mega Pack includes a January hockey date, February football date, March basketball date, April golf date, May volleyball date, June soccer date, July bicycling date, August swimming date, September tennis date, October baseball date, November bowling date, and December ice skating date. Printable bonuses are also included such as a scorecard memory album and meaningful marriage questions journal. Each date theme includes cute printable related to the sport or activity featured for that month. Makes a great gift for your spouse for your anniversary and provides some fun activities to look forward to doing together for the current or coming year.
Share these ideas with your friends and earn a commission for yourself or your favorite charity!
(Visited 462 times, 1 visits today)