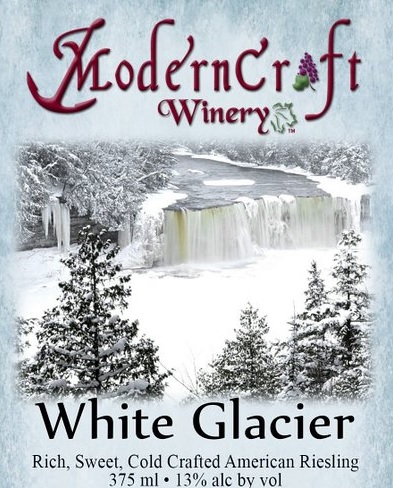 What is ice wine? Ice wine is made from grapes that have been frozen while they were still on the vine. It is considered to be a dessert wine as the dissolved solids and sugars in the wine will not freeze, making for a more concentrated grape juice to be pressed from the grapes which is very sweet.
Making Ice Wine
The grapes used in the production of ice wine must stay healthy enough to make it to the time of year in which frost occurs. This is why production is limited, because many grapes rot or otherwise become no good before the frost and freezing occurs. In some regions, the perfect weather for ice wine may not even happen until after the first of the year. Some years conditions may not be ideal at all so there would be no production if there is no frost. If and when the ideal conditions do arrive, it is necessary to have enough labor to harvest the crop on short notice on the first day the weather has cooperated. All frozen grapes must be harvested within a short period of time, usually within just a few hours. Due to that fact that conditions have to be just so for the production of ice wine, this means that there is a relatively small amount produced each year, making it an expensive wine to purchase. There are also limited areas in which ice wine can be made, with Canada and Germany being some of the largest producers in the world. If the grapes are frozen after harvest and not naturally on the vine, they may not be officially called ice wine.
Types of Grapes Used in Making Ice Wine
Common types of grapes used in the making of ice wine include Vidal, Gewurztraminer, Riesling, and Cabernet Franc. These are grapes with higher acidity levels. Most ice wines are of medium to full-bodied style and common flavors are apple and peach, or even tropical mango for white varieties. For red varieties of ice wine, common flavors are candied red fruit and strawberry.
History of Ice Wine
There is a legend behind how ice wine came to be. A German winemaker had been away from the vineyard and upon his return found his grapes frozen and decided to go ahead and harvest them and proceed to make wine with them, resulting in the first ice wine, or "eiswein".
Ice Wine Production
The most well known producer of ice wine is Inniskillin of Canada. There are several other producers who are now making the product located in the Pacific Northwest, Michigan, New York, and the United States.
Niagara-on-the-Lake
The wineries of Niagara-on-the-Lake consist of twenty six wineries located below the Niagara Escarpment that are also recognized for their ice wine production, taking top awards at wine competitions all over the world. They use only solidly frozen grapes that have been frozen at -8 degrees Celsius or lower, hand pick them, and press them immediately to release the unfrozen drop of thick liquid which is highly concentrated in both acidity and natural sugars.
How Chefs at Niagara-on-the-Lake Use Ice Wine
Chefs at Niagara-on-the-Lake incorporate ice wine into the cuisine that is served, commonly pairing it with hot, spicy dishes such as curry or Thai. They also like to serve ice wine as an aperitif with foods such as pate, foi gras, or with soft cheeses.
More Facts about Ice Wine
The alcohol levels in ice wines are typically lower than in a standard table wine, ranging from about 7% to 12% alcohol. In general, Canadian ice wines are a bit higher in alcohol content than those from Germany. Because such a small amount of liquid can be extracted from the grapes, production of ice wine is much less than that of regular wines. Because of the limited number of grapes that can be used, as well as the limited amount of liquid from the grapes that can be harvested, ice wines tend be more expensive than average table wines. Ice wines are considered to be one of nature's sweetest nectars and have earned that title honestly.
2012 Chateau des Charmes Vidal Ice Wine

2013 Hunt Country Vineyards Vidal Blanc Ice Wine

Sweet Bliss Sweet Sampler Mixed Pack

Riesling Ice Wine

2012 Wagner Vineyards Vidal Blanc Ice

Renwood Delectable Port, Ice Wine, Syrah Mixed Pack

Jakeman's Maple Ice Wine

2009 Pacific Rim Snow Angels Ice Wine Riesling

2012 Pacific Rim Vin de Glacire Riesling

2014 Estate Red Mountain Kiona Vineyards and Winery – Chenin Blanc Ice Wine

Renwood Delightful Treat Port, Ice Wine, Old Vine Zin Mixed Pack

2013 Wagner Vineyards Riesling Ice

(Visited 109 times, 1 visits today)