Light Blue Faberge Style Egg Box
Faberge Eggs
Pine Cone Blue Faberge Egg Box, Limited Ed.
History of Enameling, Luxury Gifts
The Faberge name is synonymous with luxury, opulence and craftsmanship. This page pays homage to the artistry and features a selection of Faberge-style eggs, each one of which would make stunning gifts for Easter. Included here are some fine examples flowing from the Faberge influence. Included are display eggs and egg boxes as well as beautiful Faberge egg pendants should jewelry be more to your lady's taste. Prices range from around $30 to over $2000 so there is bound to be something here to suit every taste and every budget. Each of this is a work of art and each stand as a reminder of a lost world that existed at the time of the Russian Imperial Empire.
Faberge-inspired Easter egg – ideal gift for Easter
Faberge Style Egg and Box 24k Gold Plated
This stunning Faberge style egg will make an excellent gift this Easter. It is made of 24K gold plate then hand crafted and set with Swarovski crystals. The egg opens and has a magnetic closure. It measures 1.8 x 1.8 x 2.2 inches. Pretty presentation box included. This is sure to be a huge hit and something to treasure forever.
Ten fascinating facts about Faberge Eggs – Did you know?
The first Faberge egg was created by Peter Karl Faberge in 1884 in St Petersburg then Imperial Russia
The first egg was commissioned by Czar Alexander III for his wife Empress Maria Fyodorovna. It was an Easter surprise.
Between 1884 and 1916 only 50 Faberge eggs were ever created that classified as "Imperial Eggs". These were commissioned by Czar Alexander 111 and later by his son Czar Nicholas 11 and all were given as presents to the Royal Family.
In total only 69 original eggs were ever created.
When commissioned the Czars allowed Faberge a fairly free hand in the overall designs. The only stipulation he was given was that each egg should be completely unique and should be designed to open to reveal a surprise.
When creating the first egg, Faberge used white enamel to simulate an egg shell on a gold frame. The egg opened to reveal a solid gold interior that represented the yolk. The yolk in turn opened to display a beautifully detailed hen complete with feathers and a ruby encrusted crown. Then hen opened to reveal a stunning ruby egg-shaped pendant.
The eggs were the epitome of luxury- superbly crafted and encrusted with gold, enamels diamonds, pearls and semi-precious stones. Gens originating in Russia were particularly popular such as tourmaline, moonstone, amethyst and translucent chalcedony. Naturally with Royal patronage, the eggs attracted intense interest among the wealthy. The gold mine industrialist Alexander Kelch, for example, ordered 12 Easter Eggs.
Faberge continued his work on the eggs and on other creations as the Imperial Court Jeweler until the Bolshevik rebellion of 1917 when the factory closed and the Faberge family fled to Switzerland. The eggs were confiscated and put into storage while others were broken or lost.
During his rule, Stalin sold 14 of the eggs to raise money for the state. A few found their into museums whilst others remain in private collections.
In 2007, the '1913 Winter Egg' sold for 9.6 million dollars.
Collectibles from Amazon and Design Toscano
The Pushkin Collection: Natalia Faberge-Style Enameled Egg

Design Toscano carries a wide range of Fabrege-replica collections. The egg above is from the Pushkin Collection. If you go to the Design Toscano site, you will be astounded at the lovely Fabrege egg boxes for display.  The intricate details on each individual egg are delicate and each egg is different. Some of the eggs sit vertically, and some horizontally. Some of the designs come in more than one color.
Objet D'Art Release
Empress Galina Collectible Enameled Egg
The Petroika Larissa Enameled Egg
Hand-Painted Flowery Faberge Egg
Compare Pricing and Styles from Design Toscano
This selection comes directly from the Design Toscano site. Some are also available on Amazon, but most are not. Design Toscano has the widest selection. A few, such as "The Lepridae," come in a set of two.
Renaissance Faberge-Style Enameled Egg: Couleur Rose

Grand Duchess Collection Faberge-Style Enameled Egg

The Emerald Collection Faberge-Style Enameled Egg: Minishka

Set of Tassel & Fleur-de-Lis

Stunning Enameled Egg with Cut-outs
This egg is stunning with its color variations and design, but what is most unique are the cut-outs in the design. It stands vertically on the individual egg stand, lovely to add to your collection.
The Petroika Collection: Elena Faberge Style Enameled Egg

Empress Galina Faberge-Style Egg
As can be expected, any egg named Empress Galina should be luxurious and royal in style. This design definitely fits the bill with silver and gold detailing and royal blue insignia. Click through for more details and more in the collection.
Empress Galina Faberge-Style Collectible Enameled Egg

Curio Cabinet for Display
If you need more shelves to display your Faberge Eggs, this curio cabinet is only one of a large selection that Design Toscano carries meant for displaying collectibles. Click through for pricing and styles.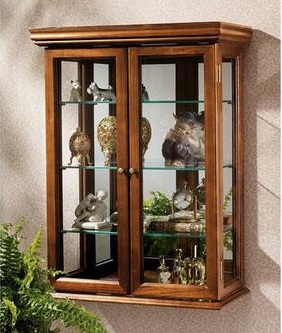 Country Tuscan Style Hardwood Wall Curio

&
Pin It for Later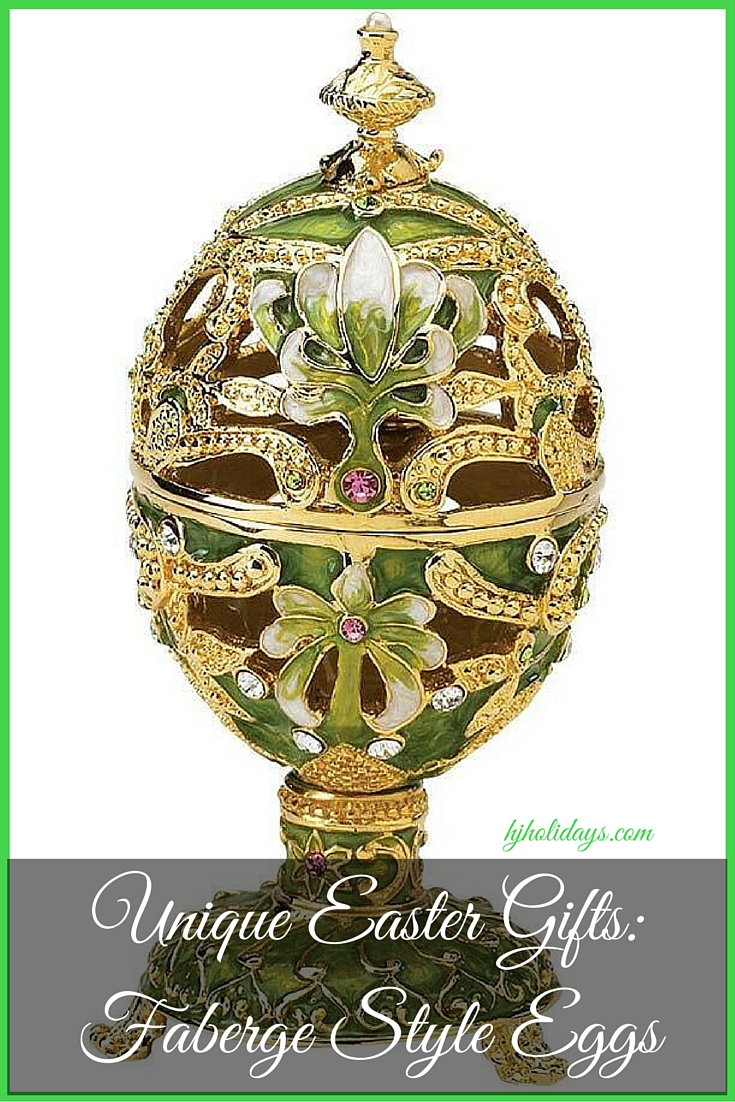 (Visited 1,084 times, 1 visits today)