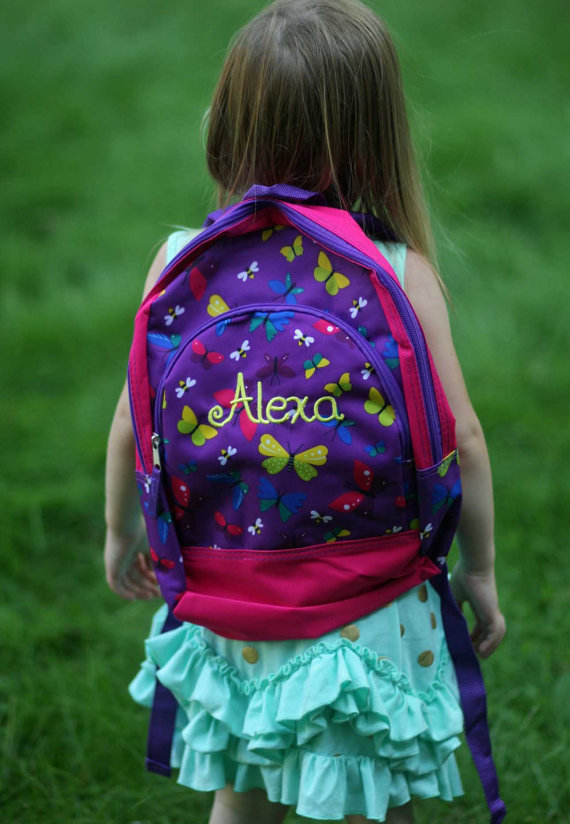 With summer winding down, it's time to start thinking of the children heading back to school and getting those supplies ready. One necessity for school aged kids and even those in daycare is a good backpack. Backpacks also make a great traveling companion to take on an overnight sleepover, to carry belongings, or to use as a carry on item when flying. Etsy sellers offer many personalized backpacks for kids that are great for school, daycare, and other purposes. The personalization helps distinguish your child's backpack from the rest of the class and also makes the child feel special. Here we look at some cute backpack designs sure to be a hit with the kids.
Personalized Monogrammed Preschool Backpack
Made from 100% polyester fabric, this backpack measures 14.5 inches by 11.2 inches by 4.4 inches deep. This is a set that includes the backpack, along with a matching lunch box and pencil case. Backpack can be personalized with either monogram or name. Pattern is a dark blue background with cute dinosaurs on the front, perfect for younger kids. Six other designs include Paris, Robots, Space, Whales, Cupcakes, and cars.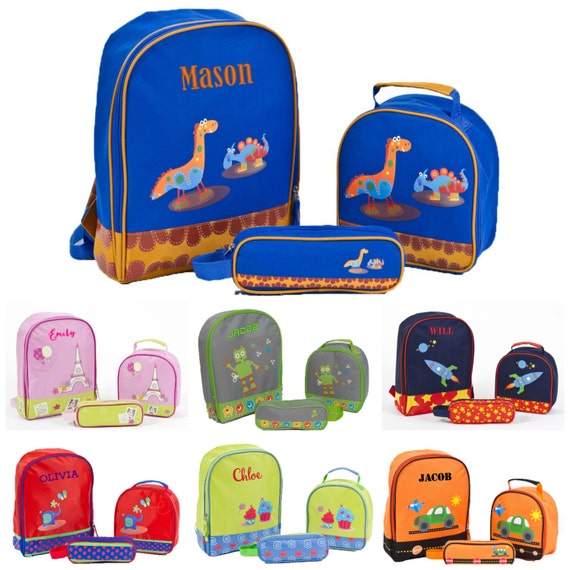 Personalized Monogrammed Preschool Backpack Set

&
Personalized Stephen Joseph Backpack
These great quilted backpacks are made from 100% cotton and fully lined, with magnetic snap closures. Measures 12 inches by 13.5 inches.Can be personalized with single initial, name, or monogram. Choose from an adorable owl design, airplane, farm animals, fox, and sports theme. Great designs for both boys and girls.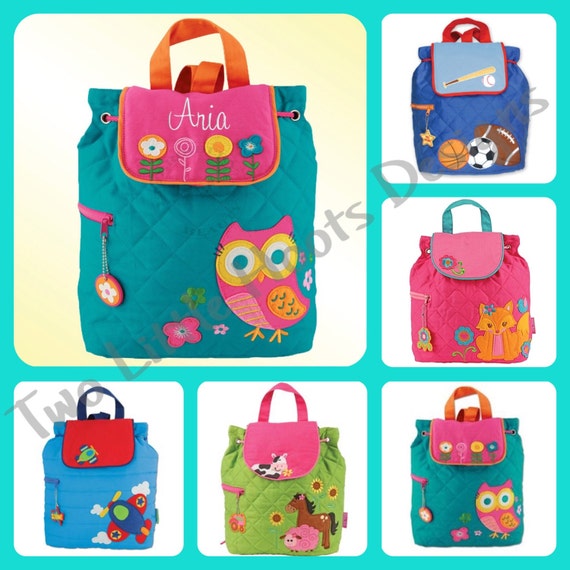 Personalized Stephen Joseph Backpack

&
Monogrammed Jadelynn Brooke Backpack
This is a lightweight, durable, water repellant backpack with a roomy interior and zip around opening. Has a zip pocket and two mesh outside pockets for water bottles, etc. Measures 18 inches by 13 inches by 6.5 inches. Choose from navy with pink stripes, navy with mint polka dots, or pink and white stripes with mint. This backpack is sure to be a hit with any young girl.
&
Monogrammed Backpack & Lunch Box
This backpack is made from 600 denier polyester with over 50% recycled materials and measures 16 inches by 13 inches by 6 inches. Double zippered main compartment, two side pockets, carry handle at top, and adjustable padded back straps. Can be purchased alone or with matching personalized lunch tote as a set. Choose from black, red, purple, navy, pink, and royal. Monogrammed with a large Calligraphy letter of the first initial over the embroidered name for a great personalized look.
&
Finn Fish Backpack, Lunchbox or Gym Bag
Little boys will love this blue backpack with dark blue fish pattern. Measures 13 inches by 8 inches by 17.5 inches and is made from polyester fabric. Has inside lining and a padded laptop compartment. Choose from eleven different monogramming fonts and twenty different thread colors. Choose from three letter monogram or single initial, depending upon font style chosen.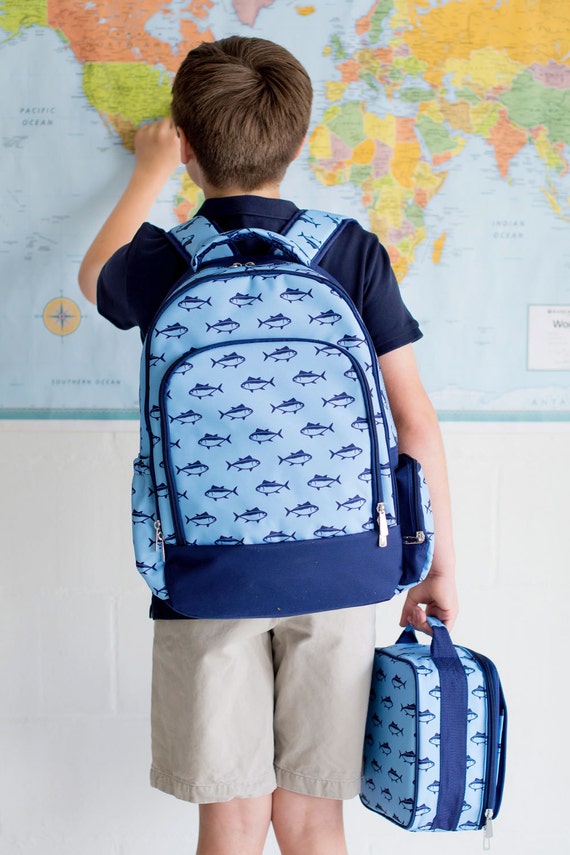 Monogrammed Backpack, Lunchbox or Gym Bag – Finn Fish

&
Personalized Toddler Backpack Shark
Perfectly sized for toddlers and preschoolers, this bag measures 10.5 inches by 12.75 inches by 3.5 inches. Features a shark design with three dimensional accents such as tail and fins. Can be monogrammed with first name or initials. Great for overnight trips to Grandma's or for daycare or preschool. Bag has mesh side pockets, front zippered pouch, and cushioned adjustable shoulder straps. Your choice of thread colors for embroidery.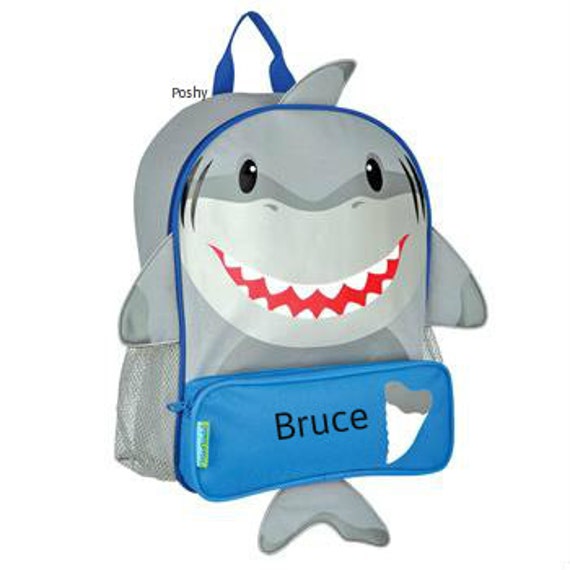 Personalized Toddler Backpack Shark

&
Personalized Embroidered Bookbag
This backpack measures 15 inches by 10.25 inches by 3.75 inches deep. Comes in many patterns for both boys and girls including owls,colorful hearts, pink with hearts, cars and trucks, blue with sharks, purple with butterflies, camouflage, green with dinosaurs, and pink and white zebra/leopard print. Can be personalized with one initial, first name, or three initial monogram.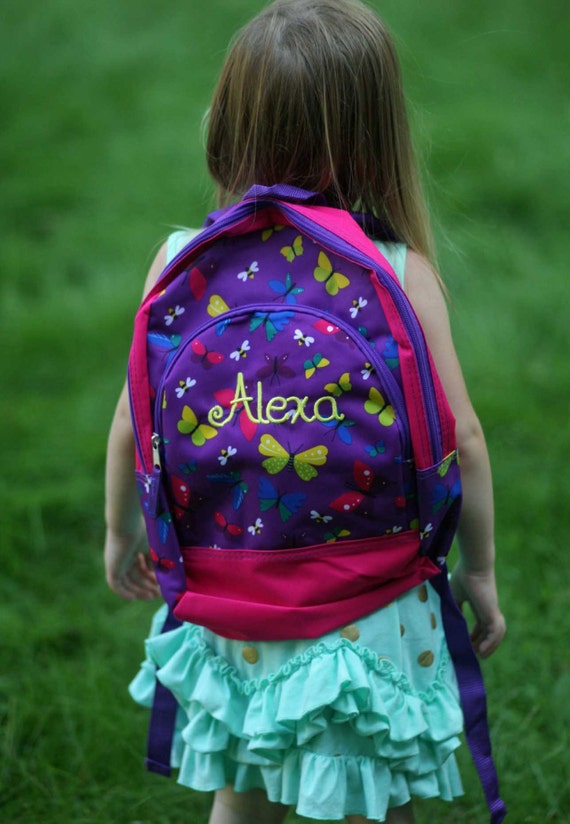 Personalized Embroidered BACKPACK

&
Monogrammed Drawstring Backpack
This is a drawstring style backpack that measures 12.5 inches wide by 15 inches tall. Made from microfiber and canvas fabrics. Comes in a variety of great Chevron prints including teal and white, orange and white, gray and white, pink and white, black and white, pink/purple/teal/white/green, orange and black, and pink/white/black/orange and gray. Item is made to order with the monogramming near the top of the bag. Choose your favorite font of style of monogram and choose from a variety of thread colors. Perfect bag for taking to school or the gym or to activities such as ballet class.
&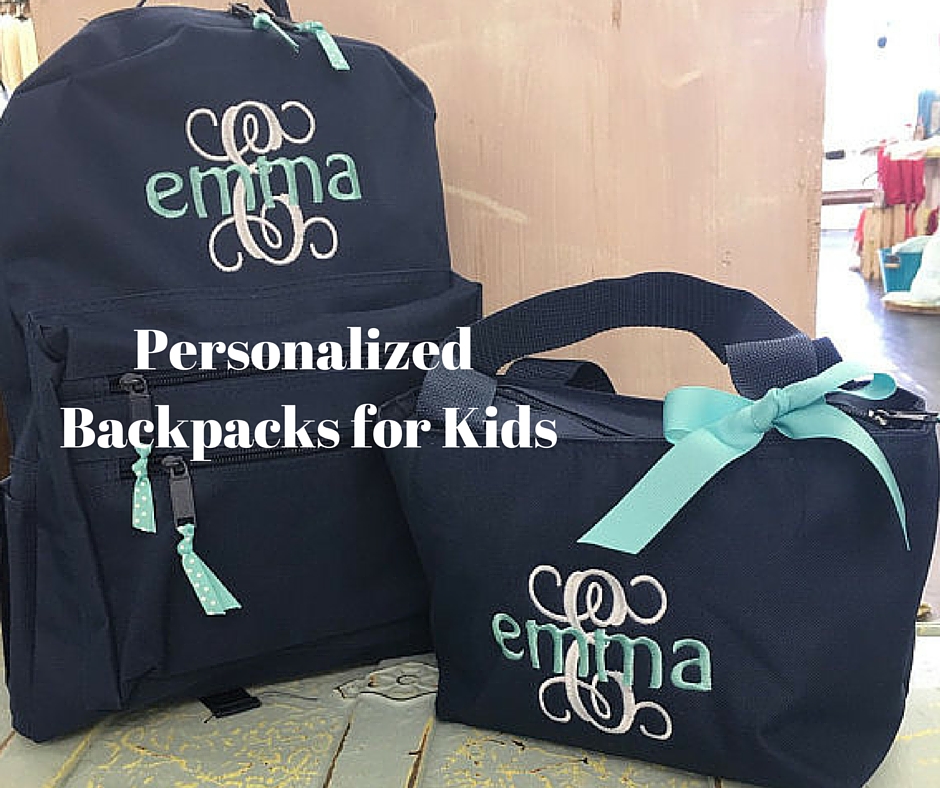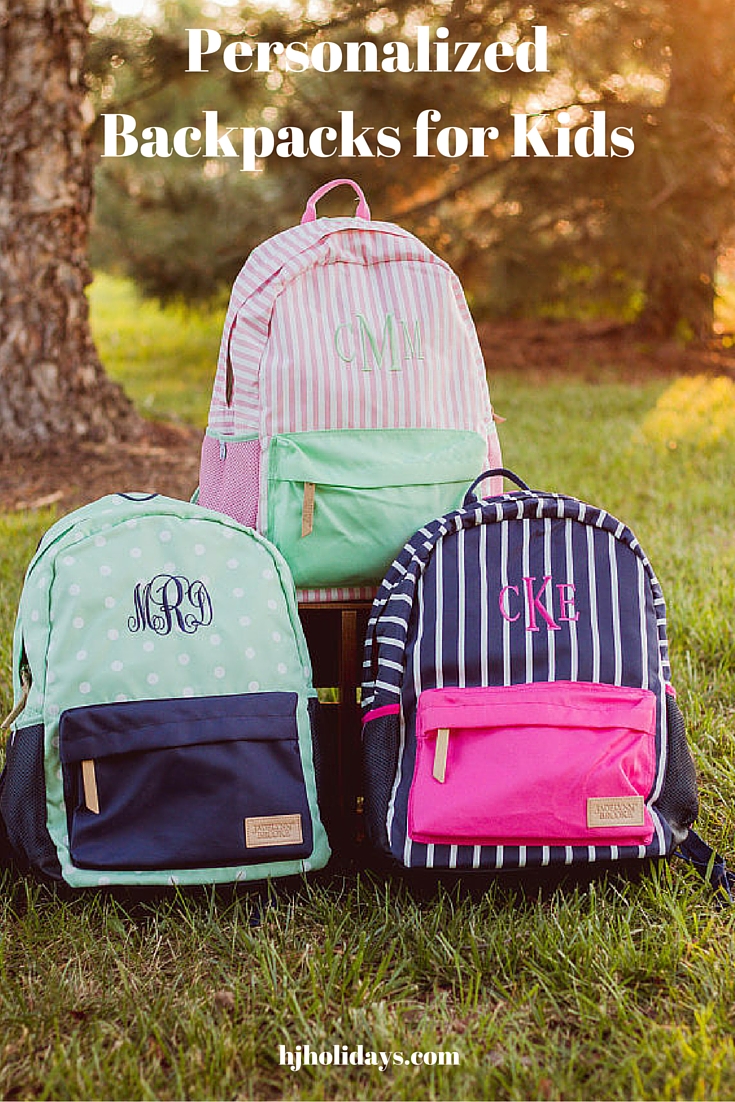 (Visited 1,597 times, 1 visits today)