Halloween Wall Decals are Easy to Apply and Easy to Take Down
When it comes to decorating for Halloween, wall and window decals are the latest trend. They are a great way to add details, color and dimension to a room for a more lasting decoration or work well for temporary decorations for a party, event or holiday. Vinyl decals are easy to apply and easy to remove, you can even use them from year to year.
Since many people have parties or open houses during the fall Halloween season, wall decals are a perfect way to spruce up for the holiday. You can add them to walls, windows and mirrors for your gathering, then take them down when the party is over. They take very little preparation and time and you can reuse them for another year.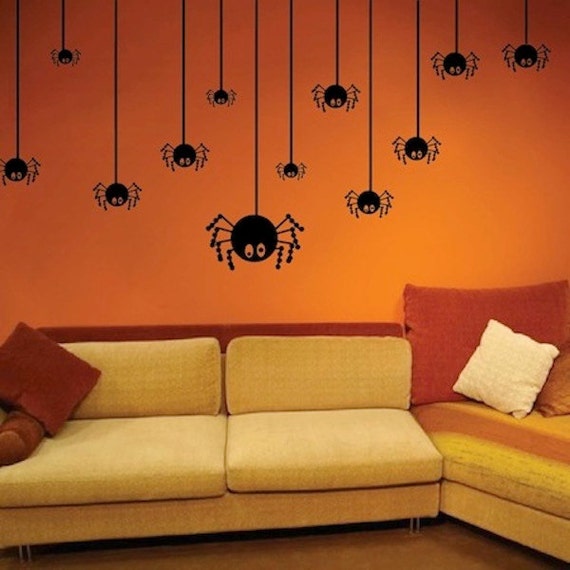 Crawling Spiders Halloween Wall Decal

This page has a glimpse into some of the wall decals made especially for Halloween. They range from spiders and skeletons, witches and ghosts, to pumpkins or bats. Whether you need some decorating for a party or for Trick or Treaters you will find something here that will suit you perfectly.
For dimensions, price and more details, click through the links on this page.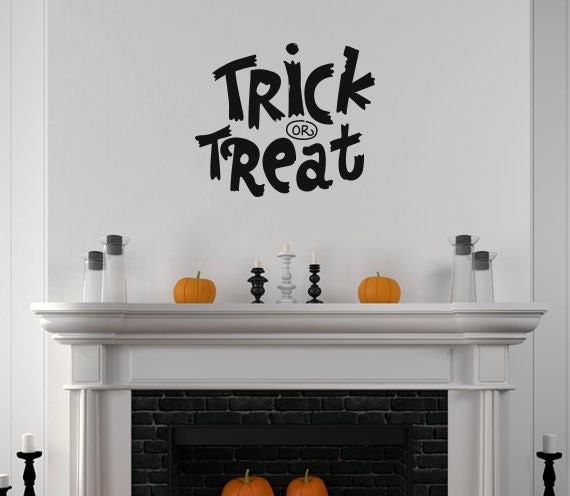 Trick or Treat Halloween Wall Decal

Crevices, corners, steps and stairs
For decorating those hard to reach corners and odd-shaped spaces in your home, look for wall decals that will fit your decor. Since they are vinyl, you can wipe them down or dust them just like you would any other wall. A great example is this "mice with holes" decal above that is made to fit on a staircase.
Add a room accent
This spider silhouette decal shown above makes the perfect accent to make a room interesting. As you can see, the decal looks like it is dropping down from the switchplate.
Black and white or brightly colored
Wall decals can be silhouettes in black or brown, but they can also be fully colored. This Halloween decal set below offers a variety of colorful choices to put around a room for the holiday. This group is fun, great for a kids' party or in the window for trick-or-treating on Halloween night.
 Witches keep Halloween decal

 Zombie wall decal

 Skull chandelier wall decal

 Day of the dead decal

Flying spooky bat decals
Bats are the perfect decal design since they are flying creatures. You can put them anywhere in the upper quadrant of your windows or walls to give the effect of seeing them fly towards you from the distance. Kids will love this spooky touch.
Simple silhouettes
Silhouettes are evocative, mysterious and show up well on a light-colored wall. This makes them a popular choice for both long-lasting and short-term wall decal choices. The silhouette above is a perfect example of a Halloween design, however silhouettes come in a vastly wide range of design choices.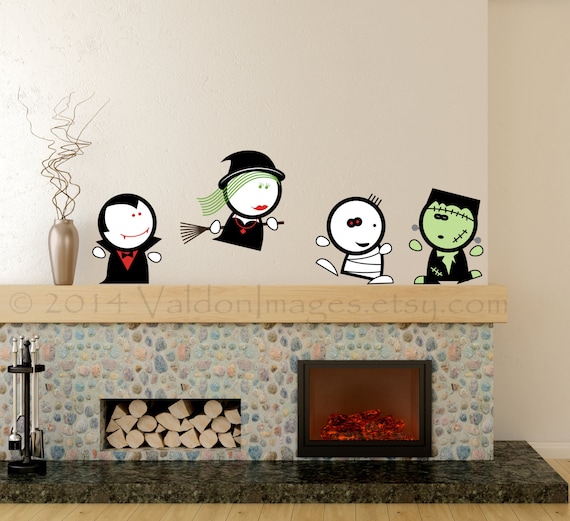 Spooky Halloween friends decal

How to install wall decals
Prepare
Lay each decal sheet on a flat surface, white backing side up. Press firmly over the entire sheet to make sure that the sticker transfers to the transfer paper.
Clean
Before starting to decorate your space with wall decals, clean your wall thoroughly to ensure that it is dust-free and completely dry.
Plan
Plan your layout by cutting roughly around the graphics and arranging them on your wall with painter's masking tape.
Apply
Apply even pressure to avoid bubbles. Place the self-adhesive side of the sticker with the transfer sheet towards the wall. Start with a top corner and roll off the white backing from the transfer sheet.
Peel the transfer paper & remove bubbles
Carefully peel the transfer paper from the decal. If bubbling occurs post-application, take a thumbtack or needle and poke the area to let out the air, then smooth it with your hands.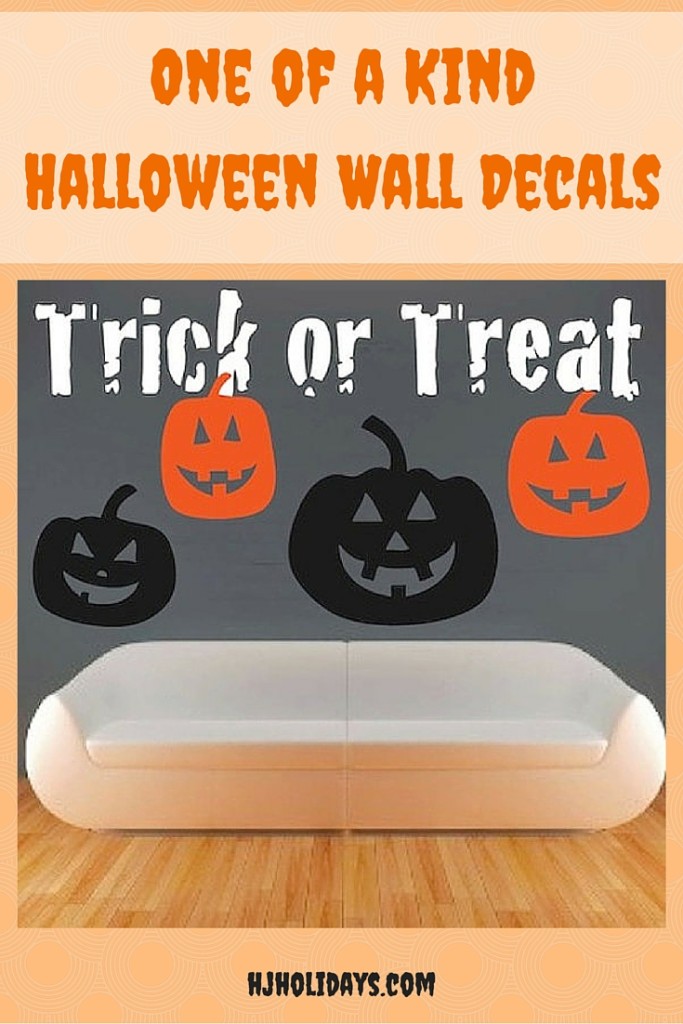 (Visited 151 times, 1 visits today)