Welcome every bunny to your door!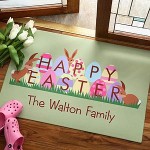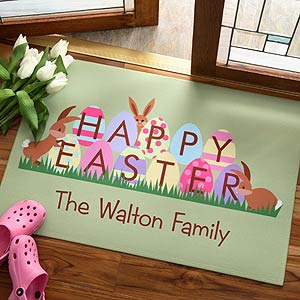 If you love Easter, you'll love these cute holiday doormats! Tons of choices here, including many that can be customized with your family's name and even a phrase or welcome.
Take the holiday seriously with a lily design or have some fun with decorated eggs, chicks, bunnies and more in bright colors for spring. Adds a welcoming and fun touch for all your guests to see.
I think it's interesting that there aren't more religious images to be had. Everything is spring, bunnies, eggs and chicks, really. Yes, the lily kind of goes with the religious thing, but not as much as crosses or open graves. Hmmm.
Most of these are personalized options, which is a nice touch. For some reason, I really have a hard time tracking down choices for you that don't include personalization. (But it's free on most of these, so it might be a moot point.)
White Spring Lillies
Serious and elegant doormats featuring the white lily. Which can also just be a sign of spring, great for using the mat until the weather really warms up. These are the closest thing to the religious side of the holiday I could find anywhere.

Personalized Spring Lily
$24.95 at Gifts For You Now
Elegant three flowers on a soft blue background

Personalized Lily Flowers Welcome Doormat
$24.95 at Gifts For You Now
Looks like stained glass
Two sizes to choose from and free personalization
Eggs and Chicks
These decorated eggs will be easy to find! Right there on the doorstep, along with cute little chicks. (Guess those eggs hatched!) Cute designs with lots of bright colors to welcome your guests.
The colors here are super bright, with lots of pink, yellow, purple and green. Which means my husband would dismiss them all as too girly. They're definitely great spring colors, but a fairly limited palette overall.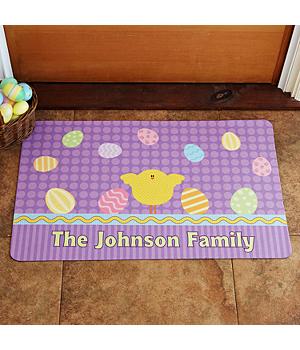 Personalized Eggstra Cute Chicks Welcome Mat
$24.99 at Personal Creations
Add up to 24 characters

Decorated Egg
$24.99 at Current Catalog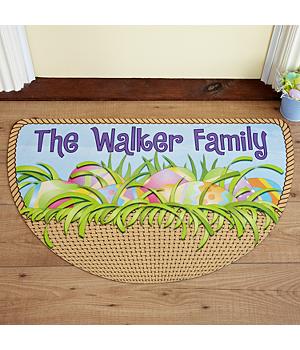 Personalized Easter Basket Half Round Mat
$24.99 at Personal Creations
I love how the shape of the mat follows the shape of the basket

Happy Easter Personalized Doormat
$24.95 at Gifts For You Now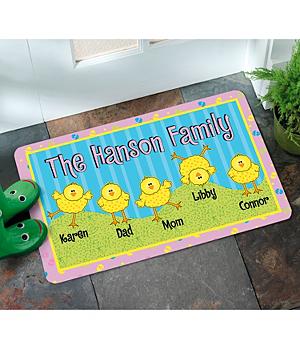 Personalized Chicks
$24.99 at Personal Creations
Include the whole family
25 characters for the family name line
Nine characters each for up to six names

Easter Flower Doormat
$24.99 at Personal Creations
It's blooming Easter eggs!
Awesome design lets you have up to 16 names on. Even the Duggars could get this one.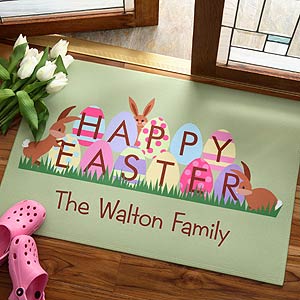 Happy Easter Personalized
$27.95 at PersonalizationMall

Coco Easter Egg Doormat
$24.99 at Lilian Vernon

Easter Egg Easter Mat – Rugs and Door Mats

Easter Chick Coir Doormat
Here Come The Bunnies!
Hippity, hoppity, Easter's on its way
And the Easter bunny makes his appearance with these cute designs. Some allow you to name all your family members, some just to show off the bunny as he goes about his rounds.
The second and third ones crack me up because they drew the bunnies in egg shapes. There's still quite a bit of pink going on here, but a few options that aren't girly. If that matters to your family at all.

Personalized Easter Bunny Welcome Doormat
$24.98 at Gifts For You Now
Super cute, but a little girly


Bunny Family Doormat
$24.99 at Personal Creations

Funny Bunny Doormat by MatMates

Bunny Family
$24.95 at Gifts For You Now

Personalized Easter Family
$21.95 at Gifts For You Now
Cute! The kids names go on the eggs!
Include up to six names.
A Quick Word About These Products
You'll find a wide range of styles here, which is really my focus. I'm all about the looks! But function is an important piece of the puzzle here, so keep that in mind as you're choosing.
Many of the custom items make for a nice floor cover, but they aren't sturdy enough for heavy traffic with dirty shoes. You'll want something made of rubber or coir if that's the kind of guests you'll be having. Probably a good idea since this is a spring holiday and mud is kind of on the menu most of the time.
On the plus side, they are thin enough for a door to easily swing over them. Also consider the width of your door. A few of these come in wider sizes, which work well with some modern houses. Rule of thumb is the mat should be about 80% the width of the door.
Also, you'll want to have a good flat place to store your item once the season is over. Consider keeping the box it comes in to house it while it lives in the attic or garage the rest of the year.