A Hot Pink Christmas Tree for Me
Christmas is my all time favorite holiday. I love having my own Christmas tree to decorate and I like to change the decorations every couple of years.
Last year we designed a tree for my husband. He is a hunter and loves the outdoors. We got pine cones and holly berries for decorations. We also bought wooden cutouts of bears and deer and even little owls. I got a plaid ribbon for garland and a copper colored rustic star for the topper. It was manly but beautiful.
Well, this year it's my turn. My favorite color is hot pink, so I am going to decorate my Christmas tree with lots of hot pink Christmas decorations. I'm dreaming of a hot pink Christmas this year.
Bubblegum Pink Glitter Snowflake

Shiny and Matte Pink Glass Ball Ornament

Artificial Christmas Flowers

Pink Mirrored Glass Disco Ball Ornament

It's Going to Be a Pink Christmas in Our House This Year
I have lots of pink Christmas ideas
This year I have decided that I am going to have a pink Christmas. I am going to have different shades of pink all over the living room. I decided to start my decoration search early so that I can take my time and buy a little bit by bit. I thought I would share a few of my choices with you and show a few other options. Let's go shopping!
Pink Christmas Tree
I don't think my hubby would appreciate me putting up a big, new, pink tree but this one is only 3 ft tall and would serve as a great accent tree. Maybe I could set it up in my girl's room and let them decorate it. They would love it.
6 ft. Powder Pink Tree

Christmas Trees, 3′, Pink

2′ Pre-Lit Sparkling Pink

Hot Pink Christmas Tree

Flocked Cupcake Pink Tree

Pink 2-Foot Pre-lit Christmas Tree

Bottle Brush Christmas Set

Hot Pink Christmas Tree

Pink lights for your tree
I always start setting up my tree by putting the lights on. Depending on what kind of tree you have, you can go with white or pink. I'll just put up a couple of examples.
100 Pink Mini Christmas Lights

100 LED Multifunction Lights

String Fairy Lights Christmas

300 LED Fairy String Curtains Light

Battery Operated Rose Lights

Solar Power Lights

Pink Christmas Garland
The next step is adding some sort of ribbon or garland. This one is my favorite. It's bold pink garland will show up nicely.
36 FT Christmas Garland

Elegant Hanging Tinsel

Hot Pink Elegant Sparkly Garland

4′ Christmas Ball Garland

Shiny Pink Beaded Garland

Tinsel Garland Christmas Tree

Club Pack of 24 Bubblegum Pink Glitter Snowflake Christmas Ornaments 4″
Pink Glitter Snowflake Christmas Ornaments


Item #M101409
24-piece set
Color: bubblegum pink
This special club pack will allow you to build your collection quickly and decorate with more possibilities
Snowflakes are drenched in sparkling pink glitter
Silver string hangers are included for optional use – they do not come pre-attached
Dimensions: 4 inch diameter
Material(s): plastic/glitter
Pack includes 24 of the snowflake ornament shown
A Lot of Pink Christmas Ornaments
Pink and Silver Shatterproof Ornaments


With 32 hot pink Christmas ornaments in this package, you can decorate any size Christmas tree, and might even have some left over. This package has 4 shades of pink to make it more decorative and interesting. These dazzling ornaments are done in 4 amazing finishes: shiny, matte, glitter drenched, and holographic glitter sparkle.
This special club pack will allow you to build your collection quickly and decorate with more possibilities.
Shatterproof ornaments combine the beauty and luster of real glass with the unbreakable practicality of plastic
Pack includes a mix of matte, shiny, glitter drenched, and holographic sparkle finish balls.
Nature Inspired Pink Christmas Ornaments
This is my favorite part. Now it's time to add all the bulbs and other special little trinkets you find. Here are my top picks.
Pink Butterfly Christmas Clip-on

What girl doesn't love butterflies? These will make your tree feel magical.
Hot Pink Laurel Leaf Christmas Spray

I love adding extra branches to my tree. These will pop against a white tree or add more color to a pink one.
24″ Regal Peacock Glitter Christmas Spray

Pink Christmas Decorations are the Best!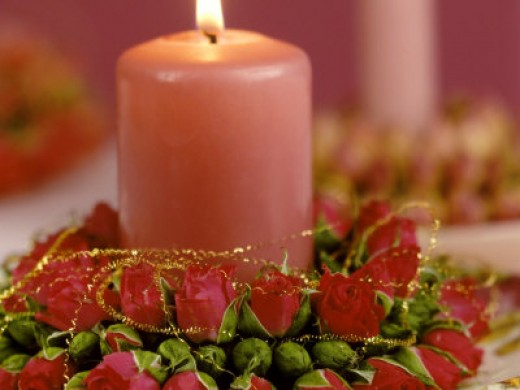 Pink Candle with Wreath of Rose Petals as Table Decoration
Don't forget to decorate the presents in pink
When I go with a theme, I like to go all out and make everything match. One of the things I love to do is make the presents match the rest of the decor. In this case, I would try a mix of pink, white, silver, and black. Here are some great ideas.
Amscan Bright Pink Brocade Jumbo Gift Wrap

Amscan Pastel Pink Small Polka Dot Jumbo Gift Wrap

10 lb. Crinkle Paper – Pink

10 lb. Crinkle Paper – Light Pink

Your Christmas tree is still naked… – Give it a skirt
This awesome hot pink and white skirt looks great at the base of my Christmas tree.
18″ Snowflake Mini Christmas Tree Skirt

Pink Christmas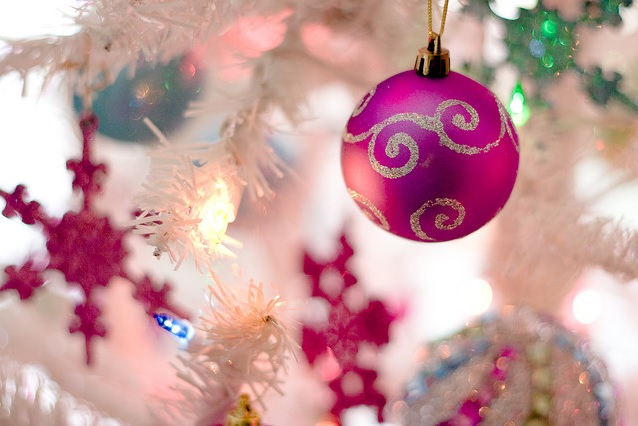 Image
(Visited 675 times, 1 visits today)