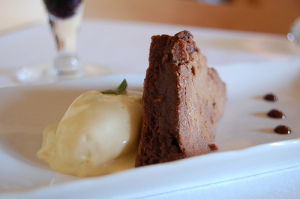 An Easy Recipe for Mocha Brownies!
These easy and delicious mocha brownies will be a hit with the mocha coffee lovers on your guest list! These wonderful brownies are easy to make, but have a gourmet taste that will please and surprise you.
Your friends and loved ones will think you slaved in the kitchen to create a chocolate masterpiece. Only you will know how easy they really are, and the secret that got you out of the kitchen in record speed!
I have made these for loved ones and they are quite popular. It's something different from the typical chocolate bar cookie and so simple to make! I enjoy making these from time to time when I want something out of the ordinary.
These gourmet brownies are made with a boxed brownie mix and instant coffee granules! You have to try this easy mocha brownie recipe!
Ingredients
1 box of brownie mix
instant coffee granules
confectioners' sugar
butter or margarine
vanilla extract
Instructions
1. Preheat oven to 350 degrees fahrenheit.
2. Prepare a 13 by 9-inch cake pan by lining it with aluminum foil and spraying it with no-stick cooking spray, such as Pam.
3. Prepare the box of brownie mix following the directions on the package, but dissolve one tablespoon of instant coffee granules in the water.
4. Bake the brownies according to the directions on the box and allow to cool.
5. Dissolve one tablespoon of instant coffee granules in three tablespoons of warm water in a large mixing bowl.
6. Add 1/2 cup of softened butter or margarine, along with 2 1/3 cups of powdered sugar and one teaspoon of vanilla extract.
7. Beat the coffee water, butter or margarine, powdered sugar and vanilla extract with an electric mixer until the frosting is smooth.
8. Spread the coffee-flavored icing over the cooled chocolate brownies.
9. Cut into small squares to serve. These gourmet brownies are rich!
For even richer brownies, add 1/3 cup of semi-sweet-chocolate chips to the brownie batter before baking.
The Perfect Gift
 Brownie Mix Gift Wrapped with a Candy Cane & Bells Flour Sack Kitchen TowelCheck Price
One Christmas many years ago, I was a newlywed without a lot of money to spend on gift for my family and friends. Instead of buying a lot of expensive presents, I whipped up a chocolate sampler and sent one to each household.
The box included the mocha brownies shown here, my famous homemade hot chocolate recipe, and several other special treats.
I made mine for Christmas, and they were a huge hit. A new tradition was born! But, you could also make these for Valentines Day. It is the perfect gift for any chocolate lover!
Babycakes Brownie Maker
Looking for a fun gift for a college student or newlywed? How about this cute appliance that lets them make six yummy brownies at a time on their countertop? Perfect for the dorm or a tiny apartment kitchen!
 Babycakes Brownie MakerCheck Price
Gifts for Brownie Lovers
Do you have someone on your list who loves brownies? Whether they love mocha or any other flavor, you are sure to find the perfect gift on this list! Or just stock up your kitchen with yummy mixes!
 Pillsbury Mocha Fudge Brownie Mix – 19.5oz (Pack of 2)Check Price Ghirardelli Chocolate Brownie Mix, Double Chocolate, 18 Ounce Boxes (Pack of 12)Check Price Duncan Hines Decadent Brownie Mix, Salted Caramel, 17.6 OunceCheck Price
(Visited 109 times, 1 visits today)