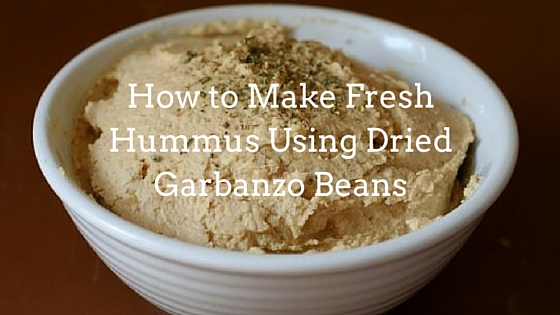 This is an easy recipe to make at home with kids because there is no measuring
Making fresh hummus using dried garbanzo beans at home is a very easy recipe that can be done children of all ages because there is no need for measuring, and it is a lot of fun to make. The hardest part of the recipe is cooking the garbanzo beans, and that can be done before hand.
Before you make this hummus recipe, I recommend taking your children on a trip to your local farmer's market to shop for fresh ingredients first. Then they can be part of the entire process for the recipe. In addition, they will learn about where the food comes from.
Fresh hummus can be made with frozen or canned ingredients, but it tastes best with fresh ingredients. If a farmer's market is not available, then shop at your local whole foods store, or organic market.
The one ingredient that you must have to make this fresh hummus recipe is garbanzo beans. These can be bought canned, but the hummus will taste much better if you use dried garbanzo beans. If you cannot find these locally, I recommend buying them dry online from Amazon. Amazon carries several brands of organic dried garbanzo beans that you can have shipped to you.
To Make Fresh Hummus You Will Need a Stockpot and a Cuisinart Food Processor
While this fresh hummus recipe is easy, it is much, much easier with a proper stock pot and a Cuisinart. Here are two models that I recommend:
Calphalon Unison Nonstick 8 Quart Stock Pot with Lid
This stock pot is expensive but you can often find great deals on Amazon, so click through to the Amazon page to see if it is on sale. I have one of these stock pots that has lasted for years and is still good. It is totally worth the price.
Cuisinart DLC-2009CHBMY Prep 9 9-Cup Food Processor, Brushed Stainless
One of the keys to this fresh hummus recipe is a Cuisinart food processor. If you don't already have one, they last forever. I have an older version of this one, and I have had it since I got married (and I won't tell you how long ago that was). This will puree the ingredients and is so much fun for kids to watch.
Servings

Prep Time

6 to 8

20

Minutes
Servings

Prep Time

6 to 8

20

Minutes
Servings

Prep Time

6 to 8

20

Minutes

Servings

Prep Time

6 to 8

20

Minutes
Cooking the Garbanzo Beans
If you are not familiar with how to cook dried garbanzo beans, follow the directions below. If you are skip down to the hummus recipe.

Dried beans need to be soaked before they can be cooked. The easiest way is to soak them overnight. If this is the first time you are making this fresh hummus recipe, start with about 1/2 pound of dried garbanzo beans, and cover them with room temperature water. You should have about triple the amount of water as beans in the bowl or pot. Leave overnight.

In the morning, the beans will have doubled in size from soaking up the water. Drain the water from the beans, and they will be ready for cooking.

The next step is to cook the garbanzo beans. Place the garbanzo beans in your stock pot, then cover with enough fresh water to be about double the amount of beans. Then bring to a boil, and simmer. When the beans are done, they will be slightly crispy on the surface and soft in the middle. This can take from 20 minutes to 40 minutes depending on the length of time you soaked the garbanzo beans, and where you are located. When the garbanzo beans are cooked, drain them completely.

Now you are ready to make fresh hummus.
Assembling Your Fresh Hummus
This is the best part of the fresh hummus recipe, and the one that children can participate in.

Throw all of the cooked garbanzo beans into the Cuisinart food processor.

Puree the garbanzo beans. How much you puree the beans is your choice. If you like chunkier hummus, puree for less time, smoother, puree for more time.

Add enough olive oil to the pureed garbanzo bean to make the texture of the hummus smooth. Combine into the pureed garbanzo beans with the Cuisinart.

Add fresh garlic cloves to taste. If this is a recipe for kids to eat, then you may want to hold back on how much fresh garlic you put in. I use a lot of garlic. Before you add the garlic, peel the dried shell or peel off the garlic clove, then just toss it in the Cuisinart and puree away.

At this point, anything you add will change the flavor and texture of the fresh hummus. Add what you like to taste, then the fresh hummus is ready to eat. You can have the kids help you taste it as you make it to see what flavors they like the best. Anything you add can just be added to the mixture in the Cuisinart until you get it right.
A Variation
The video following shows a slightly different recipe, but you can see how the food processor is used. I personally don't like cumin and salt added, but you can try it this way and see if you do. As you can see they are trying to make it as smooth as possible. Sometimes, I like it much chunkier.
A personal note: In my opinion, even the best canned garbanzo/chickpeas are not even close to as good as using dried ones and cooking them yourself. Plus it adds more salt which I don't want.
Fresh Hummus
Fresh hummus is traditionally a dip for pita bread, but it also tastes great as a vegetable dip, or a side for meat or fish. It is a healthy snack for kids and adults, and is usually a healthy snack that kids love.
You can also use hummus as a spread for sandwiches or added to a salad dressing for flavor. The list of uses is literally endless.

(Visited 687 times, 1 visits today)