Baking Gourmet Biscotti is Fun and Easy
A couple of years ago, I was introduced to someone who baked biscotti. I loved the idea of the Italian biscotti cookie that she was making, but thought I could do better. So I started to research in order to create the perfect biscotti recipe.
What I learned was that there aren't a lot of biscotti recipes available and I wanted to try to bake more variations. So I started making up my own recipes by adding and subtracting different ingredients.
Biscotti can be made in an infinite number of flavors: almond, vanilla, chocolate, hazelnut, anise, lemon, chocolate chip and just about any flavor you can think of.
I found a basic recipe that I work from, then change the ingredients to get the flavor combinations that I desire. Here is the basic recipe for biscotti.

To Bake Biscotti, You Need a Strong Handheld Mixer – I use this one by KitchenAid
Biscotti dough can be hard on mixers, so make sure to use one that is meant for cookie dough. I have broken several mixers making them. I prefer a handheld mixer for control when mixing.
KitchenAid KHM9PWH 9-Speed Professional Hand Mixer, White
&
Better Than Nonni's Biscotti
Baking biscotti
Here is my favorite basic biscotti recipe. It is so simple to make and doesn't take long either. The main thing is look for certain signals in the recipe as it is baking and change the recipe to your taste.

Toast your nuts first. They should be cool before you mix them in. Depending on your preference, you can chop them in your food processor or by hand or leave them whole.

In a mixing bowl, cream butter and sugar until light and fluffy. Beat in eggs and liqueur and vanilla. Add the flour, baking powder and salt. Mix until well blended. Fold in nuts, fruit and/or chocolate.

Line your baking sheet with parchment paper. Create a loaf (in a baguette or hot dog shape) on the parchment paper.

Bake in a preheated 325 degree oven between 25 and 40 minutes. In my old oven it took 25. In my new one it takes at least 35. The surface of the loaf should be lightly browned when you take it out. Let cool for a minimum of 10 minutes. If you have chocolate, cool longer.

Slice crossways to create individual biscotti. Stand the biscotti up on the bottom edge (as if they were still in the loaf) with some space between them. Then bake again at 325 degrees for 10 minutes. Let cool. If you like them drier or harder bake longer the second time.
A note about the nuts:
I like to buy the nuts raw and then toast them in my oven. I toast them at 350 between 6 to 10 minutes depending on the size of the nuts. I think they taste better and they are healthier than roasted nuts. Do not use salted nuts.
A note about the fruit:
I like a tart fruit because it blends well with the sweetness of the dough. You only need to soak the fruit for a few minutes while you are mixing the rest of the dough.
Great Biscotti Cookbooks – I have them all
All these books are great to start from to develop your own recipes. My personal favorite is the first one, but the others are good too!
Biscotti
Ciao Biscotti
Biscotti
Biscotti Favorites
The Best 50 Biscotti Recipes
Biscotti & Other Low Fat Cookies
Biscotti!
Biscotti, Bars, and Brownies
&
Chocolate–Do You Know How to Melt it For Dipping?
Or the Art of Melting Chocolate
Melting chocolate is art. If you don't melt it enough, it is too hard. If you melt it too much, it gets burned and it is not usable. I like to melt my chocolate in the microwave.
The best way is to put your chocolate in a small bowl or pitcher. Then heat it for 30 seconds. Wait, then stir. Repeat until it just starts to melt.
Once it starts to melt, the hot chocolate will melt the rest of it. DON'T KEEP HEATING IT! That is how it gets burned.
Then spread, pour or dip to get it on the biscotti. What could be better?
The Perfect Match For Biscotti–Coffee of course!
My second favorite food after chocolate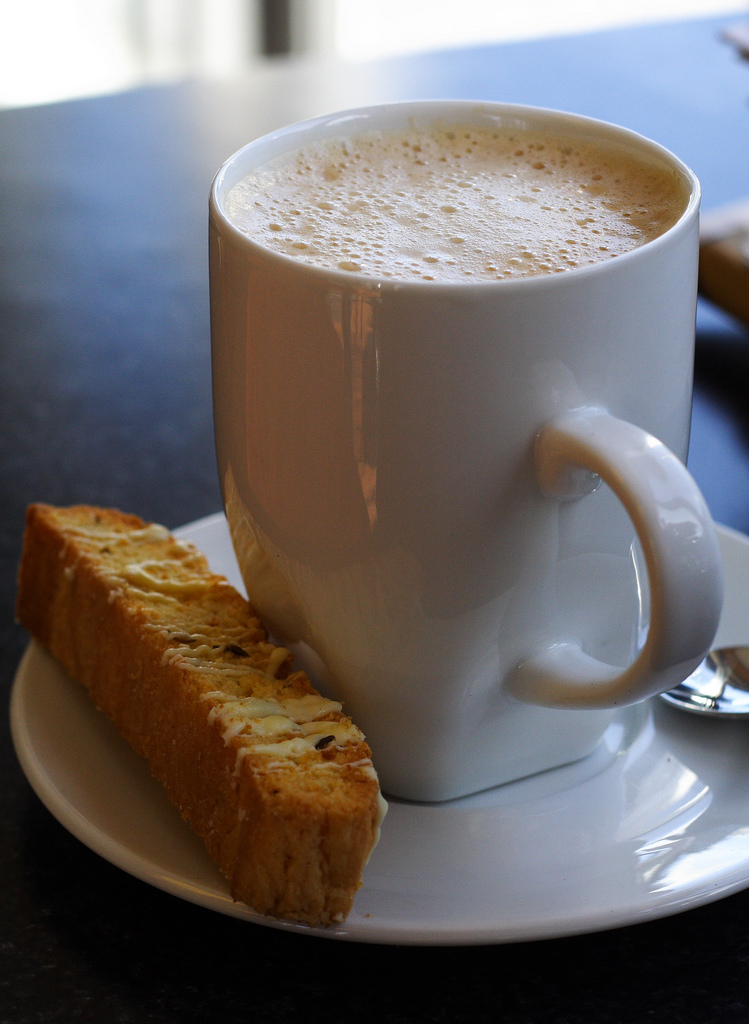 Biscotti are made for dipping into coffee,tea or wine. They are made harder on purpose so that they will hold up to being soaked in liquid.
And if you make your biscotti right, the coffee, milk, or tea that you dip it in will enhance the flavor of the cookie. And believe it or not, lowfat biscotti are one of the most healthy cookies for you because they do not have a lot of fat, and they usually have fiber from the fruit and nuts that you add.
Here are a few coffee tips that I have learned over the years about coffee:
Keep your coffee in a sealed container that is in a dark room temperature cabinet. Putting it in the freezer adds moisture to it and lessens the flavor.
Buy your beans whole and grind them per use. This will give you the freshest tasting coffee.
If you can, buy your coffee for no more than a two week use at a time.
How To Make Biscotti Video
Using this Recipe
This recipe is designed for experimentation. Try substituting flavors until you find the perfect blend that you like.
(Visited 969 times, 1 visits today)