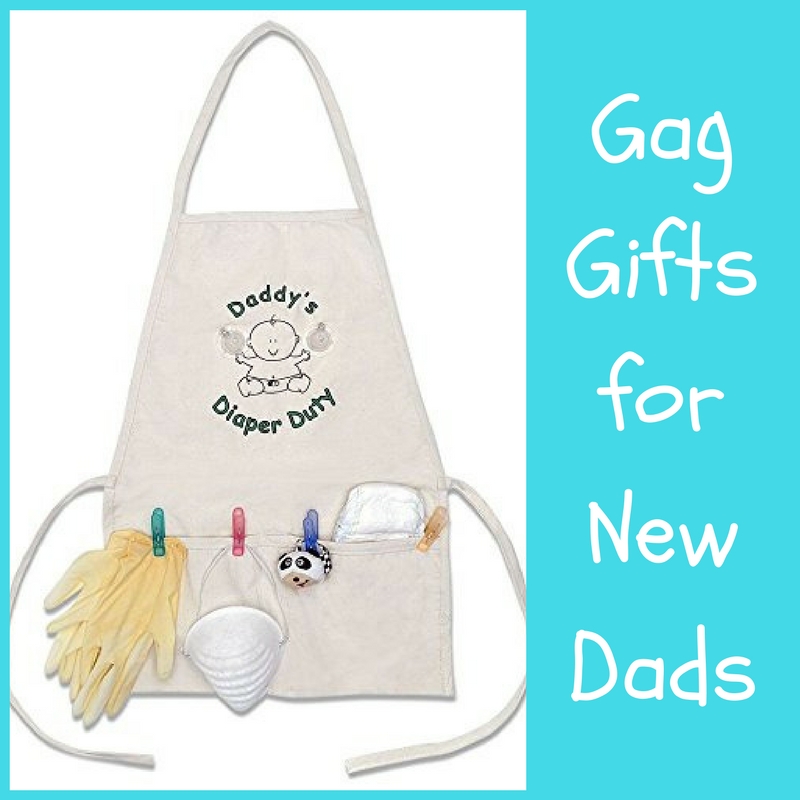 Father's Day is a great opportunity to take the time to find that perfect gift for the special fathers in your life, whether shopping for a husband, son, friend, etc. It is especially important to find the right gift for a new dad who is celebrating his first Father's Day. It's also a good time for the practical joker in us all to have a little fun with the new father and sneak in gag gifts for a new dad along with the real presents. Sure to bring a laugh and a smile, gag gifts can help bring a little humor into his serious role of new dad. Here are some cute ideas he is sure to love that will help make Father's Day memorable.
Daddy's Diaper Duty Apron
This fun apron is a perfect gag gift for the new father. With his new role as diaper changer, this apron gives him everything he needs for those emergency diaper changes. Apron is soil resistant and also comes with a face mask for those really hard to handle diaper changes. Includes colorful clothespins, rubber gloves, a disposable diaper, and two "emergency nipples" placed in strategic locations on the apron. Apron comes packaged in a free gift box and includes complimentary "Daddy's Tools" gift wrap.
Great Gag Gift Book For The New Dad
Keeping The Baby Alive 'Til Your Wife Gets Home, by Walter Roark is a perfect Father's Day gift for the new daddy. This book is written from a father's point of view and covers the fundamentals of parenting such as how to handle things once you return from the hospital, what to expect during the postpartum period, diaper changing basics, feeding issues, and the stages of a baby's development, all mixed with tongue and cheek humor. Geared toward the 21st century father, this book is both educational and humorous.
Keeping the Baby Alive till Your Wife Gets Home
New Parent Survival Kit
Any new dad is sure to appreciate the Dirty Diaper Duty Survival Kit. This kit provides dad with everything he needs to handle even the messiest diaper change all by himself. Kit includes items such as no-touch tongs, nose plugs, protective goggles, rubber gloves, and the all important biohazard buster's wonder wipes. Changing diapers will be a breeze thanks to this handy kit, which is sure to bring some laughter to his first Father's Day.
Safe Baby Handling Tips
Another great book for the new father, Safe Baby Handling Tips, by David and Kelly Sopp is a hilarious take on new parenting. Book includes a "wheel of responsibility" spinner on book cover, for new parents to determine who does what chore for baby. Includes funny takes on important topics such as testing baby's bottle, introducing baby to pets, and bonding with baby. Also gives important parent pointers sure to bring a smile, such as "When drying baby, wrap baby is soft towel. DO NOT place baby in dryer." This book can help new parents laugh out loud while dealing with a very exciting, yet stressful time of learning to handle and take care of a newborn. Makes a great gag gift for Father's Day!
Daddy's Tools of the Trade Diaper Changing Toolbelt
A perfect gift for the new father, the Daddy's Tools of the Trade Diaper Changing Toolbelt . Kit includes disposable changing pad, wipes, goggles, diapers, powder, diaper cream, gloves, hand sanitizer and a toy to distract the baby. Cute idea for the new daddy, plus an actual useful gift that will really come in handy in the days to follow.
Daddy's Tools of the Trade Diaper Changing Toolbelt Gift for New Dad
The New Dad's Survival Guide
Another great read that makes a terrific gag gift as well as a useful gift, The New Dad's Survival Guide by Scott Mactavish tells it like it is with his usual, yet practical, man-to-man advice for handling becoming a new parent. Topics covered include "Pee, Poo ,Hurl, and Snot" and "Feeding and Cleaning the NFU (New Family Unit)". Also covers the all important terms associated with raising a baby, such as "binky" and "passy". Dad will enjoy this laugh out loud take on the ups and downs of new parenting.
The New Dad's Survival Guide: Man-to-Man Advice for First-Time Fathers
Infant Troubleshooting Flowchart- Novelty Magnet Set
The Infant Troubleshooting Flowchart by Nerdy Baby contains 65 magnets to help parents and caregivers determine why baby is crying. Contain several questions to help you pinpoint the problem. Please note that this is purely a novelty item, meant solely for fun and to help alleviate the stress that comes with becoming a new parent or taking care of a new baby. If you have serious questions about your child, please contact their pediatrician for advice and care.
Nerdy Baby Infant Care Troubleshooting Flowchart
Prank Gift Box
The Prank Pack Crib Dribbler is a hilarious prank package that appears to depict a real baby using a ridiculous baby product. This particular box has a baby appearing to drink from a large hamster type water bottle that hangs from his crib. Packaging include realistic looking photos and descriptions of gag products to bring a chuckle from anyone who reads it. The idea behind this gift box is to use it to package the real gift for dad.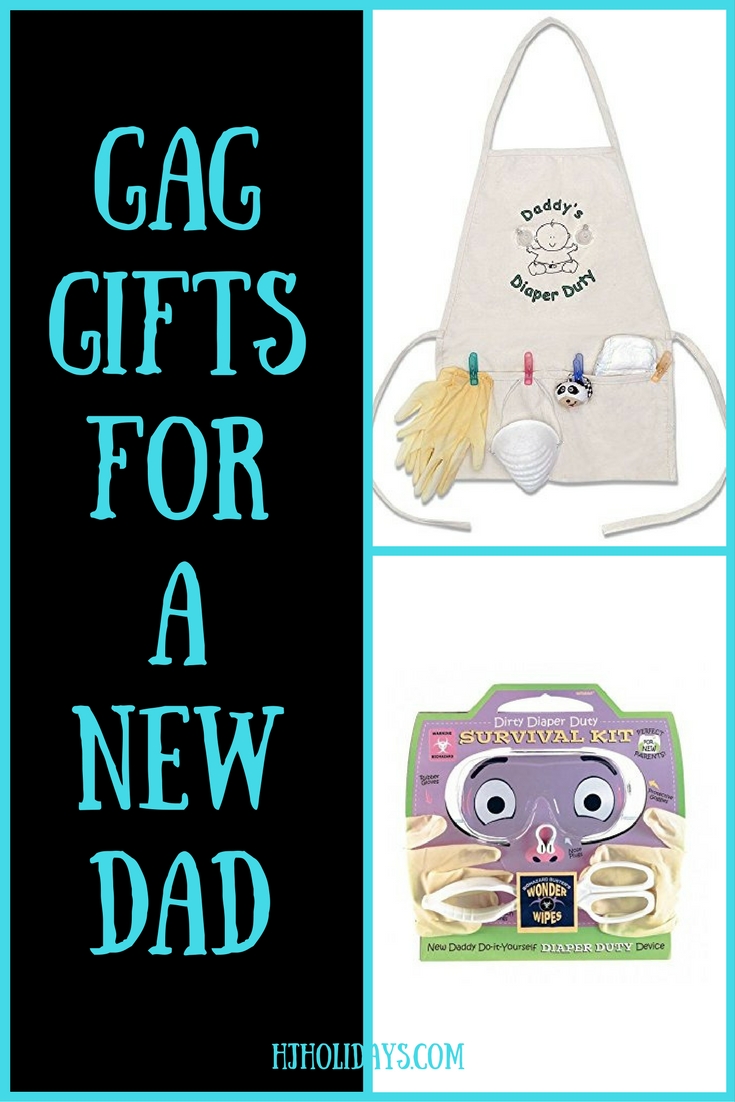 (Visited 1,024 times, 1 visits today)