Gift ideas for the office, study or den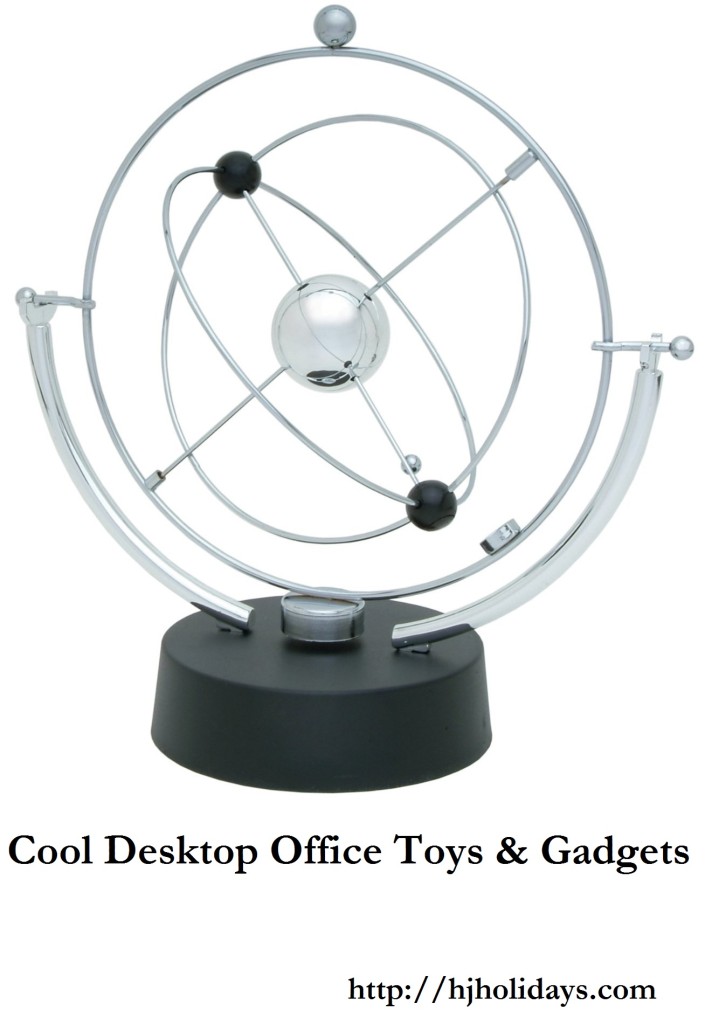 Are you looking for some gift ideas? Ones that don't involve socks? We've brought together a selection of cool desktop office toys and gadgets that will be great for anyone with an office, a study, den – even a desk! Even adults like to play with toys and the ones here are proper grown up ones. You can choose from kinetic ones, levitating one, toys that disguise themselves as organizers and mini sports toys.
If you are looking for a gift for a Secret Santa at the office, for a friend or for someone you love, there are plenty here to suit every taste and every budget. Take you time, look around and if you don't find what you need just click on any of the links to take you into Amazon where you can browse to your heart's content.
Orion – Electronic Perpetual Motion

Kinetic Toys
Kinetic Ferris Wheel – great desktop toy
Endless motion and endless fun – this ferris wheel starts off swinging slowly but once it builds up momentum it whirls just like the real thing. The bright balls create a spinning sculpture they will love on their desk.
Jupiter – Perpetual Motion
The Jupiter kinetic sculpture has four metallic colored balls that will keep you and anybody else who watches it mesmerized for hours. Once started, it keeps going and going until you stop it.
Jupiter – Perpetual Motion, 12 inch

Kinetic sculpture – Newton's Cradle
Newton's Cradle is a timeless, classic desktop science "toy" that is the perfect blend of science and art. Lift one steel ball and allow to fall back at one end, the ball at the opposite end will swing out the same distance. Stylish chrome and black color scheme. Fascinating to watch. Also known as "Balance Balls", "Newton's Pendulum" and "Newton's Balls", this executive office toy demonstrates the law of conservation of momentum. Using Newton's third law has never been this much fun! What happens when you swing two? Or three? Newton's Cradle was invented in 1967 by English actor Simon Prebble and named in honor of scientist and mathematician Isaac Newton because it employs Newton's Laws.
Newtons Cradle Balance Balls 7 1/4 inch

Were the swinging balls the first kinetic toy? They are certainly the toy I remember first. Set one in motion and off it goes. The cradle holds 7 balls suspended on cords, it demonstrates how one action results in an opposite reaction – the first ball strikes the second, not moving that one, but moving the ball at the other end. This desk toy is often thought to be soothing and to reduce stress – you will have to try it yourself to find out.
More kinetic toy ideas for the office
Solar Motion Bicycle Rider by Carlisle Co.

Venus – Perpetual Motion

Toysmith Galaxy Kinetic Art Science Kit

Asteroid – Perpetual Motion

Space Shuttle Kinetic Art

Euler's Disk

Kinetic toy demos
Desktop Toys and Organizers
Desk organizer and toy
Troika Inukshuk Stationery Organizer/Holder

These magnetic stones double as toys – make them into all sorts of shapes and structures – and also use it as a desk organizer.
Troika Digger Stationery Organizer/Holder

Troika Ready 4 Take Off Helicopter Paperweight

Troika Easy Rider Desk Accessory

Magnetic desks stones in action
Desk Toys
What to Do When Bored at Work
You can calm yourself by playing with the sandy beach toy, raking the sand or pretending you're on the beach soaking up the rays.
Executive Mini-Sandbox – Beach Break

Levitron Ultimate

Fascinations Levitron Revolution Platform

Fascinations Levitron Ultimate Anti-Gravity Top

Fascinations Levitron Cherry Wood

Fascinations Levitron Globe Ion

Executive toys – popular sandboxes
Some call these Zen toys – playing with the sand soothes nerves and calms minds. Here are a few fun sand desk toys for executives.
Executive Sandbox – The Sand Trap

Executive Sandbox – A Day at the Beach

Toysmith Mini Zen Garden – Colors May Vary

Executive Sandbox – Construction Zone

BrookStone Sand Box 9.5

Desktop Sports
Desktop toy for the sportsman – great gift idea for the office
This is a super little desk top toy that anyone will love to receive. The 4 inch dark board is magnetic and you fire magnetic darts at it. Plenty of fun in the middle of your busy day.
Generation Electronic Desktop Dartboard

ESPN Desktop Pool Table – great desk top toy
Is he complaining that work interferes with his playtimes? Gift his this cute mini pool table to sit on his desk. He can take a few minutes here and there to indulge himself. It measures just over 8″ x 4.5″ x 1.25″ high and comes with table, 15 billiard balls, rack and 2 mini cues. No need for chalk here but fun all the same.
Miniature bowling game for the desk – perfect desk top gift for the office
Go bowling in the middle of the day with this cute mini bowling alley. Made of wood it includes 10 tiny bowling pins and a silver ball. What a thoughtful gift to give.
New Entertainment Desktop Bowling

(Visited 4,054 times, 1 visits today)