If you feel like you are rushing at the last minute to get ready for your Happy New Year Party, don't worry at all. One of the great things about printables is that it only takes a few minutes to buy them, download them and print them out at home. Once printed, just follow the simple instructions and you are ready to go with decorations, props, cupcake toppers, coloring pages and countdown bags. You can easily spruce up your party with sparkling decorations in a short amount of time. All you need is an internet connection and a printer. Here are just a few examples last minute New Year's printables that you can use for your 2017 New Year's Eve.
2017 New Years Eve Photo Booth Props
For fun pictures that you can share with friends, these photo booth props are a hoot! Just print them on cardstock and cut out to attach to straws or sticks to use in your party photos. Friends will have a blast sharing these with each other.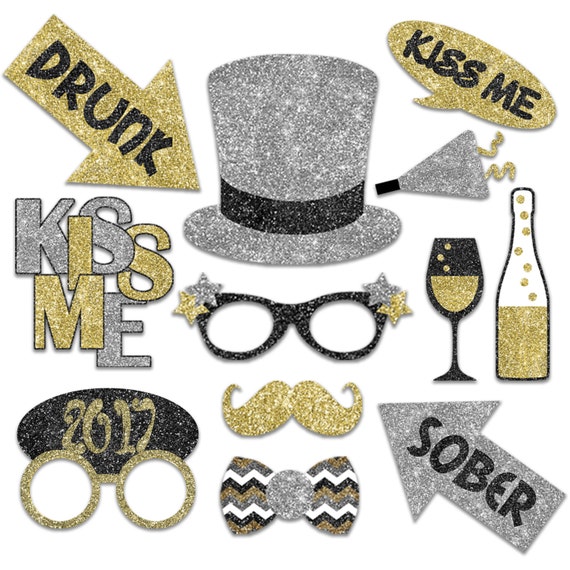 2017 New Years Eve Photo Booth Props

Hello 2017 Printable Cupcake Topper
Add some pizzazz to your cupcakes or drinks with these cute "Hello 2017" cupcake toppers. You can also print them on sticker paper and hand them out to guests. So easy and your party sparkles with the incoming new year.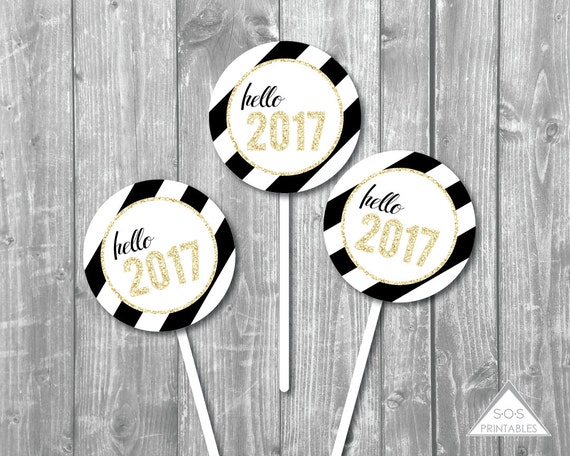 Hello 2017 Printable Cupcake Topper

New Year Printable Gift Tag 2017
For gifts to hand out to friends to enjoy on New Year's Eve, or to add to your own party gifts, use these easy-to-print gift tags in black, gold and silver. Your champagne or sparkling juice will look even snazzier when you toast your family and friends.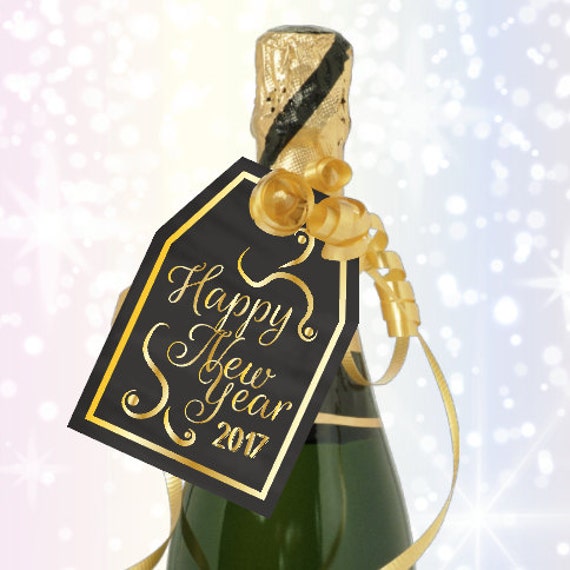 New Year Printable Gift Tag 2017

Happy New Year Banner
A banner always makes a party festive and this banner is designed for a custom message. You can print out whichever letters you need to spell out your party message, then assemble them in order. Whether you are combining a birthday message with your party or just a fun banner, you can literally spell it out in gold, white and black.
Happy New Year Printable Planner Stickers
For those who use planners, these printable planner stickers are ready for you to start out your New Year with pop! In gold, silver, black and white, you can customize your planner and use the ones that inspire you to get your goals started in January.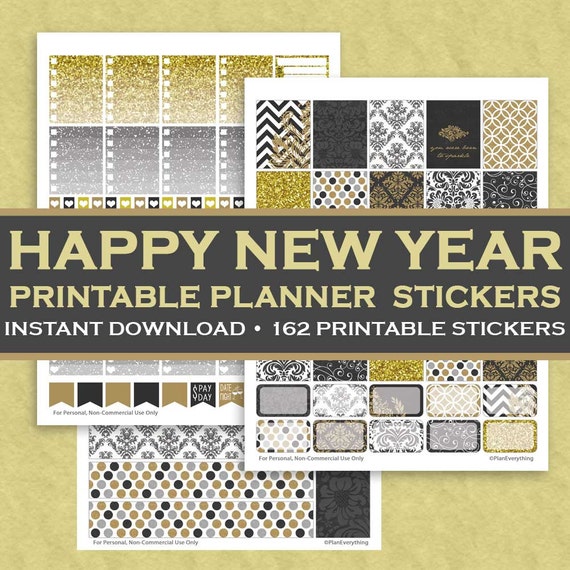 Happy New Year Printable Planner Stickers

New Year Printable
A simple "Happy New Year" decoration that can be framed as is, used as a coloring page for kids or adults as a party activity or just for yourself, this star is a lovely hand-drawn wall decoration for you to print out.
New Years Decorations 2017
A group of decorations for your party to customize and use in whichever way fits your theme, this is just one of several fun addons to make your party sparkle and shine. These have spaces for you to write small signage for a buffet or other areas of your party that need to be labeled.
New Year's Eve Party Hat
Party hats for your guests to put on when the clock runs down are easy to make with this printable. Just print them out and follow the simple instructions. Really a cute idea for your New Year's Eve.
Gold White Digital Paper Pack New Year
Create your own party decorations, labels, cards and more with these gold and white digital papers. Use them to enhance invitations, decorate your gift bags and really anything you can come up with for a New Year's party or a golden anniversary party.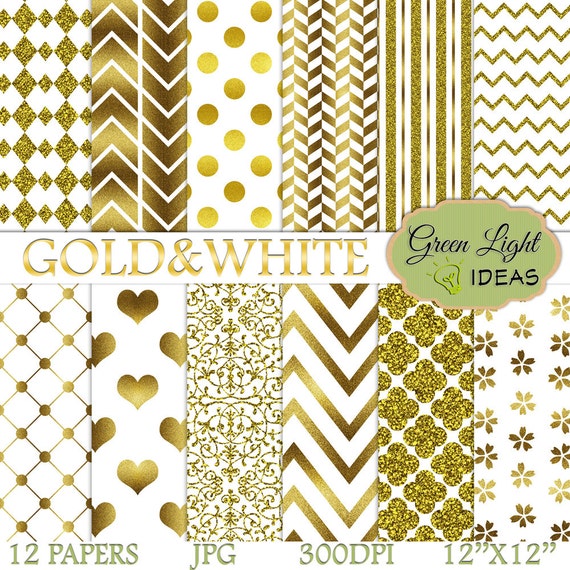 Gold White Digital Paper Pack New Year

New Year Straw Flags Printable
These colorful little straw flags are an adorable way to wish your guests a "Happy 2017." Add them to straws for guests to use throughout the night. They also make a good method of labeling glasses so guests don't mix up their drinks. Very cheerful to set the happy mood of the night.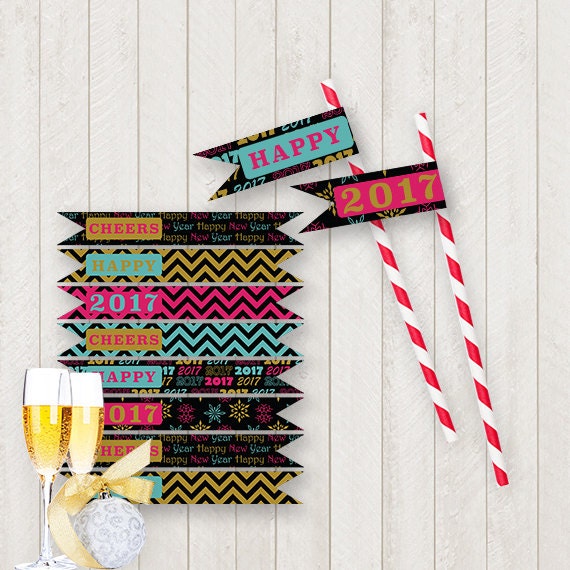 New Year STRAW FLAGS Printable

New Years Subway Art
Subway art has become quite popular for events throughout the year. Here is subway art designed to decorate your home during your New Year's celebration. Just print them out and hang.
2017 Wall Calendar Printable
If you like to have a poster-type year-long calendar, you will love this one for 2017. You can print it out and frame it to hang on your wall all year or you can hand it out to guests rolled up with a ribbon as a gift at your party. If you don't like this style, you can find more on Etsy by clicking through the link.
Happy New Year Printable
An artistic watercolor design, this printable can be used in several ways from making cards, decorations, wall hangings and more. Click through for the full spectrum of how to use it.
Countdown Bags from the Dating Divas
The Dating Divas are specialists in family activities, dates, and printables. These New Year's Eve countdown bags come with everything you need to count down the hours until midnight. You can do this with your family or with a group of friends during a larger party. Each image leads to a different group of countdown bags. If you click through, you will find the full description and more images of how to use these and what comes in each kit. They are pretty much geniuses at making these kits. Click the images below to go directly to the page with the full description.


New Year comes but once a year and why not live it to its fullest without spending an arm and a leg. You don't need more than a printer and some creativity to use these great last-minute printable to help make your New Year's Eve party even more special. Have a wonderful and healthy New Year!

(Visited 374 times, 1 visits today)