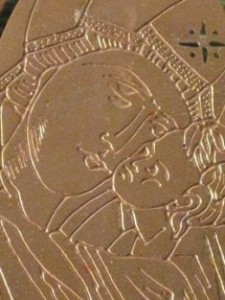 When is Ukrainian Christmas?
My husband's family celebrated Ukrainian Christmas every year on January 7. The Ukrainian Orthodox church goes by the Julian calendar which reckons Christmas day on the first week of January.
We would always have a big dinner at my mother-in-law's house on Christmas Eve, then go to midnight mass at the Ukrainian church. Some years the mass would be in English. Other years it would be almost entirely in Ukrainian. Some years we would be allowed to sit down during the service. Other years everyone would stand the entire length of the service.
The hardest years would be when we had to stand through an entire service in Ukrainian, which I do not understand. Those were some long nights! But, then all of us who were in our twenties and thirties, who did not yet have children, would head to a tavern to drink boiler makers and toast each other with " Na zdorov'ya"!
On Christmas day we would exchange a few gifts and eat the leftovers from the night before. Santa Claus does not come to the Ukrainian children on Christmas morning. Instead, they are visited by Strutta Hutches Nikolay (Saint Nicholas) on December 6.
Photo property of author
We went to church here on Ukrainian Christmas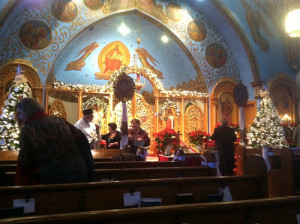 Traditional Ukrainian Christmas Foods – Sviata Vechera (Holy Supper)
The Ukrainian Christmas Eve supper consists of 12 traditional foods, symbolizing the 12 apostles. The meal is meatless, but fish is served to symbolize the Ichthus (Christ).
Recipes for many of these dishes are available below.
Kutya – Wheat
Barley
Herring
Mushrooms
Palanecha (Bread with honey and sugar on top)
Sauerkraut
Pieroghi
Garlic
Horseradish
Borsch (beet soup)
Uzvar (fruit compote)
Kolache (poppyseed or nut rolls)
Ukrainian Christmas at Baba's House
I like this video because it reminds me of Ukrainian Christmas at my mother-in-law's house in the 1980's.
How to Make Kutya
This video gives a recipe and detailed instructions for making kutya, the wheat dish traditionally served at the beginning of the Christmas meal. The ingredients are listed at the end of the video.
How to Make Pierogies
This video gives good instructions for making pierogis with potato and cheese filling. Instead of cheese you can substitute onions sauteed in butter until soft. There is also a mushroom filling, but I have not made that one.
Serve these with melted butter in which you have sauteed onion slices until soft, and sour cream. It is impossible to eat only one, but if you eat too many you will be sorry the next day!
Christmas in Ukraine
 Christmas in UkraineCheck Price
You and your family will enjoy this beautiful coffee table book for many years to come! It is full of the traditions of Ukrainian Christmas. It includes recipes, carols, customs, mythology and more. It is illustrated by captivating photographs that will bring all of the festivities to life!
This book is out of print, but you can still get it on Amazon through third party sellers.
 Ukrainian RecipesCheck Price Festive Ukrainian CookingCheck Price Baba's Kitchen: Ukrainian Soul Food with Stories From the VillageCheck Price
Where to find a Ukrainian Church & more information on Ukrainian-American culture
No guarantees that all of these churches celebrate the original Ukrainian Christmas on January 6, but if you are interested in finding out more contact a Ukrainian church near you.
If you know of a Ukrainian church or group not listed here, please leave me a note in the comment section. Thank you!
Thank you for stopping by! I hope you learned something about Ukrainian Christmas, or got the information you were looking for.
If you have any comments or suggestions, I would love to hear from you.
(Visited 374 times, 1 visits today)