Irish tweed caps give a classic look. They keep the head warm and make a fashion statement at the same time.
You might see them on golfers or businessmen. The Irish tweed hats are suitable for many situations from the golf course to wearing them around town. You can't go wrong with one of these.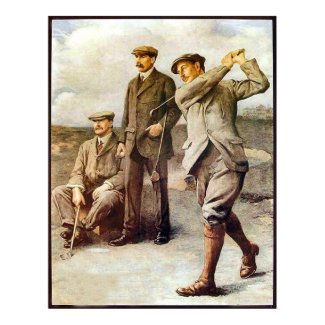 Vintage Golf Poster by tnmpastperfect
If you've ever traveled to Ireland, you saw these hats everywhere. Now you can have authentic Irish tweed hats at an affordable price without the expense of a trip to the bonnie green isle.
The selection shown here are all made in Ireland. The John Hanly & Co. name is greatly respected. Hanly caps are made in Tipperary where the factory has been ever since 1893. It's still run by the same family.
John Hanly & Co. Irish Tweed Flat Cap – Grey Herringbone – LargeCheck Price
Men's Quiet Man Cap, Irish Tweed Flat Cap, Brown, MediumCheck Price
John Hanly & Co. Irish Tweed Flat Cap – Brown Herringbone – LargeCheck Price
John Hanly & Co. Irish Tweed Flat Cap – Black – LargeCheck Price
John Hanly & Co. Irish Tweed Flat Cap – Green Donegal Fleck – MediumCheck Price
There's quite a long tradition of wearing these caps, but the new surge of popularity comes from sightings of celebrities wearing them. Footballer David Beckham and movie star Brad Pitt are two examples.
Patchwork Irish Tweed Caps
Can't make up your mind what color to get? How about a mixture of many colors. Try one of these patchwork styles.
John Hanly & Co. Irish Made Tweed Flat Cap – Patchwork – Made in IrelandCheck Price
Hanna Hats of Donegal – Irish Flat Cap – Donegal Tweed – 'Brad Pitt' Style – Patchwork TweedCheck Price
The hats are sometimes called newsboy caps, golf caps or scally caps. You don't need to wait for St Patrick's Day to get one of these, though they make a great gift for that holiday. Get one anytime and wear it everywhere.
Summary
Article Name
Men Look Great in Irish Tweed Caps
Description
Irish tweed caps never went out of style, but recent celebrity sightings make them more popular than ever before. These are still made in Ireland of authentic Irish tweed. A great look for the golf course or anywhere.
Author
(Visited 199 times, 1 visits today)
Check Our Related Pages Before You Go!