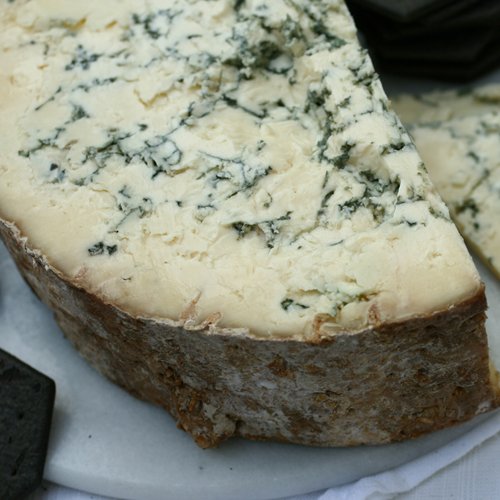 There are many different types of cheese, one of these being blue cheese. Blue cheese is a general term used for cheeses made from cow's milk, goat's milk, or sheep's milk that contains added cultures of the Penicillium mold. This results in a cheese that has spots or veins of a bluish-gray or blue-green color throughout the finished product. This gives the cheese a very distinct smell that is the result of the mold and types of bacteria that are encouraged in the making of the cheese. In making blue cheese, sometimes the cheese is injected with the mold spores before the curds are formed, while in others the spores may be mixed with the curds after formation. Blue cheese tends to have a sharp and salty flavor and is typically spread, melted into foods, crumbled onto foods, or eaten by itself. If you're wondering if all blue cheese is alike, read on to learn more about it.
Types of Blue Cheese
There are several types of blue cheese. Here we take a look at some of the most popular kinds. Danish Blue (Danablu) dates back to the early twentieth century and is a semi-soft, creamy variety made from the milk of cows. Considered to be one of the milder blue cheeses, Danish Blue is usually sold in a wedge, drum, or block. This variety is aged in a cave or damp, dark environment for a period of about two to three months.
Roquefort is a blue variety made only from the milk of Manech, Basco Bearnaise, or Lacaune sheep. This cheese also hails from a specific location and must be specifically aged in the Cambalou caves which are located in Roquefort-sur-Soulzon in the south of France. Rennet is added to the ewe's milk within 48 hours of milking and then heated. It then ferments into curds which are carefully cut into cubes. The cubes are drained and salted and within a few days are transferred to the caves where they are pierced to encourage the growth of fungus. The product remains in the caves for a period of a few weeks to let the spores grow, then are wrapped into loaves that will continue to age for another three to ten months' time.
Stilton is a type of English blue cheese that can only be made by seven licensed dairies in the areas of Nottinghamshire, Derbyshire, or Leicestershire. To be labeled as a Stilton cheese, the product must meet a certain set of standards. This cheese variety is always shaped like a cylinder and is never pressed. It has blue veins throughout the product, which are a result of piercing the cheese with stainless steel needles all the way through, giving it a distinctive pattern. Stilton also has its own unique crust.
Gorgonzola is an Italian blue cheese made from either goat's milk or unskimmed cow's milk. Sometimes a mixture of the two milks are used. Gorgonzola may be firm, soft, or crumbly. The milk is warmed along with the mold spores and lactic acid bacteria which makes it separate into curds. The curds are injected with the mold and rods are used to encourage spore germination and to create the interesting veined effect. This cheese is aged for three to four months at low temperatures and the longer it ages, the firmer the cheese will become.
Maytag cheese is made in America from fresh Iowa milk from the Maytag Dairy Farms. The grandson of the famous appliance company, Maytag, created this particular blue cheese variety. The cream is separated from the milk which is then homogenized and added back to the skimmed portion at just the prefect temperature. The milk is allowed to ripen and then the rennet is added and then the product is heated and the Penicillium added. Cheese rounds are made by hand and the cheese is aged in climate controlled caves.
 Delicious Blue Cheese Recipes
 Cheese Primer
 The Cheese Course
 The Cheese Lover's Cookbook
 Great Grilled Cheese
Differences in Blue Cheeses and Where They Originate
As you can see, not all blue cheese is alike. The process of making and aging the cheese varies, and different types of milk are used. Different varieties of blue cheese are also made only in certain parts of the world. In our examples above, we have blue cheeses from specific locations in France, Italy, America, Denmark, and England.
Blue Cheese Flavors
Not all blue cheeses taste the same. For the mildest flavors, Danish Blue and Gorgonzola fit the bill. They are both soft and creamy and pack less of a punch than other varieties. As we move up to the stronger flavors, Stilton is next in line as a hard and moderately strong variety of blue cheese. The creamy and crumbly blue cheese varieties are the strongest blue cheeses, with Roquefort taking the lead for the strongest with its very distinct bite and aroma. Maytag is the next strongest after Roquefort, with a tangy flavor and a spicy bite. Maytag is a crumbly cheese that seems to melt in the mouth.
Interesting Facts about Blue Cheese
People who are allergic to the penicillin antibiotic should not eat blue cheese due to it containing the Penicillium mold. If a particular blue cheese is made from unpasteurized milk, it is advisable to avoid consuming it while pregnant to avoid potential food borne illnesses. If you notice a blue cheese has formed a lot of white mold on the rind, it is probably best to avoid it as it could mean it has been improperly handled and may not be safe to eat. Also, avoid buying or eating any blue cheese that has an ammonia smell because that is an indication that it is no longer fresh and edible.
 Blue Stilton
 Blue Cheese Assortment
 Danish Crumbly Blue
 Maytag Blue Cheese
 Buttermilk Blue Cheese
 Shropshire Blue Cheese
 Blue, Saga Cheese
Great Blue Cheese Recipe Links
Try these great blue cheese dishes to add a unique taste to your meals:
(Visited 133 times, 1 visits today)