Give the Gift of Movies — Author Biographies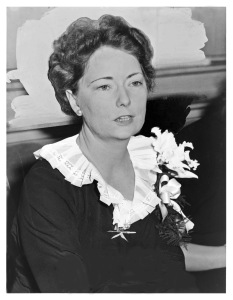 If you know someone who's a big reader and loves movies, these movies about writers are sure to please. Surprise a reader this Christmas with a book by the author as well as the movie about the writer's life.
After I read a really good book (and sometimes after reading a mediocre book), I love to check out the writer. I Google them. I visit their Web site. I read interviews they've given. Basically, I look for whatever I can find.
And to take that nosiness a step further, if there is a biography about the writer, I usually read it. An autobiography is even better.
The movies I've included here are movies about the lives of writers who once lived and wrote, not movies about fictional writers. Watching movies about real live writers (even if they're long dead) is right up there for me like watching the Super Bowl is for football fans.
Photo of Margaret Mitchell, author of Gone With the Wind, in 1941. The movie A Burning Passion profiles Mitchell's life.
Movies About Writers – Classics
Jane Austen, Virginia Wolff, Robert Howard, Margaret Mitchell, C.S. Lewis
Jane Austen
Becoming Jane is the story of Jane Austen's early life. The 2007 film stars Anne Hathaway and James MacAvoy and stays fairly true to facts and is a joy to watch with the lovely English scenery and costumes of the day.
Virginia Woolf
The Hours was the original working title of Virginia Woolf's novel Mrs. Dalloway.
Nicole Kidman plays Virginia Wolff in this 2002 film. This movie was based on the novel Mrs. Dalloway with the character Virginia Wolff loosely based on the writer. Specifically, the novel Mrs. Dalloway is featuring in three women's lives, all at different points in time.
Robert Howard
The Whole Wide World
This 1996 film retells the short life of Robert Howard, author of the Conan the Barbarian stories. His mother and a young aspiring writer play important roles in his life. Vincent D'Onofrio and Renee Zellweger star.
Margaret Mitchell
A Burning Passion is a 1994 movie about Margaret Mitchell's life. It details how she came to write Gone With the Wind from events in her own life. And do you know where Rhett got his name? Watch the movie and you'll find out!
C.S. Lewis
C.S. Lewis's life is examined in this 1993 biography starring Anthony Hopkins, Debra Winger and Julian Fellowes.
Movies About Writers of Children's Books
Beatrix Potter, J.K. Rowling, J.M. Barrie
Beatrix Potter
Miss Potter is a 2006 film starring Renee Zellweger, Ewan McGregor, Emily Watson, and Chris Noonan. This sweet depiction of Beatrix Potter's life is told with simplicity and shares how difficult it was to be an independent woman at the turn of the nineteenth century.
"Stories don't always end where their authors intended. But there is joy in following them, wherever they take us."
~Beatrix Potter from Miss Potter
J.K. Rowling

Magic Beyond Words: The JK Rowling Story
This 2011 Lifetime movie tells the story of Joanne (J.K.) Rowling's life. I'm personally not a Harry Potter fan but loved this movie about her life struggles and how the imaginary land of Harry Potter was always brewing in her mind. Even from childhood!
J.M. Barrie
The creator of Peter Pan, J.M. Barrie's life story is told in Finding Neverland. This 2004 film stars Johnny Depp, Kate Winslet, and Julie Christie.
Movies About (In)Famous Writers – Truman Capote Brought to Life
Truman Capote
These two movies, Capote and Infamous, portray the life of the writer of In Cold Blood. Spend a day watching and comparing the two movies to see which one you prefer.
"I have 94 per cent recall of all conversation. I tested it myself."
~Truman Capote
Philip Seymour Hoffman became Truman Capote in the 2005 movie Capote. Catherine Keener portrays his friend, fellow writer Nelle Harper Lee.
This 2006 movie about Truman Capote's life stars Toby Jones as Truman Capote and Sandra Bullock as Nelle Harper Lee.
Movies About Modern Day Writers
Stephen Glass, Iris Murdoch, Dorothy Parker, Sylvia Plath, Bob Woodward, Carl Bernstein
Stephen Glass
This 2003 movie is the compelling true-life story of Stephen Glass, a journalist for The New Republic magazine, who made up more than half of the stories he wrote for the monthly. Stars Hayden Christensen, Peter Saarsgard, Chloe Sevigny, and Steve Zahn.
Iris Murdoch
"Reading and writing and the preservation of language and its forms and the kind of eloquence and the kind of beauty which the language is capable of is terribly important to the human beings because this is connected to thought."
~Iris Murdoch
Novelist Iris Murdoch is portrayed by Kate Winslet and Judi Dench in this 2001 film. Hugh Bonneville and Jim Broadbent play her husband, John Bayley.
Dorothy Parker

Mrs. Parker and the Vicious Circle
Dorothy Parker is portrayed by Jennifer Jason Leigh in this 1994 film. I adore Dorothy Parker's writing and this was a treat to watch.
"Take care of the luxuries and the necessities will take care of themselves."
~Dorothy Parker
Sylvia Plath
Sylvia Plath was a tragic figure but a great writer of novels and poems. Gwenyth Paltrow brings Plath to life in this 2003 film.
Bob Woodward and Carl Bernstein
The writers in this movie based on writers, Bob Woodward and Carl Bernstein, uncover the Watergate Scandal which helps brings down President Nixon's presidency. This 1976 movie stars Robert Redford, Dustin Hoffman, and Jack Warden.
(Visited 124 times, 1 visits today)