When shopping for Mother's Day gifts, it is important to choose something that mom will really want or need, something she may not ordinarily buy for herself. If she happens to be one that loves a good glass of wine, there are many wonderful and unique gifts available. From handcrafted items to personalized ones, here we look at some of the best Mother's Day gifts for wine lovers.
Mindy Sand Studios Hand Painted Champagne Flute
One of the unique items that can be found at Lake Erie Artists Gallery, this champagne flute has a weighted bottom . Artist Mindy Sand hand paints the glass herself, with a special paint that fuses to the glass when placed in a kiln. Each flute features a colored bottom that reflects all the way through the glass, available in a choice of colors red, purple, green, blue, and orange. (Specify color desired when ordering.) Great gift idea for Mother's Day.
Personalized Insulated Wine Carrier
This insulated wine carrier has a heavy vinyl insulated interior and durable polyester exterior. Features easy carry handle, two adjustable side pockets, U-shaped zipper closure, adjustable and lockable string cord, and exterior Velcro pockets. Comes in a choice of black or khaki and can be personalized with initials or name in embroidered block letters. Choice of thread colors includes red, white, black, purple, gold, and dark gray. Bag measures 14 inches tall and 5.5 inches wide, perfect for holding a bottle of wine and two glasses. Mom can take her wine on the go, along with some cheese and grapes, to enjoy an outdoor picnic or music concert. Perfect gift for wine lovers.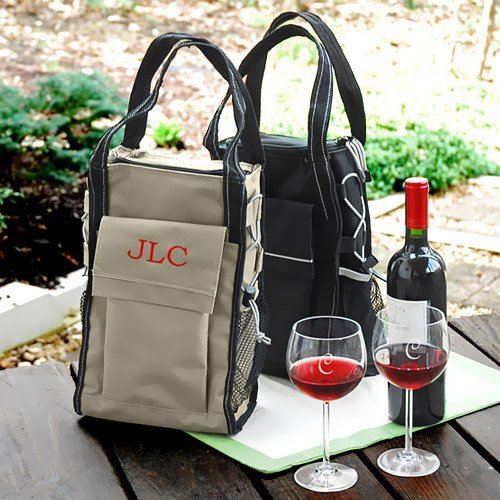 Personalized Insulated Wine Carrier
Personalized Wine Box
This is one of the best Mother's Day gifts for wine lovers, which can be used practically or even as home decor. White in color with antiqued finish, this box can hold a carafe, wine glasses, and/or bottles within its four compartments. Features a handle and hinge. Box can be personalized with a special message and front design. Measures 14.7 inches long, by 12.7 inches wide, by 5 inches deep.
Veneto Wine Gift 9 Piece Set by LS Arts, Inc.
Considered to be a must have item for wine lovers, this gift set comes in a specially designed gift box and contains one bottle stopper, one cork screw, one spreader, and six wine charms. Made from rust and water resistant materials, each item features multi-colored glass sections in jewel tone colors of blue, green,red, and orange. Mom will love the beauty and functionality of this set.
The Original Cork Cage WINE by Epic Products
A great accessory for those who love wine, this is a decorative accent piece that can hold a bottle of wine, as well as serve as a place to hold collected corks. Corks can slip into many places within the wire, while a side hatch opens for placement and removal of either corks or a wine bottle. Great wire basket style is actually shaped like the word "WINE" and the letters W-I-N-E are on the front in black. For a great Mother's Day gift idea, place some leftover Easter grass in a pretty color in the bottom of the wine cork cage, and present mom with a bottle of her favorite wine resting in it.
Four Piece Wine Opener Set : Round Cherry Veneer Gift Box
This gift set comes with a Cherry wood and stainless steel corkscrew drip ring, metal pouring spout, and Cherry wood bottle stopper. Items nest comfortably within an attractive box to hold collection, also done in a Cherry wood veneer. Makes a great gift for wine lovers at Mother's Day, or any special day.
Personalized Wine Glasses Gift Set
This set of four red wine glasses features hand blown glass with a single frosted initial engraved on each glass. Can be either first or last initial. Glasses feature a round, wide bowl and hold 19 ounces each. Each glass measures eight inches high and three inches wide. These make perfect Mother's Day gifts for mom.
VacuVin Wine Saver Gift Set by Epic Products
Mom loves her wine, so make sure she can keep it fresh and tasting great with this wine saver set. Set features a stainless steel pump, two stoppers that click when vacuum takes effect, and two Crystal clear pour spouts. Preserves the taste of an opened bottle of wine and makes a great gift for Mother's Day.
Vineyard Collection Pewter Wine Charms
This cute set of six adorable wine charms helps guests keep track of their own glass of wine. Each set contains six unique charms that are hand painted with fine details and made from hand cast pewter. Charms hang from metal loop that fits around the stem of a wine glass.
Personalized Wine Barrel Accessory Set
For true wine lovers, this handy little set features a wooden wine barrel measuring 5.25 long inches by 3.5 inches wide that conveniently houses all accessories. Set contains the barrel, spout, stopper, foil cutter, and corkscrew. Barrel can be personalized to include name.
Personalized Wine Jug
Treat mom to a personalized wine jug this Mother's Day. Jug is made from glass and holds 64 ounces. Features a twist off cap to keep your beverage fresh. Jug can be personalized withup to two lines directly etched into the glass. Large jug measures 11.5 inches tall and 5.5 inches in diameter. Great item to have on hand for entertaining and hosting in the home, or just to make sure mom has her very own wine jug waiting for her to pour herself a refreshing glass after a long, hard day.
(Visited 86 times, 1 visits today)