Where to buy the best peacock trinket boxes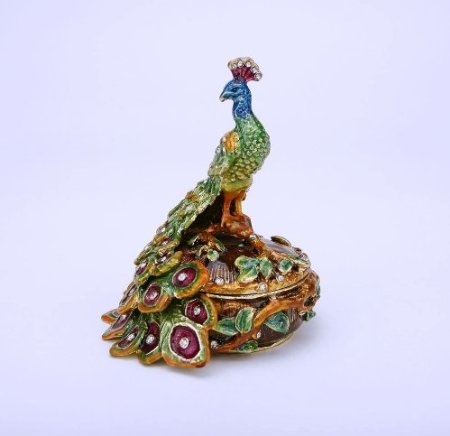 Collecting peacock trinket boxes, jewelry boxes and pill boxes make gift giving fun and easy. Trinket boxes, jewelry boxes and pill boxes are favorite collector items and this page showcases a wonderful collection of peacock trinket boxes. If you are looking for a gift for a collector or you want to add to your own collection there is one here to suit you. These are also great gifts for anyone who loves peacocks. Here you will find a range of pretty trinket boxes in all sorts of peacock styles and in a range of prices. This is online shopping made easy. Enjoy.
Round Male Peacock Figurine Box
Limited edition collectible figurine
This is a pretty crystal encrusted jewelry box in the shape of a peacock. This exquisite piece has been set with Swarovski crystals for lots of sparkle. Hand enameled it in shades of Pink, Blue, Purple and Green, on pewter branches.
Peacock jewelry box for collectors
This Art Nouveau style peacock trinket box is a superb representation of the period. The peacocks are a beautiful green, gold, and blue. Made with cold cast bronze, it is individually hand-painted and antiqued. This very well-made piece has a very nice and substantial feel to it. The bottom is furnished with felt for the protection of your jewelry and furniture. Great gift for collectors of trinket boxes and of peacock inspired items.
Art Nouveau Style Peacock Jewelry Box
More Peacock Trinket Boxes
Peacock Atop Trinket Box
Welforth Blue Peacock Jewelry Box
Trinket Nesting Box Set of 3
Peacock Jewelry Trinket Box
Vintage Style Peacock Box
White Floral Jewelry Box Holder
Peacock in Flight Trinket Box
Jeweled Peacock Trinket Box
Art Nouveau Peacock Box
Peacock Fairy Trinket Box
Peacock Symbolism
A Peacock is a male peafowl that has extremely long tail feathers with markings that resemble an eye. The Peacock has the ability to lift and expand the tail feathers in a colorful display that resembles a fan.Aside from being a truly beautiful bird, there is much symbolism associated with the peacock.
The ancients thought the Peacock to be a symbol of immortality and in the Christian religion, this symbol is directly linked with Christ. Peacocks also represent the "all-seeing" church, resurrection, immortality, and renewal in association with the teachings of Christianity. The blood of the Peacock was even thought to drive away evil spirits in some Christian beliefs.
In the Hindu religion, the Peacock along with the deity Lakshmi represent such qualities as benevolence, kindness, patience and compassion, and is also thought to bring good luck. In Asian spirituality, the Buddhist deity Kwan Yin is similar to Lakshmi in the Hindu religion. The Peacock is also associated with Kwan Yin in Buddhism, and represents love, nurturing, good will, compassion, and kind-heartedness. Persians and Babylonians see the Peacock as a royal guardian, and the Peacock image is often seen on royal thrones.
Greek, Egyptian. and Roman mythology all thought of the Peacock feather as an "all-knowing" evil eye, while Alchemists made comparisons between the mythical Phoenix and the modern Peacock, because the Peacock was believed to have the power of resurrection, as did the Phoenix. Today, some people still believe that Peacock feathers are bad luck to have in your possession because of the "evil eye".
Some common words used to describe symbolic Peacock meanings could include incorruptibility, refinement, awakening, royalty, vision, glory, spirituality, and immortality. In many cultures, the Peacock is thought to represent freedom and are considered to be a sign of eternal life. Depending upon the particular religion or culture, the Peacock symbolism can have many different meanings as we have read.
(Visited 766 times, 1 visits today)