After years of hard work, graduates deserve a special day to celebrate and a special gift (or two) as a reward for all their dedication to learning. Giving money is one of the most popular ways to help the graduate celebrate their achievements but I love giving more unique and meaningful gifts too and I've found the perfect solution. The Dating Divas have a Graduation Gift Kit that's completely do-it-yourself so it's one of a kind, reasonably priced and will be appreciated by graduates at any level.

All of the printables were created by Leah Aldous. She simply used black and gold to create timeless and versatile printable designs that will coordinate with any school's colors – perfect to use year after year for any graduate you know. Have you ever bought a downloadable pack like this before? All you do is buy the pack, and it gets sent right to your email. Then you just download, and print it out!
The printable kit includes 3 DIY Graduation Gifts–
Graduation Candy Gift Basket – Choose from tons of clever sayings to create a quick, easy and delicious gift idea for your grad!
Surprise Lawn Signs – Take your "Congrats" card to the next level and say it even BIGGER with a sign in the yard!
Graduation Letters Binder – This gift is a special surprise and a memorable keepsake for your graduate filled with letters from their closest teachers and peers!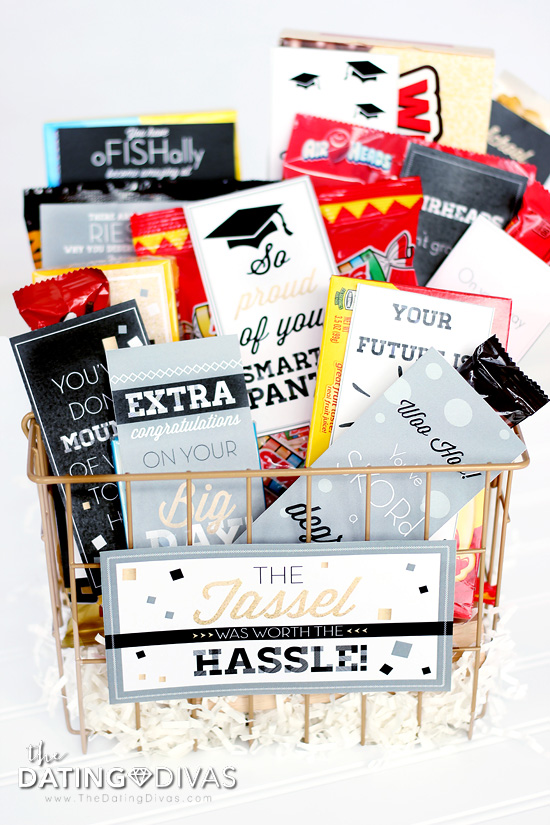 A basket filled with candy is pretty much my dream gift. Plus it comes together really quickly and you don't have to be a crafty person to make it look fantastic. I love that you can pick and choose the phrases you like best and that I can add my own personal touch to it because there are matching blank cards. This is going to be my go-to gift for graduates from now on, especially since it works for anyone – no matter how well you know them!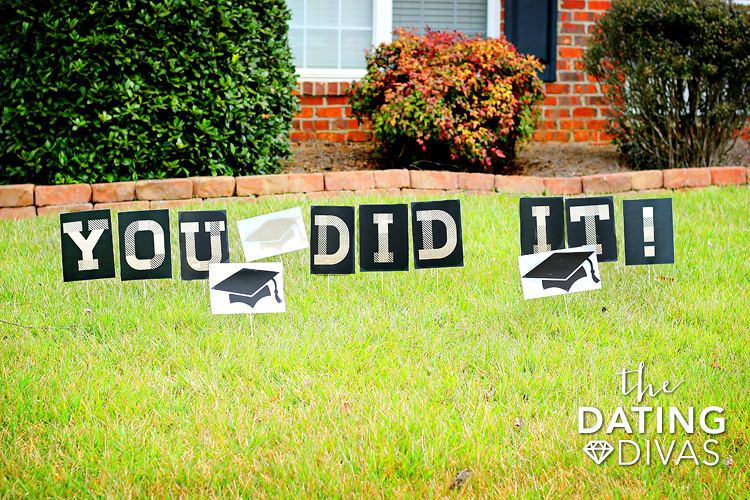 The lawn signs are such a perfect way to make a huge impact for a graduation party. They're simple decor that double as an easy way for guests to find the party. And as a bonus, you could definitely take some great pictures of the grad and his or her guests with these signs!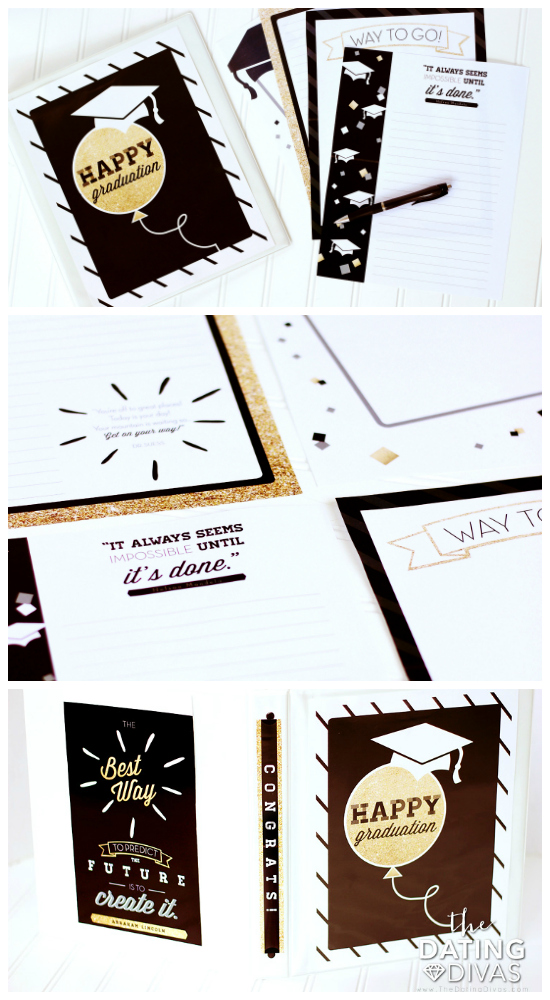 For the most meaningful gift you can possibly give, these letters cannot be beat. I kind of wish someone had created this for me. It's the best idea for a graduate that you're really close to and want to do something really special that they'll cherish forever. The binder is great for any grad but it's especially perfect for high schoolers who are headed to college away from home. They can take this keepsake with them and pull it out when they need support from those that love them.
Every graduate deserves a little moment to shine… so don't pass up the opportunity to show them how proud you are of their accomplishments! Graduation season is just around the corner, so grab your DIY Gift Kit now for $7.97 and make it easy to check something off your to-do list and give the perfect, unique graduation gift – choose one or all of these ideas to show your support!

(Visited 337 times, 1 visits today)