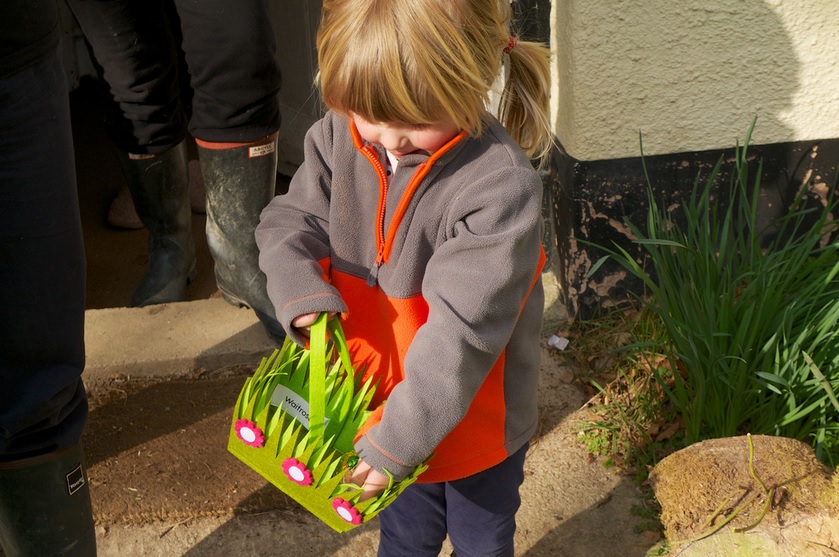 Are you planning an Easter egg hunt this year? This page will help you find what you need to buy but also where you can buy it at very affordable prices. Scroll through to find everything from invitations to eggs, baskets and favors, games and books. Also included are some tips and ideas on how to run a successful Easter egg hunt. Enjoy and Happy Easter!
Essential supplies for an Easter egg hunt
Invitations – buy them ready-made or make your own – the kids can help!
Easter decorations – you can make these as simple or as sophisticated as you like.
Something to collect the eggs in – they can bring their own or you can supply them with little baskets.
Eggs to hide – why not avoid the chocolate kind and instead opt for ones that open to reveal a candy or a little gift.
Easter egg hunt fillers – there are lots of options from candy to toys. Think about creating a little goodie bag for each child.
Simple craft materials and/or drawing paper and pencils/crayons.
Easter themed games and stories or storybooks.
Food and drink suitable for all ages.
Easter Egg Hunt Invitations
Egg Hunt : Clover Easter Party Invitations

Afternoon Hunt : Melon Studio Basics Easter Party Invites

Hop On Over : Fern Studio Basics Easter Party Invites

Explore the Outdoors : Chenille Easter Party Invitations

Easter baskets
Of course you are going to need Easter baskets for the kids to collect all those lovely eggs. You can ask that each child bring their own basket which would cut the cost considerably.
Hello Kitty Plush Easter Basket
11″ Bamboo Easter Basket
Two Dozen Mini Easter Baskets
Plastic Bright Round Baskets
Plush Easter Egg Baskets
 Minnie Mouse Plush Easter Basket
 Gund Easter Bunny and Basket
 Lamb in Easter Basket
 Star Wars Yoda Basket
 Plush Easter Bunny Basket
Top tips for hosting an Easter egg hunt
Hold it outdoors whenever possible but you should be prepared for bad weather. A garden or local park is ideal. Try a park with a jungle gym or kids play areas for them to let off steam and and have another space marked out with balloons or other decorations for the actual hunt.
Adapt your egg hiding skills to the age group of kids – young ones need to be able to find them easily so hide them in plain sight, if you know what I mean. Older kids will enjoy a treasure hunt where they have to solve clues to find each egg.
Decide in advance how many eggs each child can collect – think about having 5-10 eggs per child. Set the rule and have them come back to you when they have collected the right number.
Hide plastic eggs – they exchange them for a party bag when they come back to you. These can be eggs that open to reveal a gift, candy, favors, toys, or coins. Make sure young children cannot choke on any small items and check with parents about allergies and about how much chocolate and candy each child is allowed.
Have plenty of help to supervise youngsters.
Kids need lots to do. Think about setting up different areas or stations for different things. For example a table for simple crafts, a story-telling corner, a place for races, skipping and jumping, one for munching. Remember to have a quiet space for tiny ones.
Get the kids involved. For example, you might have a selection of hard boiled eggs ready dyed and provide paints, crayons, stickers and so on for them to decorate them. You might get them making Easter decorations, make it part of the party. Or show them how to make their own Easter bonnet from paper plates – see the video later on.
Invent Easter games. An egg and spoon race is always popular. You can use those hard boiled eggs they have decorated and supply each child in each age group with a spoon big enough to hold an egg.
Get older children involved in helping little ones. Generally they love being helpful but gear it towards the children involved, they shouldn't be placed in situations they are uncomfortable with.
Be prepared for anything from a child not having it's own Easter basket to skinned knees and hurt feelings.
Easter crafting ideas for kids
how to videos
Easter eggs
suitable for egg hunts
Of course you need eggs to hide – instead of going for chocolate ones, why not pick out some cute plastic ones? You can buy ones that open so you can hide a little gift inside each one. To prevent cheating, hide empty ones to be exchanged for filled ones when they bring them back to you. Then you can always use those originals again next year.
This pack contains 144 Easter Eggs. As they are made of plastic they are ideal for hiding out of doors and they come in assorted colors and designs.
Plastic eggs to hold a treat
ideal for Easter Egg hunts
 Dinosaurs Eggs with Mini Toy Dinosaurs
 10 Easter Filled Chicken Shaped Eggs
 36 Toy Filled Easter Eggs
 Easter Eggs – Plastic pastel
 Plastic Easter Eggs
Eggs to hide
make egg hunting easy for little ones
Use these cute talking eggs for little ones. They help either with a squeak or by giving clues to their hiding place. Inside these ones you can place some candy or a toy. Batteries are included so you are ready to go…
Hide N Squeak Eggs
Electronic Talking Easter Egg Hunt
Easter egg hunt kits
If it is easier for you to get the whole kit and kaboodle in one package, try these Easter egg hunt kits. They have everything you need.
Easter Egg Hunt Kit
Easter Egg Hunt Kit
Easter Egg Hunt Decorating Kit
Easter party bags
have a party bag for each child
Assorted Easter Bags
Paper Easter Basket Bags
Easter Bunny & Eggs Gift Bags
Easter Party Favor Bag
Easter favors and toys
ideal for Easter parties
The costumed rubber ducks are my personal favorite, but you can choose from any of these to fill Easter baskets or give out at a party.
Easter Rubber Ducky Favors
12 Wooden Bird Whistles
5" Assorted Colors OWLS
Easter Mega Mix Favor Set
Wikki Stix Easter Fun Favors
Foam Bunny Eyeglasses
Fillers for Easter egg hunts
Mini erasers make great fillers for Easter egg hunts. And they are fun for kids to collect.
Mini Eraser Assortment
144 Mini Insect Erasers
Easter games
suggested game activities
Need to keep the kids busy after the hunt? Here are some fun games for kids and adults to play.
Easter Bunny Ears Ring Toss
Egg and Spoon Race
PIN the TAIL on the EASTER BUNNY
Stack the Carrots Game
Easter storybooks
for a reading corner
These are just a few of the delightful story books for young children.
The Story of Easter
The Easter Story
The Story of Easter
God Gave Us Easter (God Gave Us…)

(Visited 210 times, 1 visits today)