No commitment decorating for your walls at Halloween!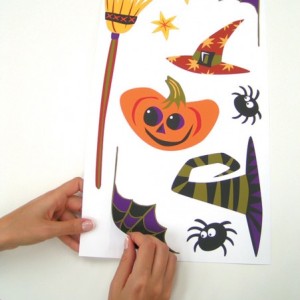 It's the easiest party decorating you'll ever do with Halloween wall decals! These go up quickly and come down just as easily. You can even store them for use again next year.
Pick from creepy wall decals like bloody handprints (yuck!) to more traditional images like bats and witches. Or just wish everyone coming into your home a Happy Halloween with some word art. There's something for everyone!
Use these every year!
Most of these decals are removable and reusable, so you'll want to take care with them. Save the packaging they come in and return the decal to the waxy paper after the holidays. Store them where they won't get too hot, and they'll be ready to use again next year.
---
Creepy and Scary Halloween Wall Decals
Let's start with the really creepy and scary stuff, shall we? Although, I'll tell you I'm seeing less and less of it these days. Not sure just why, but Halloween decals are moving toward more cute than creepy these days. Still, a couple for you to consider.
For most people, it doesn't get much more classically scary than Jason from Friday the 13th. This Jason decal shows our favorite creepster reaching through a barred window to try to get you. *Shudder*
I love this one for the creep factor, but note that it's really only as big as a window like that would be – 9 inches x 18 inches. It's officially licensed Friday the 13th merchandise. Way cool. In a creepy way.
I tend to associate RoomMates with cute cartoony designs, especially for kids. And they definitely have those.
But that bloody vampire coming out of the wall above? Yeah, that's one of their Halloween wall decals. In fact, one of the only two they still have that's scary. The other – an evil clown. Shudder. Unfortunately, this is probably the last year you can get them as they've been rapidly decreasing the prices, a sign they aren't going to be carrying them anymore. Still a nice low price of $3.50 last time I looked. Sweet!
Halloween Wall Decals – More cute and cartoony than creepy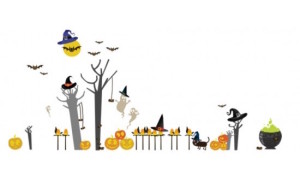 So maybe you still have little kids and aren't interested in truly creepy Halloween decorating just yet. That's fine. (I'm right there with you!)
Most of the rest of this page falls more into the cute category than scary, which is good. Lots more to choose from on this side of the fence.
One of my absolute favorites as far as cute goes is the Pop and Lolli halloween stickers set shown to the right here. We've got smiling bats and pumpkins, witch's hats and cauldron and even a big harvest moon. There's 52 stickers in all. I love the candy corns on sticks! (Note that these are kind of meant to be paired with other Pop and Lolli sets – so you can put the hats on the kids, etc – but they can stand alone easily.)
I found two other cute and large sets to consider. The first has 194 pieces to it, so you can build a single scene or decorate an entire room in no time.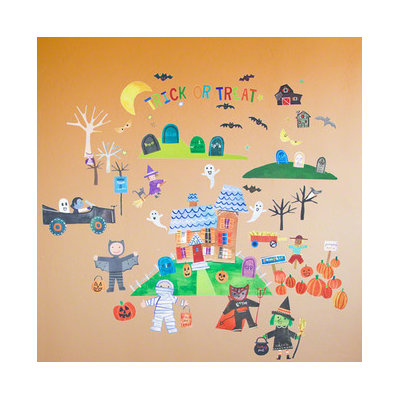 Happy Halloween Peel and Place Wall Decal Set
from: Wayfair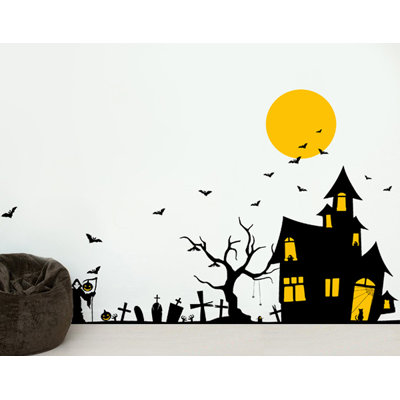 Halloween Decals Removable Vinyl Art Wall Decal
from: Wayfair
Flying Witch
Another one that is of a semi-scary subject, but done in a rather cute way. Which is amazing as a giant flying witch really is nothing but scary, right?
The witch and moon are one decal and huge at 45″ wide and 35″ tall. The entire set comes with 18 decals, including bats, cats, ghosts and jack-o-lanterns.
Like the other decals on this page, you can peel and replace, so you could have the witch flying closer and closer to a certain spot as it gets closer to Halloween. Kind of like an Advent calendar!
If you look closely at the picture, you'll notice there's white around the edge of each decal rather than clear material. Just know that if you place it on a dark wall as in the picture, that is going to show up.
I found tons of other witch options over on Amazon. And I do mean tons. Most of them are pretty cute – lots more broom flying, dancing with a cat, brewing up some potions.
Iconic Halloween Images
I'm feeling a little weird about sticking Fathead down here in the cute stuff. They used to have these great monster collections and huge flying death skeletons and so forth.
But now, we're kind of just left with these cutesy Halloween icons. And nothing wrong with that – they are totally adorable and appropriate. I just kind of miss the others. And I actually couldn't find even this one on Fathead's own website anymore. Sigh.
The collection includes everything from a black cat to a raven on a headstone. The big central image is of a witch outside her cottage and big flying bats. There are 11 decals total, and while they can be used together as in the picture, they're probably best placed in different places around a room or two.
One other good collection is the Happy Halloween set from RoomMates. With a dancing skeleton, witches brew and cartoony spiders, it fits the bill for cute and iconic. I love the type treatment on the words "hocus pocus". Which, given the number of witch elements here, you'd think there would be one of those too. Apparently it's a dead skeleton witch.
Silhouette Decals
If you poke around Amazon long enough, you'll find tons of options for silhouette Halloween decals. Tons. These are nice as an alternative to the varied colored sets above because they tend to be pretty simple, come in lots of single colors and allow you to pick and choose just the images you want.
One of my favorites is Eye Candy Signs, which not only has good images at good prices, but also a ton of them. Including the zombie shown to the right here.
Most of their designs come in a wide range of colors, however the Halloween ones are pretty much in white, black or orange, which kind of makes sense. Not seeing too many people who'd want a pink pumpkin or a green ghost. A couple – some bats and a castle – also have a red option.
Design With Vinyl also has a good selection of different solid decals. Their collection includes some that are pretty good and scary, but some cute options as well.
Halloween Word Decals
I've always found tons of word decals related to Halloween, but last year, the Totally Ghoul line at Kmart was definitely top of the heap. Lots of gory treatments of words. And I'm not sure why I'd tell you that since I can't find them anymore. Sigh.
But, another great company with these style of decals is Vinylsay, which can be found over on Amazon. One of my favorites is the cute Halloween pumpkin face in the picture here, but they have tons of others like groups of ghosts. And everything comes in a ton of different colors. (In fact, they list each color of each decal separately on Amazon, so be prepared to scroll through a lot of pages to find exactly what you want.)
Large Halloween Scene Wall Decals
Just a few of the many choices from WallMonkeys that you can find over on Amazon. They do come in smaller (and cheaper) sizes. But they are great for big displays – like a backdrop for photos – and since they're just one big square, a little easier on the set-up than some of the sets above.
I picked three of my favorite creepy ones that would be great photo backdrops.

Gothic Cemetery

Halloween Pumpkin

The Grim Reaper
(Visited 231 times, 1 visits today)