Santa Claus And Christmas Decor
One of my favorite parts of decorating for Christmas is when I pull out my Santa Claus figures and start placing them around the house. The jolly old elf from the North Pole just brings a smile to my face and magic into my heart. You do not have to decorate exclusively with Santa Claus figurines but having a few around the house just adds to the merriment of the holiday or at least that is the way I feel about it.
Decide On The Style Of Santa Claus Figures You Want
Probably the first thing you should do is decide which style of Santa Claus you like the best. We have a lot of choices when it comes to him, you know. There is what I refer to as the traditional Santa in a US style with the red suit and bag of goodies. We can take it a few steps further and go with a vintage style Santa that was popular in the United States or we can go with a more contemporary look to our Santa Claus. Personally, I like the facial features of the vintage Santas because they look kinder. Some of the newer versions look almost grumpy but that just may be me. The Santa below is what I consider a more traditional US Santa Clause figure.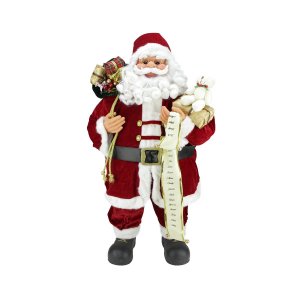 32″ Standing Jolly Santa Claus Christmas Figure with Presents and Nice List
We have a more European look which is often referred to as Father Christmas. This type of Santa is typically wearing a long coat and it is rarely red. Often times it is white, green or blue. The coat is almost always trimmed in fur and these Santas will often have more of a nature theme with them. I personally think these figures look best with an elegant style of decorating.

18″ Old World Father Christmas Santa Claus with Deer Staff Holiday Figure
There are also Santa Claus figures that have a more International look to them and they differ from the ones that we consider European. These figurines most likely will be dressed in a more traditional costume of the particular country they represent. I like these as a way to help the children connect with their heritage and where they ancestors came from. Something like this one representing Germany.

Jim Shore Christmas Heartwood Creek from Enesco German Santa Figurine 6.75 IN
Whimsical Santas are kind of fun to decorate with and will often have Mr. C doing some sort of sporting activity or dressed in a way that doesn't make us think of Christmas but we still know who he is with that beard and all. Like the one below where he does look like our good old Santa Clause but he is playing the part of a wine steward.

Department 56 Possible Dreams Santas Wine Pairing Santa
As you can see there are several ways to go when you decide to use Santa Claus figures to decorate with. You can stay with the same style of Santa or you can mix it up a little. I usually put my more elegant looking ones in the formal dining room. In our family room I have a mixture of traditional style and whimsical Santa Claus figures sitting around. Actually, I am a bit of a collector because I have at least one Santa Claus figure in every room of the house. Obviously you don't have to go that far but I do think you can have some fun with at least one or two figurines displayed as a part of your Christmas decorating.
(Visited 817 times, 1 visits today)