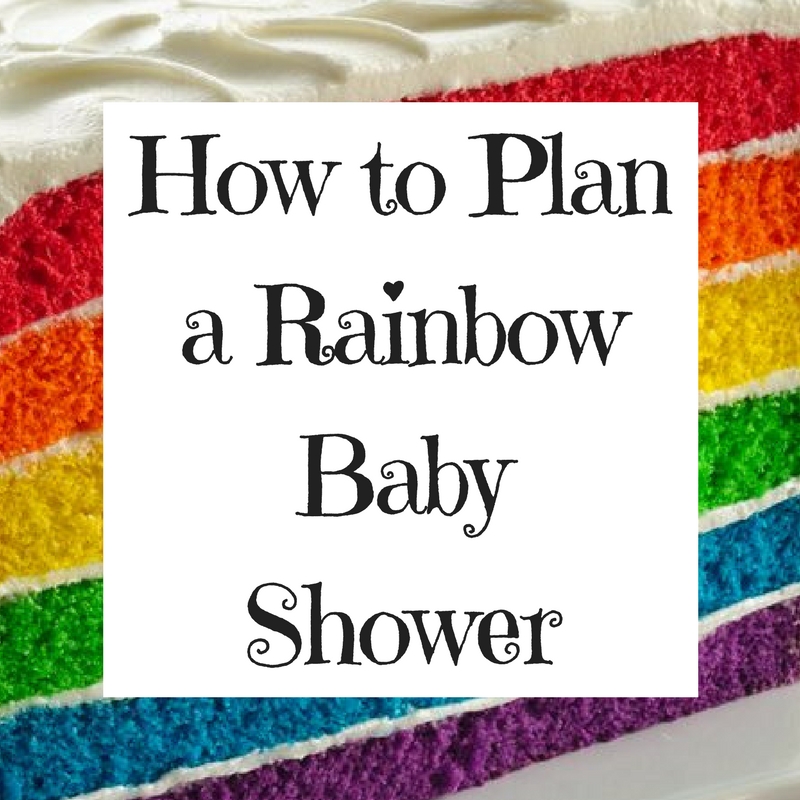 The term "rainbow baby" is commonly used to refer to a pregnancy or baby that follows a miscarriage or other loss of a newborn infant. While you will never forget the child you've lost, the rainbow baby is symbolic for showing us that there is something beautiful and wonderful to look forward to after the rain passes. You might also just like the colorful rainbow theme when planning a baby shower. Here are some lovely ideas for how to plan a rainbow baby shower.
The Etsy shop Rainbow Baby Gifts offers pregnancy announcements, baby shower invitations, and more to announce your special news to friends and family. Here we look at some great ideas for a baby shower offered from this seller.
Printable Rainbow Baby Shower Invitations
This bright and colorful invitation has stripes in all the colors of the rainbow and pictures a multi colored rainbow umbrella protecting against the rain. Main invitation text area is white and leaves plenty of room for all of the important details regarding the baby shower. Back of card features the rainbow stripes with the colorful umbrella within the white text area. Available as a printable instant digital download of a PDF and JPEG file.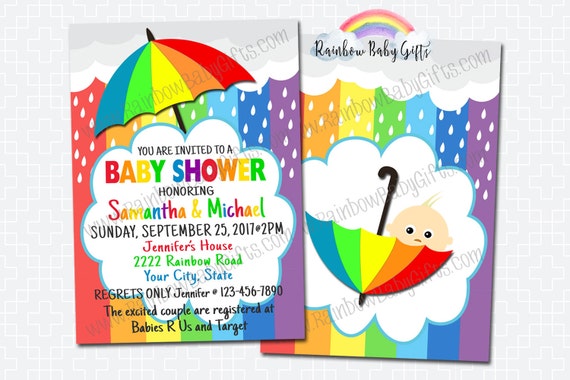 Rainbow Baby Shower Invitations

Zebra Rainbow Baby Shower Invitations
This cute invitation has rainbow colored zebra striping and a black area for the text. Text space features a cute rainbow zebra holding a rainbow umbrella on the front, with the back side featuring a much larger zebra holding the rainbow umbrella within the black space. Available as an instant digital download of a PDF ad JPEG file that you can print from home.
Rainbow Baby Shower Bingo Games
Enjoy a fun game of bingo at the baby shower with this printable set of bingo cards. Available as in instant digital download of five PDF files. Includes all you need to print 50 pre-filled card, one black card, and one calling mat.
Rainbow Baby Shower Party Signs Package
Celebrate a rainbow baby with these colorful signs. Features striped rainbow print with multicolored rainbow umbrella. Includes an instant digital download of one PDF file to print various 8 inch by 10 inch and 5 inch by 7 inch signs. Sign designs include "Welcome To The Baby Shower", " Photo Booth", "Gifts and Cards", "Thank You For Coming" etc.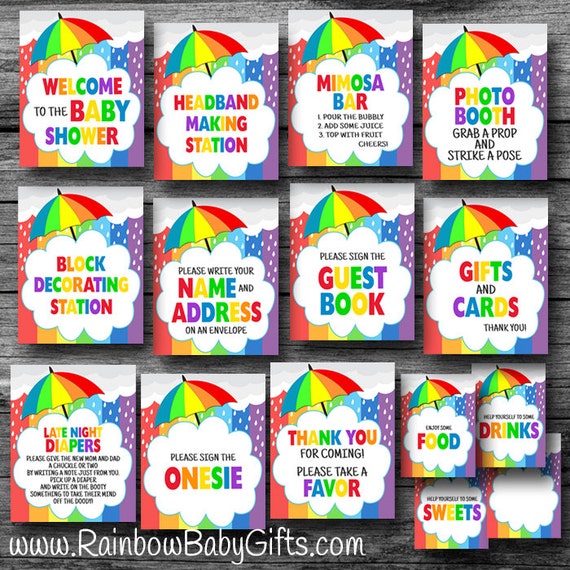 Rainbow Baby Shower Party Signs

Amazon also offers some great ideas for planning and hosting a rainbow baby shower.
Rainbow Fitted Tulle Table Skirt
This is a handmade tulle table skirt that makes a great and colorful decoration for any occasion. A one piece table skirt covers a table length of three feet. Length is a fixed measurement of 2.6 feet. Tulle is sewn onto a coordinating ribbon with a Velcro strip for easy attachment. (Size references are given in the listing, along with a photo to help determine how many you would need to cover a specific table size.)
Rainbow Paper Raindrops for Baby Shower Decorations
Great for use as wall decor or table decor, these multicolored paper garlands measure two meters each. Order includes three different garlands in various color combinations. One features pink, teal, and white raindrops, the other red, light pink, and hot pink raindrops, and the last one, pale yellow, bright yellow, and light green raindrops.
Rainbow Paper Raindrop for Baby Shower Decorations
Rainbow Party Paper Lanterns, 6 Count
These paper lanterns come in the colors of the rainbow and are easy to assemble and can be refolded for multiple uses. The purple, green, blue, and red lanterns measure 10 inches, while the yellow and orange lanterns measure 8 inches. Features metal expanders and an included C-hook for ease of hanging.
Rainbow Party Paper Lanterns, 6 Count
Rainbow Color Balloons
Balloons are always a big hit for any special occasion. These balloon packages feature the colors you'll want to prepare for a rainbow baby shower. This package includes 144 assorted 12 inch balloons in red, pink, yellow, green, blue, orange, and white.
Balloons (144 Pieces), Assorted Colors
This is another colorful assortment of 12 inch balloons that are premium helium quality. Made of natural latex rubber in assorted rainbow colors.
12 Inch Latex Balloons, Pack of 100, Assorted
This set of 10 inch balloons is made from natural latex and comes in neon colors such as purple, orange, blue, yellow, pink, green, and light blue. Helium quality balloons perfect for a rainbow theme shower.
10" Rainbow Colors Latex Helium Balloons (100pcs)
Rainbow Baby Shower Recipes
Of course every baby shower needs something yummy to serve its guests. Here we look at some mouth watering ideas for feeding your friends and family.
Rainbow Layer Cake from Betty Crocker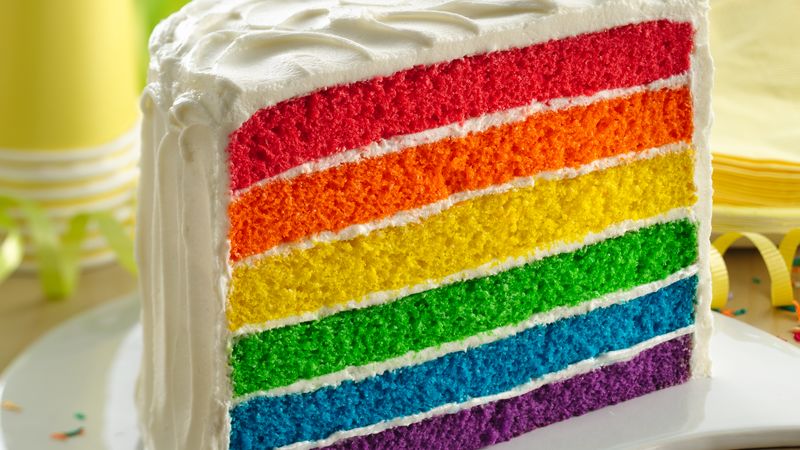 Using two boxes of Betty Crocker's Super Moist cake mix and classic food gel colors, you can whip up this colorful cake with all the colors of the rainbow. Place your layers in "rainbow order" by remembering ROY G. BIV (red, orange, yellow, green, blue, indigo, and violet). Full recipe details can be found here.
Healthy Party Veggie and Fruit Tray
It's simple to put together a healthy and tasty party tray following the ROY G.BIV order. Use cherry tomatoes, carrot sticks, yellow pepper slices, green pepper or cucumber sticks, blueberries, and purple grapes to create your own fruit and vegetable rainbow. (Yes, we're missing something for indigo but it's close!) Arrange the food items attractively on a large serving platter to wow your guests with your creativity. No recipe needed, just find healthy foods that go with the color scheme.
Rainbow Fruit Skewers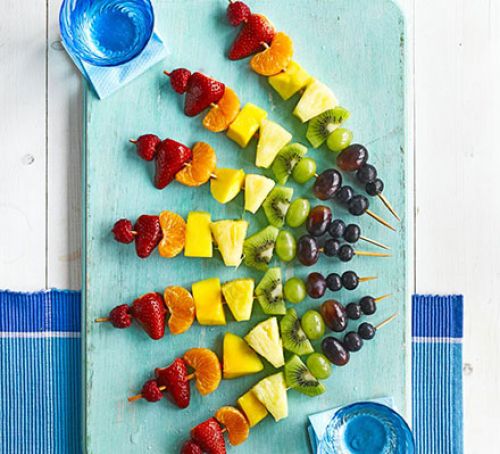 Another healthy treat for your guests is a rainbow fruit skewer done in fruits of all the colors of the rainbow.Use fruits like strawberries, raspberries, blueberries, grapes, kiwi, pineapple, mango, tangerine or orange segments (not in this order) to create colorful rainbow snacks. Recipe and directions can be found here.
Rainbow Swirl Sugar Cookies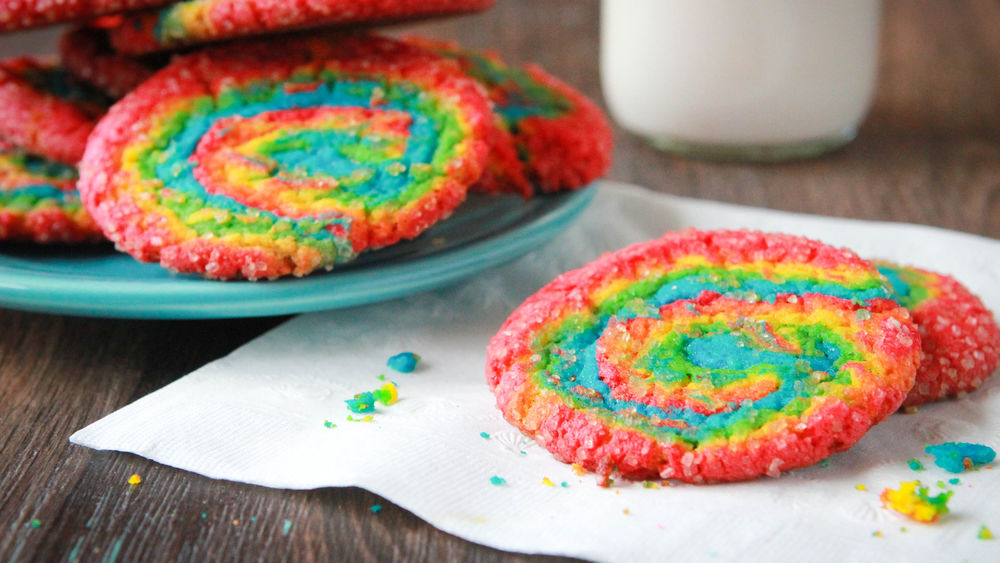 Using Pillsbury refrigerated cookie dough and classic gel food colors, you can create super colorful rainbow cookies for your rainbow baby shower. Full recipe and directions can be found here.
Displaying colorful candy is attractive serving dishes is also a great way to decorate as well as provide tasty snacks for guests. For a rainbow baby shower, candies such as original Skittles and M& M's work well ( you may want to go the extra mile and remove any brown or black ones to make it look more like a rainbow). Regular white frosted cookies could also be sprinkled with rainbow sprinkles for a super simple treat. You may also wish to frost any flavor cupcake with white icing and create two "clouds" on each end and place a "rainbow" across it using a piece from an Airheads Xtremes rainbow candy strip. The possibilities are endless.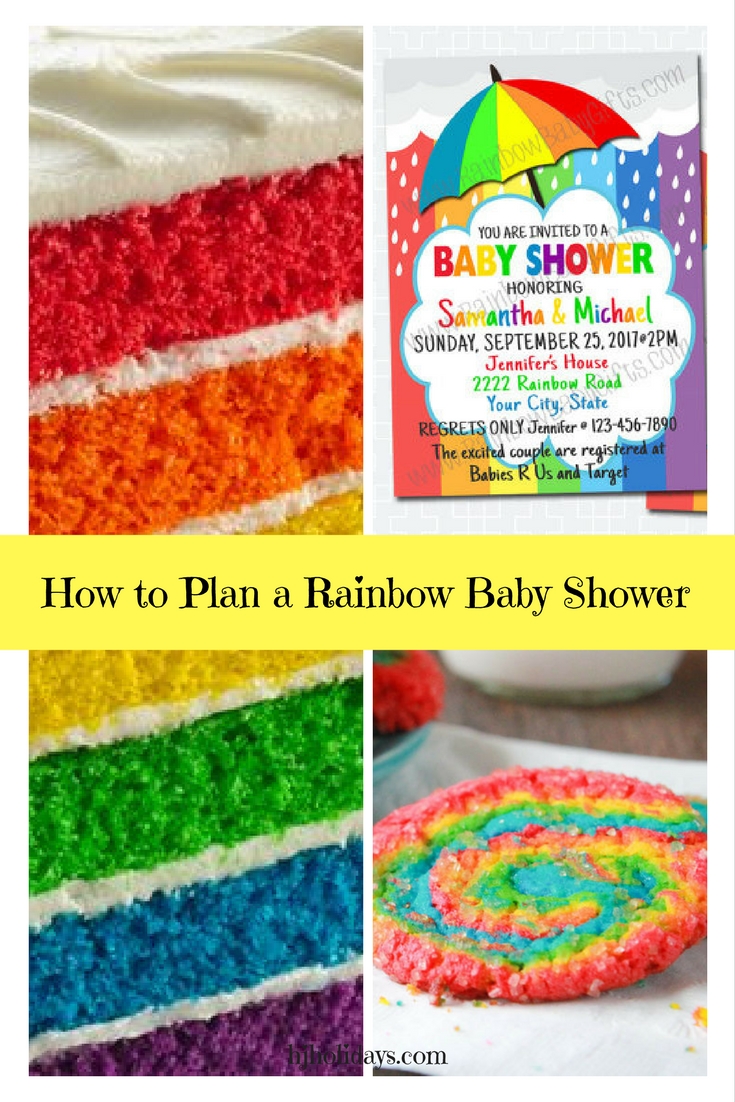 (Visited 10,443 times, 2 visits today)