An Easy Gourmet Recipe
My father loves chocolate mint, so he was thrilled when I made these brownies for him. I wrapped them up in waxed paper, put them into a decorated shoe box, and then mailed them to him across the miles. He could taste the love in every bite!
They are so rich and creamy! They seem like gourmet treats, but they are very simple to make. Anyone who likes this flavor will love you forever if you make these bars for them!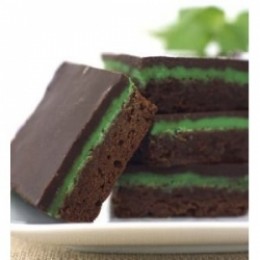 These homemade gourmet brownies are deliciously frosted with layers of creme-de-menthe and chocolate glaze. They are so yummy! My family is crazy about them!
Of course, brownies make wonderful gifts! Your recipients will think you spent a fortune at an upscale gourmet bakery, or slaved over them in the kitchen for hours. They are easy to make at the last minute, though.
Only you will know the secret of how simple these treats really are to make! What's the secret? Start with a boxed brownie mix!
I have made these as Christmas gifts, combining them into a gift package with my mocha brownies and my homemade hot chocolate mix. You could also add some delicious snowball cookies. This makes a very nice gift package for the holidays, or anytime you want to share something special.
I have to warn you though: Once you make these special brownies for someone, they will want you to keep doing it! But, since they are this easy, it should not be a problem.
Ingredients
1 box of Brownie Mix prepared according to package
1/2 cup plus 6 tablespoons of Butter or margarine
2 cups of Confectioners' sugar
3 tablespoons of Green creme de menthe
1 cup of Semi-sweet chocolate chips
Mint wafers
1. Line a 13 by 9-inch cake pan with aluminum foil. Spray the foil with a no-stick cooking spray.
2. Prepare a box of brownie mix according to the directions on the package. You may make either fudge brownies or cakelike brownies. Bake and cool them according to the directions on the box.
3. Prepare the Creme-de-Menthe Layer by beating 1/2 cup of softened butter or margarine with two cups of powdered sugar and three tablespoons of green creme de menthe. Use a large mixing bowl and beat the three ingredients with an electric mixer until smooth.
4. Spread the Creme-de-Menthe frosting over the cooled brownies.
5. Prepare the Chocolate Glaze by putting one cup of semi-sweet-chocolate chips and six tablespoons of butter or margarine in a saucepan. Stir these two ingredients together over low heat until they melt and become smooth.
6. Cool the chocolate frosting slightly and then pour it over the creme-de-menthe layer on the brownies. Spread the chocolate glaze evenly over the top to cover the green creme-de-menthe layer.
Sprinkle the top with chopped mint wafers, such as Andes or York Peppermint Patties, before the glaze sets.
7. Allow the frosting to cool and set, then cut brownies into squares to serve or package as gifts.
Don't Feel Like Baking?
These brownies are all natural, with no preservatives.
They are available in twelve-piece and six-piece sizes.
The gorgeous, unique packaging is finished with coordinating ribbon and free, personalized gift card.
You can send them directly from the Amazon website to your recipient, who is sure to be impressed and appreciate your thoughtfulness!
Mint Chocolate Fudge Brownies
Check Price
Not What You Were Looking For? Here's Another Easy Recipe!
(Visited 305 times, 1 visits today)