Cornhole is a lawn game which many of us may refer to as a bean bag toss. It is also known by other names such as bags, baggo, and sack toss. In the game, players take turns tossing bags of corn, or bean bags, into the hole on a raised platform. Players score three points when the bag enters the hole, and one point if the bag lands on the platform. Play continues until the players or team reaches a score of 21 or higher. While there are official cornhole matches with rules and regulations, most people enjoy this game as a form of backyard recreation. This is a great game to play at barbeques, family gatherings and get-togethers. There are also smaller versions that may be used indoors for children to play with. Here we take a look at some custom cornhole games available from Etsy and Zazzle sellers.
Multicolored Monogram Wood-Stained Cornhole Set with Bags
This a multicolored wood-stained cornhole platform that features your personally selected monogram initial in black. The set comes with eight bags, of which you select two different colors from a total of seventeen.. Game set comes ready to play right out of the box, with no assembly required.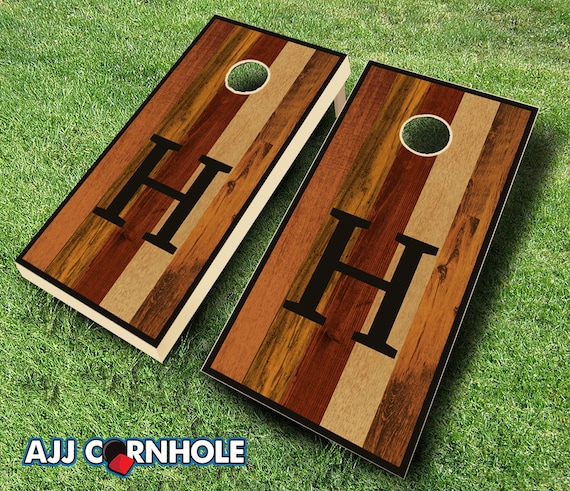 Multicolored Monogram Stained Cornhole Set with Bags

Americana Cornhole Set with Bags
This cornhole platform is made from wood and printed vinyl. Design features an Americana theme with red and white stripes and white and blue diamonds. Center of board has a strip down the middle with words and phrases such as "Nice try," "Better," "No Way," and more. The phrase "You Got It" is right above the hole of the platform. Set includes eight bags of which you choose two colors from a wide variety of color choices.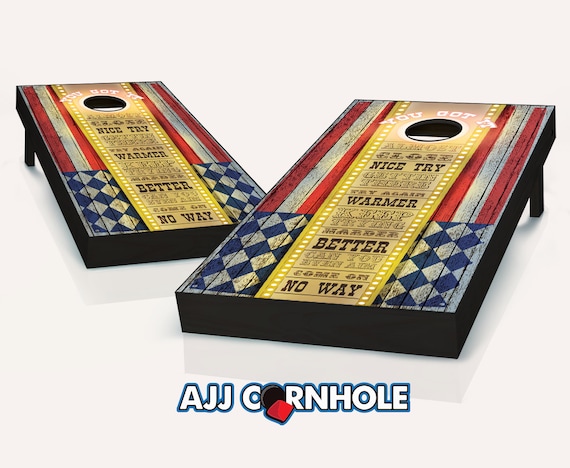 Americana Cornhole Set with Bags

Worn American Flag Themed 2×4 Custom Cornhole Board Set with Bags
This set includes two premium handcrafted cornhole boards made in the USA. Constructed of elite grade birch plywood, the platforms feature a distressed American flag theme, with red and white stripes and a field of blue with white stars. One bag set features a dark blue fabric with white stars, while the other set of bags has red and white stripes.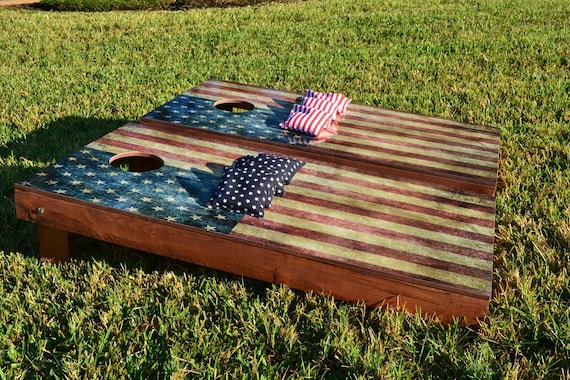 Worn American Flag Themed 2×4 Custom Cornhole

Distressed Thin Red Line Cornhole Boards
This custom cornhole game set is made from cabinet grade plywood and has 2 x 4 frame legs. Design features an Americana theme with painted with a premium tinted stain that allows the grain of the wood to show through. Features blue field with white stars, blue and white stripes with one red stripe. Includes eight regulation bags, 4 navy blue and 4 red.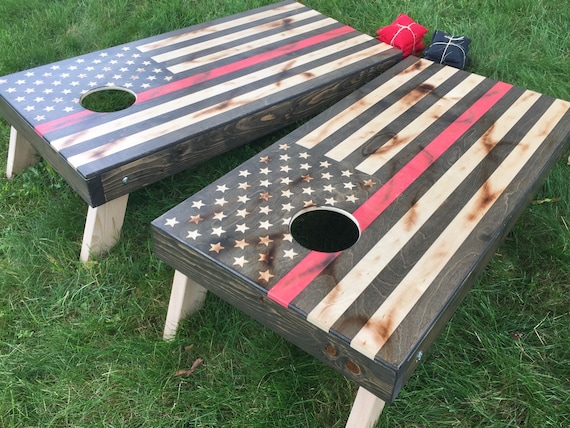 Distressed Thin Red Line Cornhole Boards

American Flag with Deer Custom Cornhole Boards
These cornhole platforms are made from birch wood and feature a design of the American flag, with a deer peeking out of the brush at the bottom of the boards. Includes eight duck cloth bags. Choose your two bag colors from a wide variety of color choices. Boards measure 48 inches long by 24 inches wide, with a hole 6 inches in diameter.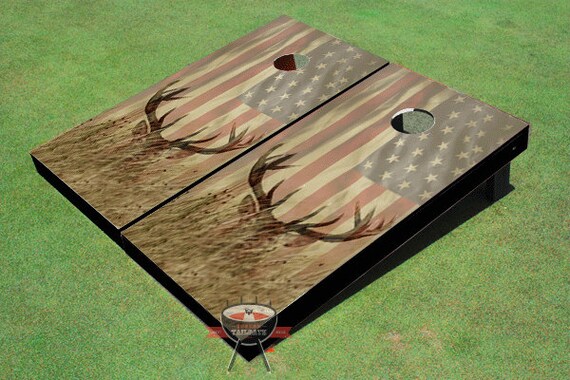 American Flag With Deer Faded Custom Cornhole Boards

Custom Cornhole/Bags/Baggo Tailgate Game
Feature your company logo on these customized cornhole board. Makes a great way to advertise and promote your business or organization. Choose two bag colors from a dozen color choices. This is a custom order item and painting and additional details such as vinyl decals can vary the price. Consult seller with request for a quote before ordering.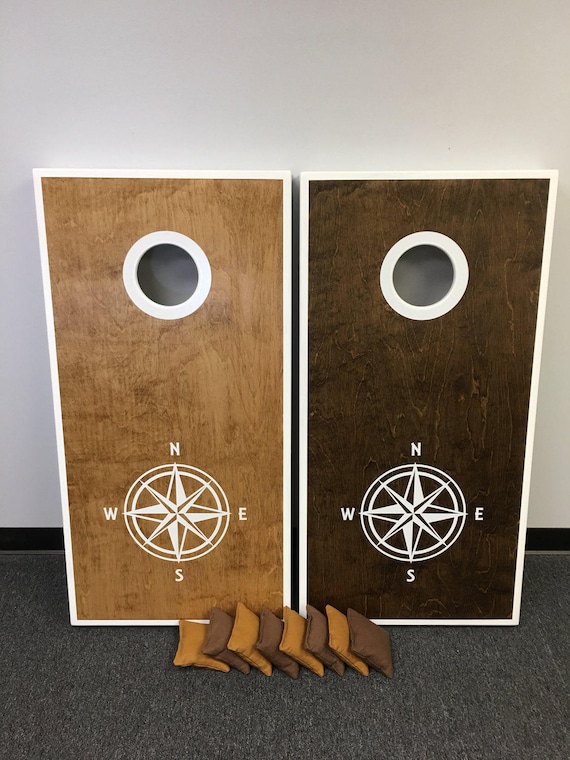 Custom Cornhole/Bags/Baggo Tailgate Game

Monogrammed Leaf Wedding Cornhole Boards
This is a great cornhole set made from stained wood, that features the name of the wedding couple with a leaf design above and below the names. Makes a great game activity for wedding reception guests, or for use as a game at a bachelor or bachelorette party. Also makes a lovely housewarming gift for the newly married couple.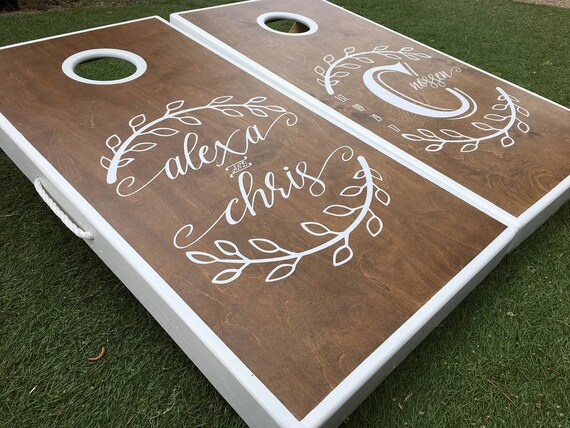 Monogrammed Leaf Wedding Cornhole Boards

Wedding Couple Name Cornhole Boards
These are hand-painted cornhole boards made from cabinet grade plywood. Design features the initial of the last name of the couple, with the last name spelled out under the monogram. Under the surname is the "Est." date of the wedding. The bride and groom's first names are painted in an accent color over the monogram, with alternating main and accent colors on each different board. Makes a great idea for outdoor wedding reception fun.
Custom Professional Sports Cornhole Boards
These custom cornhole games vary in design and color because they feature the logo and color scheme of your favorite sports team. Custom orders available upon request. This direct link features the Chicago Cubs baseball team logo, but you can choose from many others from this seller.
College or University Cornhole Boards
This board set below is designed using the Ohio State University colors and official logo, however you can order your own favorite college or university cornhold game from this seller. Includes eight bags with your choice of seventeen colors to select from. Printed vinyl decal is finished with a clear coat polyurethane to protect it for years of use and enjoyment.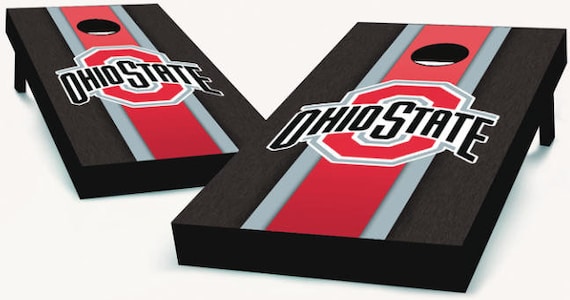 Ohio State Cornhole Boards Set

Golf Cornhole Boards
These fun cornhole boards are painted to look like a golf course. The design features two shades of green, a flying bird overhead, some trees, water hazards, and a red flag above the hole. Great gift for golf fans when they aren't on the golf course.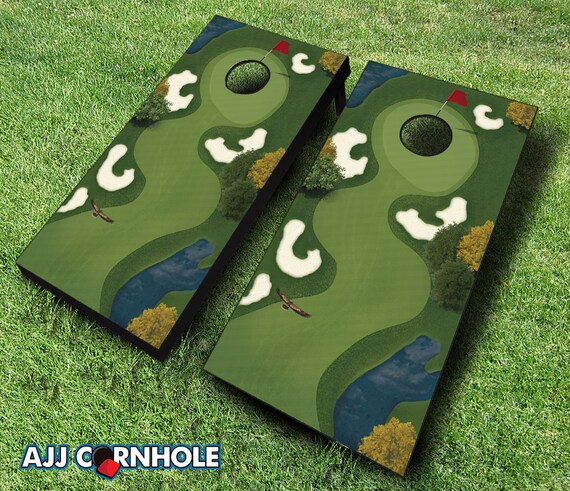 Hole in One Cornhole Set With Bags

Natural Wood Logo Cornhole Sets
These sets are custom-made to feature your personal logo or emblem, so designs will vary based upon your personal preference. Handcrafted, hand-painted sets are built to last for years of enjoyment.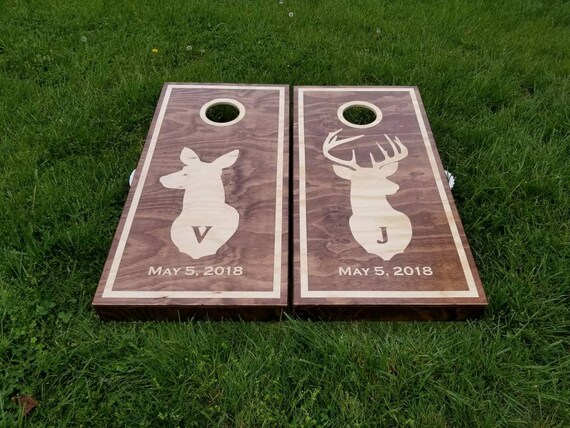 Natural wood logo Cornhole Sets

Rustic Cornhole/Beanbag Toss
These boards are made from recycled lumber and are simple and rustic. Created from planks of wood that appear weathered and rustic. Made to withstand years of play. Great for a rustic-themed wedding event.
Burned Monogram Cornhole Set with Bags
Ready to play right out of the box, this cornhole set features rustic wooden planks with a burned-looking monogram inside a circle. One half inch plywood is laid within a frame of poplar wood for sturdy, long-lasting construction.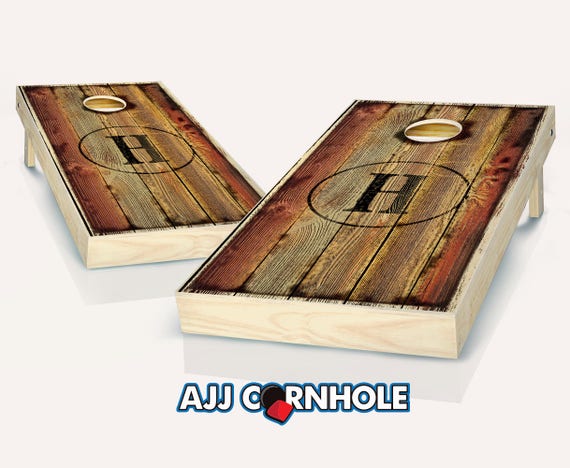 Burned Monogram Stained Cornhole Set

Monogrammed Cornhole Decal – Distressed Wood Look, Rustic
This is a monogrammed decal made to fit any regulation size cornhole board. Made from vinyl, the decal features the look of rustic wood with a large monogram initial and the family name at the bottom. Not an actual board set, just the decal.
Mini Cornhole Boards|Kids Corn Toss
These cornhole boards are a smaller size that is lightweight and portable, making it perfect for taking it with you to picnics. Great for use by children. Fun idea for any outdoor party or gathering. Choose theme and design of your choice.
Non-Painted | DIY Cornhole Boards
This is a full-sized, complete cornhole set featuring plain, unpainted boards. Makes a great do-it-yourself project to decorate the boards in any way you choose. Paint, stain, or add a decal for a unique, personalized look.
Custom Wedding Cornhole Decals with Names and Date
These decals feature the names of the bride and groom enclosed in a circle of leaves, with the wedding date printed below it. Makes a great way to customize your cornhole set for the big day.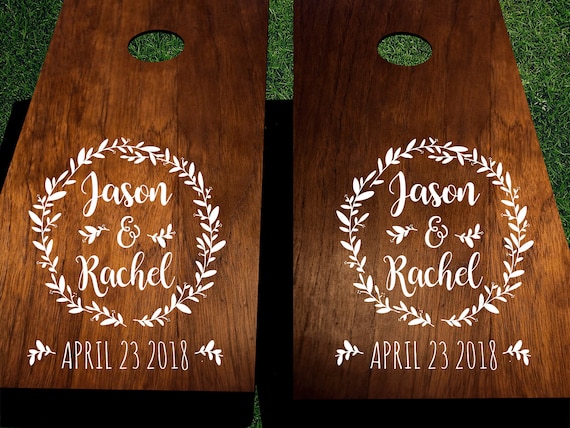 Custom wedding cornhole decals with names and date

Cornhole Bags Regulation Size & Weight
Need replacement bags? Choose from a huge selection of colors. Bag sets include four bags made from 100% cotton duck cloth. Each bag weighs 16 ounces.
Cornhole Scoreboard with Beverage Holders
Keep the score with these scoreboards. They measure four feet high and include a numbered board with plastic pegs to keep track of the score. Each scoreboard easily sticks in the ground for play and features two cup holders each so that you can enjoy a beverage during the game.
Cornhole scoreboard with beverage holders

Cornhole Carrying Case Bag – Tailgate Size (24″ x 36″)
Store and carry your cornhole set with ease using this great carrying case bag. Measures 24 inches by 36 inches and features a zipper and carrying straps. Black in color.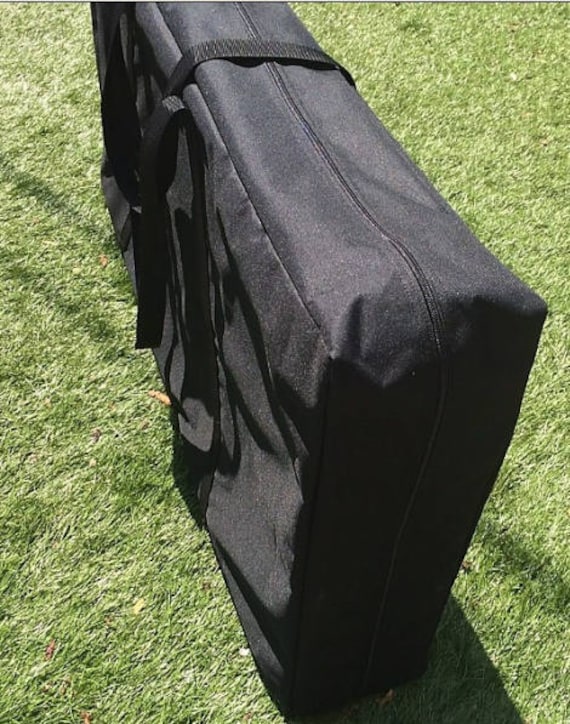 CORNHOLE carry Carrying Case Bag

Vintage Patriotic American Flag Waving in the Wind Cornhole Set
Easily customized with your own text, this fun cornhole game is ideal for July 4th or any patriotic holiday. You can change this design or design your own game from scratch. Comes with eight cornhole bags in two colors of your choice. Click through to learn more about how to customize your own cornhole game on Zazzle.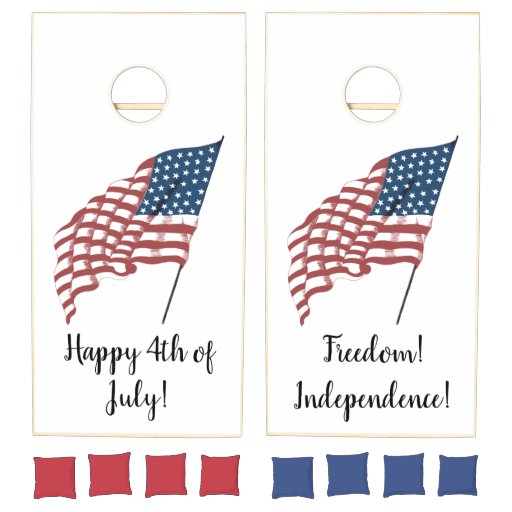 Vintage Patriotic American Flag Waving in the Wind Cornhole Set

Pin It for Later

(Visited 599 times, 1 visits today)