Cute Fairy Figurines to Give for Mother's Day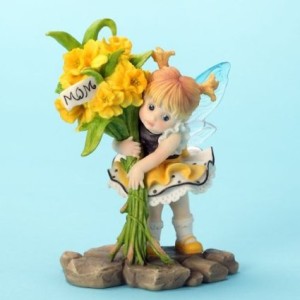 Mom will beam with delight when she sees these cute My Little Kitchen fairy figurines. Made by Enesco, these adorable little fairies bring a smile to any face with their mischief and misguided efforts to be helpful.Everyone loves these little girl fairies, their sweet poses and kitchen antics. They make wonderful Mother's Day Gifts! Mom or Grandma are sure to appreciate these darling fairy figurines.
I enjoy seeing these adorable children expressing their love to mommy. It reminds me of when my girls were little. It's true they sometimes made more work for me when they tried to do things themselves, but they were also so much fun!
Let's see what these tiny fairies are up to in My Little Kitchen for Mother's Day!
Image: Kitchen Fairies Daffodil Mother's Day Fairie
Breakfast in Bed Fairy
What mother does not appreciate breakfast in bed? These years fly swiftly by. Commemorate these special moments with this cute little fairy bringing Mom breakfast in bed!
 Enesco My Little Kitchen Fairies Mothers Day FigurineCheck Price
Mama's Compact Fairy
Uh oh! This little fairy has used a lipstick to write a special message to her mother on her compact mirror.
 My Little Kitchen Fairies from Enesco Mama's Compact Fairie Figurine 3.25 INCheck Price
Our children have their own way of reminding us what is most important in life, don't they? They can make us mad and melt our hearts at the same moment. Give Mom a keepsake to remind her of this fleeting stage of life!
This mischievous fairy is 3 1/4 inches tall, hand crafted and hand painted.
More My Little Kitchen Fairies for Mother's Day Gifts
What is Your Favorite Mother's Day Gift? Do You have a special Mother's Day memory? – Share it here!
(Visited 458 times, 1 visits today)