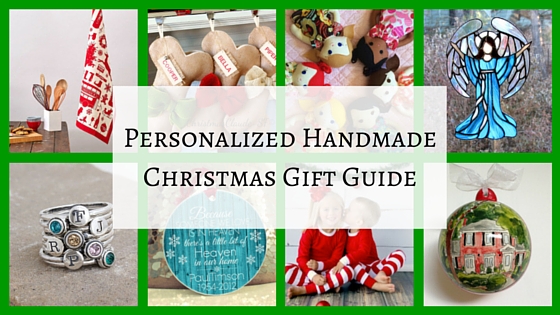 Updated for 2018
There is something very special about handmade gifts. First of all, they are unique, made by an artist, and you know that no one else has exactly the same thing. You can also appreciate the workmanship and time that the artist puts into each item.
When you want to select just the right gift for the holidays or even for a special occasion such as an anniversary or birthday, adding a personalized touch makes the gift that much more special. This Personalized Handmade Christmas Gift Guide is a list of handpicked items made by artists and they can be found on Etsy. Each item is made by a different artist, and only one representative piece of everything they make. You can see more of their work by clicking the button below each image and going directly to their store on Etsy. Even if the item listed is sold, they can make another one similar or have others in the same genre.
The majority of these items can be personalized with a saying, name or other text. Enjoy browsing. I know that I did.
Handmade Christmas Home Decor Gifts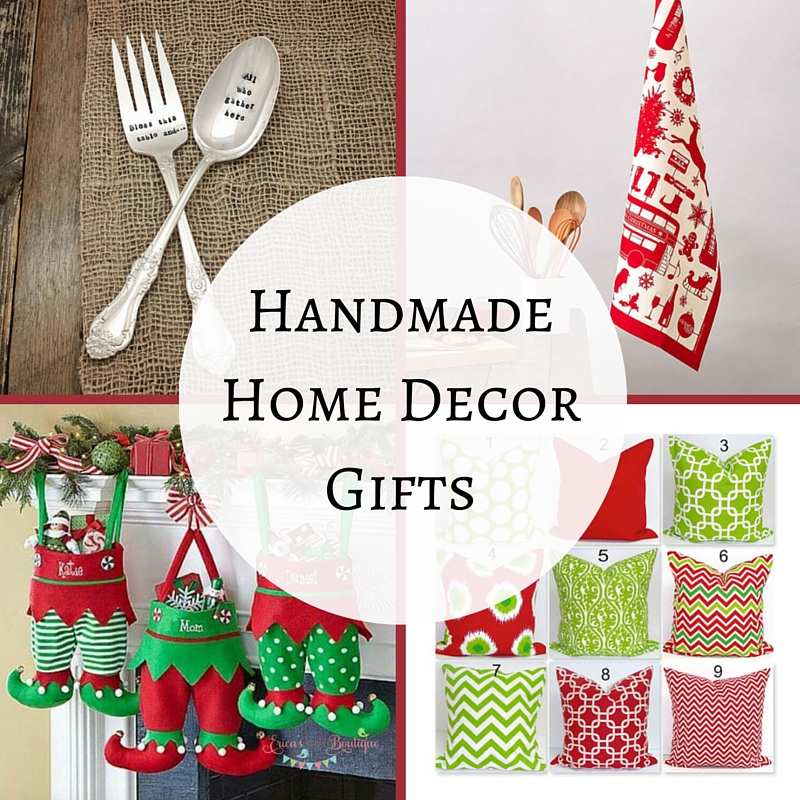 This first group of gifts are for the home. They range in price, but there are gifts for under $20 on the list, as well as higher end items. It is important to realize that for some items, like the stained glass angel below, the materials alone are costly which contributes to the cost of the item.
Stained Glass Angel
This beautiful piece of stained glass makes a lovely gift for anyone who collects angels. The colors invigorate any room, and inspire beautiful thoughts. Hang it from a window for maximum pleasure. Made by Stained Glass by Betty.
&
It's Beginning to Look Like Christmas Sign
This 24 x 24 inch framed wooden sign has a rustic look in a big and bold way. Perfect for home or office setting, it will put everyone in the holiday mood. A sign like this is very versatile and can be used in a myriad of ways including on your fireplace mantel, in the window, hung on a wall or as part of a vignette. Made by Salted Words Company.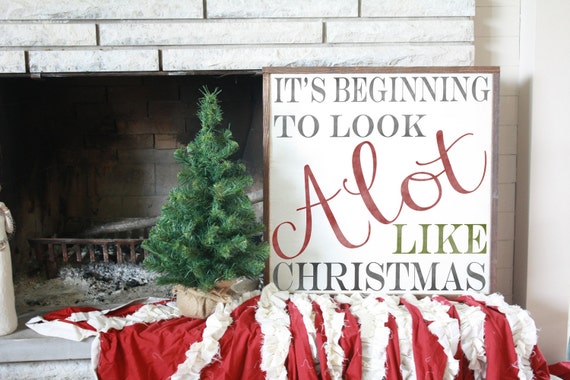 It's Beginning to Look Like Christmas Sign

Personalized Rustic Christmas Decor Sign
This adorable sign is as rustic as you can get. The artist, Salvaged Chic Market, paints these to order with your name on the sign. Made from distressed wood, each sign is completely unique due to the wood variances.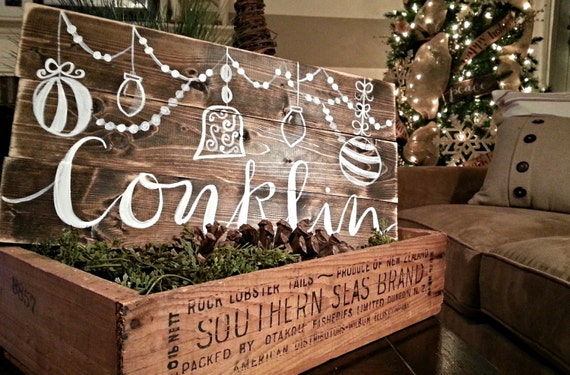 Personalized Rustic Christmas Sign

Christmas Delights Tea Towel
This artist is in the United Kingdom, therefore if you are in the U.S. don't forget to account for shipping in your cost. However, tea towels are extremely lightweight, and these are so cute and bright. Well worth the shipping cost. Victoria Eggs ships these within 1 to 2 days when you order, and you can use these cute towels as stocking stuffers, co-worker gifts and hostess gifts. There are loads of other darling kitchen items in her store.
Retro Christmas Tree and Station Wagon Tea Towel
This artist makes tea towels for all of the holidays and for every day. I have bought several, and I love them. She is in New York, and gets her work out quickly. Besides this retro style, she has some Thanksgiving, Christmas and Chanukah towels as well as just regular general designs. Very affordable and great for hostess gifts. Made by Kitch Studios.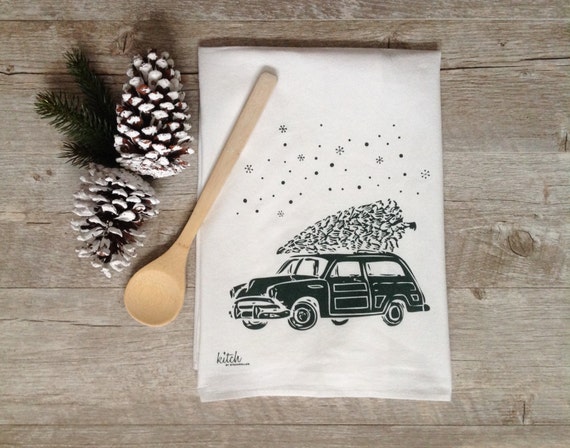 Retro Car and Christmas Tree Towel

Table Blessing Serving Set
This unique idea is ideal for Thanksgiving, but can be used for any holiday or special occasion. It is a great way to memorialize a moment, but these serving pieces can be used over and over as a reminder. That is the reason they are ideal for Thanksgiving. This artist, Eve of Joy, makes an array of hand-stamped silverware items besides this set. Some are humorous, while others are inspirational. She also does wedding pairs that are personalized with name or date.
Christmas Tree Reindeer Throw Pillow Set
This set of throw pillows is just one design of many fun Christmas pillow designs by Hen House Originals. You do have to order each pillow separately. You don't automatically get them as a pair. If you only want one, or two of the same design, you can do that too. Nice and bright for your holiday couch.
Handmade Holiday Hostess Gifts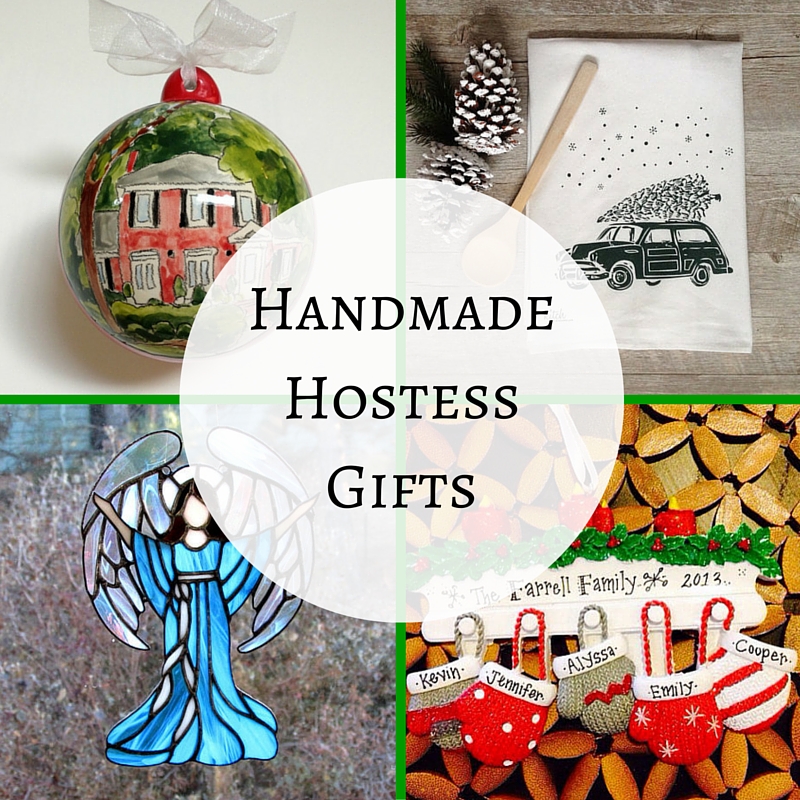 Hostess gifts should be small enough to carry easily to someone's house when you visit, and reasonably priced because otherwise you will starve when you go to all of your family parties this Christmas. Here is a selection of items that are handmade and unique.
Personalized Christmas Mittens Ornament
This is so cute. You can order an ornament for each family you will visit which has a mitten for each person in the family. Adornaments NY makes these of resin and follows the instructions you give them.
Custom House Portrait Ornament
What a novel idea! Send in a picture of the house you want immortalized, and Magic Markings Art will create a custom house portrait on a Christmas ornament. These are ceramic with a 6-to-7 week lead time.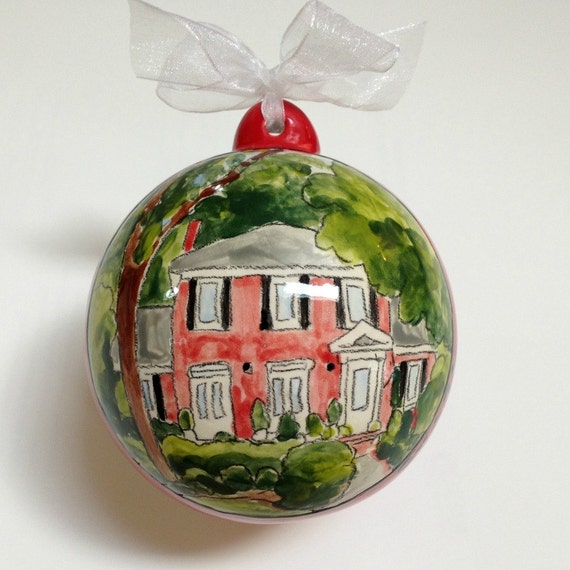 Personalized House Portrait Ornament

Christmas Pillow Covers
Why get new pillows each season when you can just recover them. This is a great idea, and an easy gift for a hostess or yourself! Order the pillow covers you want for your Christmas decor, and presto chango, your house is decorated. Made by ElemenoPillows.
Snowflake Candle Holder – Set of 3
These whimsical candle holders (or soap dishes) are the perfect gift for someone who loves candles. They are also a great gift for anyone who doesn't celebrate Christmas. Made in pastel colors, they can be used for any occasion, and they are a beautiful decorative set for a romantic evening or dinner for two. Made by Mary Judy.
Handmade Christmas Ornaments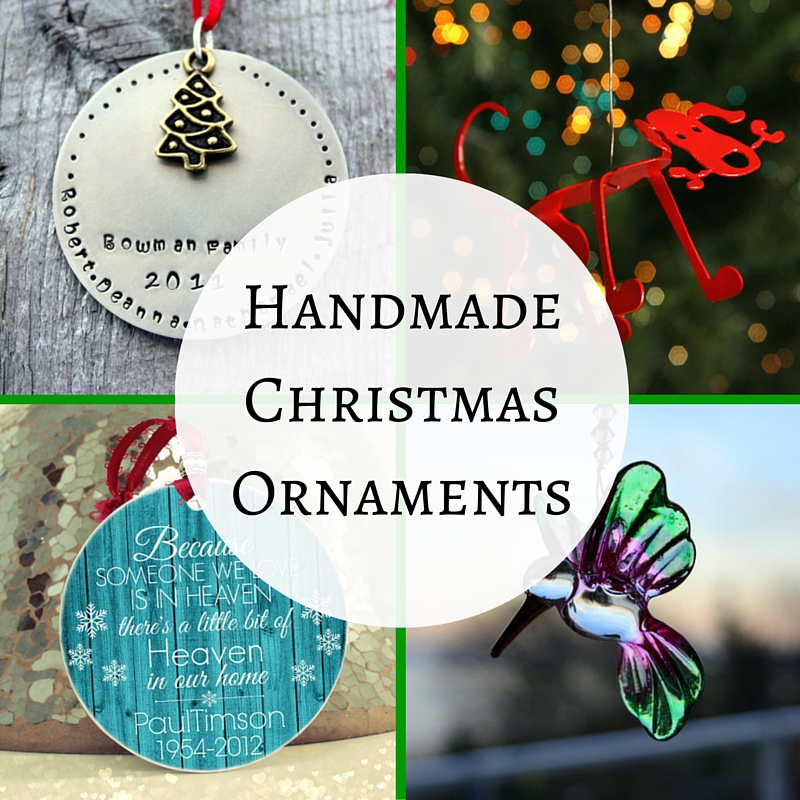 Handmade Christmas ornaments turn a Christmas tree into a memory tree. Each ornament reminds you of a specific moment in your life.
Personalized Family Ornament
White Lilie Designs specializes in hand-stamped metalwork. This ornament is hand-stamped per order with your family names and the date. This particular selection comes in two sizes, but there are several other variations of this idea on the store. Very beautiful and memorable as well as reasonably priced.
Lovebirds Ornament
She (or he) will adore this sweet and romantic Christmas ornament featuring two pretty red lovebirds perched on the branch of a tree that is full of white and gold heart leaves. Set on a natural looking faux wood background, this ceramic ornament is personalized with your names and the current year.
Personalized Christmas Ornament Wood Snowflake
This hand-carved ornament can be personalized for a very special gift for a friend, child or grandchild. Each box comes with a ribbon for hanging.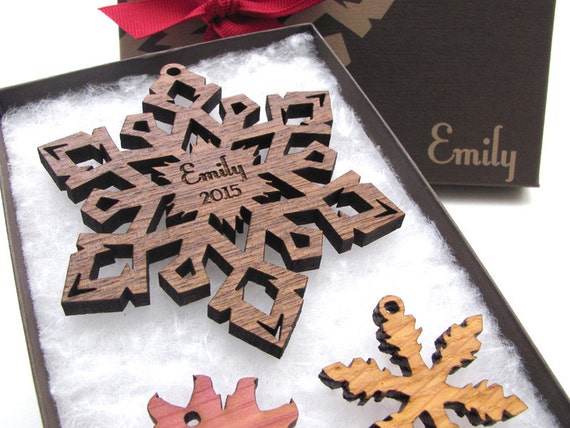 Personalized Christmas Ornament Wood Snowflake from Nestled Pines

Personalized Memorial Ornament
This ornament is designed as a way to memorialize or honor someone you love. Each ornament comes with beautiful metal angle wings with a hand stamped circle (1″) hanging in center. All this lays atop a large metal circle (3″). The small center blank is hand stamped with choice of name or names and date or year of choice; then below that a small set of foot prints. The larger circle is hand stamped with your choice of saying or wording. For finishing touch a birthstone glass pearl is added. Just one of several styles of personalized ornaments available from Soul Cyster Creations.
Wooden Train Christmas Ornament
Personalize this beautiful wooden train ornament with your child's name and Design Imagery Engraving will add the year 2015. This ornament is a favorite from their list of handmade wooden ornaments, but you can browse through the collection to see the rest.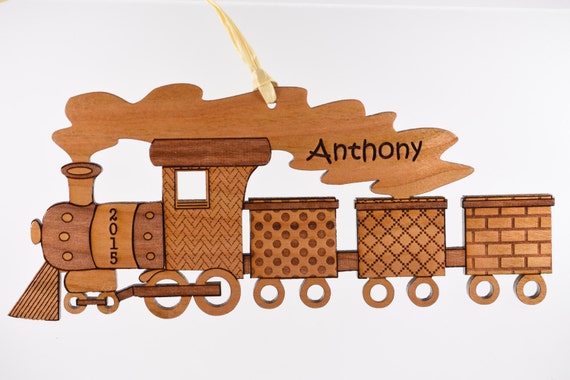 Personalized Wooden Train Ornament

Blown Glass Hummingbird Ornament
Bay Creations by Wendy has a bunch of these lovely hummingbirds in stock in a range of colors, shimmering with light. Once Christmas is over, you can hang this in your window throughout the year and enjoy it as the light shines through the colored glass.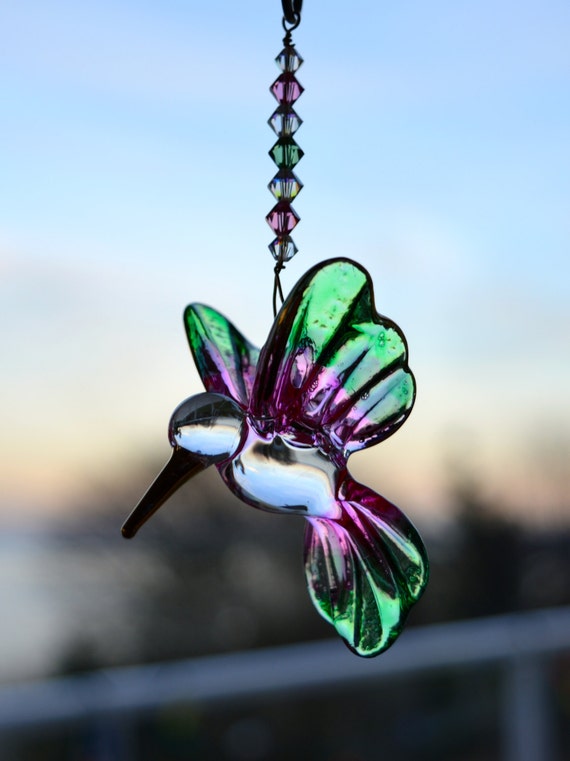 Blown Glass Hummingbird Ornament

Handmade Christmas Stockings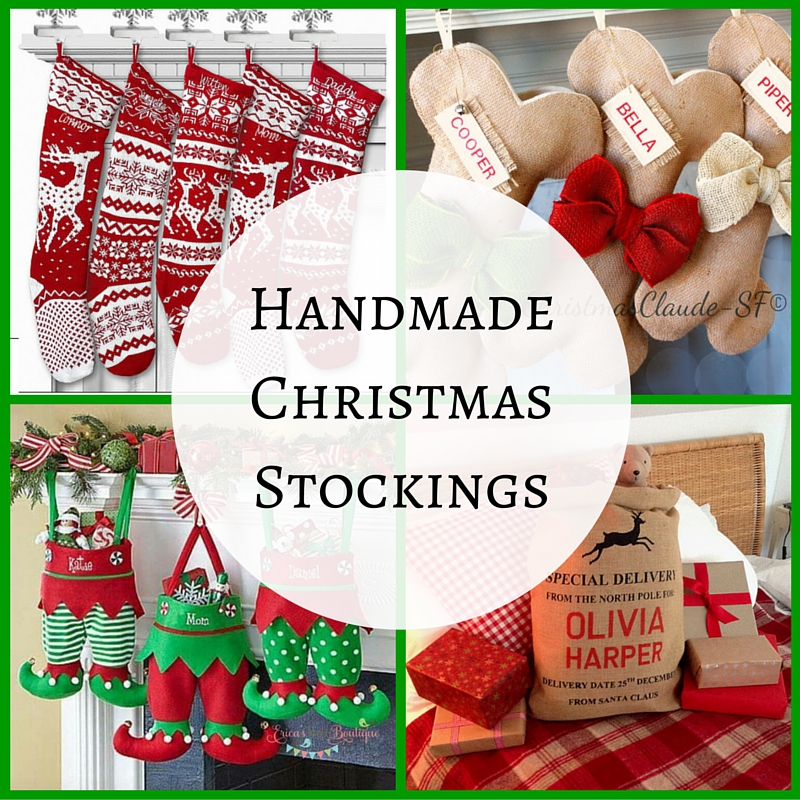 Handmade stockings are extra special, and add just a bit of warm homey feelings to your decor. We have selected our favorites, but I bet you can find more as you browse through the list below.
Elf Pants Christmas Stockings
These go quickly because they are so adorable. These elf pants are Christmas stockings to hang from your fireplace mantel. In bright shades of red and green patterns, they will definitely delight your family and friends. Made by A Bead Ahead.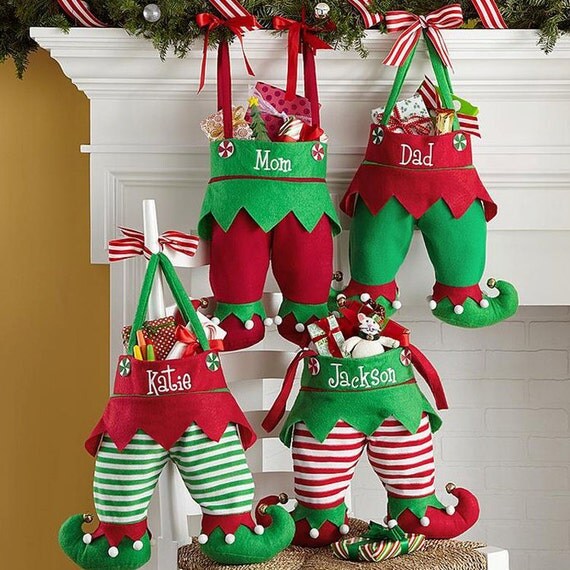 Personalized Elf Pants Stockings

Dog Bone Christmas Stockings
These dog bone Christmas stockings are a hoot. Or maybe I should say a bark. You can hang them for your pets or just hang them for a family of pet lovers. Christmas Claude gives you a choice of bow color and thread color.
Traditional Knit Christmas Stockings
If you love handknit stockings and you don't have the time or talent to knit them yourself, here are some red and white stockings with traditional Christmas sweater designs of reindeer and snowflakes. Just choose your design and you are set. Made by Eugenie 2.
Personalized Knit Christmas Stockings
Also made by Eugenie 2, these stockings are knit in green, red and white in a variety of traditional Christmas patterns. Select your style, and then you can have your own customized Christmas stocking for your mantel.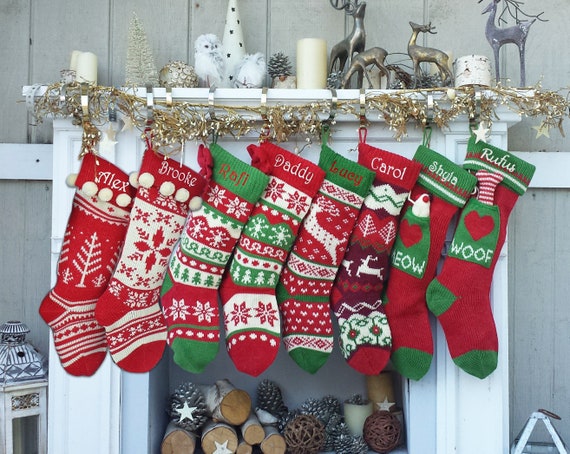 Knitted Christmas Stockings Red IVORY Green

Personalized Santa Sacks
Some families pack their gifts in a Santa sack, or maybe Santa Claus leaves these sacks behind with all of the gifts for each person. Both styles below can be personalized with the name of the recipient or recipients.
Personalized Reindeer Santa Sack
You have several options with this reindeer design including the name of the recipient, and the message "from Santa Claus" or "from Father Christmas." This item is made in the UK which means you have to allow for shipping time and cost. Made by Silver Bobbin.
Personalized Santa Sack
This Santa sack is also made in the UK, with a personalized message just for you. Hessian and Burlap will screenprint a name in red on one side. You can use up to 20 characters.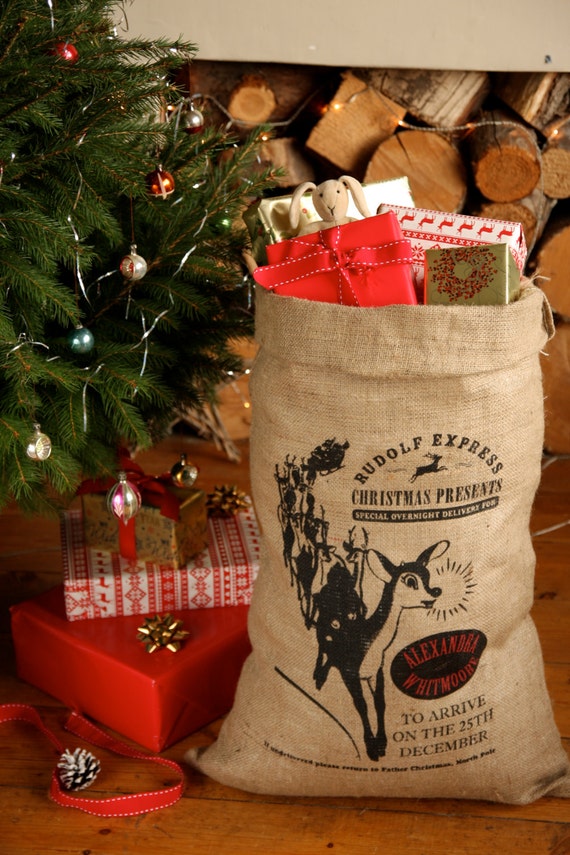 Personalized Santa Sack, Rudolph Design

&
Wine Gifts
Christmas is not just for kids, but for adults too. These wine gifts are sure to please any wine lover, and bring them many days of celebration.
Personalized Couples Stemless Wine Glasses
These lovely wine glasses are stunning with with several custom options for the engraving. You can get these in stemmed or stemless wine glasses for your recipients. Comes in a set of two and made by Happily Ever Etched Inc. They have a slew of other types of glasses to order also.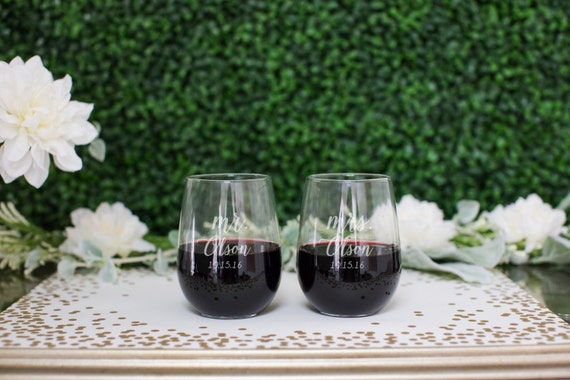 Personalized Couples Stemless Wine Glasses – (Set of TWO)

&
Getting Blitzened Wine Glass
This darling design by Trottis Treasures is just one of their several Christmas designs. Reasonably priced, perfect for a Secret Santa gift.
Love the Wine You're With Wine Tote Bag
You have to love the wine you're with when you carry this tote bag filled with your favorite wine to your next holiday party. Completely generic, this gift can be used for any occasion that you need to carry wine. Great for an office party, birthday gift or Christmas gift. Lovely hostess gift. Made by Plate and Pencil.
Personalized Jewelry Gifts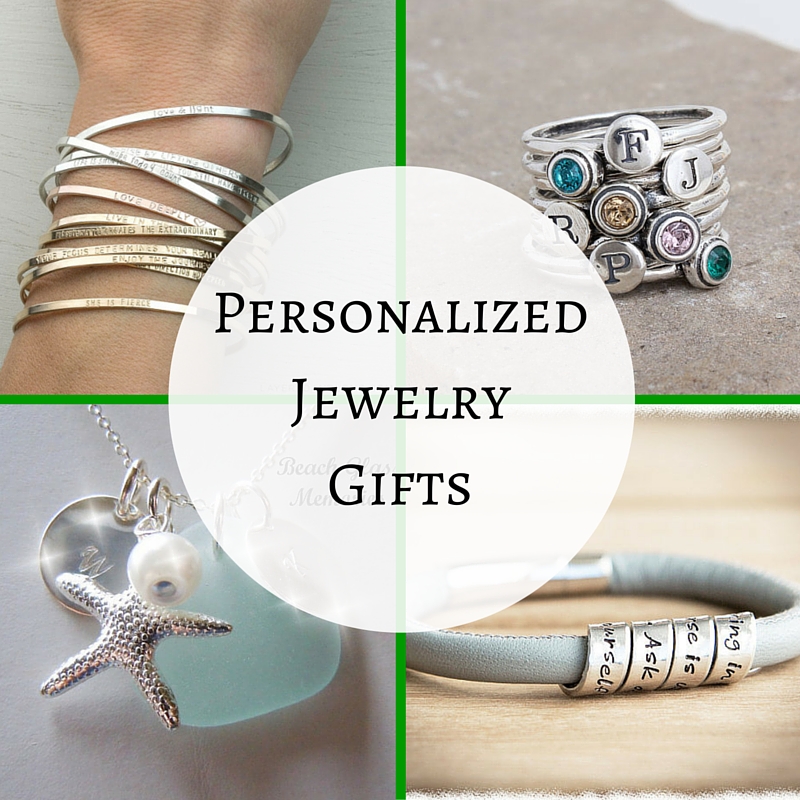 Every woman knows that it is impossible to own too much jewelry. That is especially true when it comes to mementos and personalized jewelry. And jewelry is not just for women. There are lovely jewelry pieces for men as well. Here are some suggestions for personalized jewelry gifts for this holiday season.
Personalized Sea Glass Necklace
This lovely necklace offers up a group of symbols with different textures that make it truly eye-catching. If aqua is not your favorite color, you can substitute other colors of sea glass. You can have up to three initial charms hanging from the chain, and order it in several chain varieties. A truly lovely gift made by Beach Glass Memories.
Personalized State-to-State Necklace
A top seller for Pure Impressions, this necklace can be personalized for your family. Great for military families, families with college students away from home or anyone who is separated. Three different chain options.
Personalized Hidden Message Bracelet
A very cool gift, personalized a message of up to 64 characters to be wrapped around this suede bracelet. This gift hails from Australia, so allow for 3 weeks shipping to the U.S. Your recipient can carry this message with them wherever they go. Made by Suede Sentiment.
Personalized Inspirational Cuff Bracelet
Buy one or several of these personalized message bangle cuff bracelets. Layered and Long offers a wide array of metal types and font styles for these bracelets. The order page is for one bracelet, so you need to make sure you order each one separately as a single item for the right personalized information.
Personalized Brown Leather Bracelet
Easily adaptable as a gift for men or women, this bracelet is made from brown or black leather with up to 45 characters for your message. Made by The Tender Box.
Stackable Family Ring
This ring is actually a stack of smaller rings. You have the option of four initial rings and four birthstone rings to make up your stack. You can wear them all at one time or separate them to wear at different times. Great gift for moms. Made by Nelle and Lizzy.
Handmade Kids Toys and Gifts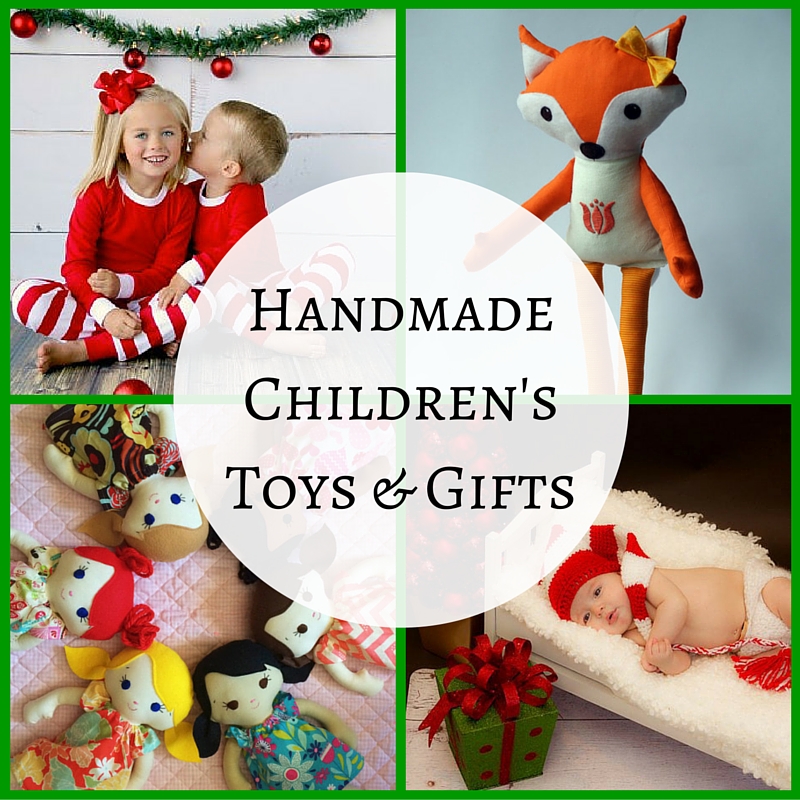 Buying toys and other gifts for kids is the mainstay of Christmas, but why should we buy those mass-produced toys when there are so many handmade options available. Here are some ideas for you to consider for any children you are buying for this year.
Crocheted Reindeer Amigurumi Doll
This adorable reindeer is available for you to make at home from a crochet pattern, or you can order it made by the artist. There are so many animal patterns to choose from, and they are all so cute. Find them at the MevvSan shop.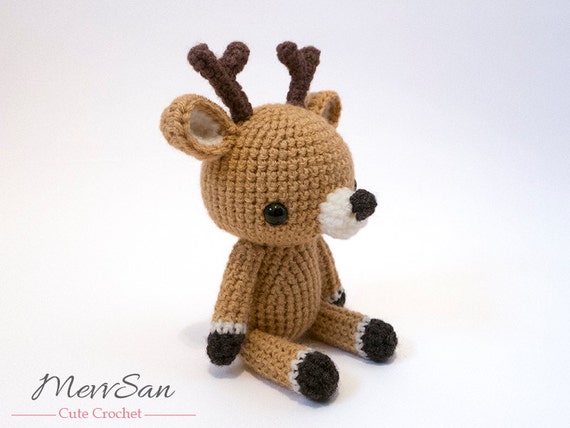 Crochet PATTERN PDF – Amigurumi Woodland Critter Deer

Play Tent for Kids
This adorable play tent is just one design in a series of tents to put in a child's bedroom or playroom. Kids love to make believe and this tent will provide a space for your child to have privacy and play. Made by Babynest Shop.
Personalized Apron and Chef Hat for Kids
This apron is a terrific gift for children to use as helpers in the kitchen or as protection in the arts and crafts room. Each apron is personalized with a name and image, in this case a ballerina. There are several other options in aTwinkleStar's Etsy shop including a matching chef's hat.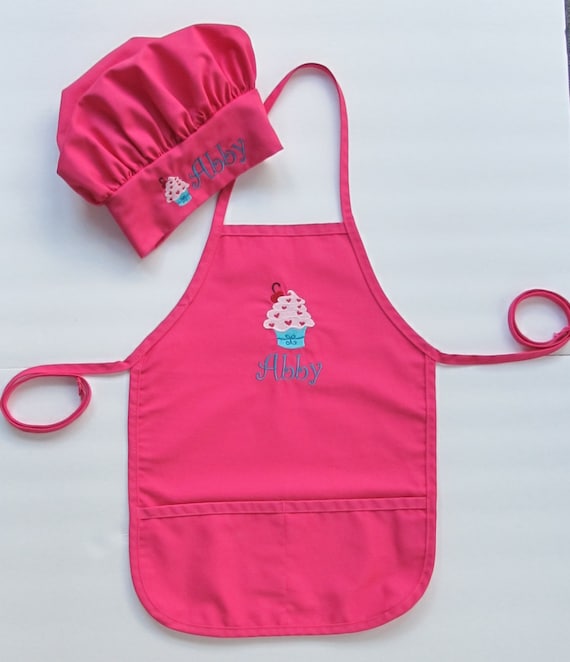 Personalized Kid's Apron AND Chef Hat

Personalized Children's Growth Charts
This lovely personalized growth chart is made by Creative by Clair and would look terrific in a baby's room or toddler's room. It is the perfect gift for new parents and comes in a wide range of designs for girls or boys.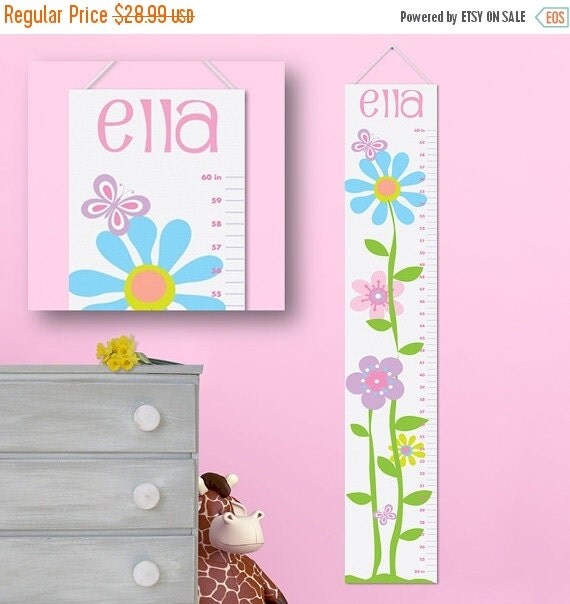 Personalized Child's Growth Charts

Personalized Children's Christmas PJs
There's nothing cuter than cute children in Christmas pajamas. These pjs are personalized with your children's names so they never fight over them. Adorable, affordable and made by Gentry California.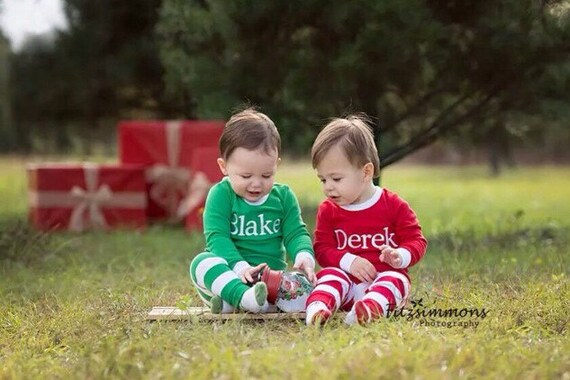 Christmas pajamas with monogram for baby, toddler child

Turn Art into a Plush Toy
Budsies will turn any original drawing into a plush toy. You can thrill your child with a personal one-of-a-kind toy made from their own artwork or draw a design yourself. Amazing!
Custom Cloth Doll
You choose the look of this doll as a friend for your child or grandchild and Just Plain Becky W will make it for you per order. Made from cloth.
Personalized Baby Announcement Gift
These stuffed animals are personalized with whatever you want–a baby name or the full name and date for the new baby. Choose from a wide range of animal choices to personalize. Made by Renee's Embroidery.
Personalized Birth Announcement Picture Frame
This gorgeous frame makes the perfect gift for new parents. Fill it with their baby's image and put all the details of the birth around the sides of the frame. What a lovely Christmas gift. Made by PWE Gifts.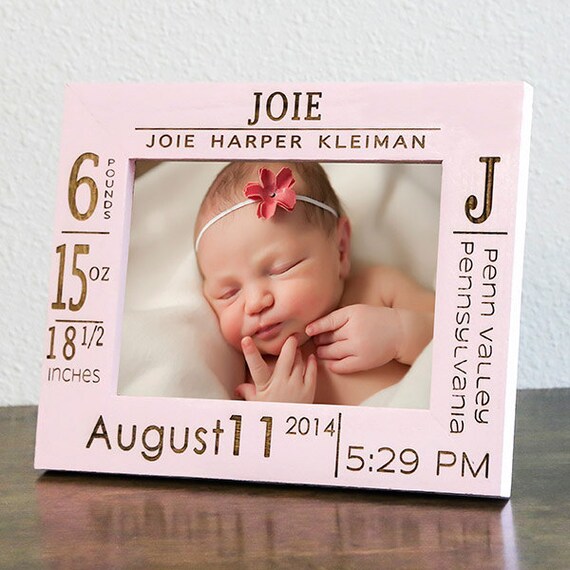 Personalized Birth Announcement Picture Frame

Personalized Baby Gift Wooden Block
This unique baby gift is an original way to create a memory for new parents. It is a lovely stocking stuffer for Christmas and will be something that new parents will really cherish. Made by Koobik.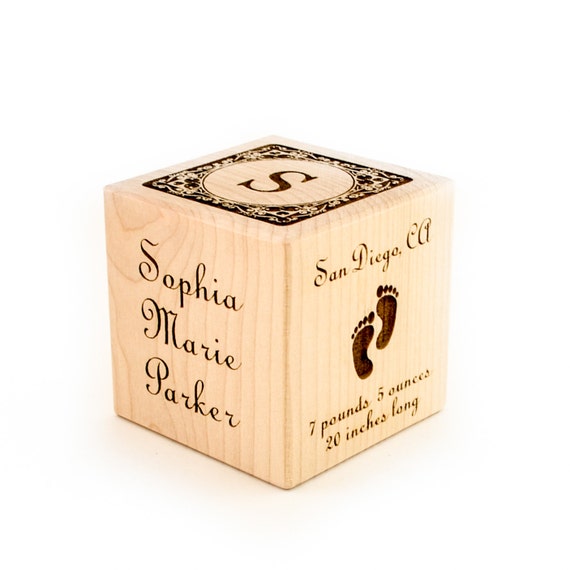 Personalized Wooden Block Keepsake

Newborn Christmas Outfit
My Little Crochetables makes really cute outfits for newborns to wear for holiday photos. This adorable Christmas outfit is one of several crocheted outfits for the Christmas holiday. Other options are animals, pilot and pirate to name a few.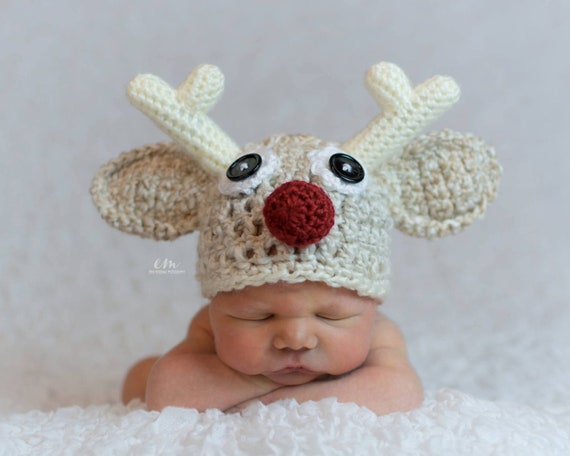 Baby Christmas Outfit – Rudolph Hat

Personalized Dachshund Puppy
This gift is so popular that the shop owner can no longer promise a delivery before Christmas. However, the adorable gift is really cute, and would make a great baby gift or birthday gift for a child in the New Year. Made by Andreavida. Ships from Hungary so allow for shipping.
Personalized Toddler Backpack
This Personalized Backpack is ready to come home with you for your favorite child. Perfect for toddlers, this backpack comes in an array of colorful designs that your child will love.
If you can't find your preferred gift on this list, you are sure to find one by clicking through to these artists' stores or the holiday gift hub on Etsy to see what else is available.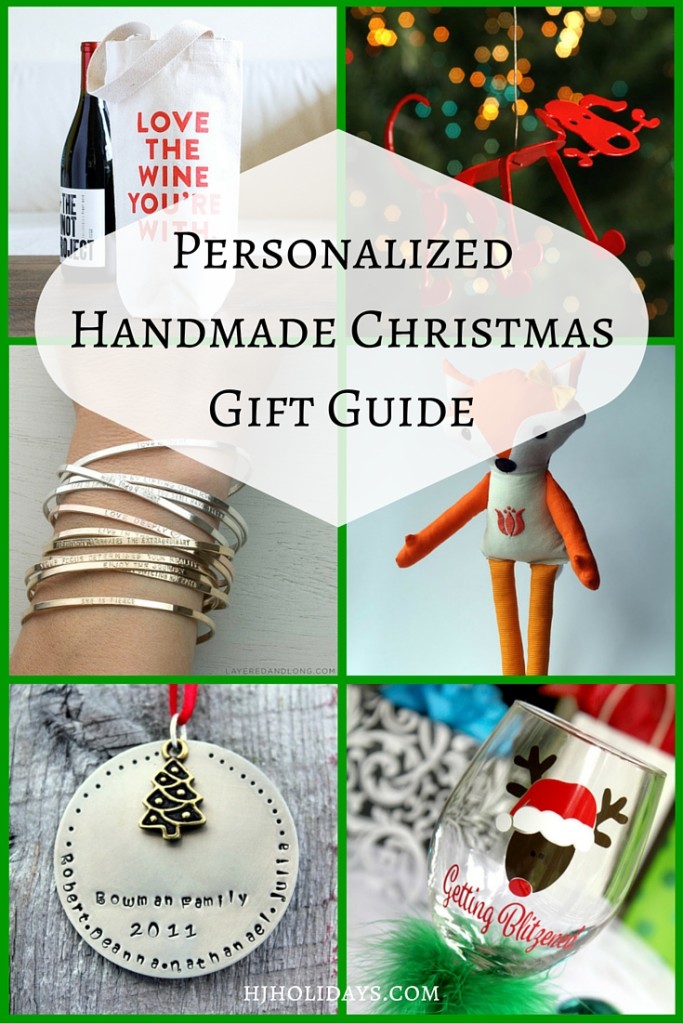 This post is part of the Pinterest Party Holiday Blog Hop. The Pinterest Party is a group of people who collaborate and share in order to grow their Pinterest following.
November
14. Personalized Handmade Christmas Gift Guide (that's this page!)
15. Corrinna Johnson Snowman Decorating Ideas for Christmas
16. Kristen Carrasco  Gluten Free Biscochitos
17. Dianne Kirby Loomos  Christmas Themed Throw Pillows
18. Steampunk Fan's Holiday Gift Guide
19. Corrinna Johnson Best Friend Gift Ideas for Teens
20. Dianne Kirby Loomos  Mickey Mouse Ears Hat Ornaments
21. Holiday Gift Guide for Tolkien Lovers
(Visited 13,085 times, 1 visits today)