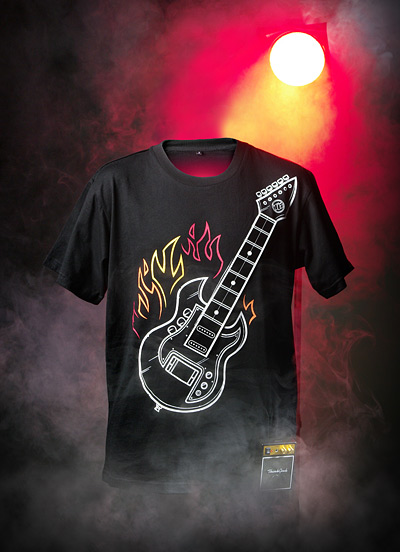 Wow the Family and Friends with This Shirt That You Can Play!
If you are looking for the absolute best gift to give any kid this year who is 8 years old and up (and yes, I am talking about all of you overgrown kids), then The Best Electric Rock Guitar T-Shirt for Kids and Adults from Think Geek is the one you want.
Not only does the t-shirt look cool, but you can actually play real music on it with all of the sounds recorded from a real electric guitar. Now who can say that they have never wanted to be a rock star for at least a few minutes of their lives. Now you do not even have to be musically talented to learn a few of your favorite songs, and rock it out in your electronic guitar t-shirt.
If you want to impress your friends, and wow your family, this electric guitar in a t-shirt will make you the best adult at any party with kids, and the most interesting aunt, uncle or grandparent. This is the must have gift for this Christmas.
While I am sure that there are plenty of teenage girls who would like to have one of these guitar shirts that you can play, my recommendation is that you buy one for every boy on your Christmas gift list this year.
Features of the T-Shirt
To really understand how very cool this t-shirt is, you need to learn about all of the features. This electronic guitar shirt shows how great a company ThinkGeek is, because they have loads of fun and innovative products just like this one.
The electric guitar t-shirt comes with the following features:
It is a real musical instrument that allows you to play your favorite songs and sound great doing it.
All major chords are recorded from a real electric guitar, and the included magnetic pick allows you to strum just like you would a real guitar.
The included mini amp clips to your belt and gets plenty loud with great sounding amplification circuitry.
The tone knob on the amp lets you adjust the sound just like a real guitar.
Electronic components are easily removed from the shirt for washing.
You can strum it just like a real guitar.
And best of all it is a toy and shirt all at once, and only costs $29.99.
(Visited 120 times, 1 visits today)