Christmas sweaters have been around since the 1940's and 1950's, but what most people typically refer to as the "ugly Christmas sweater" really began being mass produced in the 80's and 90's. One of the most popular designs in these sweaters was the "Fair Isle" pattern, named after an island in Scotland. Many of the sweaters were pretty ugly with everyone's famous Aunt Martha giving them as gifts.
The tacky Christmas sweater still holds a strange appeal to both young and old, and the theme has been revitalized in the form of ugly Christmas sweater parties. This concept was apparently founded by a group of college students in Vancouver, Canada back in 2002. They had the idea of wearing their mother's old Christmas sweaters to a party they were throwing and giving a prize for the ugliest sweater worn. They gave their party the title of "Ugly Christmas Sweater Party" and it really caught on and gained popularity in the area.
You can learn how to have an ugly Fair Isle Christmas sweater party pretty easily. All you need are some friends with ugly Christmas sweaters, food, decorations and some games. You can also give your party a theme such as sports, or just insist on Fair Isle sweaters like the ones shown below.
Fair Isle Tacky Xmas Sweaters
Snowflakes Ugly Sweater

Khaki Deer Fair Isle

Retro Reindeer Fair Isle

Sequin Rudolph Fair Isle

Nightmare Before Christmas

It's My Birthday Jesus Sweater

Sequin Bow On Fair Isle

Rudolph with Light-Up Nose

Ugly Christmas Pullover Fruitcake

Santa Sloth Fair Isle

Skulls and Cross Bones

Fairisle Kitty Ugly Sweater

Dinosaur Fairisle Christmas Sweater

Santa Fairisle Ugly Sweater

Planning a Tacky Christmas Sweater Party
To plan your party, first plan your guest list and send out the invitations. The holidays are busy, so make sure to schedule early enough for your guests can work it into their busy holiday schedules.
Ugly Christmas Sweater Invitations
These invitations are all digital files that can be downloaded and customized for your party. You just pay one fee for the design, then print out as many or as few invitations as you need. You can hand them out or save them to your computer and email them to your friends. All of them are designed by independent artists.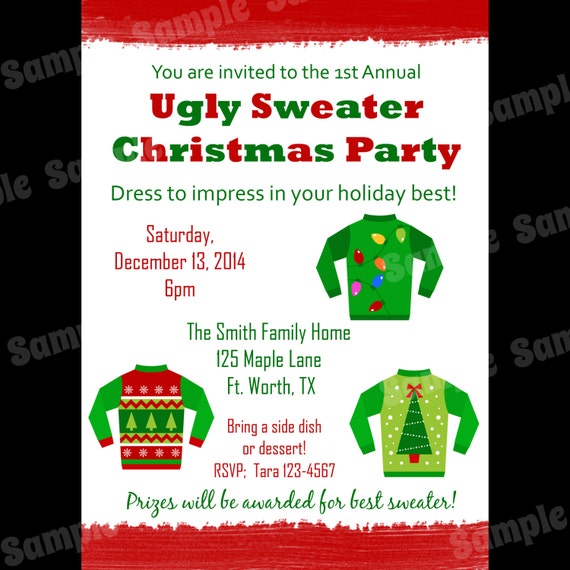 Ugly Sweater Chistmas Party Printable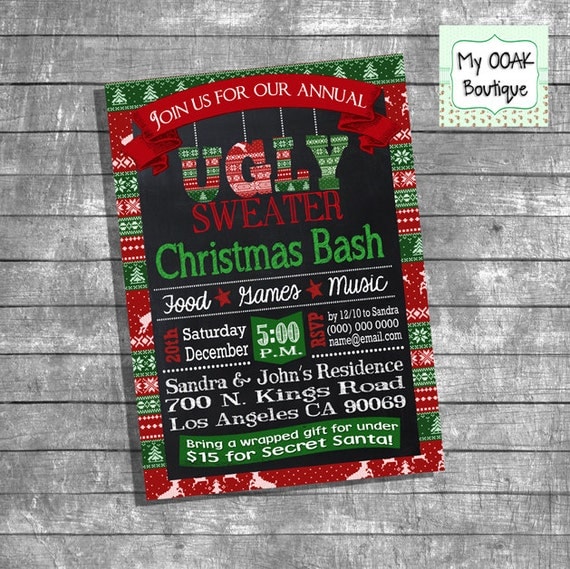 Digital Printable Invitation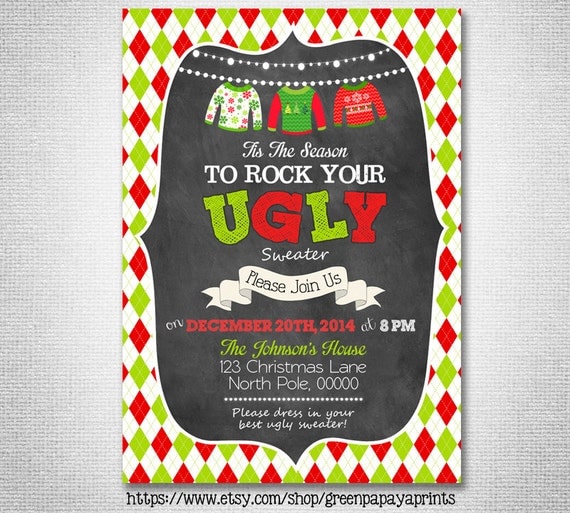 Ugly Sweater Party – Printable Invite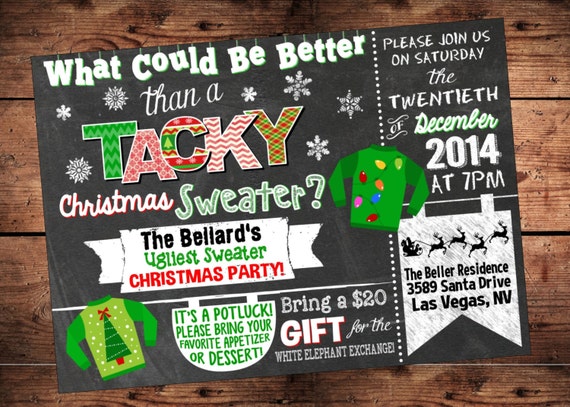 Tacky Christmas Sweater Digital File

To decorate for the party, set aside a small space (as you'll likely already have your home tastefully decorated for the holidays) where you can go a little crazy with the decorations. Nothing too elaborate, but slightly tacky will do nicely. Maybe some old decorations from grandma's attic will fit the bill. Check thrift stores such as Goodwill for things you normally wouldn't use to decorate, so that you can save some money on your tacky decor.
Personalized Paper Plates and Napkins
These ugly sweater party-themed plates and napkins can be personalized with names or any text you want. They are so cute and come in several colors for you to choose from.
Ugly Sweater Paper Plates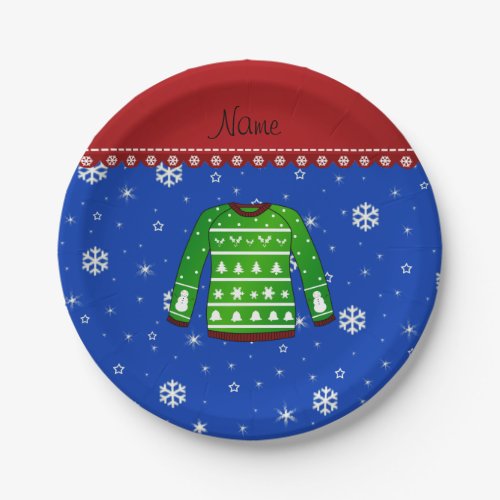 Ugly Sweater Paper Plates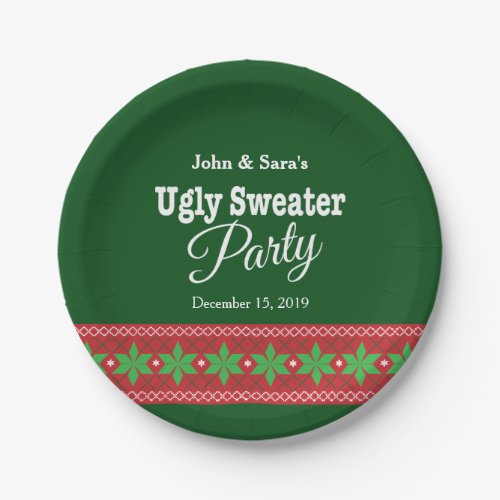 Ugly Sweater Paper Plates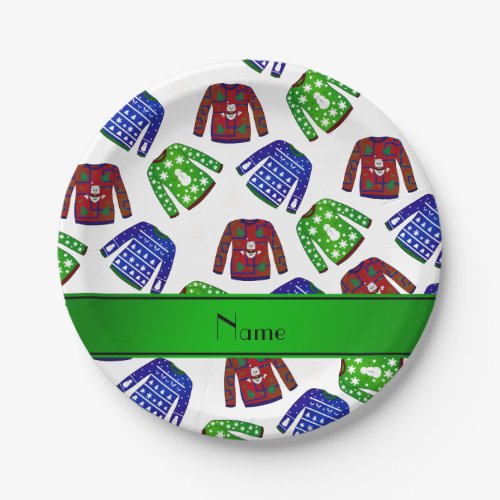 Ugly Sweater Paper Plates

Ugly Sweater Party Napkin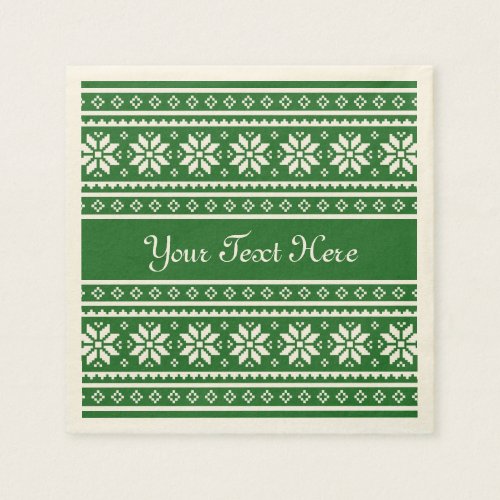 Ugly Sweater Party Napkin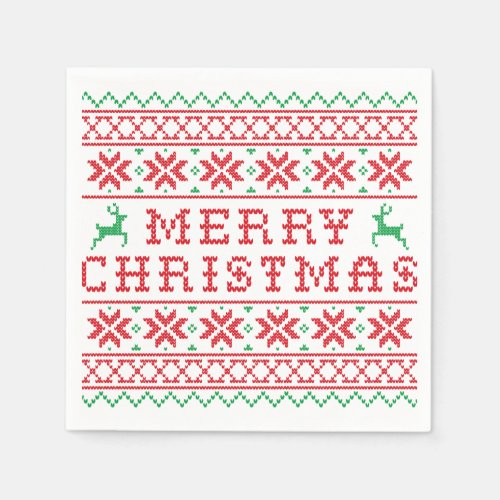 Ugly Sweater Party Napkin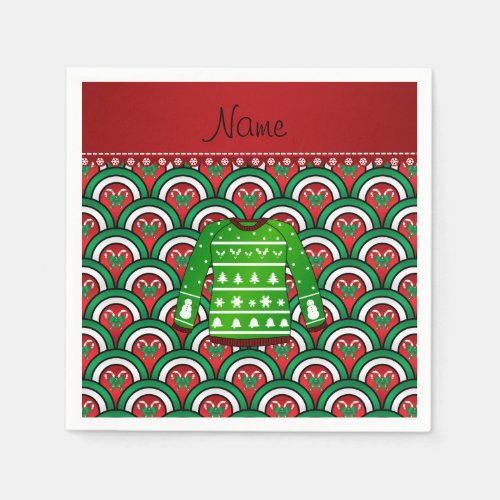 Ugly Sweater Party Napkin

Help with Party Planning
As far as refreshments, a punch bowl filled with holiday egg nog, a vegetable platter with dip, and some holiday cookies should satisfy your guests. As part of the party activities, maybe cut out some cookie dough in the shape of a sweater and have them baked beforehand. Provide guests with a variety of frosting and cookie decorations and see who can make the ugliest Christmas sweater cookie.
As a prize, go to the local trophy shop and have an inexpensive trophy created for your winning party guests. To make things fair, allow all guests to participate in a vote for the ugliest sweater in attendance. You might also wish to give the runner up a present, with encouraging photos to inspire them to one up their current ugly sweater so that they can take first place next year. The book "Rock Your Ugly Christmas Sweater" should provide just such inspiration (shown below). Here are some more books that can help you get your party planned.
Rock Your Ugly Christmas Sweater

Ugly Christmas Sweater Party Book

Ugly Christmas Sweater Party Games

Ugly Christmas Sweater Party!

Party In An Ugly Christmas Sweater Book

The Ugly Christmas Sweater Handbook

Where to Find an Ugly Christmas Sweater
Since guests must wear a tacky Christmas sweater, this means they have to be able to find one. If you grew up in the 80s or 90s, you might still have one of these tacky sweaters lying around your parents' attic. If not, thrifts shops may have what you need. Remember, the tackier the better, so nothing is too ugly as long at is pertains to the holidays.
You can also make a tacky sweater yourself with a free pattern, and some added accessories such as beads, lights or garland. Sew some of these to the sweater to give it the tacky appearance you want. If these options don't appeal to you, you can also choose to order a brand new ugly Christmas sweater. There are actually designers who are creating a new generation of ugly sweaters and many of these options can be found online like the Fair Isle sweaters on this page.
Don't miss out on this silly, but fun tradition as a way to get together with friends you have not seen all year. It is a great way to relax and laugh about silly stuff.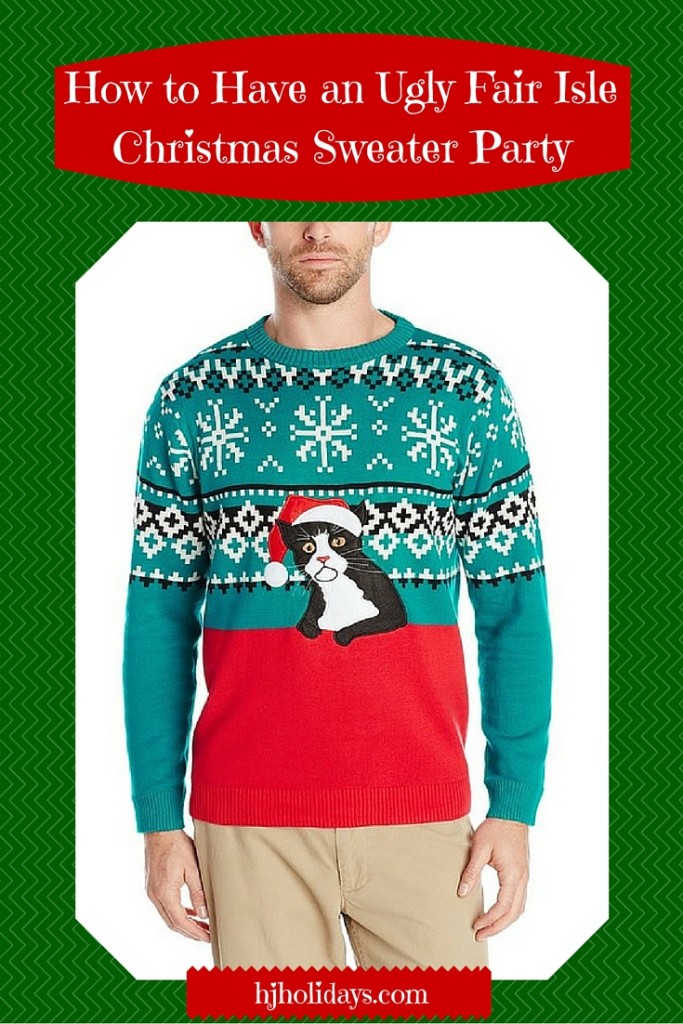 (Visited 586 times, 1 visits today)