Here are Some Great Recipes for Your Thanksgiving Turkey Leftovers
Thanksgiving is my favorite holiday of the year. For me, it is a time to see my family in a relaxed atmosphere, for an entire weekend. And part of that atmosphere is created by the great meals that we eat.
I need to confess that I do have a bias related to Thanksgiving meals. First of all, I love turkey. We roast our turkey, and it is scrumptious–hot, juicy and full of flavor.
But my favorite time to eat turkey is the day after Thanksgiving. Thanksgiving leftovers recipes are just so tasty! The turkey just gets better with time, but I don't like to reheat it. I prefer it cold, in a sandwich or a salad. I am not a casserole eater. This article reflects those tastes. I hope you like these Thanksgiving leftovers recipes.
If you are not sure what to do, this book will give you a lot of ideas for using up leftover turkey.
Delicious Meals With Leftover Turkey

Turkey Sourdough Pesto Sandwich
Ingredients:
1 uncut 9″ sourdough round bread loaf
6 ounces thinly sliced turkey
1/4 cup pesto sauce
1 medium tomato, thinly sliced
1 small zucchini, thinly sliced
8 slices mozzarella cheese
Instructions:
Cut one inch slice (will be used as a lid) off top of bread. Hollow out inside of bread.
Layer half or turkey, pesto, tomato, zucchini, and cheese. In that order. Then repeat.
Place the lid made out of the bread on the loaf and wrap loaf in foil.
Bake at 350ºF for 45 minutes.
Curried Turkey Salad Recipe
A lowfat turkey leftover salad
Carving White Meat of Roast Turkey
Cook Time: 10 minutes
Ingredients:
2 1/2 cups shredded cooked turkey
1 cup Creamy Curried Dressing
4 flour tortillas (6-inch)
1 large papaya, peeled, seeded and sliced
3 kiwifruit, peeled, cut lengthwise in half and sliced crosswise
1/4 cup blanched slivered almonds, toasted
Fresh spinach leaves, stemmed, washed and dried
Instructions:
Prepare Creamy Curried Dressing.
Mix together turkey and salad dressing in a large bowl. Refrigerate 2 hours.
Heat oven to 350 degrees F. Wrap tortillas in aluminum foil. Heat in oven 10 minutes. Meanwhile, coat outside of four 10-ounce custard cups with nonstick cooking spray. Invert onto a baking sheet.
Remove tortillas from oven. Increase oven temperature to 400 degrees F. Place one tortilla at a time (keep others wrapped) on a prepared custard cup, pressing gently to shape. Bake tortillas in heated 400-degree F. oven 10 minutes. Carefully remove baked shells to a wire rack to cool completely.
Add papaya, kiwifruit, and almonds to turkey mixture. Line cooled tortilla cups with spinach leaves. Fill each shell with turkey mixture and serve.
Yield: 4 servings
Creamy Curried Dressing Recipe
Prep Time: 5 minutes
Cook Time: 3 minutes
Ingredients:
1/2 cup chutney
1 teaspoon curry powder
1/2 teaspoon ground ginger
1/3 cup plain nonfat yogurt
Instructions:
Whisk together chutney, curry powder, and ground ginger in a small saucepan. Bring to boiling over medium heat. Cook, stirring occasionally, 2 to 3 minutes. Remove from heat; cool slightly.
Stir in plain nonfat yogurt. Scrape salad dressing into a small bowl, cover with plastic wrap and refrigerate until ready to use.
Yield: about 1 cup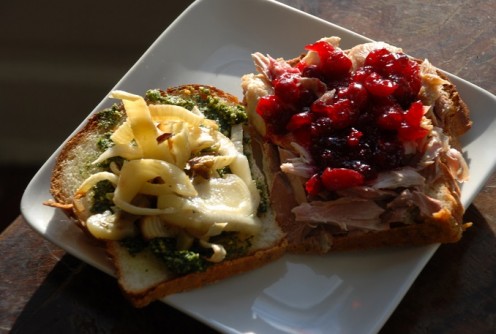 Turkey Monte Cristo Sandwiches
Crusty, warm and delicious
Gobbling Again! 25 Delicious Recipes Starring Leftover Turkey

This Monte Cristo is a sandwich filled with turkey, and Swiss cheese that is coated and deep-fried. It is not for the faint of heart, but it is indeed decadently delicious.
Prep Time: 10 minutes
Cook Time: 20 minutes
Ingredients:
1/4 cup mayonnaise
2 teaspoons prepared mustard
8 slices sandwich bread
8 slices cooked turkey
4 slices Swiss cheese
2 egg whites
3 eggs
1/2 cup commercial sour cream
2 Tablespoons milk
1 cup fine, dry breadcrumbs (about)
Vegetable oil
Instructions:
Combine mayonnaise and mustard, stirring well; spread on one side of each bread slice.
Place two slice each of turkey, and one Swiss cheese on top of 4 bread slices. Top with remaining bread. Cut each sandwich in half diagonally; secure with wooden picks.
Beat egg whites (at room temperature) until stiff; set aside. Beat eggs; add sour cream and milk, stirring well. Fold in egg whites.
Dip sandwich halves in batter; coat with breadcrumbs. Carefully lower sandwich halves, one at a time, into deep hot oil (375 degrees F.); fry until golden brown, turning once. Drain; remove wooden picks. Serve sandwiches immediately.
Yield: 4 servings
Thanksgiving Leftover Enchiladas – Casserole Queens
Thanksgiving Turkey Pomegranate Salad
Prep Time: 10 minutes
Ingredients:
1 cup pineapple bits, drained
3 cups diced cooked turkey
1 cup celery, sliced on the slant
1 cup diced apples (Rome, Winesap, or any red-skinned variety)
1/2 cup pomegranate seeds
1/2 cup toasted slivered almonds
1 cup mayonnaise
1/4 cup sour cream
1/4 cup pineapple juice
Instructions:
Toss pineapple in large bowl with turkey, celery, apples, pomegranates seeds, and almonds.
In separate bowl, combine mayonnaise, sour cream, and pineapple juice. Toss dressing with turkey mix in the larger bowl. Garnish with additional pomegranate seeds and toasted almonds.

Turkey Asparagus Pilaf
For asparagus lovers
Ingredients:
2 cups water
2 Tbsp margarine
1 (6-1/2 oz) pkg instant long grain and wild rice
1 (10 oz) pkg frozen asparagus
3 cups chopped cooked turkey
1/3 cup chicken broth
2 Tbsp dry sherry
2 Tbsp white wine vinegar
3 Tbsp sliced almonds, toasted
Instructions:
Combine water, margarine, and contents of seasoning packet from package of rice in a large skillet.
Bring to a boil and stir in rice. Cover and remove from heat. Let stand 7 minutes.
Cook asparagus according to package directions; drain and cut spears into thirds.
Add asparagus, turkey and next 3 ingredients to rice; toss gently. Sprinkle with almonds.
Leftover Thanksgiving Turkey Sandwich Recipe – Emeril Lagasse
Turkey Sandwich with Gouda
Serves 12
Ingredients:
Mayonnaise
3 Each avocados, peeled and pitted
3 Cloves garlic, peeled
12 Ounces mayonnaise
In a food processor, blend avocados and garlic. Add mayonnaise and blend until smooth. Hold, covered, in the refrigerator for service.
Grill Procedure
6 8-10 ounces TURKEY THIGHS, cooked
Assembly
24 Slices pumpernickel bread
1-1/2 Pounds smoked Gouda cheese, sliced into 1-ounce slices
3 Large red ripe tomatoes, sliced thin
2 Heads baby romaine lettuce, washed, drained and chilled
Instructions:
Per sandwich, spread mayonnaise on one side of two bread slices.
Slice turkey into ¼-inch slices. Top one bread slice with 4-ounces turkey slices.
Layer 2 slices of Gouda atop turkey. Continue to layer with 2 slices tomatoes and a few romaine leaves.
Cover with a top for the sandwich and slice on the diagonal.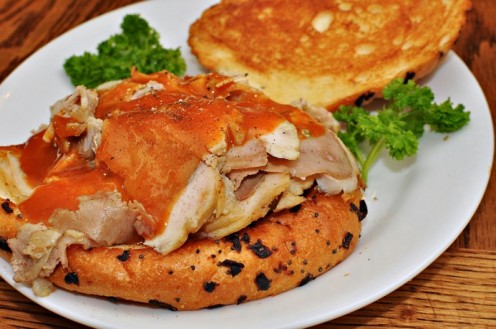 Thanksgiving Turkey Salad Sandwiches
Turkey Salad is even better than Chicken Salad
Dot's Secret Little "What to do with Leftover Turkey" Cookbook
Ingredients:
2 cups cubed cooked turkey breast
1/2 cup mayonnaise
1/2 cup finely chopped fresh or frozen cranberries
1 orange, peeled and chopped
1 teaspoon sugar
1 teaspoon prepared mustard
1/2 teaspoon salt
1/4 cup chopped pecans
lettuce leaves
6 rolls or croissants, split
Instructions:
In a medium bowl, combine turkey, mayonnaise, cranberries, orange, sugar, mustard and salt.
Just before serving, stir in pecans.
Place lettuce and 1/2 cup turkey mixture on each roll.
Yield: 6 servings.
Grilled Tomato, Turkey and Swiss
Easy to make for anyone
Ingredients:
1 cup sour cream
1/4 cup green onions, chopped
2 Tbsp. Dijon mustard
1 tsp. dried thyme
12 slices whole wheat bread
1 pound sliced turkey breast
6 slices Swiss cheese
4 tomatoes, sliced
Butter
Instructions:
Combine sour cream, green onions, mustard and thyme together and mix well.
Spread one side of each piece of bread with butter and the other with the sour cream mixture.
Place several slices of turkey (depending on thickness), a slice of cheese and tomato on the side of the bread with the sour cream mixture.
Place sandwich butter side down in a skillet and brown on both sides.
Serve warm.
As we express our gratitude, we must never forget that the highest appreciation is not to utter words, but to live by them. ~John Fitzgerald Kennedy
Turkey Cobb Sandwich
Ingredients:
1 (16-ounce) loaf ciabatta bread
1/2 cup blue cheese salad dressing
3 cups shredded lettuce
1 pound sliced turkey
6 slices crisply cooked bacon
8 (1-ounce) slices Deli American or Muenster Cheese
1 large tomato, sliced into 9 slices
1 avocado, peeled, pitted, thinly sliced
Preparation:
Cut bread in half lengthwise.
Spread each cut-side of bread with salad dressing.
Layer bottom bread half with 1 1/2 cups shredded lettuce, turkey, bacon, cheese, tomato, avocado and remaining lettuce.
Top with remaining bread half.
Cut into 8 pieces.
Secure each with toothpicks.
Cranberry Cream Cheese Turkey Sandwich Recipe
Ingredients:
8 slices bread, toasted
8 tbsp cream cheese
8 tbsp prepared old fashion cranberry sauce or cranberry jelly
16 slices leftover turkey
8 tsp mustard
8 tsp mayonnaise or Miracle Whip(depends on preference)
Preparations:
Spread 8 slices of bread with the cream cheese. Then spread with the cranberry sauce. Place 2 slices of turkey on each bread slice; spread mustard over the turkey.
Spread remaining bread slices with mayonnaise and top sandwiches with them. Cut in half.
Thanksgiving Leftover Salad with Cranberry Sauce Dressing
Avocado Sage Mushroom and Turkey Omelet
This makes a huge omelet which heartily serves two.
Ingredients:
4 eggs, whisked with 1 t. water
3/4 c. chopped, cooked turkey
8-10 fresh basil leaves
1 medium ripe avocado, sliced or chopped
1/2 onion
1 large jalapeno with seeds, sliced
4 oz. fresh sliced mushrooms
2 c. fresh torn kale
2 T. olive oil for frying
1 T. extra virgin olive oil
Seasonings:
sage
Italian seasoning
garlic powder
dash crushed red pepper
salt and pepper
Instructions:
Turn your skillet to medium high and add the olive oil to melt. Add a tablespoon of water and whisk the eggs in a medium bowl. Wash and pat dry the kale and fresh basil. Tear the kale into bite sized pieces. Finely chop most of the fresh basil, reserving a few leaves whole for garnish. Slice the mushrooms if they are not presliced and chop the cooked leftover turkey into bite sized pieces or shreds. Chop the onion into small pieces.
Add the mushroom, onion, and turkey to the skillet and season. Saute together for about 2 minutes until the turkey is warm and the onions are a bit brown. Add the kale and reduce the heat to medium low, covering and steaming for another 2-3 minutes or until the kale is soft and bright green. Uncover and remove everything from the pan and set aside. You may want to add more olive oil so the eggs do not stick.
Whip the eggs one last time and add the fresh chopped basil, salt, and pepper. Pour the eggs into the pan and cover. Cook at low to medium low for a few (~2-3) minutes until the eggs are set.